It's official: the product marketing scene is the place to be. 😎
With heightened competition, people are fighting tooth and nail to stand out from the crowd, as they vie to secure their dream role.
Like PMM peacocks, flexing their feathers. 🦚
Suffice it to say, if there's a time to set yourself apart from the competition, it's now - and here at PMA, we have the perfect platform to place you on a pedestal, with our Product Marketing Core certification course.
Boil the kettle, grab a sweet treat (or two) and make yourself comfortable, as we explain the differences between the two options on offer: live and online, and on-demand.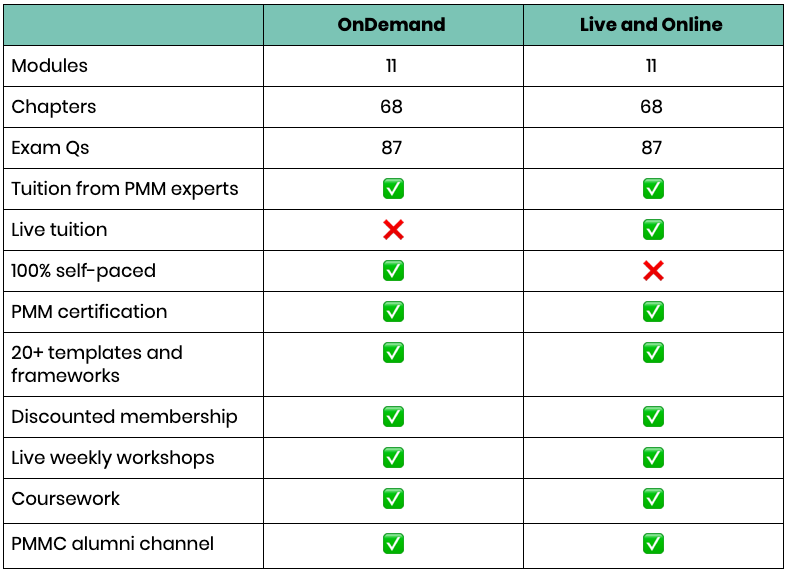 "I'd love to get certified, but I'll have to pass; I don't have enough spare time to complete the course."
Hold your horses, compadre, there's no need to be hasty. 😉
Product Marketing Core [On Demand] gives you the luxury of completing the course at your own pace, with no time constraints in which to finish the curriculum, in your bid to become product marketing certified.
Wanna complete a section before bed? No worries! How about 20-minutes whilst dinner's in the oven? Absolutely! Shake off the shackles of time, learn at your own accord, and go at your own pace - that's the beauty of this version of the course.
"My colleague is enrolled on the Live and Online course, and they're taught by experienced PMMs. Who'll take me through the OnDemand curriculum?"
PMMs enrolled on the On Demand course will have access to video lectures delivered by our Head of Content, and oracle of everything 😉, Bryony Pearce. Plus, with insights from accomplished guests (from orgs like HubSpot, Zuora, IBM, and more) interspersed throughout, you (and your colleagues!) are in very capable hands! We've said it before, and we'll say it 'til the cows come home: we'll never leave a PMM behind, and the same principle applies to those enrolling on our courses.

Remember, weekly workshops are available where you can ask any burning questions you may have, and receive answers from experts in the field - in many ways, you're getting the best of both worlds!
So, if you're super keen to get certified, but you don't have enough hours in the day to commit to attending the Live and Online version, it's the ideal solution.
Time doesn't wait for nobody - until now. 😎
Following the launch of Product Marking Core [On Demand], we were inundated with interest from product marketers, and many PMMs continue to get certified on their watch.
Yet, in true PMA style, we wanted to push the bar even further.
After mulling over ideas, we reinvented the wheel once again, with the release of Product Marketing Core [Live and Online], a course designed for product marketers who are A) keen to get certified sharpish, and B) prefer a more interactive approach.
With Product Marketing Core [Live and Online], we've invited the product marketers thirsty for knowledge to our interactive classroom, where they can either get certified during a one-day intensive program or a part-time course, in which they meet for 2.5 hours per week, over a 4-week period.
This version is delivered live (and online 😜) by accomplished experts, who are available in real-time to answer questions, give their advice, and guide you during your route to certification.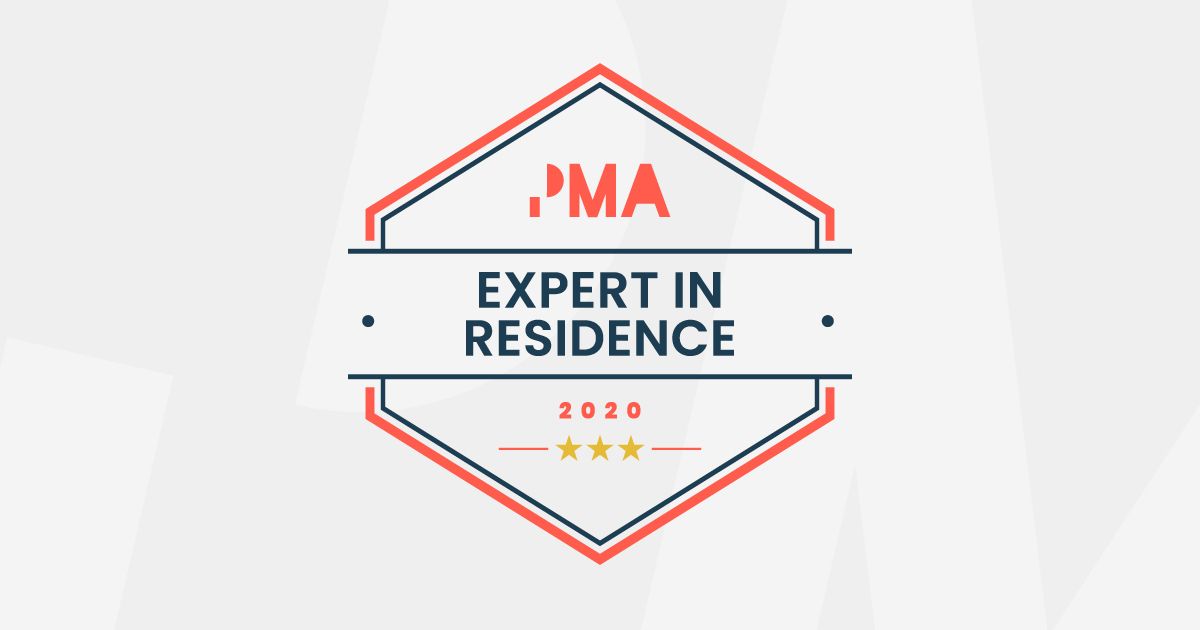 Like a music lesson from Mozart, a PE lesson from Jordan, or a cooking lesson from Ramsey, this is a chance to learn directly from the creme de la creme of product marketers, masters in their respective craft. It's truly a unique opportunity, irrespective of whether you're a budding PMM, or a professional with years of experience under your belt.
As is the case with the On Demand version, you can sink your teeth into coursework to refine your understanding of syllabus topics in the build-up to the all-important end of module tests.
So, we've dangled the juicy carrot - what about the stick?
Good news. There isn't one. 😉
Those who've been there, done it, and got certified 🧠
In a nutshell...
To reiterate, the courses are very much what they say on the tin. Product Marketing Core [On Demand] is a course you can complete in your own time, i.e. on-demand, while Product Marketing Core [Live and Online] is delivered in real-time by an experienced product marketer.
The course content is the same - there's no difference at all between the two, and you'll need to pass the same number of exams to get your hands on the sought-after certification. 🏆
Ready for your piece of the PMMC pie?
We know what you're thinking - Product Marketing Core is a pretty sweet course.
And while we wouldn't usually blow our own trumpet, it's true - it's helped 100s of product marketers so far, and we're confident it's gonna carry on delivering the goods.
The awesome news? You can grab a piece of the action.
Whether you're a time-starved expert hungry for a course to fit your busy schedule, or an enthusiast looking for an interactive experience, unlock your potential with Product Marketing Core.
Tempted? Get Certified with our On Demand course, or alternatively, secure your spot on one of our upcoming intakes for our Live and Online courses, with spaces available for our full-time intensive, and part-time courses.
The power's in your hands. 🙌