We squeezed in as many as we could but the community was bursting with lots of awesome questions this week - good problem to have, right? So, stick with us for all things brochures, product roadmaps, buyer personas, certification and more.

Got a question or answer of your own? Great. Have your say with more than 5,500 product marketers here.
---
Q: Has anyone ever transitioned their marketing team to a new email marketing platform? I'm tasked with doing that this quarter and while I've used several different platforms I've never been in charge of making a move to one, so I'm looking for any advice on potential pitfalls or recommended tools.

A: First things first, get a few heads around a table and map out who's going to be affected by the move and understand how they use your current email marketing platform. This will help a) make sure everyone's in-the-know, b) avoid any nasty surprises, and c) see what functionalities the new platform needs to have.

As well as looking at things from a people-perspective, remember to take a holistic look at the data side of things too. How will it move from A to B? Who'll be responsible for ensuring a smooth transition? Moving forward, what will the data input, maintenance and analysis process look like?

With both the aforementioned steps complete, you should be able to assess whether the impact of the move is high, medium or low in relation to each affected area, and this grading will help you make key decisions.

Other important things to consider include:

Email templates/landing pages: are these transferrable? If not, how much work's involved in recreating them?
Testing: who's in charge? What needs to be tested and when?
Timelines: when will the migration happen? What key milestones need to be hit and by when? And when will you terminate your current email marketing platform? It's a good idea to have some overlap and keep it running for a little while in case something goes wrong with your new provider.
---
Q: I'm going to be exhibiting at a major industry tradeshow next month where many of our customers and potentials will be in attendance. I'm thinking of using this opportunity to speak with them about challenges, goals etc. to help build personas. Do any of you have suggested questions you like to ask or a template questionnaire?

A: We've got a table packed with sample questions in our article on 'How to create buyer personas'. If you wanted to kill two birds with one stone, here are some ideas for win/loss interviews, too.
---
Q: I'm looking for advice on internal communication best practices/examples for keeping sales and other teams in the loop on new content, upcoming events, etc.

A: We're not meaning to be harsh here, but sales reps are known for their notoriously short attention spans. Well, some of them are, anyway. A pain most product marketers share is getting sales teams to actually read the stuff they put in front of them and for that reason, we'd recommend this approach:

Hold a brief face-to-face/phone meeting so you can be sure you've got their attention.

Tell them what you want to tell them, make sure you go in with a 'why this will benefit you' approach, and give everyone an opportunity to ask questions.

If you've got collateral, give it to people there and then or let them know it's coming so they can look out for it. Again, make a point of reiterating how this update will help them and the purpose of any collateral - i.e. if you're struggling in a sales pitch, content X can be referred to, to push prospects over the line, or event Y can be promoted to add value.
---
Q: How valuable is a certification from Pragmatic Institute in relation to getting hired as a PMM?

A: If you're already signed up to our Slack channel, you can catch up on lots of comments from a previous thread on this here. To summarise though, it's certainly not essential and of the 100s of jobs hosted on our site, not a single one requests certification as a prerequisite.  

Spoiler alert: we'll be publishing our Salary Survey in the very near future and in it, we uncover how many product marketers currently have certifications and whether or not they impact pay.
---
Q: Does anyone have any advice on how to create a brochure (best practices, cool examples) for a B2B solution?

A: Okay, here are some quick-fire tips:

Load your most important content first - it's inevitable a portion of your readers will tail off before they get to the end.
Don't waste space with irrelevant and staged imagery. If it doesn't add value or explain how your product meets their needs, don't include it.
Speak in a language your customers can relate to and keep the tone consistent with the rest of your collateral.
Sell, don't tell. This one's kinda linked into bullet number two, but don't just tell readers your product does X, Y and Z, explain how those features benefit them.
Break your content up with headlines, bullets, graphics and relevant imagery. Walls upon walls of text isn't appealing.
Provide plenty of reasons to make them want to act right now - and remember to include clear CTAs.
Don't talk for the sake of talking. Make sure you get all your points across, of course, but short and sweet is generally best.
Ensure it's professional-looking and in-line with your branding.

And here are some B2B and B2C examples we liked the look of. We've included both because creative and quirky ideas apply to both, remember!
https://www.pinterest.co.uk/pin/571253533969274331/

https://www.pinterest.ca/pin/571253533969274318/

https://www.pinterest.ca/pin/571253533967890421/

https://www.pinterest.ca/pin/571253533969274230/

https://www.pinterest.ca/pin/571253533969341369/

---
Q: Does anyone have any copywriting course recommendations for beginners? I'm looking to extend on my tech writing skills and learn a new skill.

A: Keep your eyes peeled. This is another area we've seen pop up a few times lately so expect to see something on the blog around it soon!
---
Q: I have customers asking to see our product roadmap and the stuff my internal team is producing just doesn't cut the mustard. I need something more detailed that can also be customer-facing and I'm wondering if anyone has any good examples, specifically from the enterprise B2B SaaS world.

A: It was actually really tough to find many decent customer-facing examples online. However, although the below ideas probably won't fit your requirement as is, each has elements we think work really well for a customer-facing roadmap so perhaps an amalgamation of one or two will solve your problem…

1. The Happy Baker

This one's super energetic, easy to scan, and incorporates lots of branding throughout.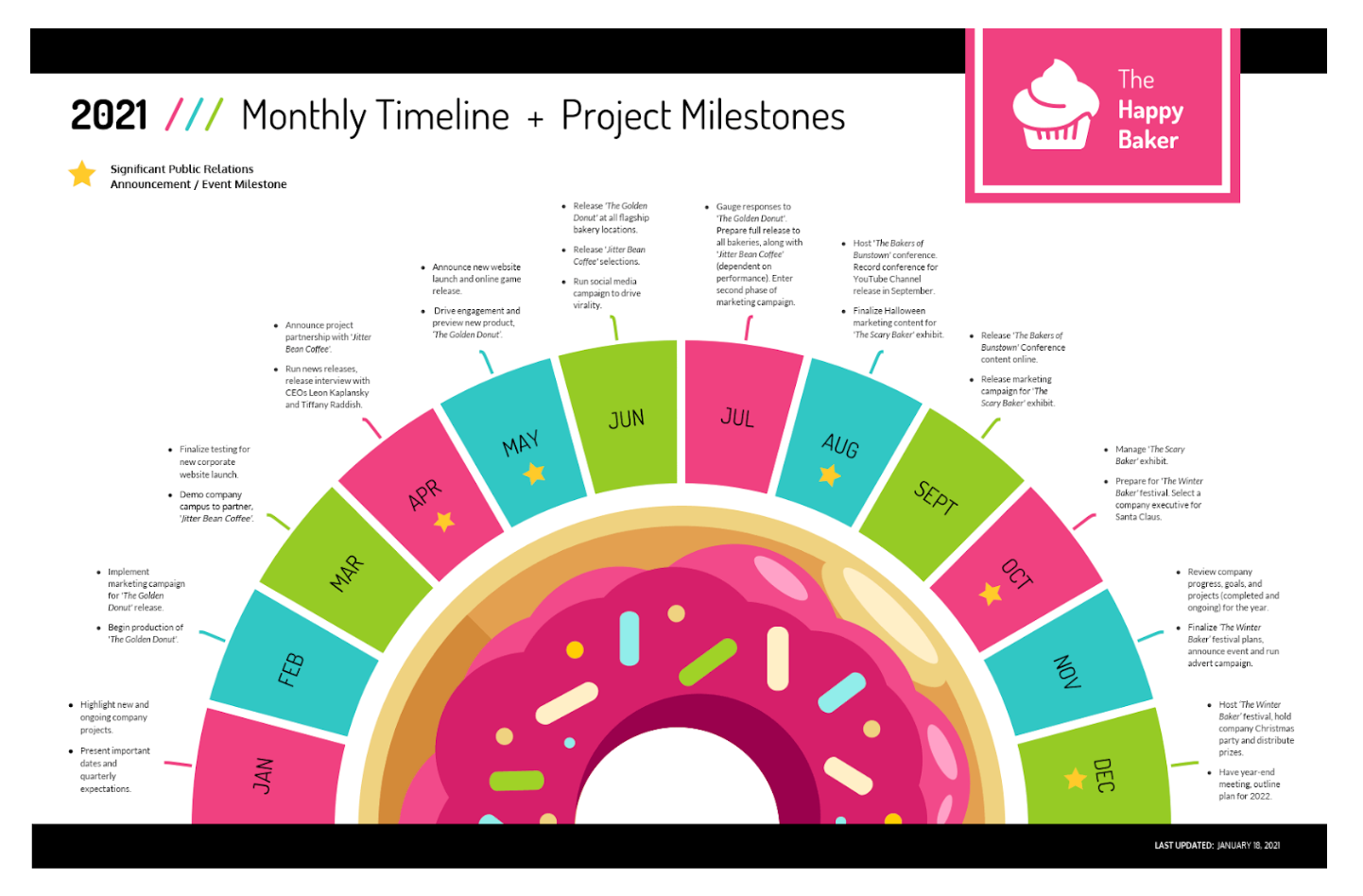 2. Bevel
The design of this one's really slick too. Anyone can understand it and all you need to do is switch up the sections to be more customer-centric, for example:

January 2020
New mobile app
April 2020
Codeless landing page tool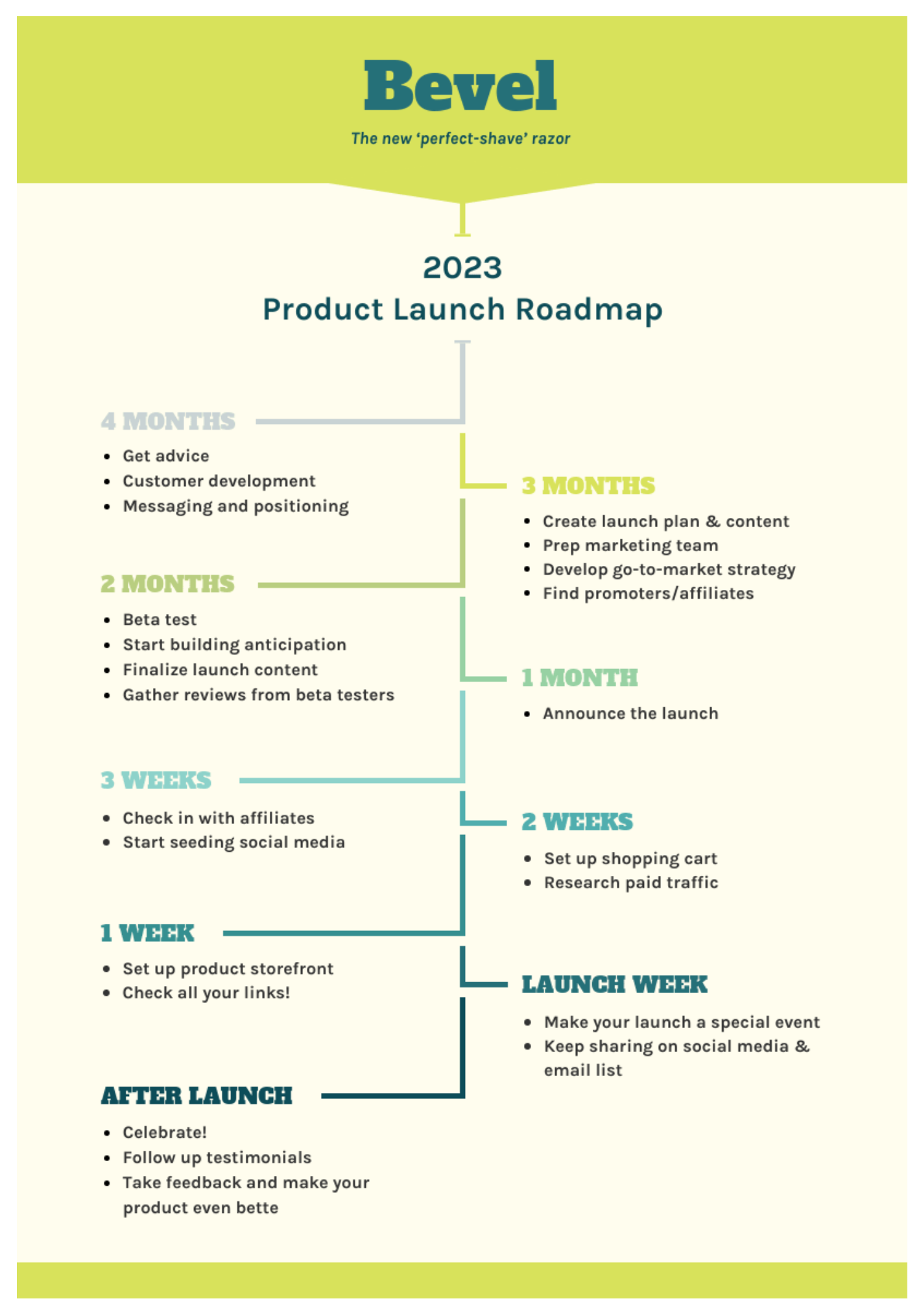 3. Orbit
Don't want to commit yourself to set dates and face the wrath of impatient customers? No problem. Here's an easy workaround that provides space for extra detail too.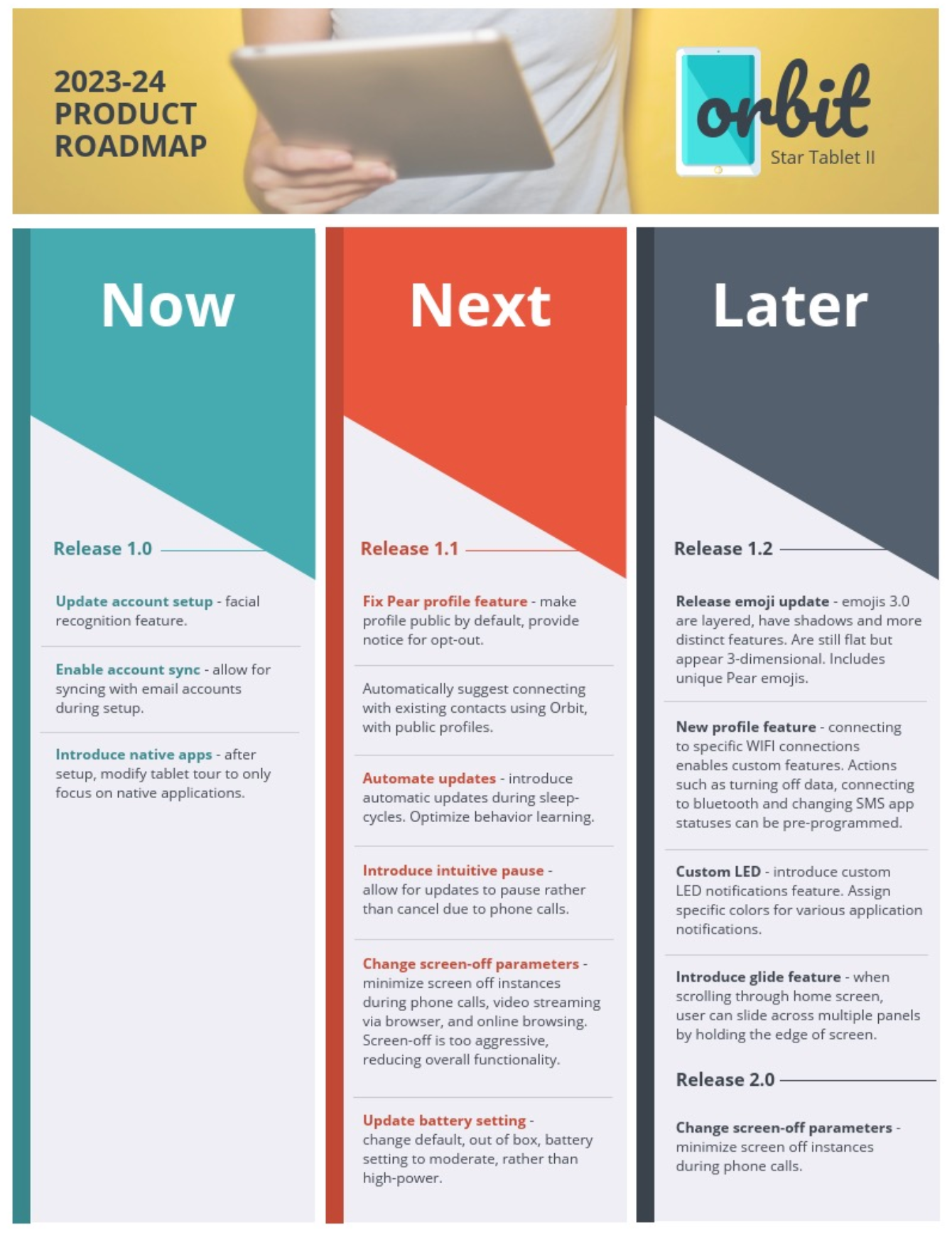 4. AMaqsood
Or, turn it into an interactive checklist so you can show people how far you've come and what's next all in one place.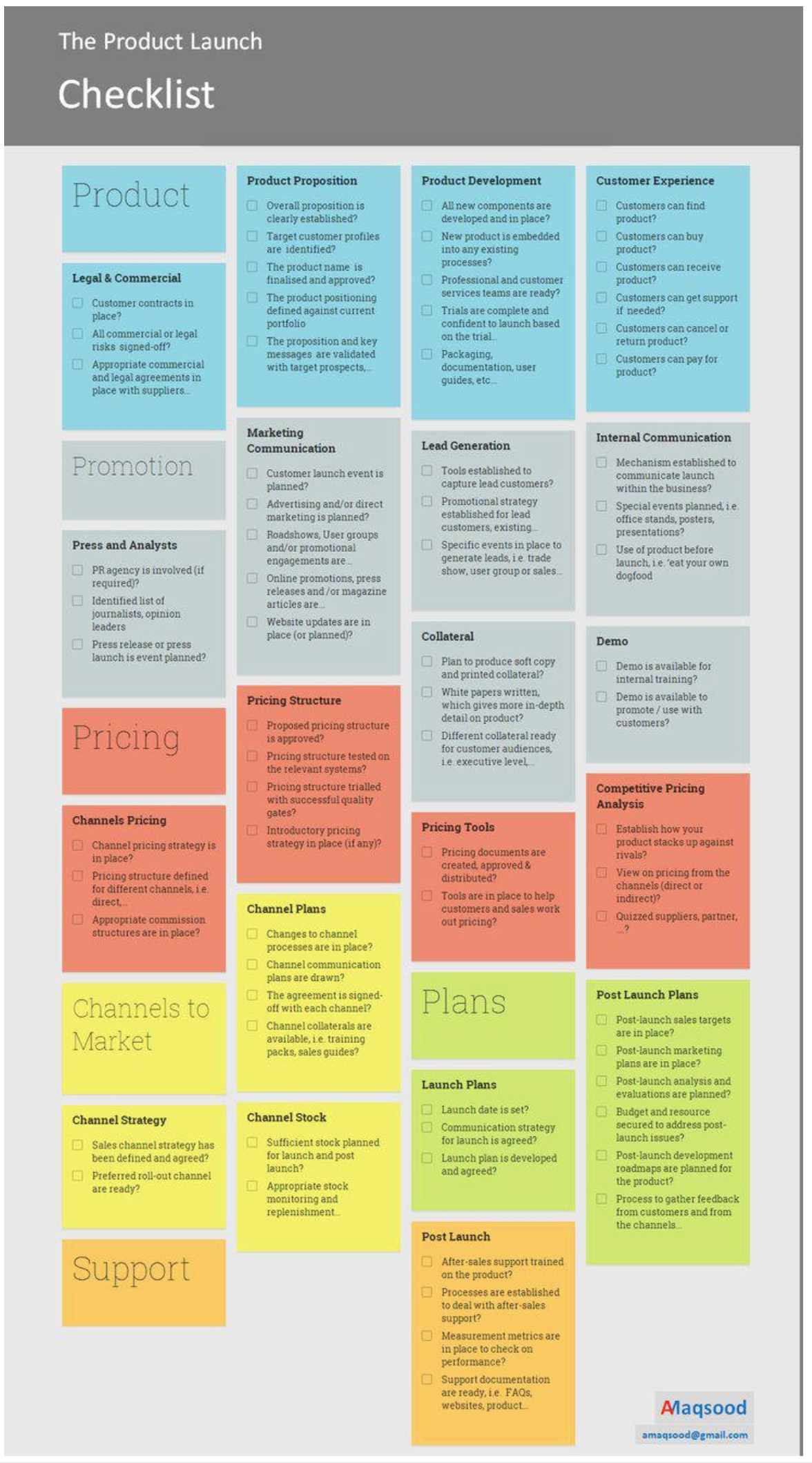 For lots more clever ideas, check out these 31 product roadmap templates.