Ever wondered how other organisations structure their departments? Or whether product marketing should sit under product or marketing? Well, wonder no longer.
In this week's round-up we'll be answering all that and more.
Psst. Want to get in on the conversations as they're happening? Then just join our product marketing slack community - it's free!
---
Does anyone have any examples of websites that do a great job of telling a story that's structured in a way to pull visitors through to a sign-up/purchase?

Some fellow PMA'ers recommended these:

And if you're looking to replicate something similar for yourself, here are some great tips on how to leverage storytelling to increase conversions.
---
What are people's thoughts on using HubSpot or Marketo for start-up marketing? Any preferences? And what are the best-used features for PMMs?

While both are packed with lots of great qualities the consensus is HubSpot's better for the novice as Marketo requires an extra layer of expertise. Hubspot's intuitive, easy to navigate, and you'll need little-to-no support to get going. Some of its most commonly used features for PMMs are:

Reporting dashboards
Lead scoring
Workflows
List segmentation
Email marketing
Ticketing
Tasks & activities

Bonus: you can get most of these in their free plan.

---
As a typical start-up we're going through some re-orging, how are your marketing teams structured?

There are lots of different answers for this one but we'll start with a couple of our own:
Example #1

B2C umbrella company
Marketing department divided by business pillars
Each pillar consisted of:
- PPC teams
- TV and radio teams
- Email and SMS teams
Director of Communication
- Copywriters
- Social media execs
- PR manager and execs
- SEO executives
- Outreach executives

Example #2

B2B business in the professional services industry
Chief Marketing Officer
- Copywriters
- Designers
Marketing exec
Customer insights teams
  - Product marketing exec
  - Onboarding manager
  - PPC exec
  - SEO exec
  - Partnership marketing

And here are some from Slack…

Example #3

Brand marketing (incl. corporate and PR)
Product marketing
Event marketing

(Each includes around five people with different skill sets).

Example #4

Brand marketing
Product marketing
Content marketing
Partner marketing
Demand generation
Event marketing
Research/insights
PR/comms

Example #5

Brand (content, social media and events)
Acquisition (website, paid search, SEO and traditional advertising)
Engagement and retention (loyalty and customer marketing)
Product marketing

Example #6

Demand generation (website, search and events)
Marketing comms (content, design, PR and customer marketing)
Product marketing

---
Where does product marketing sit in everyone's organisation - marketing or product? And what are the pros and cons of each?

There isn't really a definitive answer for this. As you can see from the org examples above every business has its own set-up, but, here are some pros and cons to help you decide what makes the most sense for you:
Product marketing under product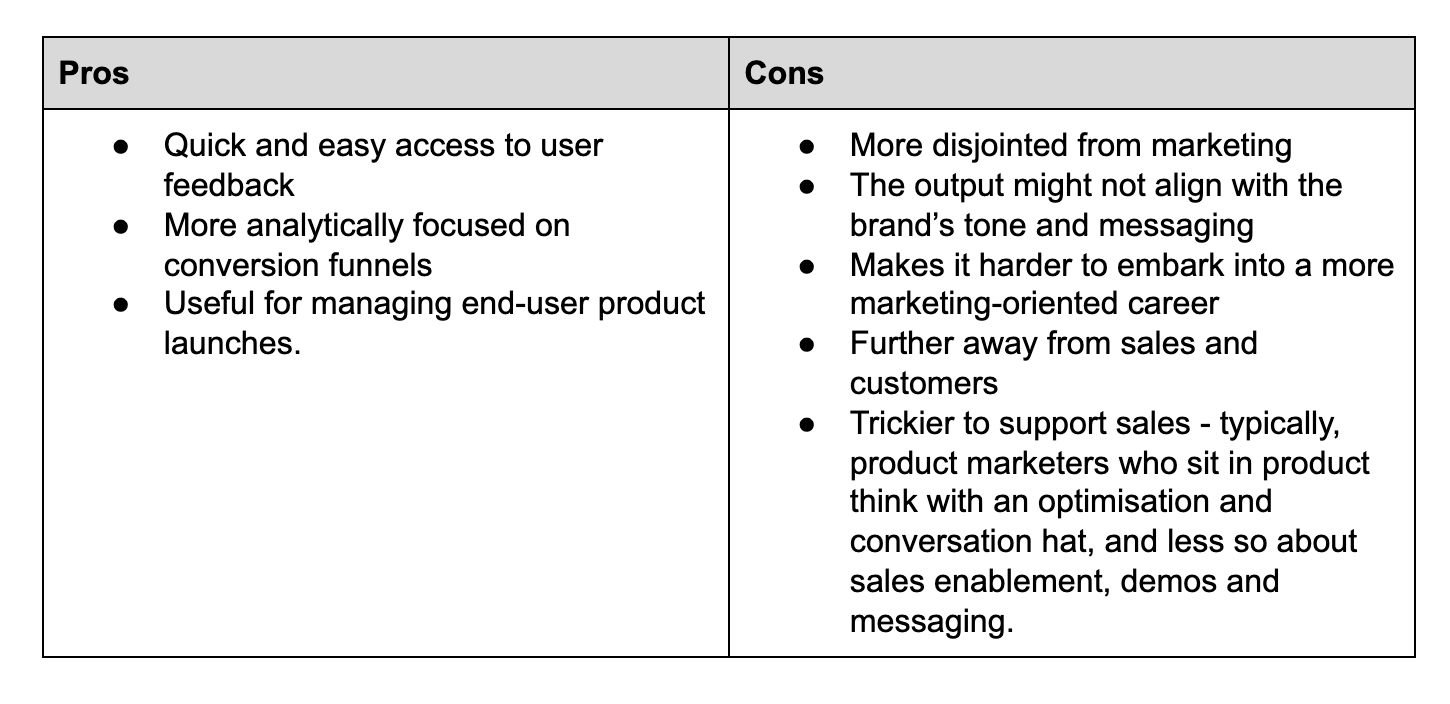 Product marketing under marketing

---
I'm building out our use case studies and am wondering whether the first CTA on the page should drive visitors towards my free trial or high-level content? The CTA's right after the customer problem and use case value.
This will largely depend on what stage of the funnel your targeted visitors are at. If they're at the top of the funnel it's probably best to start by building your authority and gaining their trust with some rich, value-adding content first.
If they're round about the middle of the funnel though, in one way or another, odds are, you've already done that, so you should be good to up the ante with your free trial.
As one of our PMA'ers suggested, it might be worth doing a spot of A/B testing on this one to put some real data behind your decision - you never know, top-funnel targets might take you up on your freebie right away.