This week's round-up covers a little copywriting, a lot of product marketing tools, a dash of budget product demo videos, and a bit of everything else.

If you like what you see and want to catch up on our previous Q&As head over to editions one, two and three.
---
Q: How big were your companies and/or marketing teams (in terms of the number of employees) before you hired a dedicated copywriter?

A: This one got a bit of a mixed response. Some people hired a full-time copywriter when their marketing department reached around 25-30 heads, some outsourced their content to a freelancer, and others trained their existing team up in copywriting skills.

Different companies have different needs and demands so it's all about working out how much support you need and when you need it. Copywriters are qualified to implement a clear and effective tone of voice (somethings that's needed from the outset), so, at the very least, it might be worth getting a specialist on-board for that.

Then, it really does just depend on how much written collateral you envisage needing. If you've got the appetite and budget for a full-time, dedicated copywriter, what's stopping you right now? Their job is to help your endeavours convert, after all. If you don't have either (the need or money), perhaps consider recruiting a freelancer to bridge any ad hoc gaps in the meantime.
Not got the budget for a copywriter? Here are 11 quick and easy tips to improve your own writing.

---
Q: When setting up closed-won/closed-lost interviews with clients, what email subject lines have you used with success?

A: A fellow PMA'er suggested "Should I stay or should I go?" (inspired by the founder of close.io) and "Just one last question" (taken from Columbo). Here are a few more ideas:

A penny for your thoughts...
Can you help? (the open and response rate for this proved very successful when emailing clients for case studies)
Can we talk?
We need 5 minutes, have you got it?

---
Q: I have 5+ years of product marketing experience and have very quickly had to become a team leader. I want to do a great job but I'm the sole product marketer at a SaaS-based company and don't have mentorship with how to manage big-ticket GtM strategies. How do people find their mentors?

A: There are mentoring sites out there (like Mentor Cruise and Marketing Mentor) but they tend to be more purely marketing-focused and, well, we're going to take the opportunity to use this as a shameless plug.

Our product marketing slack community's packed with product marketers from around the world and you'll almost certainly find a bunch of people with experience in the area you need help with; some of which may (and have) offer up mentorship.

Alternatively, if you're on LinkedIn it might be worth posting something on your feed and joining relevant groups. Even if you don't know anyone directly, someone you know might know someone who can help you out.

---
Q: Does anyone have any tips on creating an ultra-low-cost product demo video?

A: A couple of people recommended taking a screen recording (you can do it for free using software like Apowersoft and ShareX) and dropping it into an After Effects template. Then all you've got to do is find someone who's up to being the voiceover.

If you've got a bit more money to throw at it and it's worth the investment (i.e. you'll be making more down the line) we did a bit of digging and found a really useful and in-depth guide to making product demos using:

Audacity (free) to edit the audio,
Camtasia to screen record,
Photoshop to design slides, and
Wistia to download overlay music.

Click here to get to the guide.

---
Q: Does anyone have a list of recommended tools that product marketers use?

A: There is an awful lot out there but here are just a few: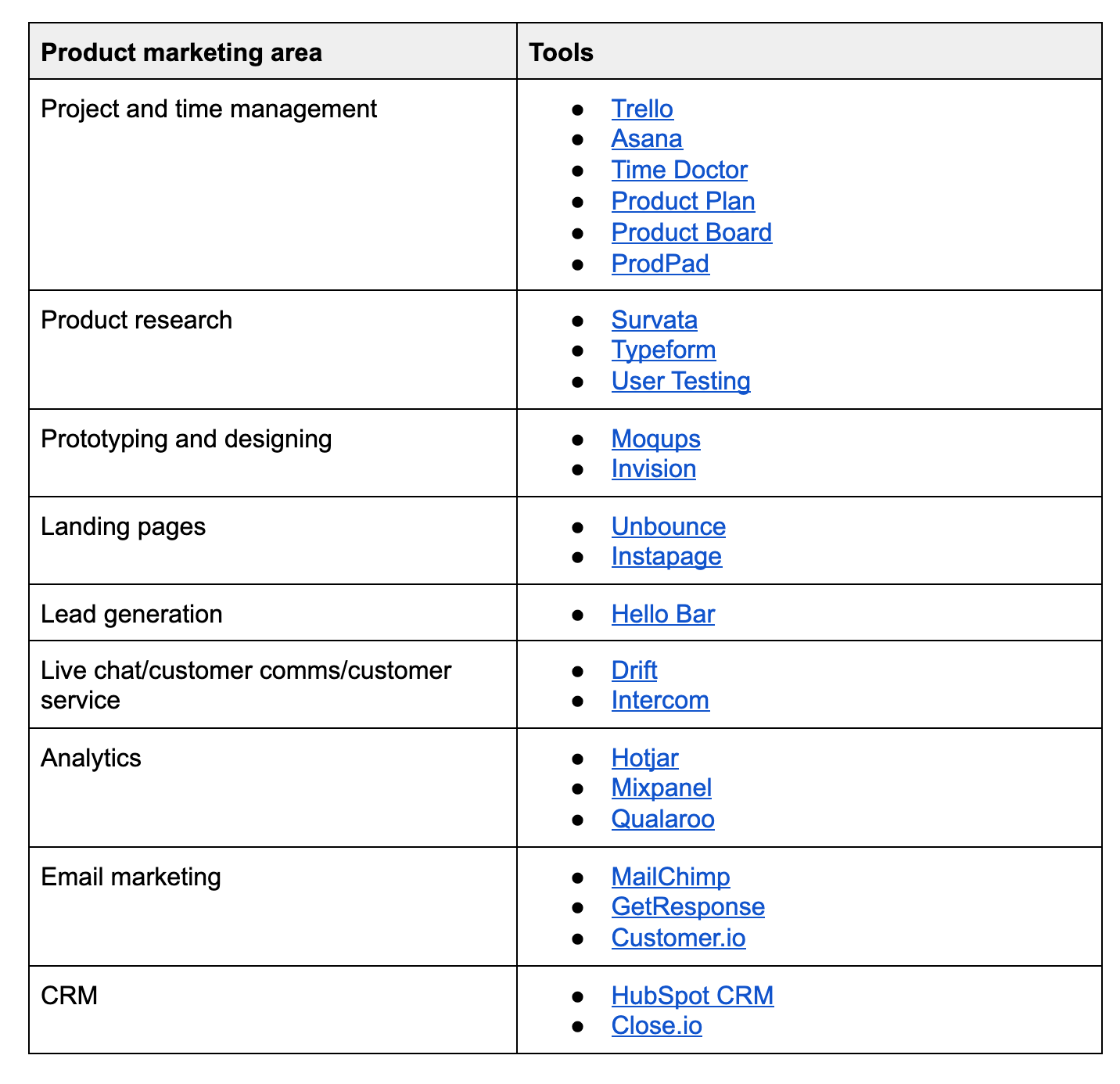 Spoiler alert! You can get your hands on 100s more in our State of Product Marketing report.
---
Q: How do your Product and Product Marketing teams effectively partner with Sales Engineers/Solutions Consultants on an ongoing basis?

A: Communication, communication, communication. Set up an open and organised (emphasis on the organised to make sure things don't slip) forum to get together and let both sides have their say.

That said though, don't be afraid to adjust your set-up if it's not working. It might take a few months for everyone to find their feet but listen to what people want and endeavour to find a solution that works all-round; your perseverance will be rewarded in the long run.

Transparency is also key. Relationship-building is as much of it as anything and people don't like feeling they're being sheltered from stuff they need to know, so be open and honest about everything that affects them and you can expect the same in return.