Welcome, ladies and gents, to.... 🥁
2021! 🥳
Sure, last year was a fair ol' slog, and the COVID-19 pandemic has impacted us all, in one way or another.
But, never the type to let our spirits drag us down, we carried on bringing you a whole bunch of awesome PMM content during 2020.
Among the deluge of offerings we brought your way? Product marketing predictions for 2021, courtesy of the PMM community - and now's the time to see if the predictions will bear fruit.
But before we set the ball rolling for 2021, let's see what the Slack community brought to the table as 2020 finally drew to a close.
Wanna join a product marketing community this year? Head over to our slack community for real-time responses from fellow product marketers.
---
Q: What do you think are the must-ask questions during customer calls for case studies?
A: "In my previous company, we categorized case studies into 2 groups of objectives: to drive new traffic/traction, and to educate existing customers of more complex use cases.
"For the first group, case studies focus on the journey from how the customer first discovered the product to how their business problem is solved with the most popular use case(s). Questions mostly focus on the initial pain points, the alternative solutions they tried before our product, how our product was discovered and why they decided to switch, the process of how they started using the product and then the results, etc.
"For the second group, questions focus on a variety of pain points and how the product solved different use cases. This depends on what features you want to promote/educate users on. For example, our product had an analytics functionality so my questions would focus on what insights were gained after the customer used our product for a while and how they optimized the product usage by leveraging those insights, and how optimizations impact their business results."
Daisy Nguyen, Product Manager at Experian
Looking for product marketing templates and frameworks to make your life a whole lot easier? PMA members can enjoy a whole bunch of resources, including a template designed to help you with customer case study questions. 😉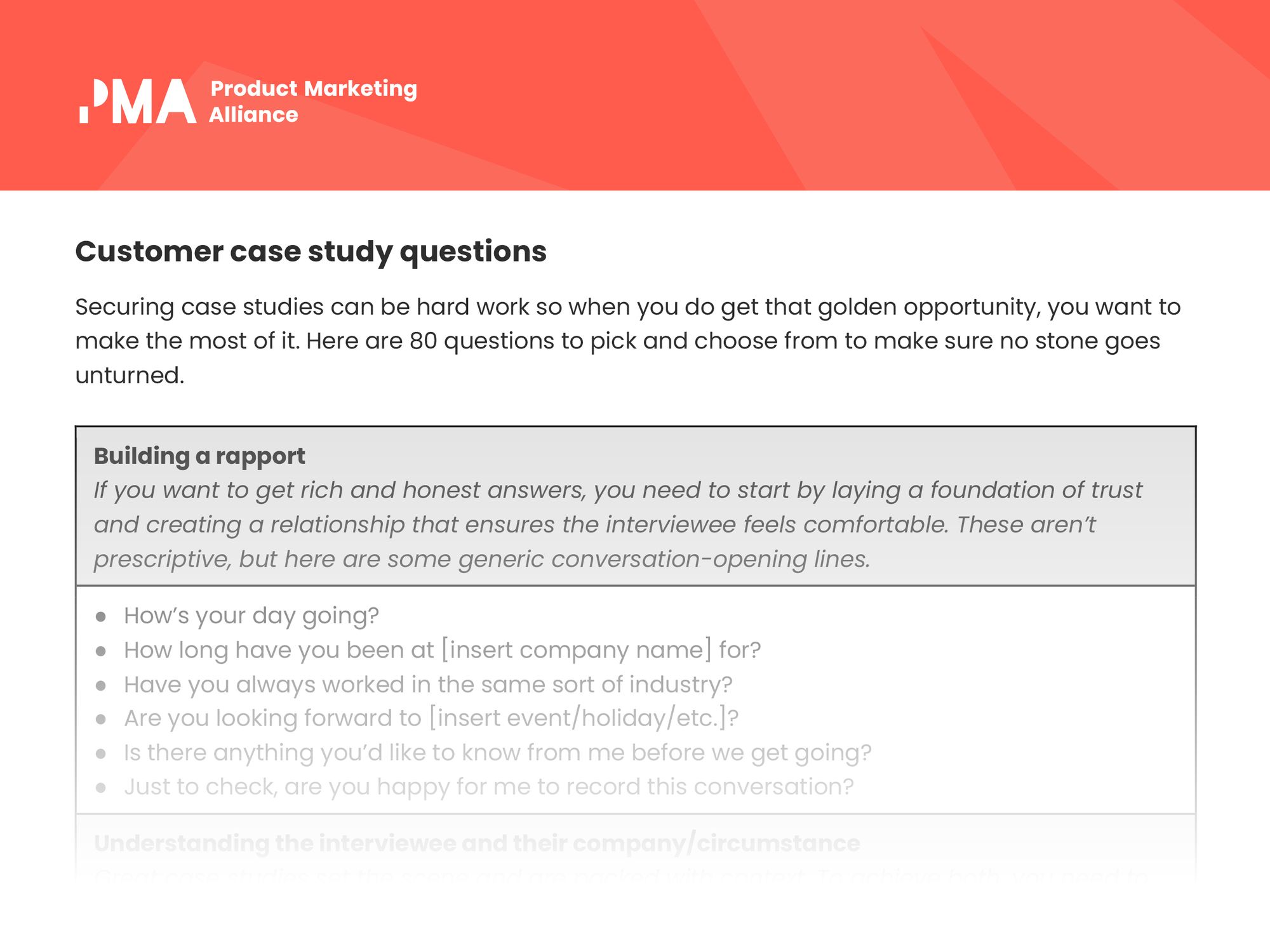 ---
Q: I am stuck strategizing PR strategy for my SaaS product for 2021. Can anyone please help me out in wire framing it?
A: "If you need to tie your PR announcements to your product roadmap, you might start by looking at the high tier releases you have coming up - in other words, what are the product roadmap updates that are the most revenue-generating or appealing to win new business? These can tell you what you want to announce with a press release and perhaps some pitching to the media also.
"Putting a press release across the wire can be expensive, so make sure you know your budget and costs. For any roadmap updates that you want to announce but not dip into a PR budget, consider writing blogs and social content.
"You may be wondering if it's advantageous for the PR agency to handle media pitching, and that's definitely one of the potential advantages of working with an agency. Contracts with agencies may or may not include proactive pitching and/or news-oriented pitching to media; it can vary based on the relationship.
"If you don't have an in-house PR team, it can be worth working with an agency that already has existing relationships with the beat writers and media professionals that your company wants to get in front of."
Leia Schultz, Product Marketing Manager at JumpCloud
---
Q: What are you using to figure out an ideal firm profile? Would love any tips or tricks!
A: "I would start with mapping out how your product creates value and the specific instances where it creates superior value. What kinds of companies would benefit most from those use cases AND be willing to pay enough for it?
"You also have to factor in whether there are enough of those firms in the market to reach your goal. If there isn't, you have to go after a bigger customer group."
Dekker Fraser, VP of Product Marketing at Talkatoo
"I agree with the importance of being willing to pay enough, but also I like to profile my current prospects and why they are interested.
"As an example, we understand banking and insurance companies have an interest in our solution. They also have money and can spend it. The one issue is they are slow in decision making. But occasionally we get quick land and expand deals from these industries.
"From analysis, we learned most of these were due to regulatory concerns. To double down on this we now are partnering with companies that help them achieve regulatory compliance. We act as the backend anyway so for us this allows easy land and expansion and more growth opportunities."
Martin Bakal, Product Marketing Director and Evangelist at OpenLegacy
---
Q: In your org, who is responsible for leading site navigation decisions/testing?
"Navigation suggests usability which would fall under the design department. But to second Ilyas, it's usually a collaboration between Design and Marketing.
"Testing, in terms of optimization, is something a growth marketer would manage, whereas testing, in terms of usability, is the role of design."
Dekker Fraser, VP of Product Marketing at Talkatoo
"This sits with our UX designer who in turn works with an external digital marketing agency to ensure the SEO is aligned."
Jessica Moore, Marketing Manager at MotoNovo Finance
"At my company, this is driven by marketing (more specifically demand gen because that's where conversion rate optimization sits), but it's still in collaboration with design because we have to go through them to get it implemented."
Brandon Redlinger, Director of Demand Generation at Demandbase
"Larger companies will have a 'user experience' team within the brand/design team that will take care of it. In smaller orgs, the marketing team (someone tasked with the website) will own it."
Daniel Kuperman, Head of Product Marketing, Jira Align at Atlassian
"While not involved in the executive, PMM should be deeply involved in the kick-off and feedback/ sign-off of major decisions re. site navigation to ensure you're bringing 1) future G2M and development considerations to the table 2) your understanding of key use cases -- this isn't limited to prospects, but can be rooted in how your Sales team and partners leverage your website."
Fiona Finn, Senior Product Marketing Manager at Unbounce