No team ever goes out onto the soccer field without a consolidated plan of attack.
They have a strategic game plan in their back pockets; they know where the goal is, and they know what needs to be done to sidestep the opposition and get the ball in the back of the net.
A product marketing team should be no different.
You might not be running around a field wearing tiny shorts but you are players in an extremely competitive game and it doesn't pay to drop the ball. If you're going to stand out and reign supreme in a crowded marketplace, you gotta have a game plan.
Personas are a huge… no, gigantic… no, colossal part of any knockout product marketing effort and arguably the backbone of any PMM plan of attack.
Failing to nail your personas before launching your product into the market means you'll likely wind up leading with broad, generic messages that'll cost your business money in poor quality prospects. That's a mistake no company can afford to make, least of all small, new businesses or startups.
Tailored messages to an engaged target audience are the key to product marketing success and as we say in our Personas Certified course, "the most expensive thing you can do is to not tailor your message to your audience". Fail to do so and you'll be left shooting blanks into the aether and hoping for the best.
If you wanna get more hands-on with buyer and user personas, tap into our plethora of persona-based templates & frameworks. But now, we're going to switch positions and focus on the flipside by taking a deep dive into the world of negative personas.
In this article, we delve into:
But before we continue, go right ahead and bookmark our Personas Certified course page so you don't forget to enroll later. 👇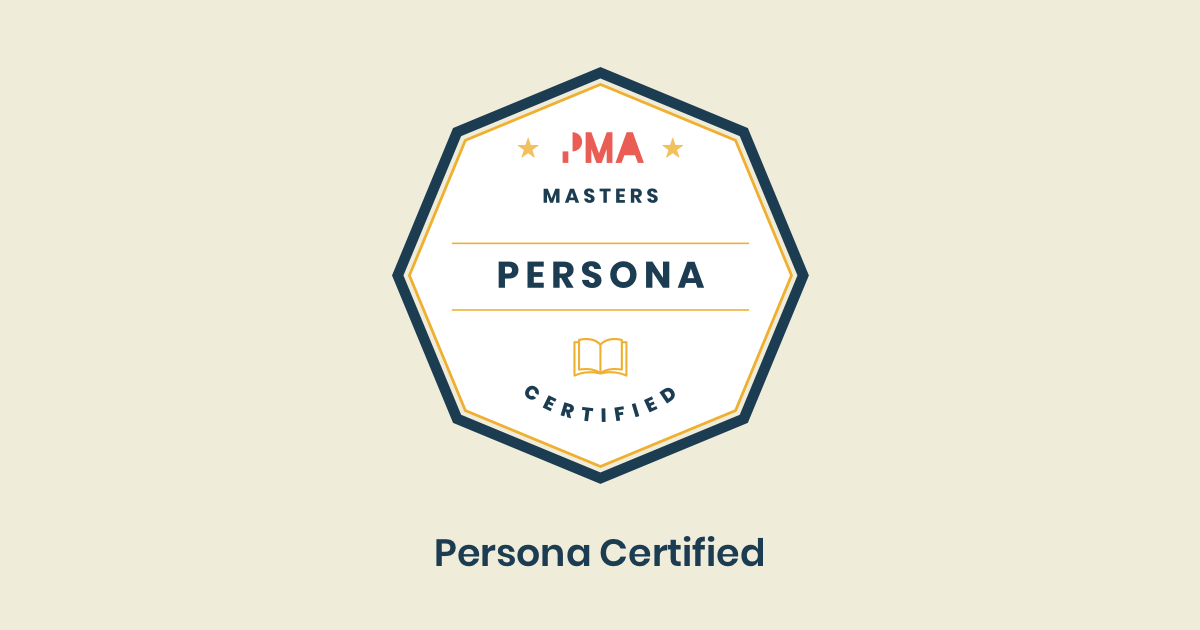 What are negative personas?
If a standard persona is a reconstruction of your ideal customer, a negative persona is a representation of who you don't want to target as a customer.
It could be somebody who is only engaging with your SaaS product for research purposes or people who are just too expensive to acquire (due to a low average sale price or their unlikeliness to purchase again).
Occasionally, you might see negative personas referred to as exclusionary personas but it all means the same thing - profiling the people you aren't trying to sell to.
A great way to demonstrate negative personas in action is to take social media ads as an example (we've stolen this one from our Personas course 🤫):
If a company offering social media ads targets well-established companies with 200+ staff, based in North America, in this instance, a negative persona would be companies with no online presence, less than a year of experience, a workforce of 10 people, and offices outside of North America.
It's as simple as that.
The benefits of negative personas
Similarly to standard personas, negative personas can help shape marketing strategies and the direction of sales efforts.
As the old saying goes, there are two sides to every story and negative personas can be equally as valuable as regular, straight-up personas. Perhaps not in financial return and monetary value, but certainly in enriching your customer marketing insight and finetuning your target demographic.  
Good product marketing is about getting to know who ISN'T interested in what you have to offer, as well as those who are; it's about knowing who you DON'T want to force down the sales funnel as well as those you do.
"Product marketing teams must understand negative buyer personas to understand the people who don't fit the profile of their target audience, and therefore not to spend their or other teams' time on." - Bryony Pearce, Head of Content at Product Marketing Alliance
This information enables you to really hone in on your target customer(s) and understand which segment of the market has an appetite for your product - knowledge that can be gained through also lifting the lid on those who aren't quite so hungry for more.
One of the best ways to get to know something is by assessing its opposite, or its counterpart.
Take the seasons for example: through understanding the nuances of summer versus winter, we get to know what times of year will be most fruitful for sowing seeds and harvesting crops. Strawberries, for instance, flourish in the warm sunlight of summer, while root vegetables and leafy greens are more suited to winter climes.
What we can learn here from Mother Nature is that by making yourself aware of the full picture, you endow yourself with a strong 360-degree perspective from which to steer your product marketing function.
Acquainting yourself with both sides of the coin, so to speak, will make your product-market fit, GTM strategy, sales enablement, customer marketing - and all that other good stuff - so much more well-rounded.
Negative personas are particularly insightful for businesses in their infancy in the process of developing a target demographic. However, companies of all shapes and sizes can reap the rewards of creating negative personas.
Other benefits of negative personas include:
Keeping the cost of acquisition down as targeting becomes more effective when you're communicating with people who want to listen. Identifying the wrong customers can help guide you towards the right ones.
Save the time and energy of your sales function, to make sure they're only investing effort and resource into valuable places, by eliminating dead-end prospects.
More clarity around your desirable personas and their characteristics.
They can help you refine your marketing and communications.
Negative personas aren't just about weeding out the people who aren't interested in your product. Ironically, they can have a super positive impact on your product marketing strategy.
How to identify negative personas
The first thing you need to do is know what kind of characteristics to look out for in an undesirable buyer or user.
Some common negative persona characteristics (or red flags 🚩) include:
Customers who made it into the sales funnel but never closed (or came with a high acquisition cost).
Leads or prospects that are unattainable (this could be for a whole variety of reasons such as budget or geographical location).
Behaviors or patterns that are costing the company more money than the person is making in return.
Unavoidable identity factors that don't align with your offering or target audiences, such as age, culture, and gender.
If any of the people coming your way fall into categories like these, they've likely got 'negative persona' written all over them.
Nailing your negative personas is also a lot about trial and error. As you go along, you can do win/loss analysis and customer analysis to establish who is converting and who is dropping off.
Amongst those you're losing will be your negative personas. If the relationship is right, you might consider interviewing lost customers to establish more information about why they were an unsuitable fit for your product.
Focus on:
Why they were challenging?
Did they consume too much time and money?
Were they unhappy with your product and/or service?
Did any specific issues arise?
What were their goals, and why didn't they align?
How aggressive were their goals?
Were they difficult to manage? If so, why?
What were their biggest pain points?
Over time, you can begin to develop a list of characteristics that you believe profile your anti-customer. Again, this will enable you to take a stronger approach to how you define the customers you do want to attract and nurture.
Right, now we've filled up your tank with negative persona knowledge, we want to leave you with one last little sneak peek from our Personas Certified course content:
"You don't speak the same way to your friends as you do to people who you've just met, and you don't speak the same way to people you've just met as you do to your business partners, or your parents, or your grandparents. You tailor your message to each and every one of them and when you're explaining to people in your surroundings what you do for a job, you don't explain it the same to your grandmother, your mother, and your friends. So why should business be any different?"
Wanna be a product marketing pro? Get to know your (negative) personas.
So, one more time for the people in the back… 🗣️
Take the course 👉 Swot up on persona knowledge 👉  Get Personas Certified >