October 5th - 7th, 2021, we're welcoming a host of product marketing heavyweights for the Masters of Product Marketing, an event designed to propel PMMs to greater heights.
Get your ticket and learn from stellar companies like Facebook, Salesforce, LinkedIn, and more, during a 3-day event featuring 20+ hours of unrivaled, action-led content.
In the meantime, enjoy expert intel from Misha Rangel, Senior Product Marketing Manager at IBM, as she explains how to develop personas the right way. 👇
Personas are the thing in product marketing that is never done - it's core to what we do.
In this article, I'll talk about:
I'll also take you through some practical steps on persona development; even if you already have personas in place these steps are a valuable additional layer.

First, a little bit about me.
About me
I'm originally from Atlanta, Georgia, I went to Emory University, moved to Austin in 2001. I've been here for quite a while and taken quite the tour of growth-stage startups in my career here in Austin, most of which has been in product marketing, I also went to McCombs in their MBA program, got my UT credentials there.

After my growth stage startup experience, I ended up at IBM about a year ago. A pretty big change for me but I am really excited about the new opportunities that I'm having at IBM.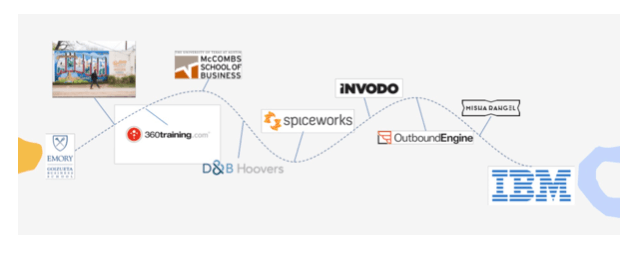 m growing in very new and different ways. I'm able to bring some of the experience I have from the smaller startup world.

One of the areas where I have seen a noticeable gap is the interactions with customers, with salespeople, with support, all those great ways that as product marketers, we get that deep understanding of customers.

At a big company like IBM, that makes sense because they can't have 300,000 employees running around talking to customers all day. It just would create complete chaos.
Why personas are important
I think it goes to show why personas are even more important as a tool when you don't have sales right next to you when you don't have a customer that you could call up on a whim.

This is a visual I like to use when talking about personas, and why they are so important.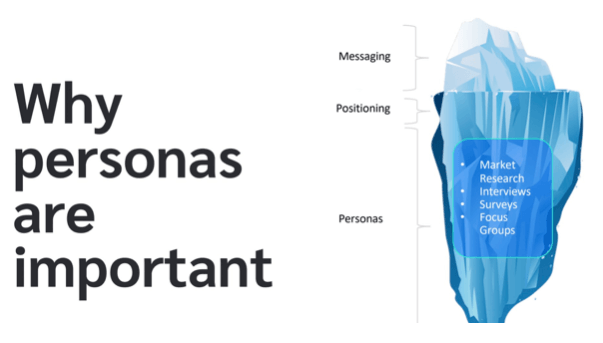 Messaging gets a lot of the glory - pretty much gets all the glory, right? When you see a great ad campaign put together when you see a great content piece, you look at it, you're like, "Wow, this is awesome. Oh, it had such great ROI. It produced these results and everything".

I guarantee you that every good marketing piece has a solid foundation of a deep understanding of customers. It's kind of that silent base that really informs all good product marketing.

Personas are the foundation.
Personas: the foundation
It really comes down to a few basic things that seem very basic, and it will take constant iteration and perfection to accomplish this.

Understanding your customer,
Understanding what problems they have,
How does your product help them solve the problems?
And this is the secret weapon to help you nail your positioning.

If you cannot answer all of these questions with confidence, if your teams cannot answer these questions, if your sales teams can't answer the questions, then there are going to be problems.

Not only are we as product marketing in charge of crafting this, but we also have to take the huge step of adoption and making sure everyone is enabled and consistently saying the same message.
The goal: product-market fit
You hear a lot about this in the startup world because startups are always looking for their market fit. This is put up as a golden standard - the product-market fit.

I don't know how many people have had experience at a company where you really have felt that you have hit a product-market fit. You know it when you feel it. I had an experience at a startup when we were in that company, and it is a stride. It's a great feeling. It got me addicted to startups. It's wonderful.

When it's not happening, it feels like pushing a boulder up a hill.

Your customers aren't quite getting value out of the product.
Word of mouth isn't spreading.
Usage isn't growing that fast.
Press reviews are kind of blah.

If you are in that in any way, right now, go back and look at your personas, because chances are, those need to be revisited.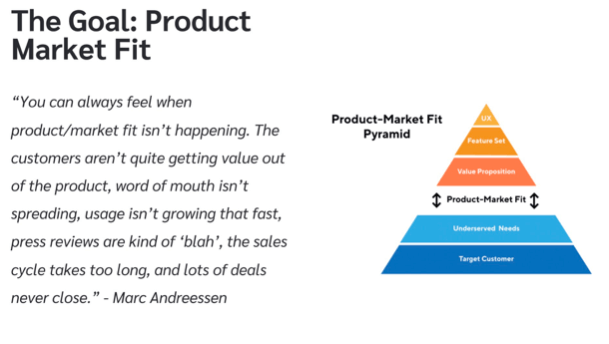 The best personas are a mix of quant and qual
Quant is the start
A lot of times we have access to a lot of data as product marketers, we're usually data people, we could pour through data. I love some Gartner Forrester reports and looking at charts and everything like that.

Sometimes, especially around personas, this is the end of our analysis. "Our customer is this percent likely and on the survey, they ranked this as their number one priority so we should go here". We are done with the job.
At IBM, we have a great resource of a research team that prepares analyst reports and does their own first-party research and everything like that. Amazing tool, but we can't just take what they give us, and then pass it over.

We have to take another level of qualitative data on top of that. The way to do this is through interviews.
But don't forget to layer on interviews!
This is easier at some companies than it is at others but I can't overemphasize the importance of interviewing.

If you are at a company that is an enterprise, you can't necessarily call up the CTO of JP Morgan Bank and talk to them on the phone, there are some other things you can do.

Number one, talk to people in your network that have similar titles, talk to business partners, talk to sales, talk to customer support, and really advocate for getting some face time with customers.

Whether that's at an event, or a CAB, or a customer support event, those are really invaluable to understand your customers.

Try some personality research
Crystal
This was my secret weapon. I promise you, I do not have stock in Crystal, but I probably should because I talk about them a lot and give them a lot of props.

There's a tool out there called Crystal and it is this really cool AI personality research tool. It's a plugin that you download, and that you could put on LinkedIn.

When you go to someone's profile on LinkedIn, you click the little Crystal button and it does some crazy AI analysis and tells you what their personality is. There are maybe 10 different personality types - really fascinating stuff and really scary stuff if you want to look up yourself and see what it says.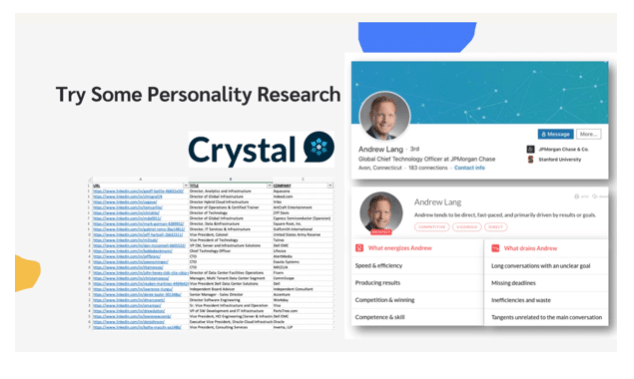 How we use Crystal at IBM is we took a list of titles that were a fit with our customer base, I had my team go and research people on LinkedIn that had that title.

So, who is the global Chief Technology Officer at JP Morgan? Andrew Lang.

Will I ever get to talk to Andrew Lang on the phone? Probably not but I can look him up and 30 or 40 people like him on LinkedIn and look at their Crystal profile.

If you can imagine, a lot of CTOs/CIOs fall into a very similar personality profile. Just as a lot of product marketers fall into a similar product marketing personality profile. You start to see similarities in the personalities.

The one thing I do like about Crystal, if you look at this screenshot at the bottom, it shows you some emotional indicators, which is a lot of what is missing from personas.

Personas are different from segmentation. Segmentation is what your role is, what your gender is, how old you are. What a lot of times is not covered is what motivates you, what your strengths are, what the ways you prefer to be communicated with are. Those are very important nuances to take that persona development to the next level.
Interview questions
Not everyone is comfortable interviewing, which I get, it can be really overwhelming if you haven't done it in a while. I personally love interviewing customers, I think it is super gratifying and rewarding. It's actually not as hard as you may think it is.

The reason why it's not hard is that in interviews, you aren't really supposed to talk a lot anyway. So if you ask a few good, open-ended questions, I promise you, the customer, the business partner, or the salesperson is going to talk your ear off.

If you do line up a customer interview, just start it out open-ended. Say "Hi, I'm in product marketing. I'm building some strategic initiatives for this year. I just wanted to hear what's Top of Mind with you this year? What are some initiatives you're thinking about? What are some of your biggest challenges for the year?" and just shut up and they'll talk.

You'll hear some really interesting information.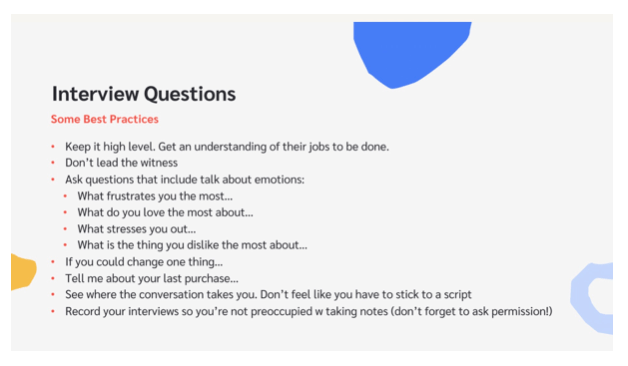 Jobs to be done
If you haven't heard of jobs to be done, it is an agile methodology that essentially just means get to the root causes, don't look at the symptoms.

A lot of the time, at very top-level interviews and needs analyses, we talk about the top level of symptoms, and we don't really get down to the root causes.

Don't lead the witness
This is an important one and one that is really hard not to do. We're coming with our agenda and the customer may not want to talk about IBM, they may not want to talk about your company or your product.

And that is okay, it's actually better. Because you really want to hear holistically what their point of view is.

Emotions
I always like to ask questions that include talking about emotions.

What frustrates you the most?
What do you love the most about?
What stresses you out?

A good example I like to give with this is if you've ever purchased a car. If you purchased a car and I asked you what are the top three reasons you purchased the car? Well, if it's energy-efficient, the price was very economical... you're gonna list some really rational substantiated reasons why you bought that car.
You will not tell me you bought that car because you like the color of it, or because it has like a cool sport mode that makes a sound when you're going fast or whatever. But a lot of times, those are really the features that make people buy.

As product marketers, sometimes we really get focused on the features of the product, and we forget the payment terms are really important:

The customer service experience.
How much they liked talking to the salesperson.
The delivery of the product.

There are a lot of reasons outside of just basic functionality that sometimes we overlook, and we could highlight more.

Other good questions include, "If you could change one thing... " and I also like the question "Tell me about your last purchase".

Again, when you talk about something in theory people are going to go to a very logical place. But if you actually ground them in the reality of what their last purchase experience was, they're going to give a truer answer.

Record your interviews
The last tip is to record your interviews for a couple of reasons. Number one, you don't want to be preoccupied with taking notes and missing something. The second is you could then record those interviews and take them through some language analysis that I'll talk about here.

But don't forget to ask permission when you record someone or they'll get creeped out. I did this recently, with some strategic planning for 2020 around moving to the cloud, I got some really great quotes I was able to pull out of my interviews.
I don't think there was anything customers said in these interviews that was really groundbreaking. But what I really found fascinating was the way they said it. The words they chose to use. The way they chose to talk about this.

As a big corporation that tends to use corporate speak, it is so important for me to hear the word choice.
otter.ai
One of the other things we did was take the interviews we had recorded and ran them through a tool called otter.ai.

This tool automatically transcribes the interview audio. It's a really easy, efficient way. We ran those interviews through a word counter tool (if you just Google 'word cloud generator' or something like that) and you could actually see what words your interviewees used a lot.

We also had a virtual panel that we had a transcript from that we ran through as well.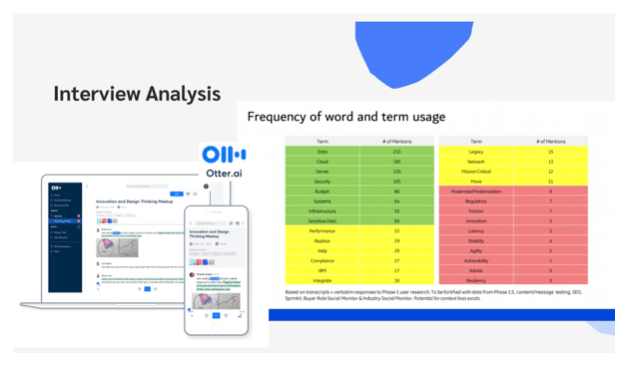 You could see, on the left words in green, that customers used a lot. And then the yellow of words that customers use somewhat frequently. Then red, which was mostly words that at IBM, we use a lot in our marketing. And guess what? Our customers do not talk about latency and agility and data residency.

They talk about those concepts, but they just use different words to describe them. It's really important to take that lens on what we're doing in our messaging and our creativity to make sure that we're speaking in the same language.
Persona templates
There are a lot of persona templates out there. This is one I really like. It gives everything nicely on one page and it covers both the demographic, logical information as well as some of the squishier information like motivations and personality.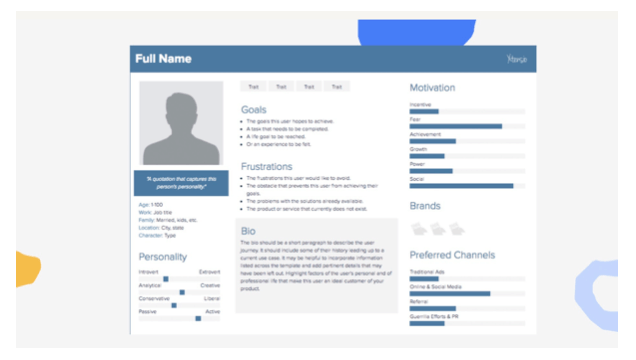 This guy is a CTO in town who I interviewed. This is one example of the personas we developed for the IT buyer. IT leaders and decision-makers are really hard people, they are tough cookies, they are hard to market to. They're incredibly intelligent. They're very savvy. They want you to get to the point. They are very challenging.
The straight shooter
The straight shooter is a great example of that.
He's a wonderful leader,
He's persistent,
He's vigorous,
He's data-driven,
He's a great team leader.
Some of the things that he's energized by:
Speed,
Efficiency,
Producing results.
This is the language he uses when he thinks about his own success so we need to align our product and offering to how he helps achieve some of those objectives with himself.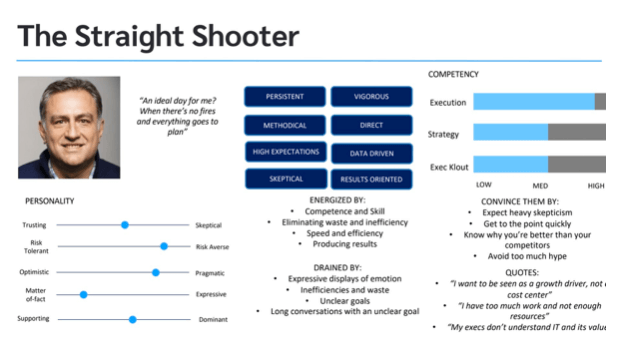 What is he drained by?
Expressive displays of emotion.
Inefficiencies.
Unclear goals.
Long conversations.
These are all really important as we develop our touchpoints with this persona over the buying journey.
We also put some of the quotes we had derived from our interviews here, to really drive home what their motivations were. For the straight shooter, it was "An ideal day for me? When there are no fires, and everything goes to plan".
So how do we develop a positioning and messaging that helps show the straight shooter how he can achieve that?
Visualizing personas
This is the fun part about visualizing personas. All the work that goes into personas is only half the battle, we have to then communicate it.
Especially being at a company like IBM, where we literally have hundreds or 1,000s of stakeholders that need to be armed with this information, being able to present it in a good way that's memorable, that's adoptable is so important. I picked a few companies I admire, and how they do their personas.
Marketing Mary
This is a good example of a standard persona, a little bit blah.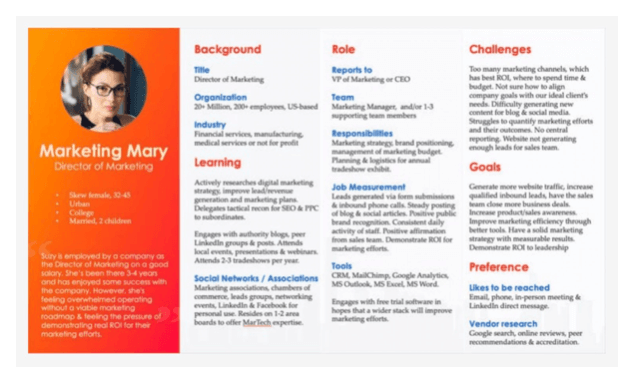 I picked it because it's a marketing persona. We're all marketers and we can read this and be like, "It's kind of right. But it's a little bit generic".
Too many marketing channels, looking for ROI, they're looking for leads generated, like this is all very whitewash. It's not wrong, but it's not really speaking to me.
I would call this a B+ persona because we all know that as marketers, there's a lot of different types of marketers, and when we talk about IT buyers, sometimes we tend to generalize around IT buyers as well whereas, in reality, they can be very different.
Some good ones...
MailChimp
I love the way they're visualizing this.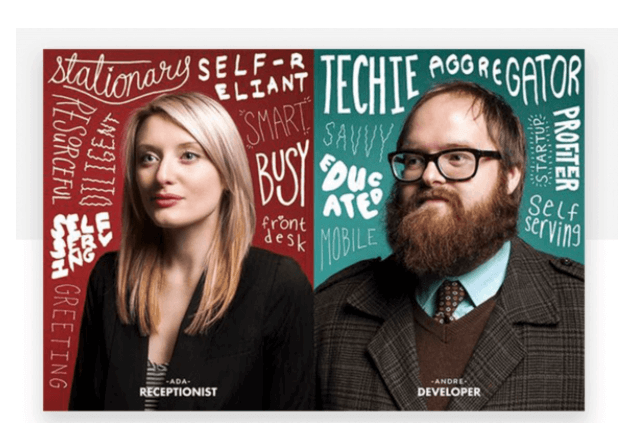 A lot of these examples are B2C companies, which isn't really fair because B2C I think has an easier time developing personas than B2B. But I like to look at B2C companies for inspiration.
Not only does this really summarise in a very digestible way, who these personas are, but you could see this on a poster in a marketing huddle with sales. So I love this.
Spotify
Spotify does an awesome job with its personas.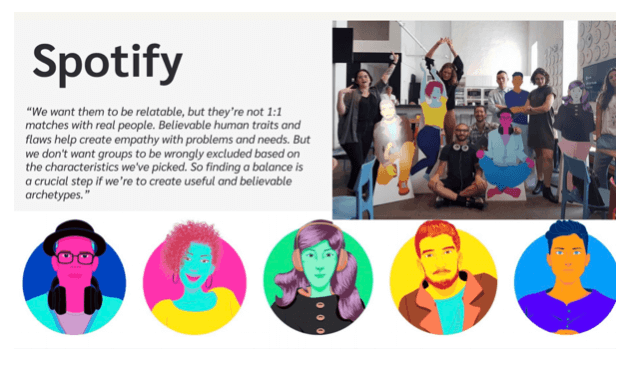 The other cool thing is these companies actually publish their personas in a blog post describing how they developed them, who they are, so they make them really available and transparent.
Spotify made these cool little cutouts that they put around the office. I also thought this was an important point because we all want to be equitable and make sure our marketing is diverse in this day and age.
We want to make sure to emphasize that our personas are relatable, but they're not one-to-one matches with real people.
For example, it would be very easy for us to personify, have all of our personas for an IT leader by a middle-aged white guy.
Yes, there are some middle-aged white guys who are IT leaders. But there is actually a very diverse population of IT leaders out there and we need to make sure to do our part to make sure that's reflected as well.
There is a fine balance between stereotypes and personas, just to throw that out there.
What's in your persona's purse/backpack?
This is a cool example. I don't know if it relates to anything to do with a B2B buyer, but I loved the exercise of thinking about what is in your persona's purse, or what's in your persona's backpack?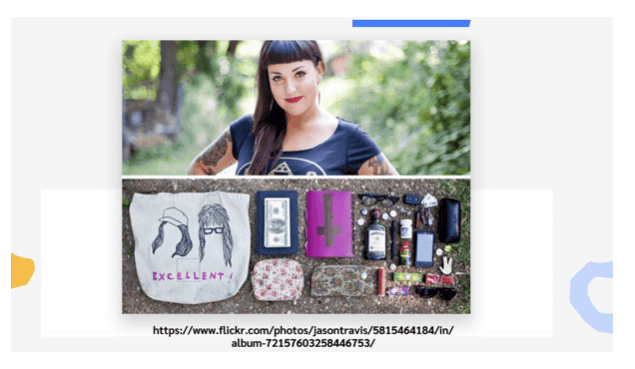 What are they carrying around with them? What do they care about? When you're working with your teams, don't be afraid to think outside the box in these creative exercises that may spur some new ideas about how to market to your persona.
To wrap up
Getting started is the hardest part. This is one of those important, but it's never urgent things to do. It's important to have the discipline to set aside time for yourself for this.
It's a never-ending journey.
It is the key to being an amazing product marketer, something I'm very passionate about and absolutely believes it is the foundation of great marketing.
You can leverage tools, as I talked about otter.ai, Crystal, LinkedIn.
Don't forget about the final step of how you're visualizing and socializing to really drive the adoption around those personas within your organization.
Thank you