Previously in How I Got My Job, Bettina Jakobsen, Google's newly-appointed Product Marketing Manager discussed how she landed her former role as trivago's Global Strategic Project Manager/Head of Nordics & France.
In this instalment, we're focusing our attention on Matt Dehaty, Head of Product Marketing at Gymshark.
A rapidly expanding brand within the sports industry, Gymshark has established itself as one of the most popular producers of fitness apparel and accessories, with a social media following of over 5 million consumers spanning hundreds of countries.
In our deep dive into the brand and Matt's product marketing journey, we'll be focusing on:
Matt's route to his current role,
His roles and responsibilities,
How to follow in his footsteps.
---
Matt Dehaty, Head of Product Marketing at Gymshark
Matt Dehaty's career in product marketing has been built on foundations of sheer grit and determination.
After studying Psychology and Sports Science at Northumbria University, he spent 13 years cutting his teeth at sporting giant Nike, working as Product Line Manager for NFL apparel and NFL uniforms.
In 2019, he moved back to the United Kingdom from Oregon, and took on the role as Head of Product Marketing at Gymshark.
Let's discover more about How He Got His Job…
---
Matt's journey to Head of Product Marketing
What was your dream job growing up?
I can thank my parents for always reinforcing the message that you should do what you love. For me, that dream was to play Rugby for the Newcastle Falcons. Even while studying my degree, Psychology and Sport Science, I was clutching on to the dream of being a professional player. Part of the rationale for choosing Sport Psychology was to make me a better rugby player. I never seriously considered a career outside of Sport and thankfully my professional career has allowed me to stay connected to that world.
Does your current role resemble what you wanted to do growing up, whatsoever?
Not literally, but in a sense, Rugby taught me so much about how to lead a team and to be a great teammate. To work hard and stay humble. There are some incredible books I recommend that talk about this link directly. Legacy by James Kerr talks in-depth about culture within the All Blacks; I cannot recommend that book enough.
Psst. Once you've read Matt's book recommendations, we've a whole bunch of titles in our product marketing reading list. Check it out. 👇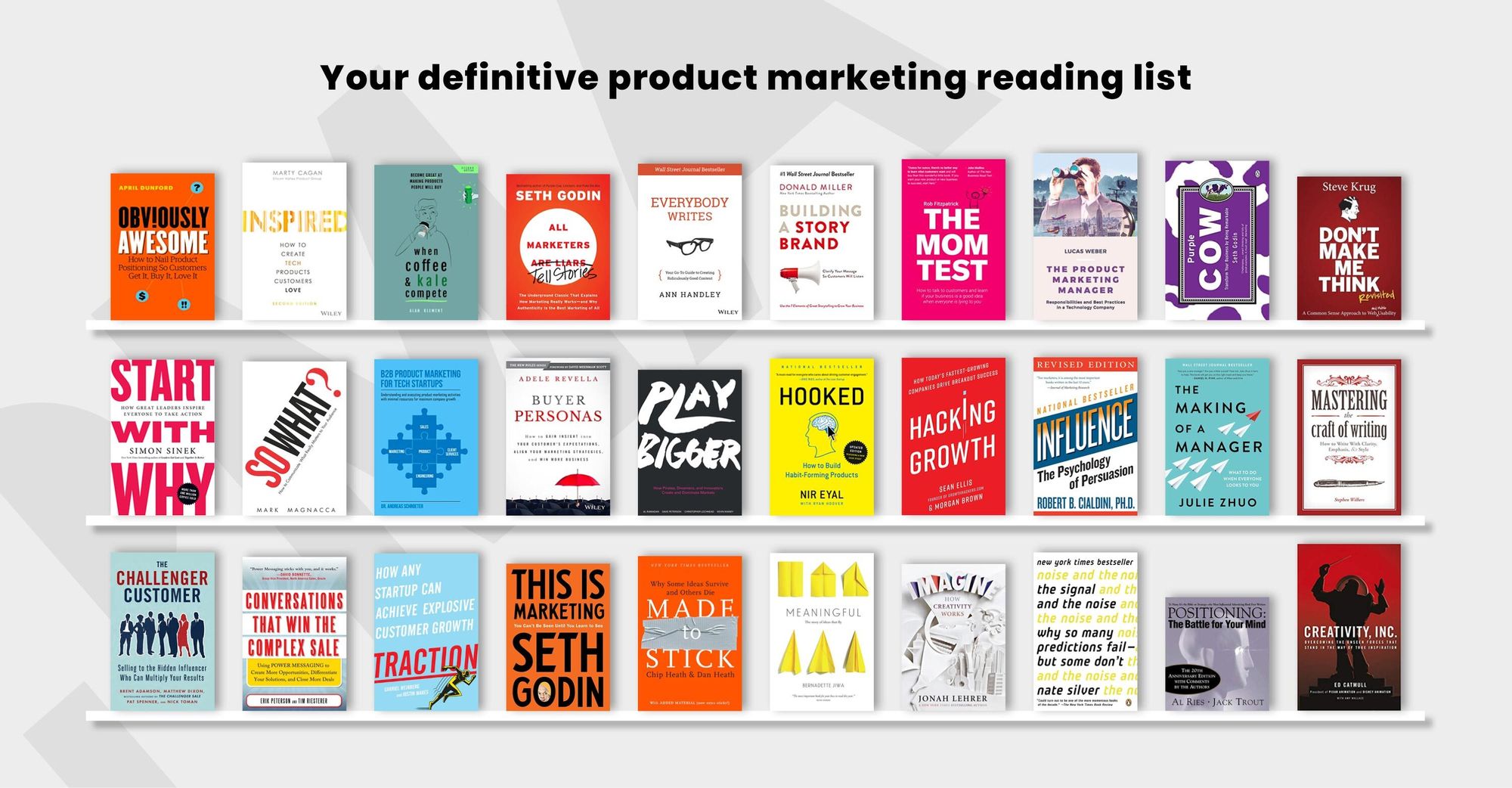 How did you get into product marketing?
I cut my teeth in the UK within B2B Customer Operations and then B2B Sales at Nike. I quickly realised that the most enjoyable part of those roles was telling stories. I'm obsessed with human potential and the competitive spirit.
A lateral move into a unique role at Nike called EKIN allowed me to spend literally all day talking about the Brand and the Products. My only KPI in that role was to create brand advocates.
My last 8 years in Nike were exclusively Product creation but across two continents. I started in Europe and ended up in the US focussed on the NFL. This gave me a deep understanding of the apparel creation process, refined my commercial acumen but most importantly allowed me to still tell stories about human potential. The super skill that I learned in that time was talking to athletes and translating that into the language of apparel creation. If you can keep Nike's top athletes happy, you can do the same for consumers.
The Product Marketing team at Gymshark are the driving force taking products from concept, through design to market. We're generalists and we're simultaneously the voice of the Gymshark community within the product creation function as well as the voice of Product within the Go-to-Market functions. My experience at Nike gave me a deep enough knowledge of both worlds to be able to make the transition from Product Management into Product Marketing.
What challenges did you face en-route to becoming Head of Product Marketing?
It's tough to pick one because there've been many: Navigating the culture within a corporate giant like Nike, four relocations, five very different cultures.
I had to learn the need to manage key stakeholders the hard way. I've shed tears over moments where there have been massive misalignments between stakeholders, and growing up and maturing as a person, a lot changes on a personal level in 15 years.
In relation to Product Management specifically, my first big challenge was learning to remove my personal opinion from a brief or from a design review. This was tough for me as part of the reason I landed my first apparel role was my deep personal understanding of the consumer. I was making jerseys for elite Rugby teams. A designer gave feedback early on that whether I like something personally or not is not enough. At Gymshark that is incredibly important. We have a mantra here of "No more I reckon". This is a reminder from your peers that makes you think twice before starting a sentence with "I reckon…"
With the power of hindsight, is there anything you'd do differently, at all?
That's easy. If I could tell my younger self one thing it would be to spend more time talking and listening to other people about their ideas and work.
It has always been critical that individuals communicate well within their teams. What I wish I'd done more of was actively seek conversations with people outside of my team and even outside of my industry. I'm not a creative or particularly bright person but if you talk to the right people you can learn so much, so easily. I almost never come away without a fresh idea or perspective from conversations outside of my immediate team or company.
Which product marketers have inspired you the most, en-route to the role you occupy today, and why?
These aren't PM's specifically but they work in closely related fields:-
Firstly, Rory Sutherland for his book – Alchemy. It changed the way I think about human behaviour drastically.
Tom Fishburne for his hilarious weekly comic Marketoonist.
Last, but not least, Richard Thaler for everything related to Behavioural Economics and the science of decision making.
---
Matt's role as Head of Product Marketing
What does your role entail?
My role at Gymshark is incredibly varied.
A day in the life of a PMM at Gymshark could easily include hind sighting and commercial analysis, physical product reviews and fits on models, building briefs for the brand and campaign team, interviewing our sponsored athletes and influencers for insight, training our customer support team on product benefits and features.
If you had to explain your job to someone with zero knowledge of product marketing, how would you explain it?
We are responsible for being able to deeply understand our community and explain what is different and better about our products. I'd also point out that there is no finish line. The community is always changing and we're constantly improving the resolution of our picture.
Do your family members and friends understand what you do?
Definitely not. My friends within the industry don't count do they?
Frankly, there's work to be done within the industry explaining the value of PMM and even within Gymshark.
How is your product marketing team structured? Has this changed since you entered the role?
At Gymshark we're set up as generalists. We want the person briefing the product creation team to be the same person briefing the go to market teams. It's so important that the original concept is retained. We are the red-thread. The function sits within Product Creation but we intersect with other functions from innovation all the way to product delivery. Our department is aligned vertically in the same way we report on commercials first, and then by customer/product type.
Before I entered the role Gymshark did not have a Product Marketing function. So the major change has been recruitment of people; we've grown from 3 people to 16 within as many months.
---
Matt's top tips
What does an entry-level PMM need to do to become a Head of Product Marketing?
We have strong cultural values within Gymshark that are a prerequisite for any role in the company.
For a PMM, I believe consumer empathy is mandatory plus storytelling, which is almost as important. All the other hard skills can be taught or learned.
Consumer empathy can be completely analytical or even completely by feel but ideally we'd have both. We currently have a blend of people in the team that complement each other beautifully to do both.
Storytelling is as important internally to build momentum and support as it is for the consumer experience. Humans can be quite irrational, especially when they're busy. Who isn't in today's world? Most people, in my experience, even those in more analytical functions respond better to stories well told, than logical arguments.
What advice would you give to a product marketer plying their trade in the current circumstances?
Same as above: Consumer empathy.
Change is a given. The rate of change is actually increasing. Our job is to constantly improve the resolution of the picture of the consumer.
Right now, your picture might be white noise but going back to core purpose and missions will help.
What would you consider to be the most important quality needed to succeed in your role?
In the context of Gymshark and our Product Marketing journey, I'd have to say curiosity is an important product marketing skill. Our leaders are incredibly supportive and there is a fail fast mentality here.
A curiosity and ambition to know more and try new things underpins growth at Gymshark.
In terms of extra-curricular activities, is there anything someone who may want a role similar to yours can do to improve their knowledge? Any recommended books/podcasts?
Always. I'm a big fan of Carol Dweck's – Mindset.
Ryan Holiday's Ego is the Enemy is one of the only books I've gone back to multiple times.
For hard skills, right now I'm personally diving into the world of 3D, Virtual and Augmented reality. The possibilities for these are endless and once mainstream will change everything.
For podcasts NPR: "How I built this" is such an incredible resource. Guy Raz's interview with Patagonia founder Yvon Chouinard blew me away.

---
And the advice doesn't stop there…
Our specialist resource PMM Hired offers everything you need and a whole lot more to climb the product marketing career ladder, including interview advice, vetted and tested resources from respected PMMs, and exclusive articles, with invaluable insights also available to PMMs with a PMA Membership.