The 2021 State of Product Marketing report reaffirmed our predictions: more and more people are transitioning into product marketing.
Still though, there isn't a definitive route into the profession, with our latest deep dive into the nuts and bolts of the industry confirming the diverse origins of global PMMs.
While PMMs surveyed came from a variety of seniority levels, company growth stages, and company sizes, not all had longstanding careers in product marketing - not by a long shot. Many originated from other sectors, one as far-flung as an ex-Burger King Line Cook.
Wanna follow in their footsteps and make the transition from your current role to a product marketing position?
In this article, we'll be focusing on essential topics relating to transitioning into a product marketing job, including:
---
Essential product marketing skills
When we asked product marketers about their career ambitions, it was a positive sign to see 64% are ready to take the next step on the product marketing career ladder or were quite happy in their existing PMM role (28%).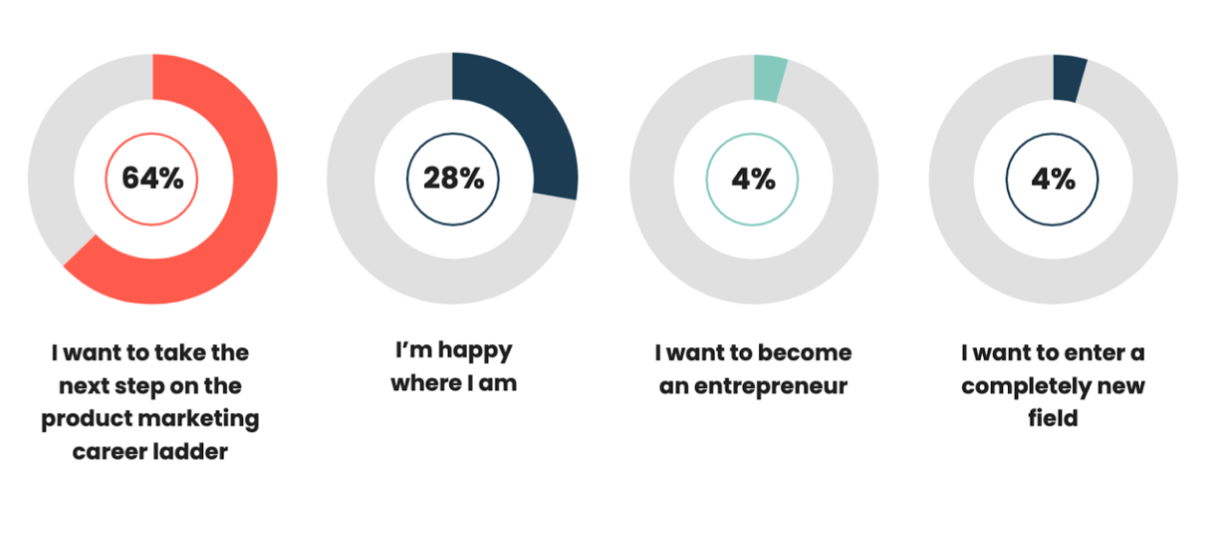 However, to successfully take the next step and progress further, there are skills PMMs need to master, and the same applies to professionals transitioning into the role.
With more entry-level PMMs dipping their toe into the water and beginning their careers, it prompted the million-dollar question:
What exactly are the top product marketing skills needed to ascend the ladder and transform from aspiring Associate Product Marketing Manager to esteemed VP of Product Marketing?
We explored the area further as part of the 2021 State of Product Marketing Report, and collaboration with co-workers, strong communication, and creativity, and problem-solving were identified as key skills for any product marketer.
Product marketing experts who've successfully navigated the preliminary stages have their opinions on which skills they think are indispensable.
"Great product marketers have three things:
"They're a creative generalist marketer, an amazing storyteller, and advocate for their customer and space.
"Also, they know how to create cross-functional momentum inside a company, big or small."
Marcus Andrews, Director of Product Marketing at Pendo.io
"A great product marketer is both curious and influential. Curious product marketers gawk at the product and gawk at the customers. An influential product marketer can better champion customers' needs throughout the product's life cycle, increasing the success rate of the product from cradle to grave."
Carolyn Bao, Vice President of Marketing at Futu
"A great product marketer thrives in ambiguity. They can move effortlessly from forest to trees and everything in between. They are naturally curious and a fantastic communicator."
Lindsay Bayuk, Chief Marketing Officer at Pluralsight
"A great product marketer can be defined as someone who is both an athlete AND a specialist. They can operate as a generalist if on a small team tackling a multitude of different projects across the business. They can also go super deep into something that requires more strategic thinking and attention to detail."
Cody Bernard, Principal Product Marketing Manager at Dooly
"A great product market is an alchemist, a juggler, and a gossip. PMMs ultimately find ways to turn products into something that our customers need and the sales team can sell.
"We manage multiple touchpoints, from beta testing to sales enablement to storytelling with data, to masterfully manage go-to-market strategies that drive revenue."
Jennifer Bunting, Head of EMEA Product Marketing at LinkedIn
"The Japanese embrace a concept called Kaizen, which is the focus on continuous improvement to get 1% better every day.
"I believe a standout product marketer remains curious, empathetic to the customer's needs while staying bullish on the quality and excellence of the customer experience.
"Internally, a strong product marketer brings the company purpose to life by evangelizing customer insights and are the connectors and glue that bind the organization behind a common goal."
Bree Bunzel, Head of Global Customer Marketing at Dropbox
---
How to transition from product management to product marketing
As part of our 2021 State of Product Marketing Report, we wanted to discover what the product management to product marketing ratio looks like.
The responses revealed that for most of our participants (19%), the ratio is 1:3. Other common product marketing to product management splits included 1:1 (9%), 1:2 (15%), 1:4 (11%) and 1:5 (10%).
These were the top five most popular responses so, as you can see from the relatively low percentages, the full spectrum of findings was widely diverse, with other answers including 2:1, 3:5 up to ratios of 4:20, 5.30, and 7:4.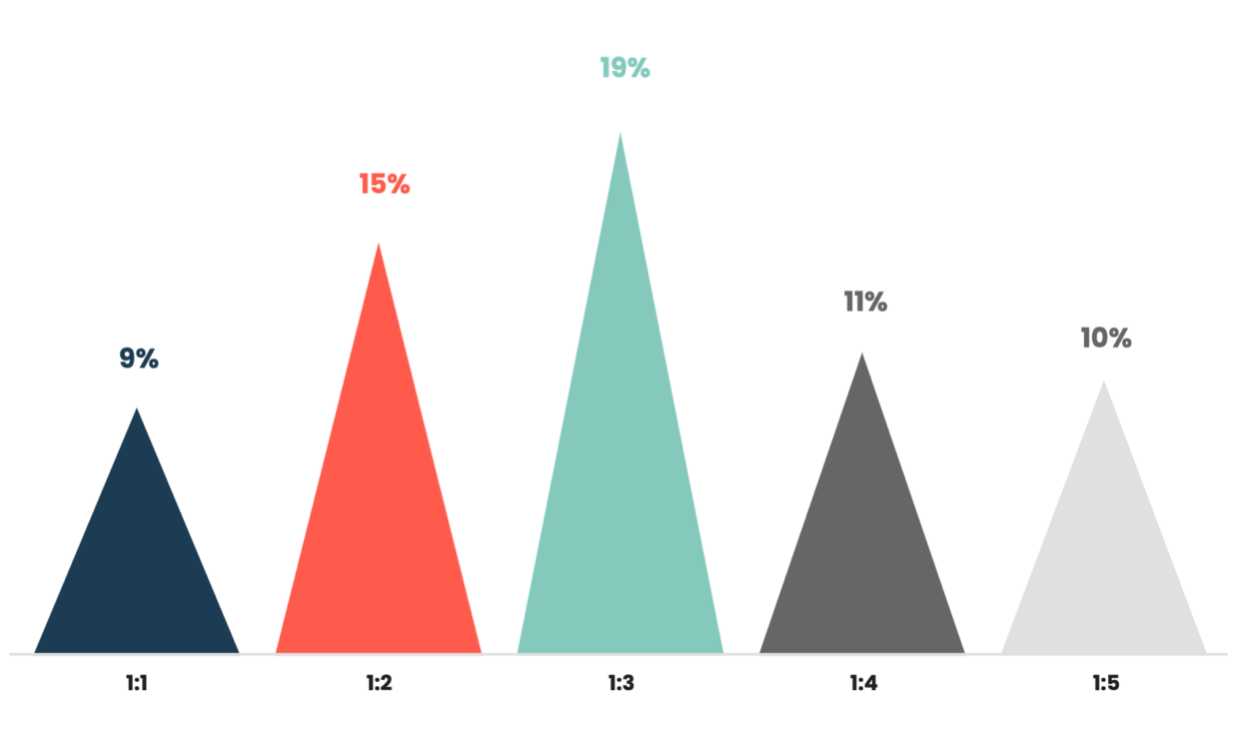 Product Managers and Product Marketing Managers both bring undisputed benefits to a company, working in tandem to inform product launches, go-to-market strategy, product messaging, and more.
However, while the roles share some similarities, they aren't identical, and many Product Managers are deciding to transition into a product marketing role.
Martin Bakal, Product Marketing Director and Evangelist at OpenLegacy is among the growing number of product managers who have opted to change direction and pivot into a product marketing role. He shared his insights on the why, what, and how.
Q: In your experience, what motivates Product Managers to transition from product management to product marketing?
A: "It's an interesting question. In my case, I found myself doing a lot of the writing for product marketing anyway, during a couple of different roles at different companies."I enjoyed writing white papers, thinking through the thought process, and understanding what people saw. I also enjoy the other part of product management: working with the Dev team and setting up product narrative.
"Sometimes that's very low level, and other times it's very detailed. It's fun to think through the processes, think about the white papers, things like that. Essentially, I think the content creation element of the role drives people into product marketing."
Q: What do you think is more challenging: transitioning from product management to product marketing, or vice versa?
A: "I think it depends on who you are, and what skill sets and experiences you have. If you're a former developer, product management can make some sense. And then it's hard to move into product marketing.
"In some cases, because you're somebody who's used to working with development teams, product marketing is part of marketing. You have to get used to thinking about the pipeline and thinking about all the different types of things you have to generate it.
"You're rated on the type of information you can produce, that helps somehow in feeding the sales process, whereas product management is all about developing products that people use.
"The two are different and your skill sets and experience will influence which way is easier to transition."
Q: What skills does a Product Manager need to not only make a successful transition into product marketing?
A: "There are a lot of product marketing skills you need to perfect. For example, you have to be a good writer, a good speaker, and be ready to do sales enablement to understand the salespeople and how they're working together.
"Rather than just being a product expert, you have to be more than that; you have to understand their pain points, the pipeline, and the role you'll play in the whole marketing process.
"You could do a lot of things that are marketing and less about the product, therefore, it's essential to understand that whole part of it; because I came from sales engineering, I understood some of that already, and that helped me. While product marketing works with sales and marketing, product management doesn't necessarily work closely with these teams - that's where it becomes hard."
Q: Which transferable skills can a Product Manager bring into their product marketing role?
"Product Managers are asked to understand the customer and understand the customer pain points, understand all those things, those are big in product marketing.
"It's the same thing of building personas, understanding who your users are, what their pain points are, and serving as a source of wisdom - you also need to identify negative personas.
"So those are skills that you need as a Product Manager. When I was a Product Manager, I was doing a lot of product marketing. I was writing articles and conducting a lot of webinars.
"Some people focus more on product ownership, but Product Managers don't do that much. That's where it can become a little harder, as they don't have as many of the skills needed to fulfill certain responsibilities."
---
Advice for transitioning into product marketing
It's always beneficial to pick the brains of professionals who've been there, done it, and are flexing their skills in leading product marketing roles, to hit the ground running when you transition into your new role.
We asked product marketers what advice they'd give aspiring product marketers:
"Don't confuse the forest with the trees. You can optimize the heck out of measurable tactics to extract a few extra percentage points out of your Marcom. But the big PMM impact is going to come from what you're missing: e.g. big partnerships or discovering that part of your value proposition is destroying value."
Dekker Fraser, SaaS Marketing Consultant, Fractional CMO, Marketing Teacher & Coach
"Product marketing is a life of opposites. One minute, you are working on strategy. Then you coach a sales rep about customer objections. Then you're writing a blog post or a case study.
"So, it's key for aspiring PMMs to be good at prioritization and multitasking. Listening and communicating. Strategy and execution."
Jennifer Bunting, Head of EMEA Product Marketing at LinkedIn
"Be a sponge, spend time reading and learning from a wide range of thought leaders. Be inquisitive and spend a lot of time listening to everyone.
"A product marketing course can be a great introduction but product marketing comes in a lot of different flavors so you need to be flexible and be prepared to be nimble.
"Don't be afraid to test and learn from mistakes. You'll work with a lot of characters and a fair number of egos so work on building resilience and lastly be prepared to be patient."
David Gilmour, Director of Product Marketing at PayByPhone
"Take risks, be entrepreneurial, put yourself in situations where you are constantly learning.
"Show empathy; it plays a key role in helping you understand your consumer, understand how to better collaborate with your stakeholders, and become a better team leader and manager."
Elliott Rayner, CMO at ARION
"Foster your entrepreneurial spirit, push yourself to be out of your comfort zone and surround yourself with smart people and ask questions to keep learning.
"You need an appetite for learning, eagerness to connect the dots, patience if things don't pan out as planned, and you need to trust your cross-functional teams in the process. These will help you to thrive in the role."
Bettina Jakobsen, Product Marketing Manager at Google
"I have three pieces of advice. Firstly, defining and educating product managers and stakeholders about the role of product marketing is key because not everyone understands or knows how to work with the product marketer.
"Two, keep building the relationships and show value at each stage because this will allow you to expand your scope. I cannot stress this enough - relationships are key. It gets you into the conversations, it gets you into the seat at the table, it gets you into those places that will allow you to show your value.
"The third thing is, and this is something that not all product marketers will feel comfortable with but it's important not to be afraid to challenge partners. But when you do, always ensure it's backed by data or a strong rationale.
"I think that if you can do that you will gain respect from your partners because they will understand that the value you bring is from a perspective that will push the product or the launch with a different perspective."
Marie Le, Vice President of Marketing at MoneyLion
"When you don't know where to turn, turn to the customer. The entire organization should be of the customer, but you are their voice.
"Sometimes the business won't agree with you, sometimes the data won't agree with you, but just remember who you're representing and how important they are to the work of the entire company and the work that you're doing every single day as a company.
You're here to do it for them so just keep in mind that the largest part of your role is to represent that customer. And so whenever you're kind of at a crossroads, prioritize the customer."
Madison Moyd, Senior Product Marketing Manager at Dropbox
And there are plenty more product marketing tips where they came from. 😏
Tune into the Product Marketing Insider podcast and get top-level insights from PMMs from companies such as Adobe Advertising Cloud, Shutterstock, and Babbel.
Or, if you wanna hone in on a specific topic, check out Product Marketing Life, featuring guests from the likes of Uber Eats, Google, and TikTok.
Our advice? Put your feet up and binge on both. 🎧

---
Even more tips for transitioning into product marketing
It's challenging to transition into any new role, and product marketing doesn't buck the trend; you need to refine a range of soft and hard skills and become accustomed to topic areas such as sales enablement, competitive intelligence, and go-to-market strategies.
That said, it's not impossible to make the leap of faith - not by a long shot. 👍
Here are some tips to help you successfully pursue your product marketing dreams:
Apply for internal roles
If you're lucky enough to be working at a company with a product marketing team, there could be scope to transition into a PMM role without leaving the familiarity of your existing workplace behind.
Lay the groundwork by communicating internally and taking proactive steps to learn more about the role; seek insights into what the product marketing team does, how you can develop core skills, what steps you need to take to facilitate the move, and so on.
If you ask more questions and demonstrate a willingness to learn, this won't go unnoticed among your prospective team members and you'll earn their trust, boosting your chances when applying for future vacancies.
Action point #1 - Keep your eye on the company job board.
Be proactive
Articles, podcasts, and books are all sources of information that'll help you transition into product marketing, but sometimes, there's no substitute for getting your hands dirty and learning firsthand.
For example, if you're working in Customer Success, take the initiative to volunteer to help with win/loss analysis.
Alternatively, if you're in Public Relations, ask if you can use your experience in positioning and messaging to support a product launch.
In doing so, not only will you develop your product marketing skills, your credentials will be much more appealing to recruiters.
Action point #2 - Gain first-hand experience with the product marketing team.
Identify your strengths
There's no such thing as a perfect product marketer - every single PMM has strengths and weaknesses.
You need to identify your strengths and how they apply to a product marketing role.
For example, if you're a creative person with a flair for writing, good news - 74% of product marketers in our 2021 State of Product Marketing Report identified creativity and problem solving as an essential PMM skill, while 48% earmarked content creation and copywriting as beneficial.

These would both be transferable skills you could apply to your role as a product marketer, supporting tasks such as product storytelling, writing engaging sales emails, and so forth.
Action point #3 - Figure out your PMM powers.
Address your weaknesses
While it's important to identify your strengths, you also need to address gaps in your knowledge.
As we said, you'll be very hard-pressed to find a product marketing all-rounder, but it doesn't hurt to put measures in place to get a baseline understanding of key product marketing principles.
There are a variety of resources available to help develop your acumen, with product marketing podcasts, specialist webinars, eBooks, and product marketing books among the options available.And if you really wanna understand the ins and outs of the PMM discipline, you could always Get Certified with Product Marketing Core. 😏
Action point #4 - Engage with an assortment of product marketing resources.
Understand the product
Every product marketer needs to understand the function of the product, irrespective of their role.
For example, how can you write compelling messaging outlining the benefits of a product you know nothing about?
How can you position your product effectively if you don't know what makes it stand out from the competition?
And how can you create sales assets outlining key features to support sales representatives, if you don't understand the offering yourself?
Action point #5 - Make a concerted effort to understand the product, use cases, and common customer pain points.
---
Your takeaway action-points:
Action point #1 - Keep your eye on the company job board.
Action point #2 - Gain first-hand experience with the product marketing team.
Action point #3 - Figure out your PMM powers.
Action point #4 - Engage with an assortment of product marketing resources.
Action point #5 - Make a concerted effort to understand the product, use cases, and common customer pain points.
---
Product marketing career resources
Our specialist resource PMM Hired offers everything you need and a whole lot more to climb the product marketing career ladder.
Sign-up and get interview advice, exclusive articles, as well as vetted and tested resources from respected PMMs plying their trade at the likes of IBM, Google Fiber, and Amazon.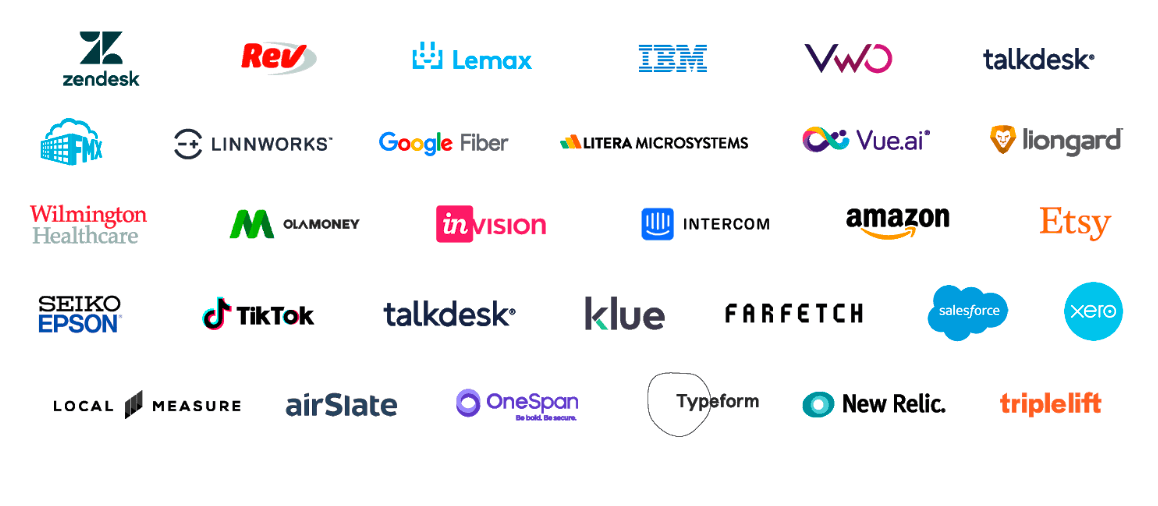 It's the perfect partner for any budding product marketer. 🔥
Get access to PMM Hired today for everything you need to not only transition into product marketing but to ascend the career ladder and reach the peak of your powers.

Want to learn more?
Product marketing is a cross-functional, dynamic, and rewarding profession that plays a crucial part in the success of any business.
The Transitioning to Product Marketing course will empower you with the knowledge you need to start a career in this exciting and ever-evolving field.
By the end of this course, you'll be able to:
✅ Understand why and how someone may transition into product marketing.
🤔 Know for sure whether product marketing is the right path for you.
💰 Plan your move into PMM from other specific job roles, such as product management, sales, and marketing.
✅ Implement the essential skills you'll need for product marketing success.
🤝 Understand the key role product marketers play during product launches and cross-functional collaboration.
✅ Confidently prepare for your first product marketing interview with our example interview questions.
Enroll today