What PMMs look for in new hires
It's impossible to pinpoint one product marketing skill that's the most important among recruiters because needs vary.
While some are building the product marketing function from the ground up, others are developing their existing team, and this influences which skills are prioritized.
Some employers will be looking for skills in product positioning, for others, it might be engaging messaging, whereas some will want to hone in on competitive intelligence.
Product marketing skills are as diverse as definitions of the discipline itself; just because one employer may not value talent as much as another, it's essential to be as well-rounded as possible and identify critical hard and soft skills to climb the professional ladder.
Valuable hard skills among recruiters
In the State of Product Marketing Leadership report 2021, we asked 300+ senior PMMs what kind of hard skills they look for when recruiting into their teams.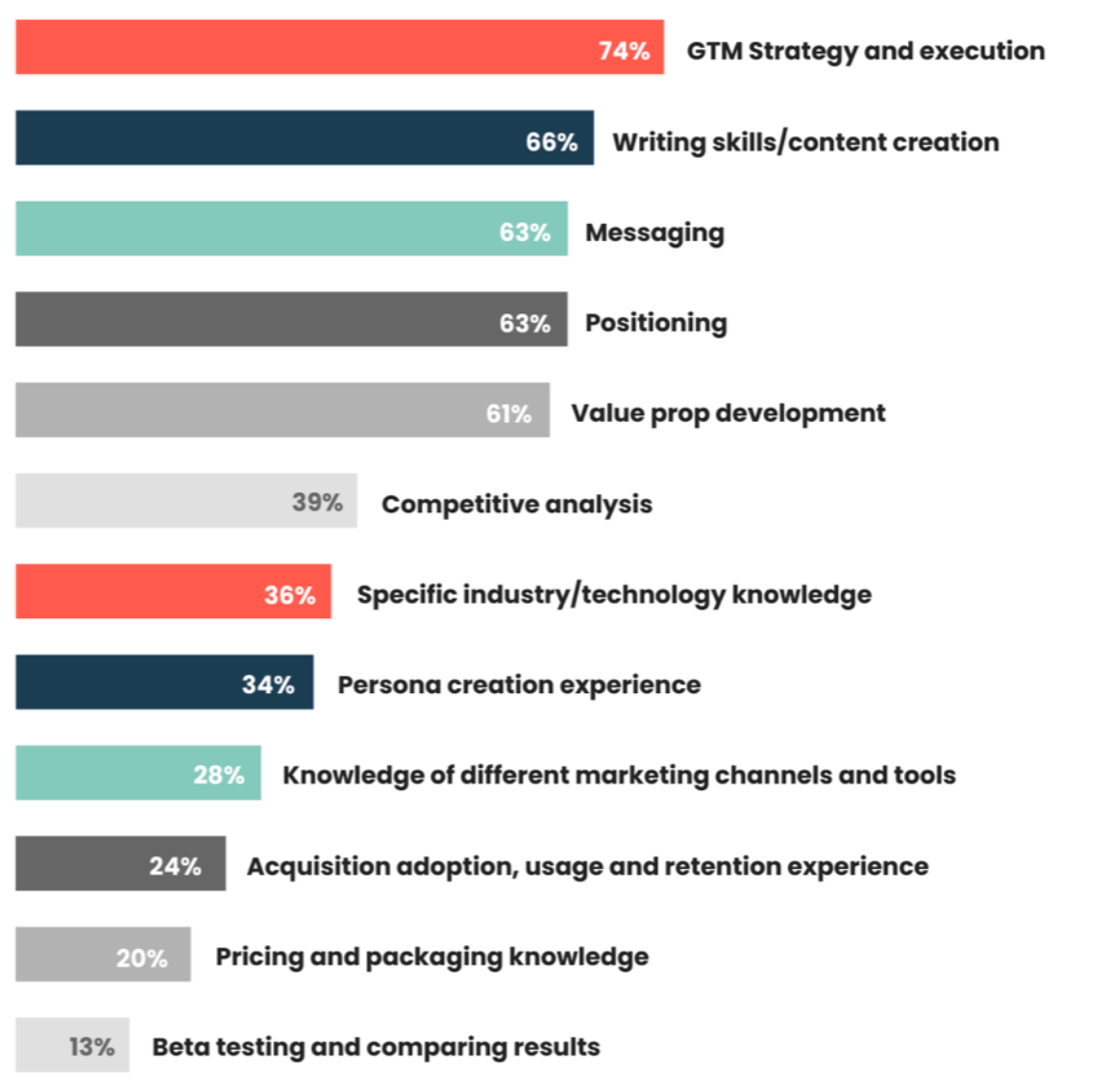 Almost three-quarters of product marketers surveyed (74%) said they look for skills in GTM strategy and execution during the recruitment process, while 66% said they value writing skills and content creation. Product messaging and product positioning were also valued skills among recruiters, with 63% indicating they look for each of these skills.
Valuable soft skills among recruiters
We also asked product marketing leaders which soft skills they look out for during the recruitment process: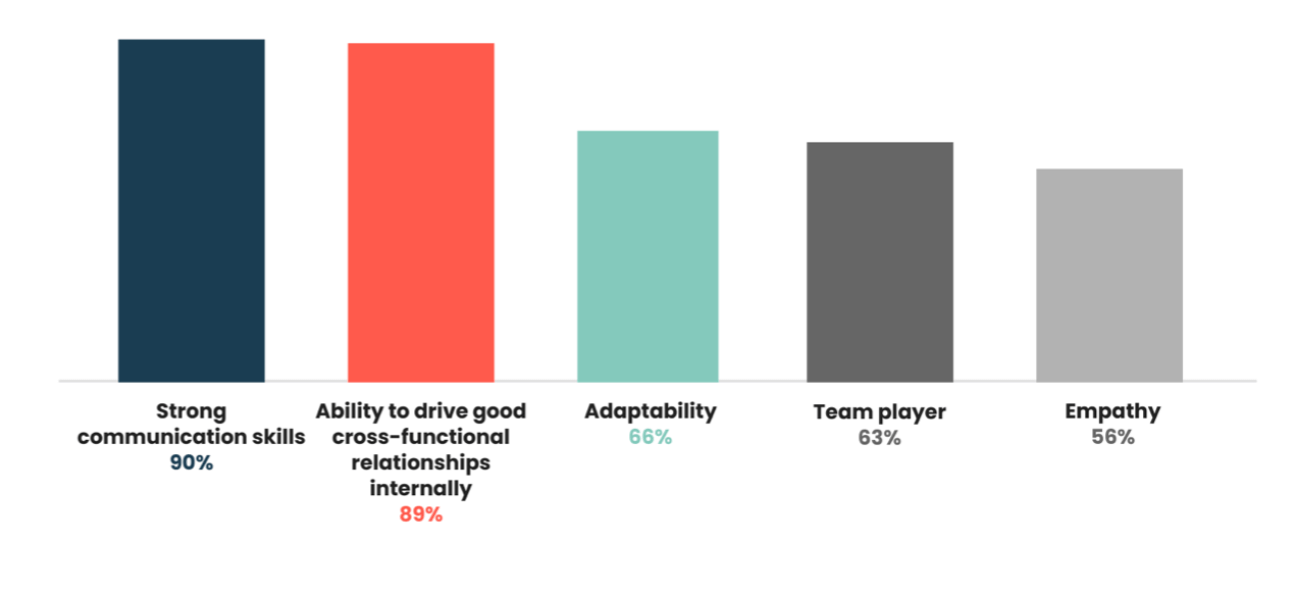 Strong communication skills were valued by the majority of product marketers surveyed (90%), with the ability to build cross-functional internal relationships coming in a close second for 89% of our senior PMMs.  Adaptability, teamwork, and empathy were also considered to be core soft skills for a product marketer.
Tamara Niesen, Director, Global GTM & Demand Generation at Shopify told us how she prefers to find a balance between soft and hard skills when we asked her which skills were most desirable in a new PMM hire:
"This is hard for me to answer because I hire on a balanced combination of soft skills and skills, but when hiring PMMs I look for:
Customer obsessed and leading with empathy - a proven understanding of what this means, and examples of how this has been applied to effect change in a roadmap, product launch, or growth initiatives.
Proven ability to pivot between product marketing, and solution marketing, (or a solid understanding of the difference between the two, and when you need to market a product vs a solution in a multi-product organization)
Communication - presentation-based, written, and verbal storytelling skills, from writing, positioning and messaging, to pitch decks, to solution narratives, to rallying internal stakeholders to support an idea."
During our Product Marketing Insider podcast, we've also picked the brains of PMMs who've successfully interviewed for the top roles in the industry about which product marketing skills have helped them get to where they are today. Here's what they've had to say:
Messaging and positioning
"I think one of the key things you need to nail right away is messaging and positioning, they're core to any product marketing role. If you're not good at product messaging, you can't do a product marketing role.
"So, be good at figuring out how to message to the right people at the right time.
"Product positioning is important too, especially if you're working in organizations that have multiple products or have a very competitive industry, so you need to nail how you position your products either complementary or against each other, however, that is, or within a very competitive industry."
Sarah Din, VP of Product Marketing at Unbabel
Relationship-building
"Relationship building, hands down. That's the first thing I do when I go into any new company.
I try to meet as many people as possible, I try to prioritize my time, obviously, with those with whom I would be working most closely, but understanding them at a very deep level, because without that trust initially going in, you're not going to be able to move quickly and get things done."
Elizabeth Brigham, Director at The Jay Hurt Hub for Innovation and Entrepreneurship at Davidson College
Small group communication
"Because product marketing is so responsible for cross-functional communication, small group communication as a skill is so important.
"PMMs rarely ever speak to an audience greater than maybe six people in a room, right? And a lot of the things we do, and I would add conflict resolution as a second skill, is we are communicating in a small group.
"More often than not, we're hosting that communication, because we're either trying to make people aware of something or we're trying to get people to consult on something.
"Generally speaking, we're often the drivers of this effort and workflow. So, the ability to understand the importance of small group communication and the dynamics of small group communication, and how to fundamentally lead a meeting, is so important."
Kerensa Hogan, Director of Product Marketing at RingCentral
"It's kind of cliche, but communication is so key in a product marketing role, as well as building relationships with different teams and knowing when something is happening.
"Whether that's a feature announcement or a change to the UI or whatever it might be, knowing who that's going to impact and having an overview and being able to think about things like, which teams need to know about this?
"And then being able to communicate that clearly and concisely and relate it in a way that influences people, so knowing why it's important to them, and why they should care about it. I think good communication skills are kind of key and I don't think you'd get very far in a PMM role if you can't communicate well."
Jasmine Jaume, Director of Product Marketing (Support and Platform) at Intercom
Curiosity
"As a product marketer, you need to be data-informed with a real sense of curiosity, because no one's going to tell you what data to go look at, or what questions to ask.
"You have to have this sense of curiosity and kind of a desire to dig under the surface to identify trends and see what's happening with the customers."
Tamara Grominsky, Chief Strategy Officer at Unbounce
Organization
"I'm big on organization, especially in a fast-moving startup environment, PMMs have to be very agile and flexible. Things come up, you know, there's a feature the product team wants to announce that you don't know about and you need to figure out how to fit it in.
"You need to make sure you're communicating with the right people. When you're running things like big launches, organization is key to making those run smoothly. I like making lists and plans but whatever that looks like for you, just keeping organized and staying on top of things."
Jasmine Jaume, Director of Product Marketing (Support and Platform) at Intercom
Need help staying on top of your tasks? Take a spin through our top project management tools for product marketers.
Focus & prioritization
"As a leader, and I think this is slightly different from an individual contribution, one of the big things for me is having that focus and prioritization.
"As I took on the role, I quickly realized that it's easy for us to let other teams tell us what to do, and that means you're just chasing project after project. So having that focus and prioritization was very critical.
"Making sure you have the discipline to say no is important too. As much as you want to be a team player and as much as you want to say "yes, I've got this" and try your best to not be underwater, you will be.
"You need to be able to know how much you can take on and always keep that 10 to 20% buffer - as idealistic as it may sound because there'll always be projects that will be last-minute or a last-minute fire that we need to put down.
"If we don't have that buffer then some other project is going to slip and you don't want to be the reason that happens. So only commit to things you can do and then the others just say no."
Div Manickam, Director WW Services Marketing, and Portfolio Management, DCG Services at Lenovo
Empathy
"I think empathy is a core skill to develop for product marketers, but it's not just empathy for the users, it's also empathy for the teams you need to involve and the decisions you rely on their expertise to help you resolve.
"I think one way we were able to elevate our level of influence in the organization was by better understanding those teams, our partners' goals, and the things they think about a lot in their day-to-day."
Samantha Yeh, Senior Product Marketing Manager at Spotify
Want to improve on this? Take a read of how to build empathy and gain insights with a company-wide customer support day.
Product orientation
"We need people who can deeply understand these products because they are the subject matter expert internally for the marketing and the sales organizations.
"So, they need to be intensely curious, they need to be able to break down this product, and they need to be able to articulate it concisely to peers and customers. So strong product orientation and curiosity is a must."
Francis Larkin, VP of Product Marketing at InVision
Product marketing interview questions
How would you define product marketing?
'Product marketing' is a term that doesn't necessarily have a universally shared definition.
It's still a relatively new function and the definition can vary, depending on what on your industry, market, and job title - here are 160 different definitions to prove our point, that'll add some extra perspectives to this crash course in product marketing.
Oftentimes, we're asked to weigh in on the discussion and offer our perspective, so for what it's worth, here's our answer to the million-dollar question: "What is product marketing?"
What interests you most about product marketing?
When looking at the results from our social media survey and reading the comments left by PMMs, it seems that curiosity and a willingness to learn are the most desirable qualities in a new PMM hire. Even more so than extensive experience and good references, evidently.
So, with that in mind, we suggest asking a question that prompts the interviewee to open up about why they're so passionate about product marketing. Life as a PMM isn't easy, it's a demanding job with a great deal of plate-spinning involved. You're going to need to know your new PMM is dedicated to the cause with as much zealousness as you are.
"Deep curiosity takes care of all the rest. If you are curious about something, you start digging into the subject deeply (= willingness to learn quickly), hence, you use your creativity to solve problems, and in the meantime build diverse experiences. Extensive experience in one particular subject is the kiss of death for creativity and imagination."
Daniela Axinte, Senior Technical Marketing Consultant at Audienz Marketing, and Founder & CEO of Terra3.0
📆
We have a variety of
product marketing events
scheduled for the remainder of 2022, featuring insights from accomplished speakers.
Sign up now
and get access to key takeaways that'll help you answer those all-important product marketing questions with precision.
What is your understanding of the product marketer's role?
Just like the product marketing function in general, the role of a product marketer also remains ambiguous and diversely defined. We advise asking your interviewee what their thoughts are on the matter so you can get to the bottom of how deeply they understand the PMM role.
Again, this will also give you the opportunity to work out if you're on the same page so you don't end up employing somebody that doesn't meet your expectations. And it's a two-way street - you wouldn't want somebody to end up accepting a job they hadn't fully understood and end up not being the right fit for the company.
"I also look for a general understanding of the value of PMM, what it brings to a business, and how it's different from other marketing functions. Otherwise, you'll get someone who wants to do content or lead gen or events and they'll be unhappy."
Matthew Engstrom, Global Product Marketing Director at Tinyclues
Can you tell us about a time you've acquired a new skill and put it into practice?
Another quality that kept cropping up in conversation with our PMMs over on LinkedIn was the ability to take ownership of the role and be proactive in filling any skills gaps. Thanks to modern technology and the World Wide Web, every day presents a chance to learn something new. With those two things at your fingertips, there's an answer for everything.
Asking an interviewee this question will help you gain insight into their professional approach. You're going to want a PMM who is willing and able to go and hunt down information for themselves to develop their product marketing skillset.
"The most critical skills for a PMM in my mind are intellectual curiosity, empathy, self-learner, self-starter, having an entrepreneurial mindset, hard worker, and a person that is a great collaborator, and the know-how to lead without authority and harness multiple personalities."
Hila Lauterbach, Director of Product Marketing at SpotOn Transact
How have you managed product launches in the past?
Get a feel for how familiar with product launches they are and whether or not they've got any new and innovative ideas to bring to the table. If they don't by default, be sure to ask for some anecdotes of their own - hearing how their colleague handled X, Y or Z has little relevance to their skills and your vacancy.
Can you run us through your product launch process?
This one will help you figure out how familiar the interviewee is with product launches, and whether or not they're going to bring any innovative thinking to the table. Their answer should also tell you a thing or two about their experience with product marketing pillars like positioning, messaging, customer experience, GTM strategies, personas, and narratives.
Less specific to product marketing but still important, this question will also enable you to make a judgment call on the candidate's organizational skills and time management. Must-have qualities for most employees but most definitely for the uber-busy PMM.
Years of experience don't always equate to a better candidate when it comes to product marketing. It's also about their approach and ability to stay ahead of the curve - something which can be fine-tuned in six years, or six months.
"Experience is a double-edged sword unless the marketer has been able to evolve with their audience. That's not to say it's a disqualifier - it just wasn't something I looked for right off the bat.
"Many of the PMMs with extensive experience I interviewed way back when were too focused on old buying patterns and approaches.
"I found a bevy of old-school marketers hidden in plain sight. It's why you see companies with mature marketing departments still pumping out messaging and materials and go-to-market approaches that are too focused inward…more focused on their own product than the people they want to serve and the problems they claim to solve."
Zach Messler, Product Marketing Advisor
What defines a successful product launch to you? And how would you track those metrics?
See if they lean towards a more business-centric or customer-centric belief, or, if you hit the jackpot, that fine balance between the two.
Can you tell us about a time you've had to pivot or rethink a strategy for a product you have closely worked on?
Willingness to learn was one of the most popular choices when we asked PMMs what the most desirable qualities are in a new hire. But what about willingness to learn from mistakes? We're all human; we all make mistakes sometimes. What's important is how we react to our errors, what we learn from them, and how we use this to evolve our approach moving forward.
Asking a question like this also gives you some insight into how the interviewee might react to a sudden change in circumstance which requires the product marketing team to pivot.
COVID is the perfect example of this as so many companies around the world had to rethink their strategies almost overnight. You need a PMM who is going to stay calm but remain reactive.
"A question about when a product launch failed or a question about dealing with ambiguity."
Ashley Klepach, Product Marketing Manager at FourKites
Can you tell us about a good product out there that you think is poorly marketed? And what you'd do differently given the chance?"
Keeping abreast of product marketing trends, fails, and best practices should be part and parcel of the job, so see what their knowledge is like. If they're up-to-date with what's going on they should be able to think of one pretty sharp-ish.
What are the keys to building and maintaining strong relationships with sales reps?
Sales representatives are a critical part of your product's success - you need to establish strong relationships with them and equip them with the tools and motivation they need to help your product perform to its optimum potential.
Here, we outline strategies you can use to cut through the noise and engage sales.
How do you help make sure the sales team is positioning a product correctly?
A huge part of the PMM's day-to-day responsibilities is to support sales and strengthen (or indeed implement) the company's sales enablement strategy. Doing a bit of probing around how the candidate would tackle this particular aspect of the role should give you a good idea about whether or not they're up to the task.
Let's pretend we're increasing the price of product X by 10%. How would you communicate this to customers?
Price hikes aren't anyone's idea of fun; you're almost guaranteed to get a bunch of customers kicking off - whether it's justified or not.
So, see how candidates would mitigate negative reactions and churn, and remember to pay attention to how customer-focused their approach is.
Only 60% of our customers are using our online portal. What would you do to drive adoption for the remaining 40%?"
Product marketing goes so much deeper than just selling what you have to offer - but do your interviewees know that?
Get an understanding of how they'd take your product or service one step further by asking post-conversion questions and seeing what sort of approach they take to common business obstacles. Even if they don't get the job, hopefully, you'll come away with an extra idea or two by the end of the process.
What would your approach to improving retention rates and/or reducing customer churn be?
The pinnacle of product marketing is listening to your customers, but you need to make sure your interview knows that, too. Asking a customer-based question around a topic like retention rates, churn, or advocacy will allow you to scratch at the surface of this area of expertise (or lack of).
If they don't appear to be offering up any specific anecdotes of from their experience, then a) perhaps consider this a bit of a red flag, or b) give them a hypothetical situation to address. They might just turn it around.
For example: "We've noticed incremental increases in our customer churn rate over the past 3 months - what action steps would you take to reduce this?".
Can you tell us about a time you went above and beyond at your last company?"
This one's pretty generic but it'll give you a great insight into what they consider 'above and beyond.'
If it's something bog-standard like "working through their lunch break when a crisis broke out" have they got what it takes to join your team?
How would you describe your approach to teamwork?
Product marketing is a people-centric role that revolves around collaboration, cross-team communication, and relationship building across the organization.
You're going to want a team player - someone who will share ideas but also listen to the opinions of others, and someone who thrives off supporting other teams and colleagues.
A PMM sits at the heart of a cross-section between sales, marketing, product, and customer success so teamwork needs to be a part of their DNA. Including this question in your interview will allow you to work out if the candidate is going to tick this non-negotiable box or not.
How do you think digital marketing will evolve in the future?
The product and digital marketing landscapes are constantly evolving. That we know for sure. But while you don't always know the how, you do know you need to stay ahead of the curve to keep competitive, so see how candidates could help with that.