In the previous installment of How I Got My Job, Francisco Bram shared his journey to Head of US & CA Marketing and Global Product Marketing, Uber Eats.
This time, we're switching our attention to the banking industry and catching up with Su Simha, Global Director of Product Marketing at N26.
Voted 'Best Bank in the World 2021', N26 is a mobile bank helping customers manage their finances whilst on the move. Long are the days of waiting impatiently for a physical card to land in your letterbox. N26 users can open an account in minutes, and start banking immediately.
In this article, Su'll reveal:
---
Su Simha, Global Director of Product Marketing at N26
A Senior Marketing Leader & Executive with 20 years of marketing and strategy experience working for Fortune 500, Startups and mid-size Enterprise Software, Transportation, Insurance & Fintech (BFSI), FMCG, and Consulting/ Services companies, Su's experience stretches far and wide across multiple industries.
Su has amassed extensive experience at some of the leading brands in the world during her career so far. Previously, she has worked as VP & Head of Product Marketing at Bombardier, Senior Product Marketing Manager at Microsoft, and Vice President of Marketing at HelloFreshGO, to name a few.
Let's hear How She Got Her Job as Global Director of Product Marketing at N26.
---
Su's journey to Global Director of Product Marketing at N26
What was your dream job growing up?
I always thought I was going to end up becoming a professor like most in my family and go into teaching chemistry or maths. But I also loved arts, advertisements, storytelling, and business and I knew I would go into something marketing related and here I am!
Does your current role resemble what you wanted to do growing up, whatsoever?
I would say so. I come from a family of professors, artists, and directors and I feel that the current role has given me plenty of opportunities to embody it all. As a marketing leader, you need to envision, conceptualize, teach, motivate both internally and externally and deliver a stellar story that lands as business success.
How did you get into product marketing?
It's quite an unusual story. I was studying engineering in a top school in India and we had campus placements in our seventh semester where companies would come give us aptitude tests and interview for future jobs.
I interviewed for ILabs -a Virginia, Fairfax based Venture capital company with the VP of Marketing and he offered me two options, to either choose a software engineer role and go behind a computer or join as a product marketing intern directly reporting to him for new startups and he took a bet on me - because he felt I was good at communication and interpersonal skills; it was his faith in me, followed by the 2001 dot com bust and recession as I graduated, leaving several of my software engineer batchmates in the lurch.
Choosing the product marketing internship gave me my first break into product marketing. I learned the early concepts of business case development, market research, etc. from him.
A couple of other roles later, my journey led me to Microsoft as a Product Marketing Manager at Redmond where I truly learned the fundamentals of product marketing and how to build and market world-class products.
What challenges did you face en route to becoming Global Director of Product Marketing at N26, or any other company where you have led product marketing?
So many, and the challenges continue! I have been everything from Community Leader to Director of Product Marketing to VP of Marketing to acting CMO and in several industries and verticals, from software to SaaS, from fintech to FMCG, and manufacturing to services. And in different continents to add to the beauty.
Each industry, role or geo, opened my eyes to a new way of looking at marketing and the way companies operate differently in different industries, markets, and how they measure success and the KPIs they track.
One of the biggest challenges, I have often faced in the midst of this, is this dichotomy of marketing and product marketing. Founders, CEOs, and even Product teams in many companies don't understand what Product Marketing is and often confuse it to being a launch project management to simply messaging and storytelling.
Besides that, being a minority women leader is an additional challenge in heavily male-dominated verticals and companies, especially in Europe. And all these challenges, as daunting as it sounds, have been great drivers and motivators for me to show value and turn things around than having had a red carpet laid out for me.
With the power of hindsight, is there anything you'd do differently, at all?
I have thought about that many times and actually, my answer is no. I think everything turned out exactly as it was meant to be.
Of course, like most people, I have some regrets of wrong choices of companies or roles that I took on but in hindsight, each of them ended up helping me with a future role.
---
Su's role as Global Director of Product Marketing at N26
What does your role entail?
As a Product Marketing leader, my role in many companies has spanned FIVE buckets:
Building the team vision  - Analyzing the gaps and defining the vision of the team, the team structure, KPIs, and ways of working with the rest of the organization and bringing everyone on board to work with the product marketing team (often not well understood in many companies).
The product-market fit - With my team, I have done segmentation, market research, user research, competitive analysis to help define the product roadmap and pricing strategy with product teams to then finalizing/validating the features, the design, the price.
The positioning/messaging - Where the core focus is on developing the value proposition and messaging - the storytelling aspects.
GTM Strategy - The most important bucket and responsibility as a product marketer. This encompasses everything from identifying your target audience, the use cases, competitive advantage to the marketing mix you want to leverage to land/launch your product most successfully.
Product Adoption, Performance & Growth - The task of a product marketer does not stop with the launch. It's actually what happens after the launch that defines a good product marketer vs the average. Looking at the launch success, product adoption and continuous monitoring of the performance of the product is essential to defining the growth and lifecycle/CRM strategies to move the customers up the chain or cross-sell on other products. Applying the learnings to the next version of the product is another important element here.
If you had to explain your job to someone with zero knowledge of product marketing, how would you explain it?
Product marketing is so self-explanatory with the words themselves yet so often misunderstood. I often simplify to say 2 things to most founders and CEOs.
As a product marketing leader, my job with my team is to help the company/ product team make smarter product investments and drive accelerated market outreach and growth by launching the products the best way in the market and continuously monitoring the performance of the products for the business.
Do your family members and friends understand what you do?
Yes, I would like to think they do. Most of my friends and family are in business, professional roles - so it's often decently understood. And when it comes to older or younger kids - I often show them the product ads we have worked on and explain how we came up with the pitch and then they get it.
How is your product marketing team structured? Has this changed since you entered the role?
This is a big question, so I have a big answer!
At N26 and Bombardier, I had to start pretty much from scratch - laying the foundations of the vision of the team, the role charter, and then lobbying for headcounts and hiring. Each company and industry influences some of the structure, and in some cases, certain responsibilities of product marketing are executed by other departments.
But in general, I often structure the team in 2 components:
Each mini-team is divided by market segments/ By product lines or App Journey (e.g. Acquisition vs Engagement) - directly mapped 1:1 to the product organization.
Each mini-team then consists of a product marketing leader, a market research analyst, a competition expert for that segment, and a launch project manager.
---
Su's top tips
What does an entry-level PMM aspiring to eventually work in your role need to do so?
I would say, work on as many products as you can gain global experience, earn a couple of feathers in your cap with some kick-ass launches and build a strong network and leadership skills.
Half of the job of product marketing is working with everyone in the organization from product to sales to customer service to PR. Don't be shy to report on the success of the products you are launching and be a strong storyteller but also a data-driven strategist.
What advice would you give to a product marketer plying their trade in the current circumstances?
There is never a time to get comfortable - no matter the circumstances. A product marketer's role in the current circumstances is even more important. Understand the changing dynamics of the buyer behavior in the current time, apply that to the story and value prop and approach product marketing with an edge.
Also, get out there, understand the digital areas deeper and observe user behavior across all channels - open up to network with other fellow product marketers, join communities like PMA, PLG groups and carve out your next path.
What would you consider to be the most important quality needed to succeed in your role?
A product marketer is in many ways an amalgamation of many roles and is the guardian of the company story or brand to the customer.
So, being strategic, data-driven and a strong project manager is key to succeed in the role.
In terms of extra-curricular activities, is there anything someone who may want a role similar to yours can do to improve their knowledge? Any recommended books/podcasts?
Today, thanks to organizations like PMA, there is so much to read, listen to or participate in to become a better product marketing leader.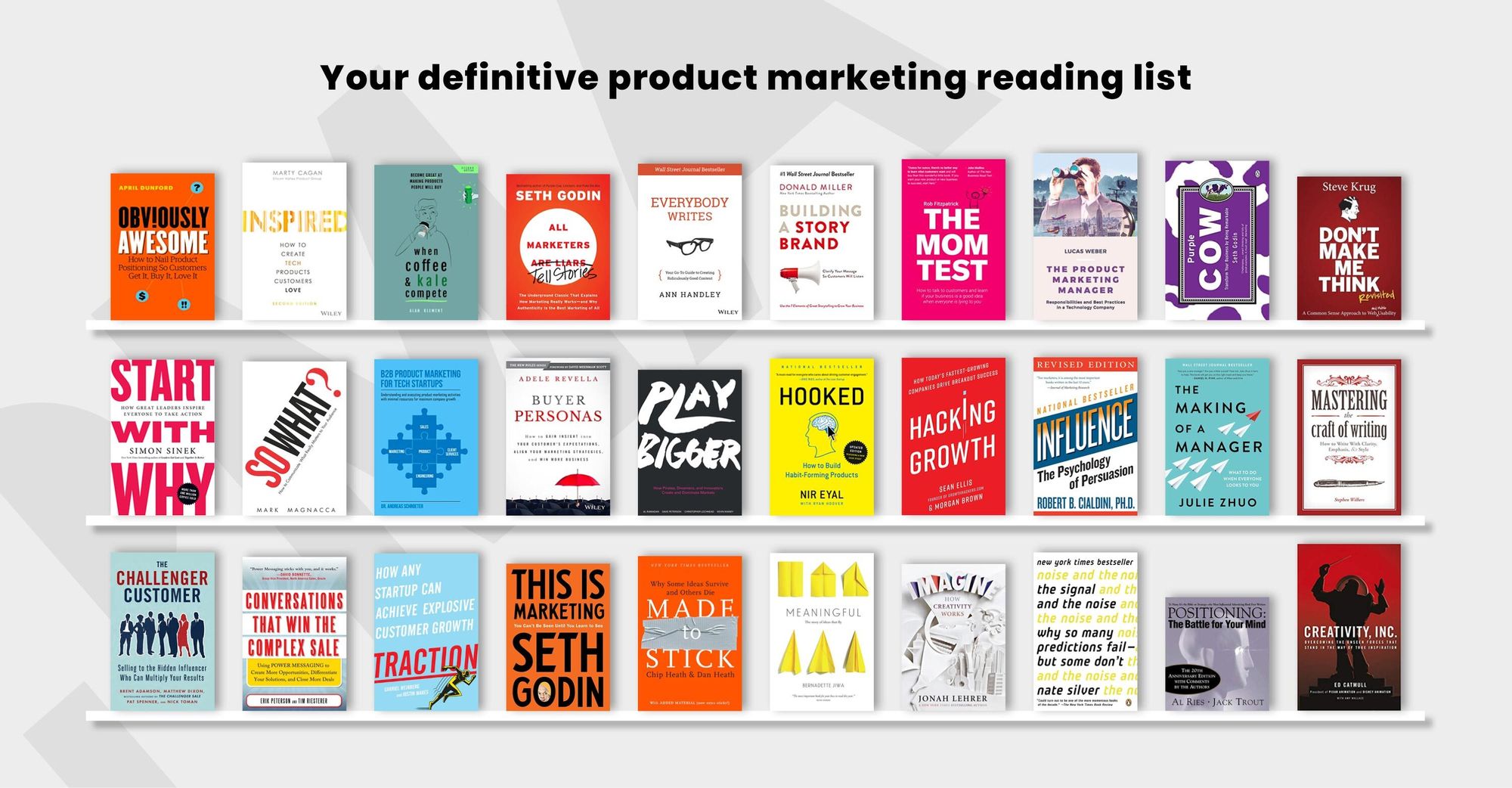 On books, some that inspired me were Made to Stick by Chip & Dan Heath, Tuned In by Stull, Myers and Scott, 'The Innovator's Manifesto' by Michael Raynor, 'Primal Leadership' by Daniel Goleman, recommended by one of my early managers, and 'Kellogg on Marketing' by Dawn Lacobucci.
Which product marketers have inspired you the most, en-route to the role you occupy today, and why?
Marco Di Giacomo - One of my favorite leaders from Microsoft- I worked with him during my time at Microsoft Services & Consulting. He was leading the product management organization at that time but had also worked as a product marketing leader. It was great to observe how he handled product planning, pricing, and offering development and I learned a lot working with him and his team in those early years.
Rajeev Sriniviasan - My First Boss and Mentor, introduced me to the world of Product Marketing. He is a graduate of Stanford and was a Director of Product Marketing for Siemens before he became the VP of Marketing for iLabs/Megasoft when he hired me. His approach to thinking about the big picture rubbed off on me and my approach to product marketing in many ways.
Heather Znyczak- I interviewed for her, almost a decade ago when she was the CMO for Domo in Salt Lake City and I admired how well she understood product marketing and wanted to embed that in the company in its early stages. I have been observing her for a long time as a CMO who grew into a CMO from a product marketing background.
---
Product marketing career resources
Our specialist resource PMM Hired offers everything you need and a whole lot more to climb the product marketing career ladder.
Unlock stacks of interview advice, vetted and tested resources from respected PMMs, and exclusive articles, with invaluable insights also available to PMMs with a PMA Membership.
Get PMM Hired