Product Marketing is going through some refinement. Companies, especially early-stage and growth-stage startups are looking at product marketing to take on a bigger and more critical role, and no surprise - I think that's a good thing, and here's why.
Despite all the ambiguity in what product marketing means to companies, it has traditionally been fairly limited in its scope. Companies have predominantly valued product marketers for their abilities in creating solid sales collateral and product documentation, often overlooking their depth in understanding, defining, and working around the three main pillars of growth - product, customers, and competition.
The fact that the people responsible for being the voice of the customer, aren't usually involved in creating the product roadmap or at the leadership table, is telling of how poorly thought-through the entire process can be. To top that, Product Marketers seldom have well-defined roles and responsibilities.  
- The 2020 State of Product Marketing by  Product Marketing Alliance
However, from primary research with leaders in the industry, I see an increasing number of cases, especially in growing startups, where three important changes are underway -
They come in sooner - Product marketers are being hired sooner than before because they can own the responsibility of taking products to market. They end up playing the role of strategic marketing leads, while working with internal or external teams on SEO & PPC, email marketing, content creation, product-content, and so much more.
They get to do more - An increasing number of product marketers are being given more positions of functional, managerial, and strategic responsibilities. This is because the product is at the heart of everything a company does and achieves, now more than ever. This is especially true for companies in product-first companies operating in competitive and commoditised industries.
They become marketing heads - Good product marketers are generalists that can think about product and marketing through first principles. As startups grow in size and scale, the commoditisation of the industry increases along with competition, and the generalist leader becomes more important to the growth of the company. While functional experts like performance marketers and content marketers grow with larger teams and budgets, generalists like product marketers head into strategic marketing leadership positions.
I repeat, potentially with a strong bias — I think this is a good thing.
The argument for more
The discussion around PMMs owning more isn't coming out of thin air. Honestly, it seems like it was the natural progression - the people with the best understanding of the product and the market should ideally be made responsible for more market-facing aspects like the number of users, revenue, churn, etc. It's also coming from fractured mandates between PMMs and the people they're supposed to work with.
The definitions are changing on three major accounts -
1. Product marketing & marketing of products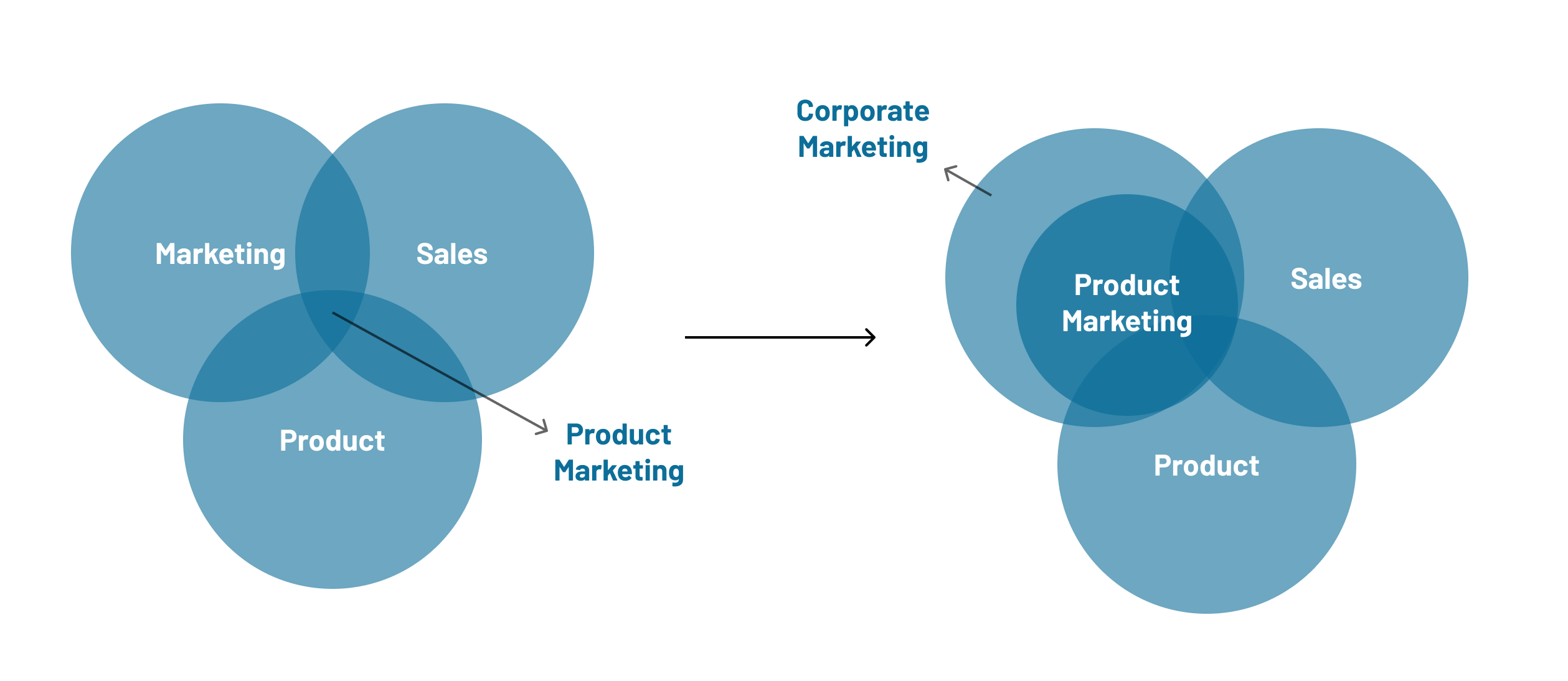 Product Marketing is slowly absorbing 'marketing of products', and the reasons are simple -
Product-first companies need their competitive edge to reflect in the positioning, messaging, and even copy, and product marketers tend to be the guardians of those.
P&L management for products becomes easy when PMMs are asked to come up with a spend-plan between performance marketing, content syndication, field marketing, etc.
The general messaging and tone in assets like website and collateral, search and display ads, product documentation, etc. become singular and better connected
Most importantly, if PMMs are held accountable for numbers like MQL, SQL, Opportunities, or Customers, they need to be much more involved in all things demand-generation.
What this means for the PMM 2.0 - Cultivate a significantly stronger understanding of demand-generation, content quality, and have a keen grip on analytics.
Anecdotally speaking, I've also observed product marketers grow into CMOs at good product companies. My current employer is no exception.
2. Sales enablement to sales empowerment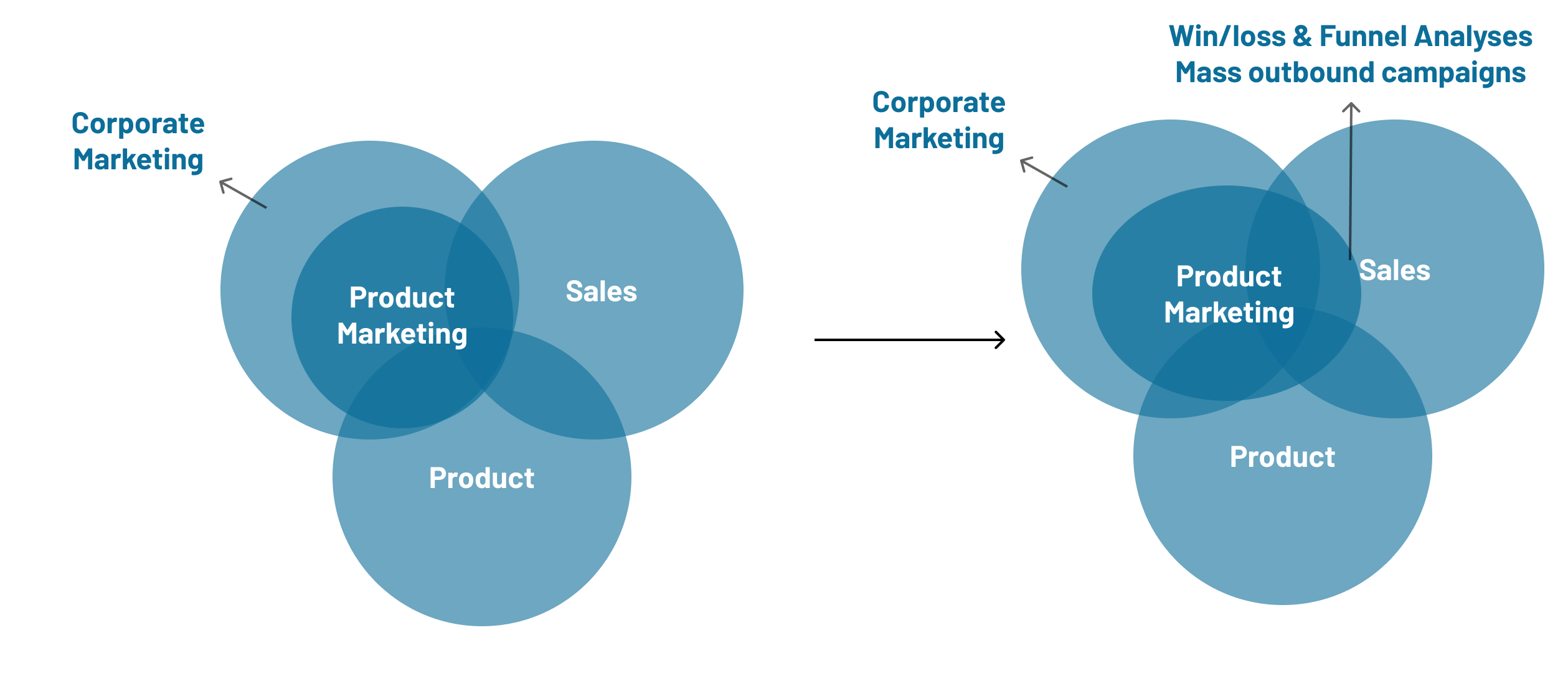 Product marketers will repeatedly come back and tell you that their greatest internal wins and losses are with the sales teams. It isn't the least bit surprising that PMMs today also carry KRAs like Sales Satisfaction scores. This interlock has also stayed a tad fractured due to poor definitions of shared responsibilities.
Modern sales teams demand more than just neat collateral and templates, and they have less time than before. To name a few -
Quicker and more in-depth funnel and win/loss analyses that can help in more agile course-correction.
Heavier and preferably automated customisation for targeted outbound campaigns, especially competitor take-out or industry-focused.
Using primary customer research and secondary market research for better planning and risk mitigation.
Regardless of whether salespeople, sales strategy, or sales operations teams make the aforementioned analyses, the resulting actions are owned by product marketing. In addition to actually owning the messaging and collateral, they are also typically the custodians of tools that do outbound communication, customisation of mails and decks, account-based-marketing, etc.
What this means for the PMM 2.0 - Increase depth of data analysis from CRM tools, invest time and effort on tools that help build agility and customisation that can guide the sales teams.
As the voice of the customer, and the market, PMMs need to play a greater role in empowering the sales team, as opposed to just enabling it.
3. Product-Led growth, engagement, retention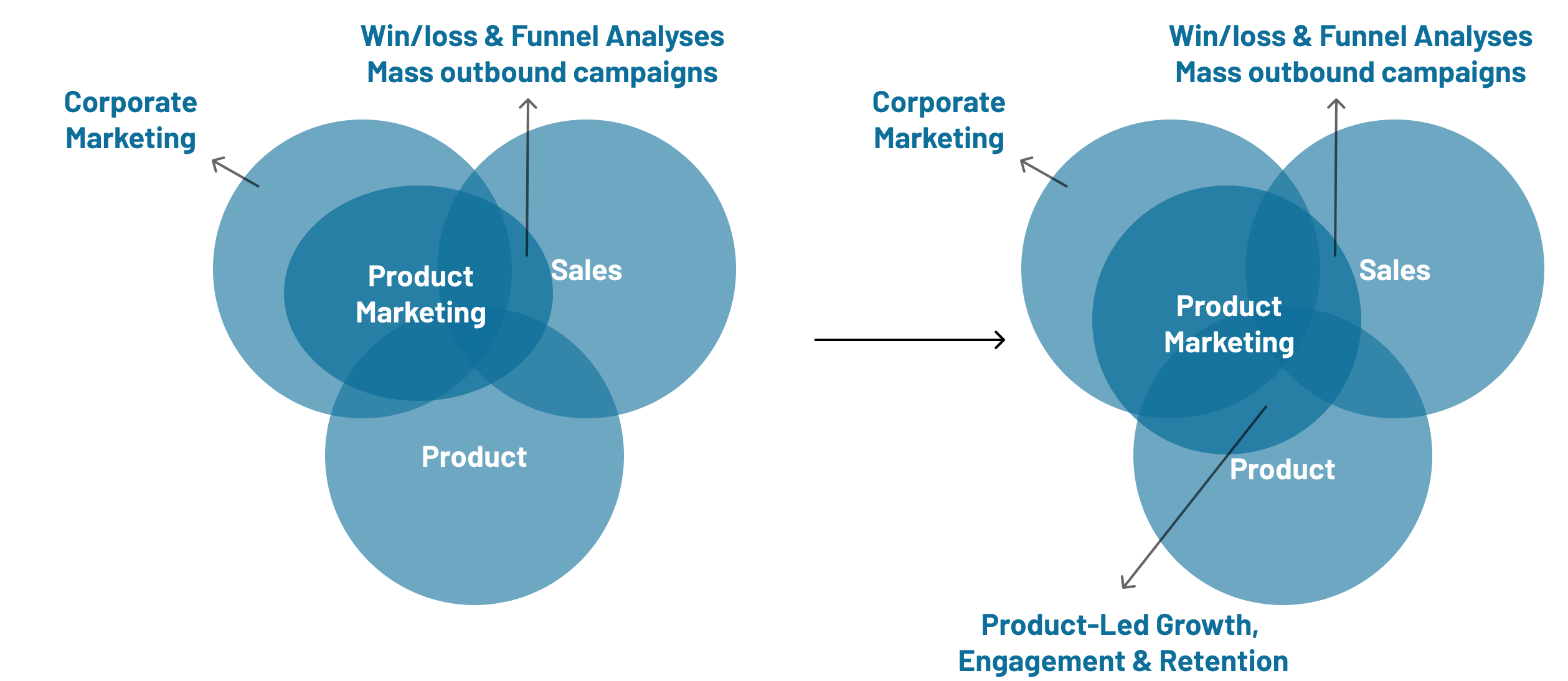 Acquisition, engagement, and retention of users are usually aspects PMs and PMMs are held accountable for together. The PM invariably takes the lead role in ensuring user-experience, data flow, accessibility and availability, and so much more. However, every touchpoint translates into an opportunity (and need) to communicate with the user - and that's squarely the PMMs job.
From the content on the landing page to the onboarding information, and the nudge-y engagement and retention communication based on indicators, there is so much to do and quality is paramount. Growth marketers at more established companies will argue on how these aspects can make or break a product and company - take Notion for example.
In the PM <> PMM interlock, a few changes have demanded and allowed for the revisions -
Product managers spending more time focusing on the tech fundamentals like APIs, Data storage, and potentially even delve more into the Product Operations.
Availability of tools that can help automate these to a great degree - Gainsight, Appcues, Whatfix and of course CleverTap, amongst others.
The increased need for more consistent messaging on an off product/platform, right from collateral to documentation.
What this means for the PMM 2.0 - More hands-on ownership of growth, engagement, nurture, and retention through frameworks, analyses, and tools.
Ensuring everything from branding and PR to delight-inducing components in the product, deliver the same experience in terms of messaging.
Better alignment with corporate goals
Many product marketers complain about how their OKRs are activity-based or seem like vanity metrics that don't directly translate into business value. This issue comes from how the function is usually structured at companies. Product marketing teams are often just responsible for servicing the needs of the product or marketing heads, and this makes it difficult to evaluate the function fairly from the corporate perspective.
One way we managed to do this at Razorpay was making the Heads of Product Marketing accountable for business metrics like revenue, number of users, profitability, etc. Which, in turn, cascaded to the PMMs as number of leads, win-rates, sales satisfaction, churn etc.
This north-star focused approach gave them the power to choose which projects to work on, chart their own priorities, and stay fully accountable to outcomes.
Of course, the only way to effectively do this was to give product marketing charter and visibility of the entire marketing process - from acquisition through demand-generation, nurture and engagement through product experience, sales empowerment, and churn analysis and management. This helped us greatly with identifying the absolute value of the function to the company and push towards better results.
Potential challenges
The great product marketing revival is still in a very nascent stage of development. Companies are just about beginning to explore these aspects and are yet to figure out how best to put it into practice.
An increased expectation from companies obviously translates into product marketers having to build more strong diverse skills. However, these changes also demand a whole lot from the management that they must be ready to address quickly and effectively -
Hiring good product marketers who can deliver on all the above can be ridiculously difficult
Cannibalisation of charter and ownership between stakeholders leading to conflicts
Challenges in prioritisation of projects and tasks based on differing north-stars and KRA
The threat of an incomplete or poorly defined strategy that can cause more harm than good
The observations and recommendations are courtesy discussions with leaders across startups and might not apply to all companies or teams. Product marketing, again as a generalist function, is what companies make of it based on their growth stage and needs.
It took us at Razorpay a good few attempt to find what works for us, and it might not be too different for others.
Final thoughts
The quintessential voice of the customer, and the guardian of market research and competitive intelligence, has become increasingly important to the success of products in the market, and companies are beginning to see this change.
It's encouraging that early-stage and growth-stage companies are warming up to product marketers as value drivers through increased responsibilities and charters. Given how product management as a function evolved, one could even argue that this transformation was inevitable. It will be exciting to see how this evolution continues and what it means for the function and companies.