When it comes to career progression, many product marketers see the Chief Marketing Officer (CMO) role as one of the possible ultimate destinations.
This is because of the very close alignment and goals between product marketing and marketing teams in general.
The cross-functional aspect of the product marketing role also allows you to exercise the empathetic, OKR-focused, and strategic mindset you'll need to succeed as a CMO.
In this article, we outline the tactics you should use if you're a Senior Product Marketing Manager or Director of Product Marketing and you have your eyes set on the CMO role, including:
We'll also provide expert insight from Elliott Rayner, CMO at Arion, who successfully transitioned from a product marketing role to a CMO position.
How to take ownership of your career path
The first thing you need to do is take ownership of your career path. You must take a proactive approach to increase your influence and standing internally.
Remember that your leadership team has so many plates to spin that assigning time specifically to nurture your career development may not be top of their list of priorities.
Even company leaders with the best will in the world will find themselves bogged down in the day-to-day activities and pressures of their job.
Understanding that your goals are your responsibility and taking ownership of your career trajectory will force you to think creatively, try new things, and empower you to reach those goals faster.
Establishing your company voice

Next, you need to make sure you have a voice within the company and that your voice carries weight.
If you don't feel that your voice currently carries the authority it should, create a space for you to speak and impart really valuable information to the powers that be.
For example, you could go to your CMO and/or CEO and say you want to give a product marketing update once a month.
In this update, you could talk about what your competitors are doing, as well as what you're doing in the marketplace and recent trends you've spotted.
This doesn't need to be a long meeting, but it's a great way to demonstrate your value, educate your leaders on what you're doing, and remind them they can come to you for data and insights that are important to them.
Establishing yourself as an educator is an effective way to position yourself for bigger leadership roles in the future.
You should always make sure that everything you report is based on solid data and not just assumptions; your findings should be based on a mixture of quantitative and qualitative data.
Remember, your research may need to go through a few iterations before you can confidently report you've discovered a new trend or insight.
If you find that you don't have access to all the data you need, use minimal viable data. MVD is the least amount of data that you need to base a decision on. Use this as a springboard to ask for more tools and access to further data so you can provide your leadership team with further insights.

How to address knowledge gaps
Once you feel your voice is being heard, you need to bridge the knowledge gaps between your current product marketing role and the CMO role you're after.
For example, do you need to learn more about digital marketing? Perhaps your team management skills need to be improved? Or perhaps you're confident in being responsible for marketing activities targeted at prospective customers but not so confident in managing the relationships with key partners?
Make a list of the areas that you need to learn about and put a plan in place to get that knowledge. Of course, you've taken a big step in the right direction by taking this course on how product marketing and marketing should work together.
Keep up the good work and be sure to complete this course and display your certification on your CV and social channels to set you apart from the crowd.
You also need to educate yourself on the other areas of the business and understand how it works as a whole, not just the marketing function.
Remember, it's unlikely that you'll find a complete specialist in brand marketing acting as a CMO, and in truth, that could spell disaster for marketing as they need a solid understanding of all the moving parts.
The importance of collaborating with internal teams
The ability to work well with the product team is vital for a CMO. You're already doing that as a product marketer, so remember to lean into those cross-functional skills and communicate with internal teams.
Put some time aside to learn more about the areas of the business that you don't have as much day-to-day contact with, such as legal and finance.
This might look like grabbing a coffee one lunchtime and simply asking someone from another department what their biggest pain points are and what would help them do their job better.
The benefits of working with a mentor
Having a mentor can help massively when it comes to learning about other business areas and particularly when it comes to developing the leadership and team management skills you'll need.
We would always recommend that you find a mentor if possible, but we know that this is an area many find tricky as there aren't many formal routes to finding one.
A mentor can be a teacher, a former teacher, or a leader at another company, and very often it's a former boss or CMO that you've been able to keep in touch with and who has taken a special interest in your career development.
It's really important that you establish boundaries between you and your mentor to make sure that neither one of you burns out and you don't demand too much of their time.
In reality, you might find that you have several mentors who can help with specific goals and this can be a good way of avoiding burdening one person with too many questions.
Fortunately, here at PMA, we have a ready-made mentor program that can help connect you with the perfect mentor for your current goals and needs.
We connect mentors and mentees who want to learn or teach a specific topic and make lasting enriching professional relationships all the time so, if you're struggling to find the perfect fit, be sure to look into it.
Expert insight: Elliott Rayner, CMO at ARION
Elliott Rayner is CMO at ARION, an industry-leading sports tech company, former Head Of Product Marketing at Babbel, one of PMA's amazing experts in residence, and author of our Storytelling Masters course.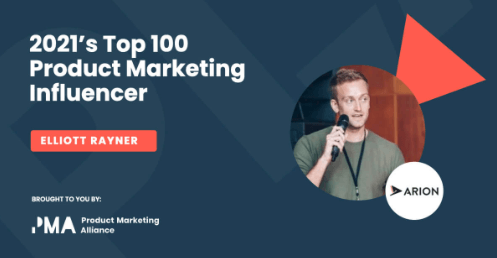 Formerly a product marketer, Elliott is one of the many PMMs who has successfully transitioned into the CMO role.
For Elliott, his start in the world of business and product development came from following his passion for sport:
"When I came out of university, I got very clear advice to find something I'm interested in, as you'll naturally become very good at it because you can enjoy your work.
"Being from Newcastle, sport is massive, so it's always been a part of my life. I was always really into the idea of how sport brings people together.
"I wrote to every major sports brand until, eventually, I heard back about an opportunity with Adidas based in Germany. So, at 20 years of age, I moved over to Germany and became a Product Manager."
Despite his lack of experience in product management, Elliott started his journey of being a lifelong learner, and during his role as a Product Manager at Adidas, he worked on the creation of football kits for leading teams.
This role became his career for the next seven years and he progressed from a junior position to Product Manager, to Senior Product Manager, garnering experience within different sports along the way.
While he'd gained invaluable experience in product management at Adidas, Elliott reached a point where he felt he'd peaked in terms of his professional development and learning trajectory. Therefore, he started to think about other areas where he could excel and add value.
"I was just about to turn 30, and I thought, 'Can I kind of imagine my life and doing this over and over again?'
"So, I took the opportunity to go back to school and start an MBA. This marked the beginning of the second part of my journey."
While completing his MBA, Elliott relished the chance to closely study digitalization - something that hadn't really been covered during his undergraduate degree.
Still, he knew it would be essential for his career development.
After completing his postgraduate course, Elliott found himself in the challenging world of marketing consultancy.
This move marked a change in direction from a more specialized role to a generalist role and demanded a whole new set of skills that Elliott enthusiastically began to learn.
"This move opened up my world because, in consultancy, you have to know everything.
"That was very challenging, but it's what gave me the extra knowledge of the different aspects of marketing and business.
"The experience also gave me the confidence of knowing that, if you put yourself in an environment where you're not sure of yourself and focus on learning, eventually you'll become good at whatever it is you're doing.
"That got me into this age of being a lifelong learner and pushing myself. I realized I can learn something new and become something different every year."
After an eye-opening stint in consultancy, Elliott took on a role in product marketing with ASICS, a multinational running apparel business, where he could use his experience in sports marketing and product development.
Whilst there, he realized that he wanted to move into a leadership role and moved to Babbel, a platform that enhances language learning with advanced technology.
At Babbel, Elliott tackled the dual challenge of taking on a leadership role as Head of Product Marketing and moved into the tech space for the first time.
"Leaving traditional industry and going into the tech industry was a big challenge - it was like everything I knew changed.
"However, it was interesting because it gave me the opportunity to learn the fundamentals of product marketing and I realized that I was good at it.
"I found that as long as you understand how people think, what they want, and communication and storytelling then you understand the key fundamentals."
Elliott spent a couple of years learning and relearning the fundamentals of product marketing at Babbel, until the right opportunity came along to move into the CMO at his current company, Arion.
He realized that, although this was his first time acting as a CMO, his experience in the sports industry, in the tech spaces, as a generalist consultant, and as a product marketing leader all combined to give him the foundation he needed to be successful in this new role.
Everything he'd learned thus far made him the right fit for quite a niche role and key hire for the company.

During his time as a CMO, Elliott has come to realize just how important it is to have a wider appreciation of the direction the company is going in as a whole and the power of having a vote in that decision.
He believes that one of the most important things you can do to position yourself for the CMO role as a product marketer is to understand the meaning behind strategic choices and create a strong voice for yourself within the company as a whole.
Elliott created a voice for his function and proved his value by playing to his strengths as an avid learner, refining his skills as a teacher and trainer.
"You could go to your CMO and CEO and ask if you could do a product marketing update each month. Here, you could show what all the competitors are doing and what you're doing. This gives you a chance to educate the whole company.
"Most CEOs and CMOs are going to love that because it's information they care about and demonstrates your value.
"Nobody's going to do that for you, other than you. Once you have a voice, it's about leading by results. Show how you identified a trend in the market, what you've done and what you've achieved. All of that is product marketing."
There are many key takeaways from Elliott's journey from sports enthusiast to product manager, to product marketer to CMO.
However, his attitude to learning and adapting has made a huge difference in his career trajectory, culminating in him being able to say yes to a great CMO opportunity that allows him to use all his whole skill set as a marketer and leader.
At Product Marketing Alliance, we believe it's important to let your passion for a particular product or industry guide you whilst staying open-minded to new opportunities to learn, develop, and add value.
By taking this course you're taking a huge step in preparing yourself for the as-yet-unknown opportunities that lie in store for you. It's this combination of genuine passion and dedication to development that has led Elliott to where he is today.
"One of the benefits I had is that I've always understood what I'm passionate about and where my best skills are.
"I knew that if I ended up in the right room, I could package everything I've done beginning to show how each step added a very different important lesson and important level to that learning.
"Even with things that might have looked like failures, or strange, like taking time out or going back to university, as long as you show your reasoning and stay true to your passions and talents, all those experiences can become advantages."