Product marketers play a fundamental role at their respective companies. With the function tasked with increasing responsibilities, from identifying appropriate pricing, creating go-to-market strategies, supporting product launches, and creating personas (to name a few), it's a given that PMMs are appreciated and understood by other teams - right?
Not quite. The 2021 State of Product Marketing report revealed just 4% of product marketers think their peers have a clearcut understanding of the role, with 27% saying their colleagues have a "decent understanding" of product marketing.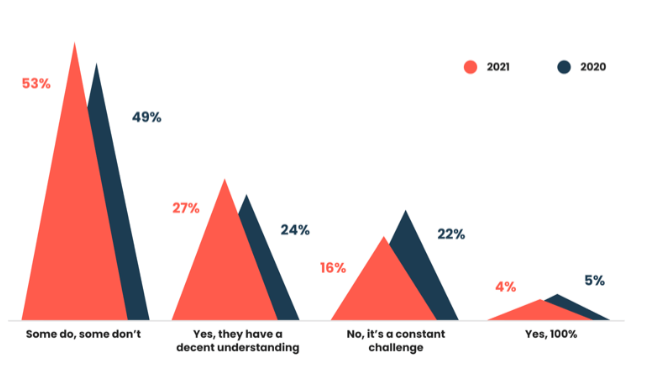 Encouragingly, it's not all doom and gloom - just 4.5% of product marketers have expressed a desire to leave the industry and seek pastures new; 66.5%  have a willingness to take the next step on the product marketing career ladder, while 21% are content in their current role.
The remaining 8%? They're keen to take the steps down the entrepreneurial path, with a career as a product marketing consultant identified as the ideal opportunity to put their knowledge to the test and go solo.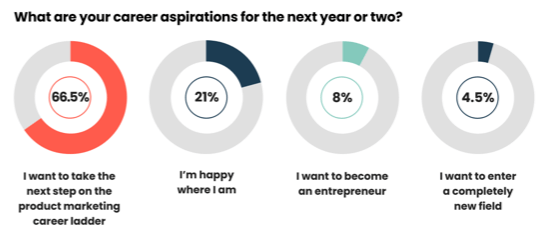 In the early stages of the COVID-19 pandemic, many self-employed workers struggled; a study involving 243 freelance workers revealed they'd lost at least 60% of their income.
However, with more stability following the initial onset of the COVID-19 pandemic within the freelance community, there's increased confidence amongst would-be consultants to take the plunge and transition into a solo career.
We spoke with May Lauren Arad, Product Marketing Manager at RapidSOS, and asked her about her previous experience working as a consultant. We'll focus on indispensable takeaways from our discussion, including:
Devon O'Rourke, Founder and Managing Partner at Fluvio, will also provide his invaluable tips for consultants, focusing on key questions, including:
And if you're not quite ready to begin your own consultancy career, we'll outline how to recruit a consultant for your company.
So, to kick things off, let's delve into May's freelance adventure...
Motivation for starting a consulting business
Q: Why did you become a product marketing consultant? Did you see any significant differences between consultancy and working as an in-house product marketer?
A: "Working as a consultant and an in-house product marketer is very different. After talking to a lot of founder friends of mine, I saw there was a big gap between what the product does and how they explain it or convey that message across.
"We all know too well that when you talk to a founder, and you ask them, "What does your product do?" they often don't know how to build a concise notion of what it is, or even think about how it's perceived on the other side. Understanding there was a gap for founders who've been working on their baby for so long, to articulate their value proposition or the importance of value proposition and how to communicate that effectively, was what prompted me to do it.
"It's been very challenging because the one thing you need to be as a product marketer is to be an expert in your market, your product, and your team - in other words, in everything that is going on. Admittedly, popping on your hat as a consultant and giving your two cents or building a strategy where you're not 100% within the team can be tough.
"I think it's also really important to make sure the product can be ready from an engineering perspective, but it's maybe not ready for market or go-to-market yet. This is where I would come in as a consultant; I build foundations and help train the company to not treat it as their product anymore but more of a user's product, shifting that mindset to a more customer-centric approach.
"This is, I think, for a lot of seed startups, their challenge. To make all those tweaks and changes in their messaging and their positioning, the way they treat it, the way they explain it, the way they view it, internally and externally, has been what I've been doing as a consultant.
"As I've mentioned, the biggest challenge is understanding that you have to tap into an existing dynamic and again, PMM is such a cross-collaboration feature where you have to be aware of everything. You have to collaborate with as many organizations or teams as possible to get into the right place for the product, and it's most challenging as a consultant.
"Realizing you have to listen and represent the customer when you're consulting is also tough; you're not a part of the team, you're all fronts facing. Though this can be difficult, it's exciting, and I think it's been the thing that sharpened my product marketing tools because each company has a different definition of what tasks they want or need - it's very different from company to company.
"Thanks to my career as a consultant, I've been fortunate to do every span of product marketing there is. However, through COVID, I wanted to get back to working within a team and sharpen those specific domains."
Advice for an aspiring product marketing consultant
Q: What advice would you offer PMMs who may be considering a route down that particular path?
"My advice would be to stick to one area and master it, instead of focusing on a more broad spectrum. Find a niche you're passionate about and consult with companies in that area. This will help you master the market and the industry, and then tap into different products.
"The second thing I'd say is every consultant needs to be organized. Be organized in your thoughts, as well as where you are in the organization. Remember, every company will have different needs, be at different stages, use different processes, and have different functions.
"It can be a little bit overwhelming working with so many moving parts in so many different companies, and while there are many other pieces of advice I could give, I think those two are the most important."
Key skills for a product marketing consultant
Q: Many people attempt to pivot into a consultancy role, but many struggle with the change and return to working in-house. What do you consider to be the core attributes needed to succeed in PMM consultancy?
A: "I think organization and product management skills are key but I think transparency and communications are also really important. Finding customers you're comfortable with, showcasing your strategy and ideas, and feeling comfortable to brainstorm and help people will help you build the right foundations.
"You also need to become accustomed to team dynamics and identify gaps in their current practice. A lot of the time you come into a company that already has a marketer and a product manager and then a sales team, or at least customer success. You have to identify gaps where they can benefit from a product marketing strategy and fill it, but because it spans through so many organizations or teams, it's hard.
"I don't come into a business all guns blazing, crushing the strategy that's already in place. Instead, I'd suggest taking the time to listen and understand where the gaps are. I also attribute value to shadowing the team you'll be supporting to see where you're needed. The most amazing thing about working as a product marketing consultant is you can give so much value if you step aside to see what's missing.
"It's also important to listen to what other product marketers think, and involve yourself in the community; because it's such a new function, we're still making a lot of mistakes and familiarizing ourselves with the field. Ask questions and get involved - this is key to growing in the space, especially as a consultant where every day, company, and project is so different."
Essential things to consider as a product marketing consultant
Product marketing is certainly on the rise, and there are plenty of positives surrounding a career as a PMM.
However, while there are many product marketers who are content in their role, there are others who aren't entirely fulfilled.
In the State of Product Marketing Report 2021, common issues earmarked by PMMs included:
Misunderstanding or lack of internal understanding about what a product marketer does,
PMMs have a lack of influence and authority,
Unrealistic deadlines set by other departments,
Limited resource (in terms of budget and headcount,
Not enough time and bandwidth to get everything done.
In a bid to remain in the industry they're passionate about and alleviate the pressures of an in-house role, many practitioners are starting a career as a product marketing consultant - but what does the process look like? What experience is needed?
Devon O'Rourke, Founder and Managing Partner at Fluvio is an experienced and highly successful consultant and offered his words of wisdom for budding solopreneurs to members of the product marketing community who posed their questions:
How to attract clients
Q: I would love to start a product marketing consultancy, but it is something I have never done before. How did you start your consulting career and more importantly, how did you attract clients?
A: "The hardest part is taking the leap of faith and getting started! Then, I recommend consider a couple of things:
"First, ask yourself if you're confident in your product marketing skills and if you feel you can lead others. You also need to consider whether you're willing to take on a certain amount of risk and what things you need to be comfortable with taking on these extra risks.
"It's important to weigh up whether the people in your network trust and respect you, and would be willing to champion your services.
"There's no silver bullet answer for how many years of experience you need or how to attract clients. If you've done great work and been a PMM leader (ideally with a respected company), have the confidence to take on risks, and have a network that can help then you have a chance."
Advice when expanding your team
Q: When hiring product marketers for your consultancy, what level of experience do you look for and what expertise do you expect them to have? Do you actively look for PMMs with differing skills so that you are more equipped to combat any problem a company might throw at you?
A: "I look for PMMs with varying levels of experience and backgrounds that will allow Fluvio to service any client within tech/SaaS. I have PMMs within the Fluvio Network with as little as 1-2 years and as much as 20 years of experience."
Devon's motivation for becoming a product marketing consultant
Q: What was your incentive for setting up a product marketing consultancy; you held some fantastic in-house roles - was there anything specifically that triggered that desire for change?
A: "I've always craved a bit more ownership than larger companies can provide. My initial thinking was that I would use Etsy/Amazon to help propel me into a leadership role at a startup.
"However, while I interviewed PMMs to join my team at Amazon I was surprised at how challenging it was to find and hire the right PMMs and that got me thinking. If Amazon was struggling with this, surely other companies were. That led me to believe there was a big opportunity for a consultancy with a niche focus on PMM (the big consultancies certainly don't have this)."
How to improve your industry reputation
Q: How do I build that all-important reputation as a consultant? Do you have any advice about this when first getting started?
A: "Reputation and your network are critical to finding success as a consultant. I recommend jotting down a list of the 5-10 folks that you think trust you and respect your work the most.
"Then, find some time to chat with them and inform them of your plans and see if they are willing to help champion your work via emails to potential clients or LinkedIn, or even better, if they have any projects themselves that might be a good fit.
"I've also heard others say that they informed their current employers of their intentions to start consulting and asked if they could work out some project work as a way to slowly step away."
How to select a suitable pricing strategy
Q: Do you charge hourly, per project/deliverable, or use another method?
Also, if you do a project or deliverable, how do you estimate the time that you will have to invest to get enough domain knowledge to be effective, and how do you handle it with clients when it's a bigger project or trickier deliverable than you originally determined?
Finally, how do you manage through change at organizations that are smaller and mercurial with their strategy?
A: "I tend to try and bill on projects, which encompass deliverables and timelines. That said, everything boils down to some sort of hourly rate that is used to estimate total costs.
"My process consists of 1) getting to know the business by asking questions during the introductory call and conducting my research/analysis and then 2) laying out a formal proposal aimed to address the core areas of the business where I know Fluvio can help, ensuring I include project deliverables, timelines, and costs.
"I always include onboarding/auditing/researching in my timeline and generally assume I can get this done in a maximum of 2 weeks. Of course, I and my team will continue to develop domain expertise throughout the engagement, but speed is critical and something I am very aware of - in fact, it's one of Fluvio's three principles.
"I also ensure that if the scope expands (i.e. the client has requested a change in deliverables that will add time), I have a rate that will be applied to the additional time to prevent scope creep (this is in the agreement/SOW)."
How to pitch your services
Q: How do you find new clients to consult for, pitch yourself to consult, and not just provide free advice?
A: "I've paused my business development efforts and have turned to an inbound strategy (I am very fortunate to have a healthy book of business that allows for this).
"However, when I got started I focused on finding the right company; maybe they are trying to hire PMMs, perhaps they just raised a new round, or maybe they acquired a new company.
"Then, I find the right contacts, maybe CEO, CMO, Director of Marketing, and send them a personal note via email or LinkedIn highlighting the challenges they are surely facing and matching them to my services/experience.
"I also try to include a couple of examples of products/projects I have worked on and a testimonial quote or two."
How to position your consultancy as a necessary investment
Q: What are clients looking for these days that they can't find elsewhere? Messaging-wise, how do you position yourself to show you can meet their needs?
A: "This depends on the type of company and their maturity level. For smaller/startup-type companies, they are looking for someone who can tactically execute messaging/GTM strategies and can digest technical documentation.
"For larger/enterprise-type companies, they are looking for proven product marketing leaders who have a track record of identifying problems/opportunities as they relate to growing a product or business and galvanizing a team around a mission.
"In terms of how I position myself, that's best answered by looking at my site! In short, showing that 1) I know the problem(s) they are coming up against given their situation (maybe they are trying to hire PMM, maybe they just raised a new round, maybe they acquired a new company, etc) and 2) I have fixed those problems before at notable companies (also add a testimonial quote if you have one).
"In the end, it's all about understanding the prospective client and their challenges - that in itself builds trust."
How to grow in a product marketing role
As previously mentioned, 66.5% of product marketers are ready to advance and take the next natural step in their career, reinforcing the notion that PMMs are an aspirational breed of worker - irrespective of whether they work in-house, or as a consultant at their own agency.
Shirin Shahin is a product marketing leader plying her trade as a consultant, and gave her advice on how to grow in a product marketing role as part of our PMA Take 10 series:

Similarly, in the Product Marketing Careers podcast, host Al Dea, former Senior Product Marketing Manager at Salesforce, speaks with a bunch of PMM pros from companies such as Adobe, LinkedIn, and Disney+, who share their insights into their respective career journeys, and offer invaluable tips and advice for how listeners can grow their own career.
Tune in

Enroll the support of an expert with PMA Consult
Are you a startup trying to establish product-market fit? Perhaps you're an established company desperate to sustain growth?
PMA Consult provides you with the knowledge, experience, and expertise to enhance your strategy and grow your product.
We've already globally recognized brands, including Google, LinkedIn, and Looker - and you could be next.
Check out our services and discover how our product marketing consultants could help you achieve your short and long-term goals.
Book your consultation