With sales and marketing teams continuing to use in-app messaging to engage with their customers, this prompts two questions: A) Why is it useful, and B) Why is it important?
When executed properly, in-app messaging can significantly improve the user's experience; messaging that's contextual and personalized. This not only improves your chances of converting a lead into a customer, but it can also increase your customer retention rate.
And given how difficult it is to reactivate churned customers, you need to move heaven and earth to keep your existing customers happy.
However, the benefits of in-app messaging stretch much further than offering your customer a personalized experience.
We're going to focus our attention on:
---
What is in-app messaging?
Also known as in-product messaging, in-app messaging is used by companies to communicate directly with their customers via their company website or mobile app.
Companies incorporate messaging into their website and app in such a way that it's difficult for the user to miss, therefore improving user engagement.
---
When is in-app messaging used?
There are several instances where in-app messaging may be used.
Product tours
Companies use in-app messaging in their products to support users who may be using the platform for the first time and highlight features they can use to get the most out of their experience.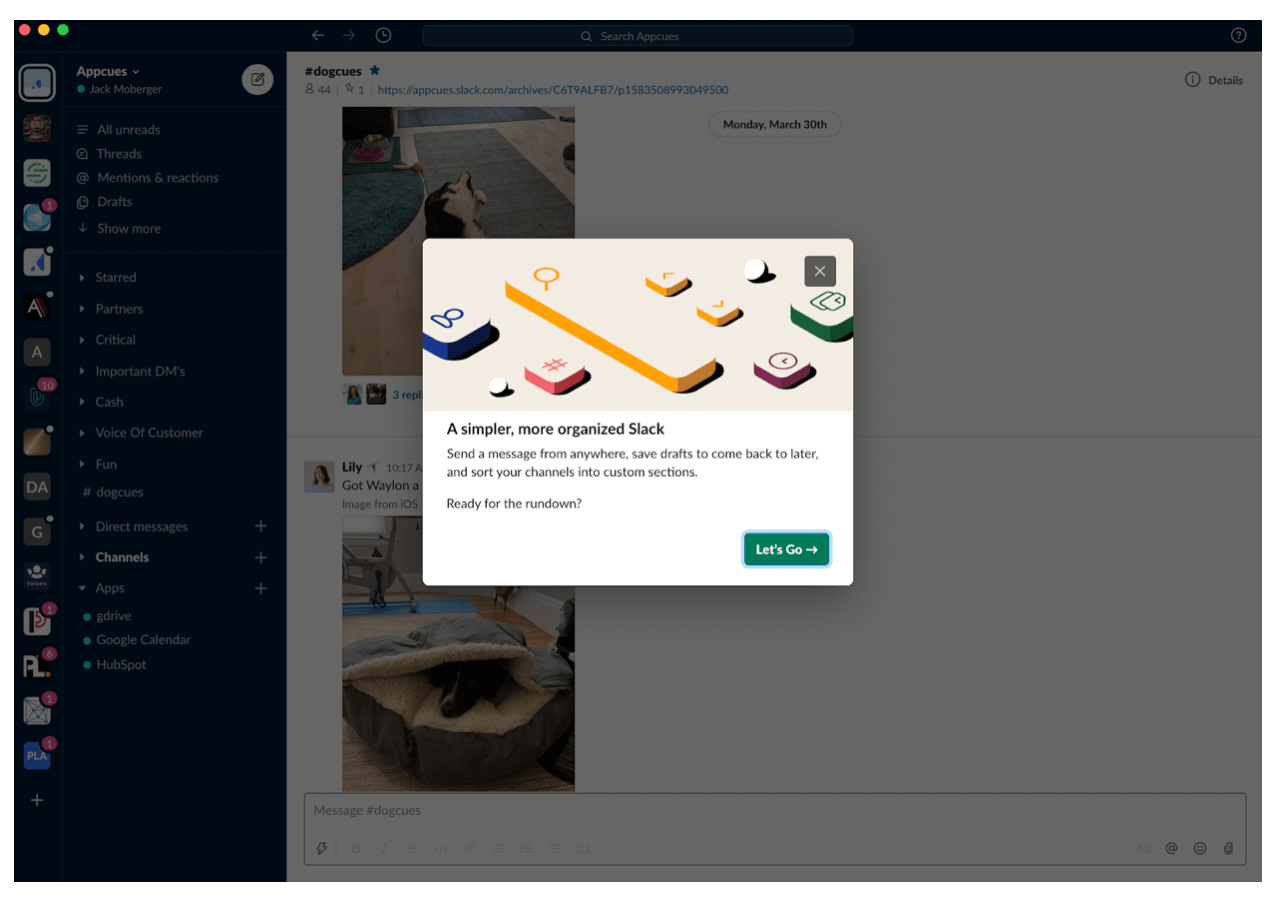 Upsell prompts
You can also use in-app messaging to persuade your users to upgrade their freemium account to a paid subscription.
For example, Spotify freemium users are faced with a prompt to upgrade their account when they skip a certain number of songs.
And in this case, in-app messaging appears to be working; Spotify is the world's most popular audio streaming subscription service with 365m users, including 165m subscribers, across 178 markets.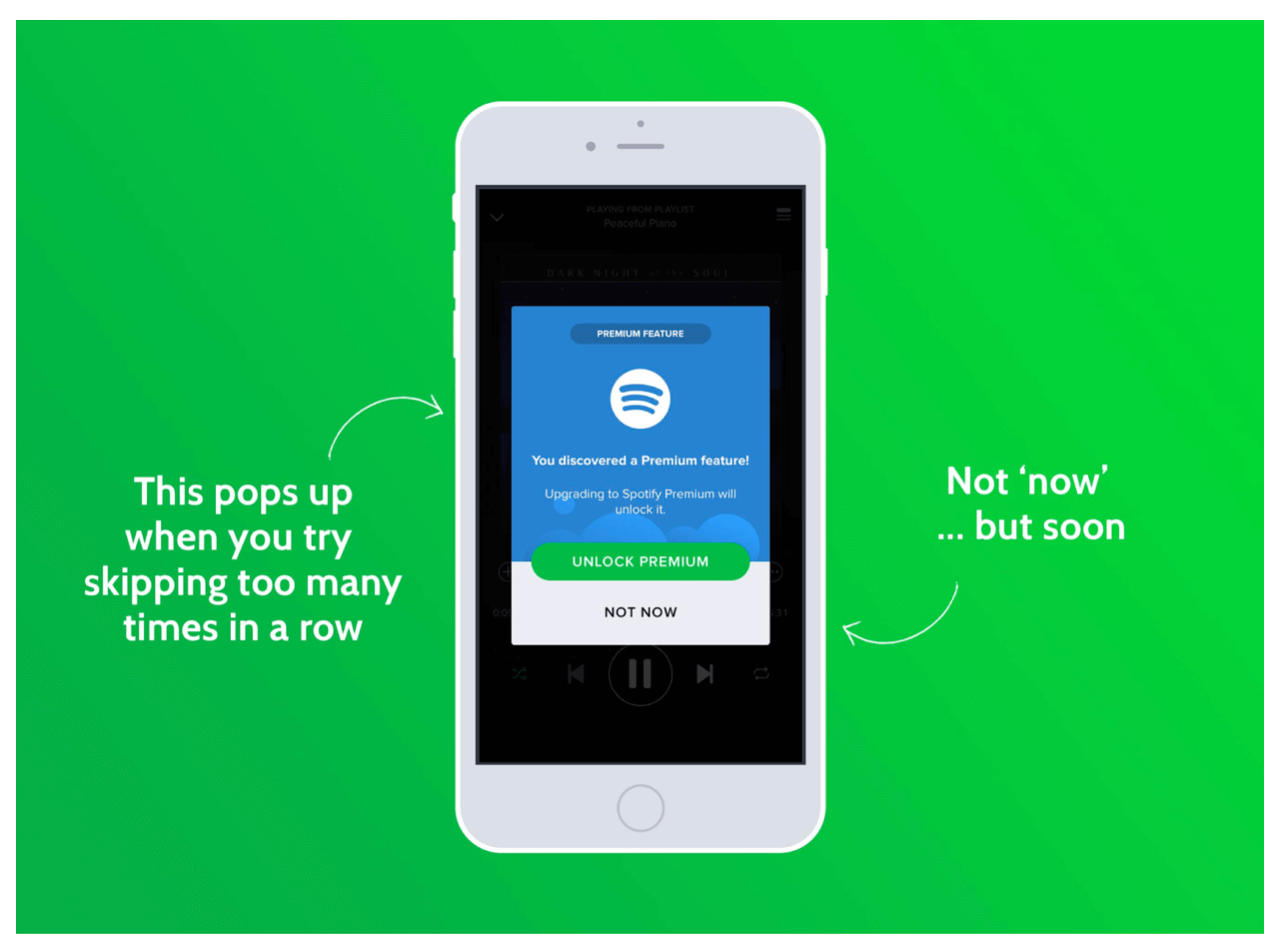 Chatbots
Chatbots are arguably the most recognizable form of in-app messaging, with many companies embedding the feature into their website.
While the tools can sometimes be impersonal, they do provide users with around-the-clock access to support.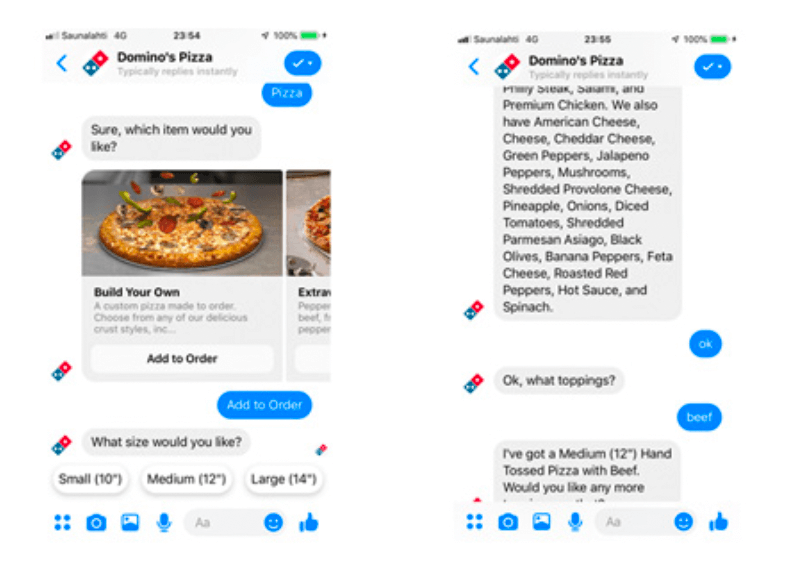 Product notes
The hard work doesn't end when the product hits the market. Companies are constantly looking for ways to improve their offering and make it more appealing to their target market.
In-app messaging often appears in the form of a pop-up to deliver product notes to the user and inform them about new product features, bug fixes, or improvements to previous versions of the product.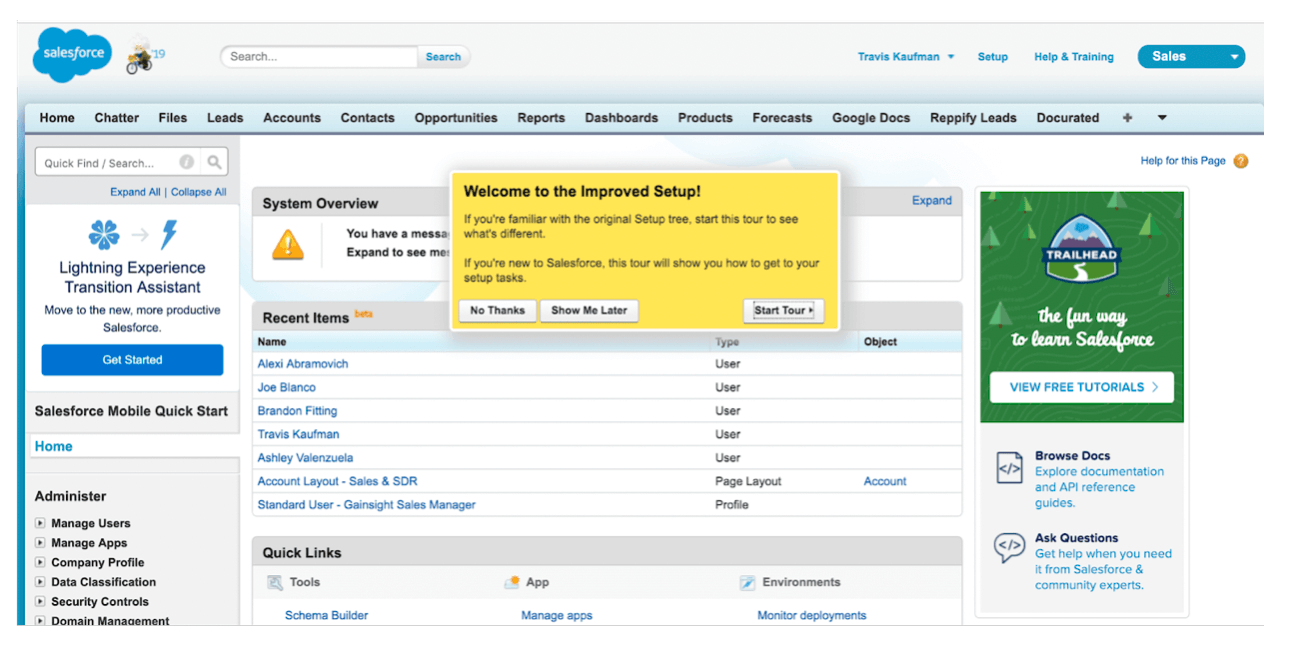 Splash screens
Pages outlining new features are used to outline new features when the user opens an application or logs into a website.
This is often accompanied by an appropriate CTA to divert the user to the feature itself.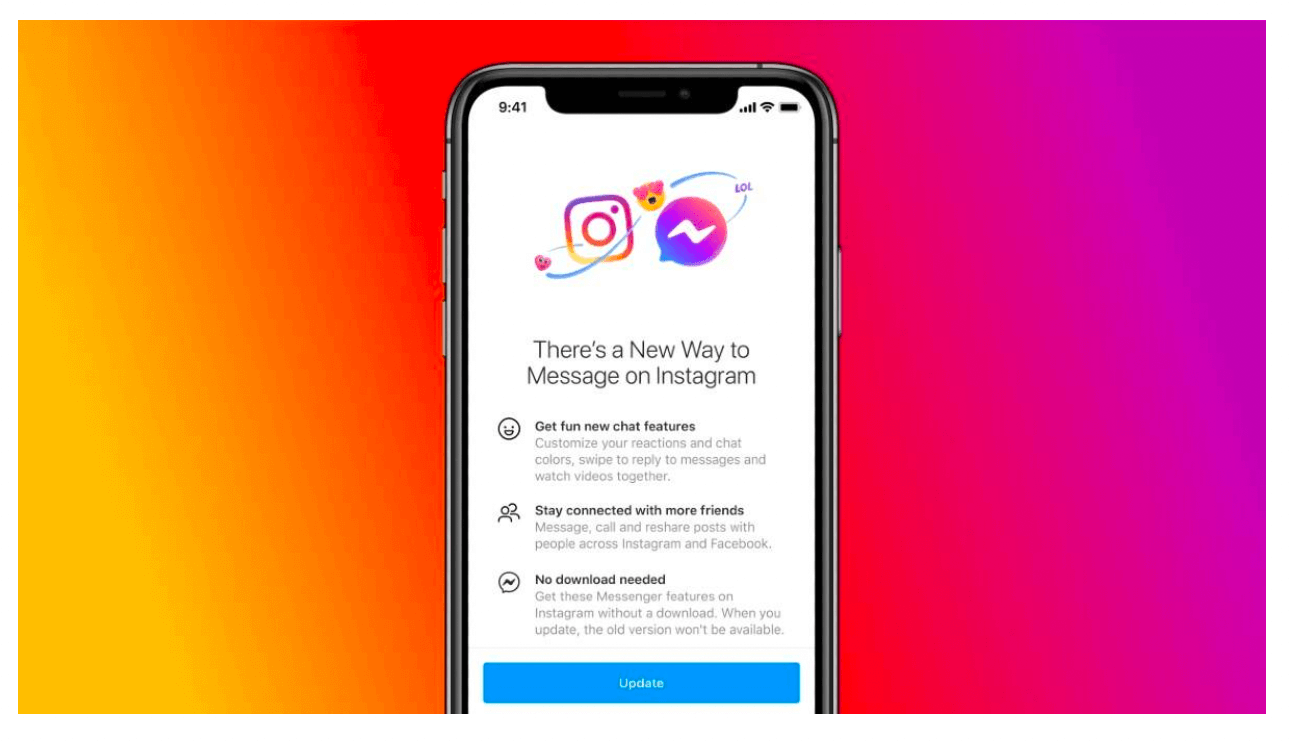 ---
How are push notifications and in-app messaging different?
Push notifications and in-app messaging are similar, in that they're both forms of direct messaging channels. However, they're both used differently.
While push notifications are used to bring users back to the product, in-app messages are used to educate the user about features and encourage them to use them when they're using the app.
Additionally, users can receive push notifications even when they're not in an app, whereas in-app notifications can only be sent to a user when they're using the product.
---
How to use in-app messaging to drive feature adoption
Product launches aren't for the faint of heart; blood, sweat, and tears go into ensuring your offering is met with acclaim, and the process relies on old-fashioned teamwork.
While marketing may write awesome collateral, and sales reps will rehearse sales scripts until they're blue in the face in a bid to deliver new customers, in-app messaging plays a critical role in helping you appeal to your active users.
The customer experience can be improved tenfold with the implementation of in-app messaging, but there are a variety of strategies you can apply to leverage the process.
Use targeting and segmentation
To establish who your feature announcement (and subsequent messaging) is aimed at, you need to ask yourself the following questions:
Is it aimed at established users, new users, or both?
Does it apply to a variety of personas or one in particular?
Is it for freemium or paid users? If they're a paying customer, what plan are they on?
Targeted messaging is important because it allows you to communicate with people who are relevant to your campaign.
If you apply a general approach and send messaging that's not relevant to a proportion of your database, you'll run the risk of alienating a portion of your customer base, prompting unsubscriptions from future correspondence, or more importantly: customer churn.
Action point #1 - Write tailored messaging for each segment.
Generate excitement amongst your audience
When you're launching a new feature, you need to make your user personas sit up and take notice.
It's fine to bend the rules and disrupt the customer experience - albeit momentarily - to make sure you grab their attention.
In your announcement, include essential information that answers the following questions:
How does the feature improve user experience?
How will it help your customer fulfill their goals?
Use the following methods to create a feature announcement that's striking and informative:
Use a brief, succinct title and use enticing words to attract the attention of your target audience. For example, 'introducing', 'new', etc.
If possible, include images of the new feature being used; this will give your user an indication of what they can expect when the feature is launched. However, don't give too much away - leave your customer wanting more.
Be strategic with your use of a CTA; use a link that takes your user straight to the new feature.
Don't use convoluted, drawn-out content. Get straight to the point, highlight the value of your new product feature from the offset and reiterate why it'll make your user's life easier.
Action point #2 - Write strategic content that highlights your value to the customer.
Include feature tours and walkthroughs
Despite the time, resources, and effort involved when introducing new product features, some companies use messaging that's so subtle that it slips under the radar, and this can dilute the impact of the release.
Be careful not to fall into the same trap. You need to use messaging that can't be ignored and demo your product feature in a clear way with minimal disruption to the customer experience.
For example, instead of linking to a blog post in which you explain the intricacies of your new feature, keep your user in one place and embed an in-app walkthrough to ensure the user can discover your new feature without deviating to a new area of your site.
Unsure what to include in a tour or walkthrough? Ask your customer success team to request feedback from a prospective user during a live demonstration and use the feedback to ensure your subsequent feature tours and walkthroughs include appropriate material that answers the questions flagged by your user.
Action point #3 - Always liaise with your colleagues to establish what your customer really wants.
Personalize your messaging
Every day, we're bombarded with marketing messaging from companies vying for our attention.
Sometimes, messaging can be impersonal, and this can lead to a lack of engagement.
When you're writing in-app messaging, let your personality show and be personable: include your name, a profile picture, and use emojis to make your writing shine.
After all, we guarantee users want to feel like they're speaking with a person, not a robot.
Action point #4 - Inject personality into your copy.
Always plan ahead
In-app messaging isn't all about the here and now. You need to consider how leads who haven't yet converted into fully-fledged customers will perceive your new product feature.
For instance, if the feature is an underlying feature that isn't core to your product, resist the urge to introduce the feature to new users until they're familiar with the main aspects of the product.
You don't want to overcomplicate matters and inundate your user with features at the same time. Chances are, you'll confuse them and they could potentially churn.
That said, if the newly developed feature applies to your main use case, refer to it in your onboarding process.
Action plan #5 - Don't neglect future customers.
---
Action point overview
Action point #1 - Write tailored messaging for each segment.
Action point #2 - Write strategic content that highlights your value to the customer.
Action point #3 - Always liaise with your colleagues to establish what your customer really wants.
Action point #4 - Inject personality into your copy.
Action plan #5 - Don't neglect future customers.
---
How to improve your messaging
Messaging is the method behind the magic. It's the message your product sends to potential customers and a crucial part of any product marketing plan of attack.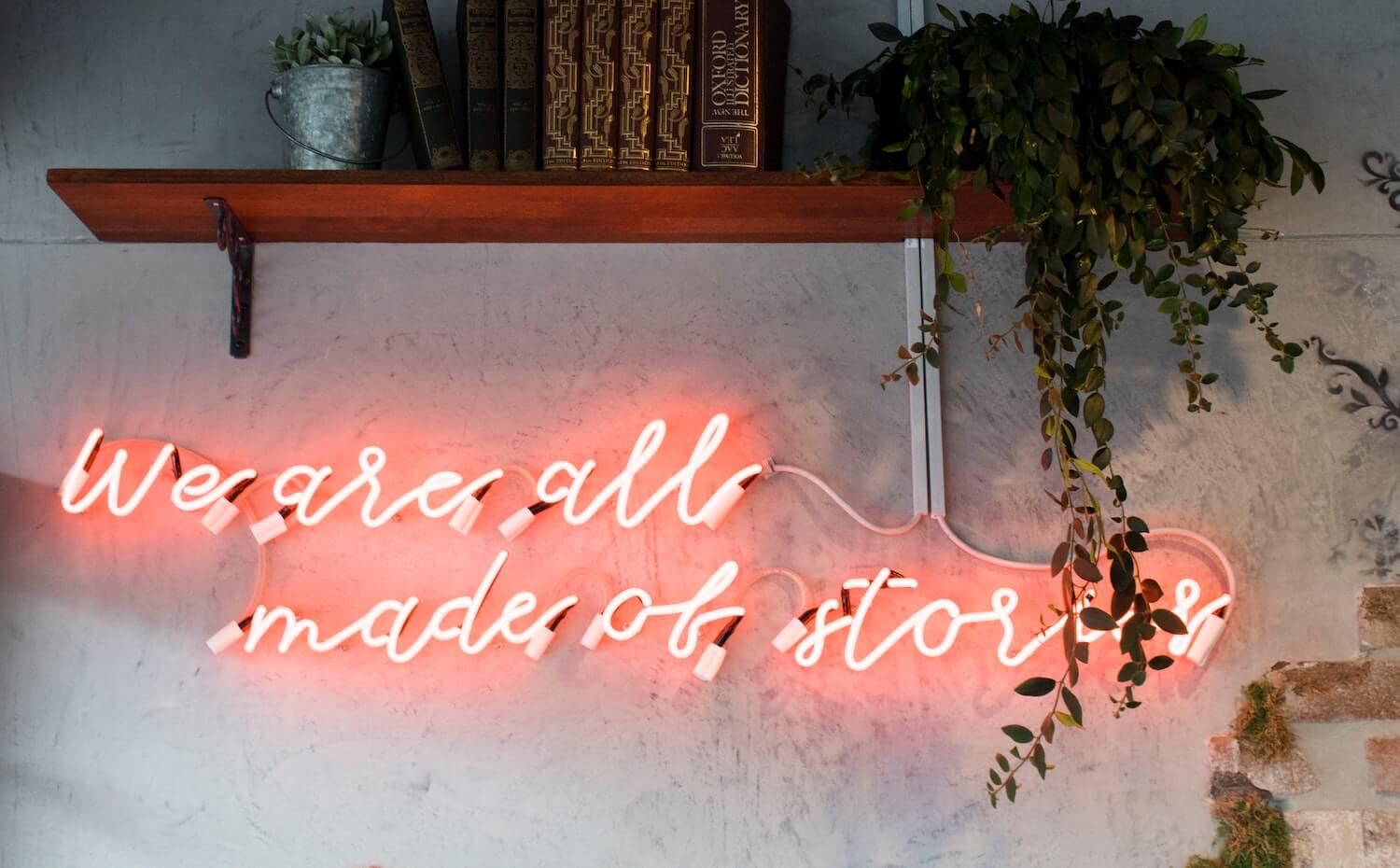 While it may seem straightforward, sometimes, the simplest things are the trickiest ones to get right.
If your messaging skills are mediocre, suffice it to say, it'll be detrimental to the quality of your in-app messaging.
Sign up for our Messaging Certified: Masters course to gain the best possible knowledge on the strategy. The certification is taught by Bryony Pearce, Head of Education here at Product Marketing Alliance.
By the end of the Messaging Certified: Masters you'll:
Know how to build foundations for solid messaging and customer engagement,
Be able to get maximum impact from your messaging frameworks,
Be a pro at drafting, layering, and reviewing your messaging,
Understand how to work more effectively with copywriters,
Know how to validate your messaging with prospects and customers, and
Understand message synching and why it matters.
Get Messaging Certified