From your first day at school, your first date, to meeting your future in-laws, life will always throw challenging scenarios your way.
Oftentimes, we're faced with situations in which we're placed firmly in the spotlight, and are forced to take the bull by the proverbial horns - and this isn't reserved exclusively for our private lives.
The State of Product Marketing Report 2021 revealed 21% of respondents were the only product marketers at their company.
Our write-up also reinforced the notion that product marketing is most definitely a multi-faceted role, with more tasks being delegated to product marketers since 2020: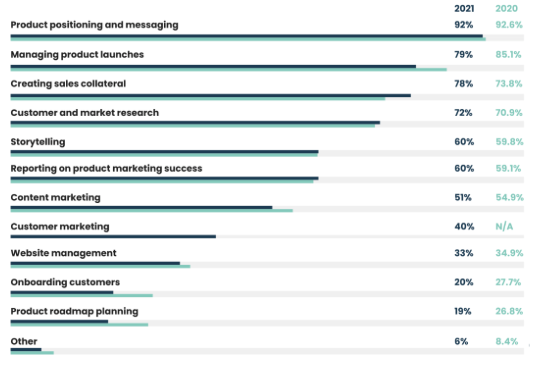 With workloads on the rise and no more hours in the day, what should product marketers do when faced with the challenging prospect of footing a new department on a solitary basis?
Professionals gave their perspectives on what they consider to be the most effective ways of guiding the PMM ship without an accompanying team:
"I have a 3x3 matrix I use called 'the buckets of learning' which helps set the learnings a new PMM should experience in the first 90 days of the role - it focuses on 3 key areas: company/industry, role, and process (as I think PMMs are the main driver of building and driving processes)."
Irit Schwarz, Director of Product Marketing at Digital Turbine
"Ideally, you have time to build a strategy to approach the new department/role systematically. But, time is not always on your side, so besides building the strategy.
"I always saw release communications management, the voice of the customer, and persona building/redefinition as the first three areas to attack."
Igor Kranjcec, Head of Marketing at Mediatoolkit
"First, I'd recommend interviewing all the stakeholders to identify the needs of the business. PMM roles are nuanced and oftentimes mold to company needs.
"Also, establish operations, structure, and communication cadence and learn your product inside and out!"
Gabrielle Turyan, Global Product Marketing Director at 4D
"Understand the business, its goals, its products, its customers, and conduct competitive intelligence to understand your market rivals.
"If you understand this, you can build a strategic plan to address any shortcomings in the SWOT analysis as well as any negative feedback from partners or customers.
"Too many people want to start changing things to make a difference, but lack the understanding of why things are being done the way they are. You must first understand before you can make strategic and profitable changes."
Gavin de Villiers, Former Trade Marketing Manager
"Learn the product; become its customer and ask questions of your product and customer success teams and understand the current roadmap.
"Also, take the time to meet with all stakeholders; establishing cross-functional relationships is key.
"Last, but not least, talk to customers; look at current market research, and plan out the next steps. Go to events, read reviews, listen in on sales calls/recordings, etc."
Michele Bove, Consumer Product Marketing Manager at Coursera
"Schedule meet and greets cross-functionally. You'll quickly uncover gaps/opportunities to address in product positioning, product messaging, etc. Write everything down that you learn - this will serve as a great reference point in 4 months as you become more ingrained within the company.
"Secondly, know your product and product team! Schedule 1:1s with members of the team. Request product demos. Ask questions. Schedule weekly meetings to review the product to quickly become the product SME and develop relationships.
"You also need to learn the company priorities and product roadmap. During the first year, you'll most likely be completing the roadmap rather than influencing it.
"For bonus points, make sure you have a 30-60-90 day plan to ensure alignment of your goals and plans with your supervisor. Think of this as change management, because that's essentially what you are doing by implementing new workflows, processes, and tools to manage work, and expect some to push back.
"Finally, never underestimate the value of education. Most will have never heard of Go-to-Market strategy before and you'll need to take a step back to explain best practices."
Linda Franklin, Product Marketing Manager at Crossover Health
"Understand the role, how it's measured, and socialize it with your stakeholders. Set expectations from the outset.
"You need to also understand your buyer and their customer needs. Meet customers, understand how/why they chose your company and product; listen to the words they use and how they purchase.
"Also, learn the product. Understand the audience, use cases, your value proposition, why your product is different, and who your competition is."
Michael Kerman, VP of Marketing at IntegriChain
"Engage with stakeholders and determine the level of awareness of the practice of product marketing within the business. Do your stakeholders know why you're there and what value you offer?
"Determine your core product marketing workstreams. For example, do your product or marketing teams have a tried and tested Go-to-Market blueprint? Is there a sales enablement process? Does your function have the right resources to execute multiple GTM plans? Are you equipped with the right data to make informed decisions?
"Set up individual sessions with primary and secondary product marketing stakeholders to educate them on what you're responsible for, what you're not responsible for, and how they'll work with you going forward. Be sure to mention this is an iterative exercise and feedback is encouraged and improvements are ongoing."
Nick Knuppe, Head of Product Marketing at Mollie
"Schedule meetings with all the different teams and departments in the company to ask: what are your biggest pain points and how can I help?
"Get into the product by attending training sessions and dogfooding as much as possible to learn areas of strength and frustration from onboarding onwards. Make sure to talk to the support, product, and dev teams about this!
"Find out about customers as much as possible by reading case studies, watching interviews, and shadowing sales demos and customer success calls."
Cecilia Haynes, Head of Product Marketing at Sendible
"Arrange internal stakeholder interviews. Meet with a minimum of at least five stakeholders at least twice. A high-level meeting and a more detailed one to understand their pain points and to establish where product marketing can help them in their career.
"Develop an insights map and categorization of all available sources: NPS Survey, user insights, user requests, customer interviews.
"Also, deliver a proposal for the first product marketing tactics you plan to introduce. This might be defining the brand narrative, but might also be used to outline specific GTM tactics.
"Developing and implementing these first projects will provide you with actionable benchmarks and also improve understanding.
"They'll also give accountability to your stakeholders when you ask them to prioritize and deprioritize some of the tactics in your proposal, whilst also giving further insight into their pains so you can plan for future team growth."
Ioana-Rebeca Glitia, B2B Marketing Lead at Landing.Jobs
"Understand the competition, customers, and the product. That'll make the positioning clear without asking anyone. Do all things necessary to strengthen that or to alter that (if necessary)."
Anish Mathew, Product Marketing Manager at Zoho Corporation
"Understand your product(s) objectives and use cases, customer/user-profiles and what they're trying to solve, and the stakeholder's engagement plan.
"This could be considered as over-simplistic, but if you don't understand the problems your product is needing to solve for customers, then it's inefficient to set up internal processes too soon, only to have to undo them again later."
Nicola Moralee, Director of Product Marketing at Optum
"Having recently started with a company to start up the product marketing function, while being the only product marketer for a while, here's what I included in my 30-60-90 day plan:
"First of all, you need to learn the business. This includes the culture, strategy, goals, vision, plan, and structure of the company.
"You also need to understand the sales pipeline and forecast, and competitive landscape, identify current processes and develop working relationships with product management, sales, and marketing.
"Also, learn the product. Gather intel from product managers and sales engineers, and if needed, take relevant training. Then, understand the product roadmap, review current collateral, and capture needs and wants from marketing, sales, and product managers.
"Finally, learn about the customer. Get input from sales and sales engineers and identify verticals, collect use cases, and understand customer needs and challenges. Also, listen in on calls with customers/prospects and develop comprehensive personas."
Todd Cotts, Manager of Product Marketing at Telesat
"Shadow five prospect and customer calls, and take this opportunity to pick up on what is and isn't happening in those sessions, especially about product value and positioning.
"Look at win/loss data from your deals to identify trends and patterns. If you don't have the data, start building a process.
"Also, take the time to audit your website and all other prospects and customer touchpoints. Ask yourself: is your positioning simple, clear, defensible, and value-oriented? On the product side, find and deeply understand your product roadmap."
Deniz Ibrahim, VP of Product Marketing and Demand Generation at Bluecore
"Know why the product helps customers. Not loosely. Exactly. Also, establish why your product wins in the market. What makes yours special? And write that down, clearly in a language that everyone will understand.
"Also, get to know the team: product developers, managers, fulfillment - heck, get to know the darn janitor too. It takes a village to serve customers well, you're all on the hook.
"I'd also recommend learning what routes to market work and why using key metrics. Then, start prioritizing your top ones. Get out there. And while you are there, listen to Every customer comment. It's a ticket to a better you."
Heather Wright, Strategic Communications Consultant at ROI Communication
"Arrange call listening tours with both sales and customer success and speak with as many customers as possible.
"You also need to become a product and/or service expert. Consume as much product content as I can and begin connecting them to the problems they solve.
"It's also crucial to practice pitching - I may be biased getting my start in sales but doing this will help kick off my work in product positioning & persona development."
Hannah Sackett, Director of Product Marketing at Electric
"Learn the product and industry before your first day. Treat your first few weeks like you are in sales and soak up all the info you can."
Hunter Klein, Digital Product Marketing Manager at Rocket Mortgage
How to develop your product marketing career
Whilst challenging, working as a Product Marketing Manager without the full support of a unified product marketing team allows you to demonstrate your capabilities to work autonomously and develop the requisite skills needed to flourish in the industry.
Resources such as PMM Hired are also beneficial in helping you establish yourself as a stellar practitioner as you seek to climb the career ladder.
With exclusive content, interview questions, live, monthly workshops, and much more, PMM Hired is the perfect career companion - whether you're a solo practitioner or have the backing of a full team.