One of the most hotly contested awards this year, the Rising Star - PMM MVP of the Year award seeks to recognize those PMMs who are taking the product marketing world by storm.
This was a super tricky award to narrow down as the shortlist is comprised of superstars who consistently crush their goals, are filled with passion, and positively impact their product, team, and company.
But, we did manage to pick out one very worthy winner.
We are delighted to officially confirm the winner of the Rising Star - PMM MVP of the Year Award 2021 is…
👑 Alyce Erikson, Sr. Product Marketing Manager APAC, LinkedIn 👑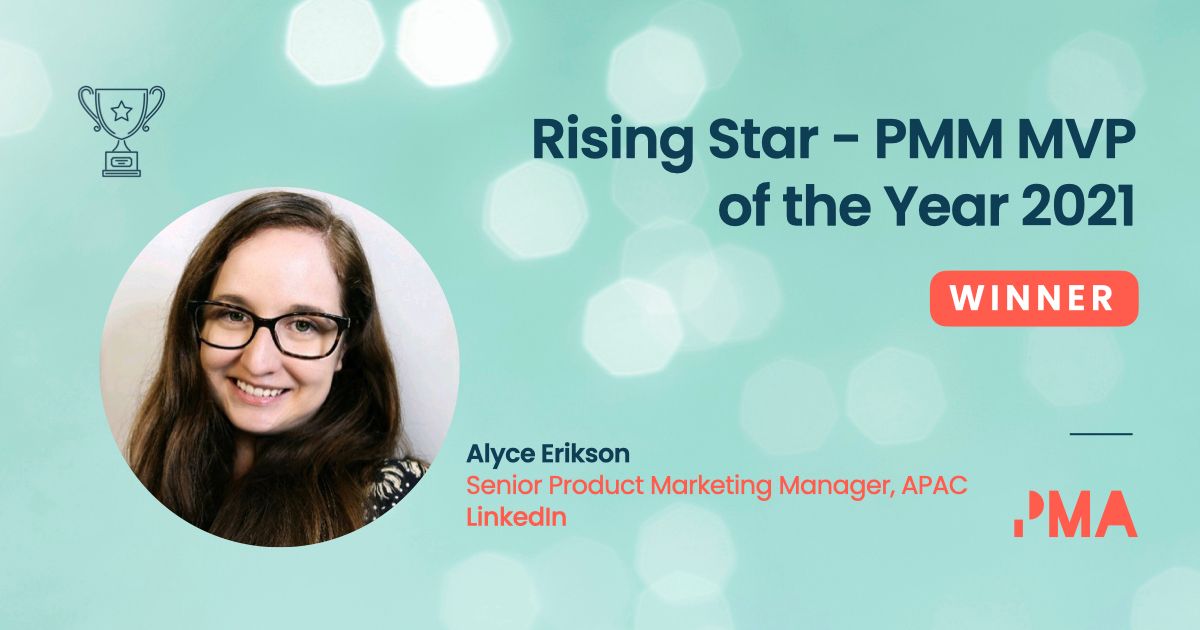 Let's hear from a few of Alyce's colleagues as to why she is our PMM MVP:

"Alyce approaches all situations with a data-driven, measured and calm mindset. She is able to distill complex challenges into easy-to-understand areas of opportunity."
Geraldine Teo, Senior Field Marketing Manager, LinkedIn

"Aside from launching dozens of products to the APAC sales team and customers, some of the highlights of the last year have been:
- Launching LinkedIn Events in APAC (one of LinkedIn's biggest launches ever) and more recently going on to run Event CABs in her 5+ markets to redesign the product.
- Relaunching ABM and LinkedIn Audience Network
- Creating a 'PMM Partner' program which took on 3 aspiring product marketers to upskill, educate, and grow in their career"
Lucy Sonter, Lead Client Solutions Manager, LinkedIn

Wow, it sounds like you have been busy Alyce.
Huge congratulations again to all of our fantastic finalists:

Philine Cheng, Senior Global Product Marketing Manager, Peloton
Shreya Kothari Sawala, Product Marketing Lead, Finturi
Alex Virden, Senior Manager, Product Marketing, PatientPop
Rachael Tomaney, Director Product Marketing, ACI Worldwide
Yash Mahajani, Product Marketing Manager, Zuora
Ameeti Mishra, Senior Product Marketing Manager, Lead, Uber
Andrew Forbes, Director, Product Marketing, Zendesk
Bettina Jakobsen, Product Marketing Manager, Google
Marieke Rodenrijs, Head of Product Marketing, Quinyx
Missed any of last week's announcements?
Check out the awesome winners of Product Marketing Newcomer of the Year, Positioning & Messaging Maestro of the Year, the Above & Beyond Award, and Top Companies to Work in Product Marketing.
Join us again tomorrow as we'll be awarding the Product Launch of the Year accolade.