As you'll know from our State of Product Marketing 2020 report - the successor of our coveted SoPMM 2019 edition - we love a good sequel here at PMA.
What we love just as much though is some brand-spankin' new content, hot of the press, with a fresh perspective, and boy, are we excited to be introducing you to the new kid on the report block… the State of Product Marketing Leadership 2021.
Something for our PMM leaders that really honed in on the leadership role…
A piece of content that was truly tailored to them, shining the spotlight on the strategic and team management elements of the senior PMM role.

And so here we have it - our first-ever State of Product Marketing Leadership report!
Not in a PMM leadership position yet? Don't go anywhere because this is your perfect opportunity to get the dirt on what's really going on in the upper echelons of this continuously ambiguous role.
Now, let's get stuck in!
Without any further ado, allow us to give you a virtual tour around your new report, with some sneak peeks thrown in for good measure.
Our product marketing leaders at a glance
We canvassed the thoughts, opinions, and verdicts of more than 300 product market leaders, spanning companies of all shapes and sizes - by which we mean growth stage, number of employees, industry, and product type.
Our survey respondents were dotted across various different continents, with the majority in North America (68%) and Europe (23%).
Here are just some of the companies they represent: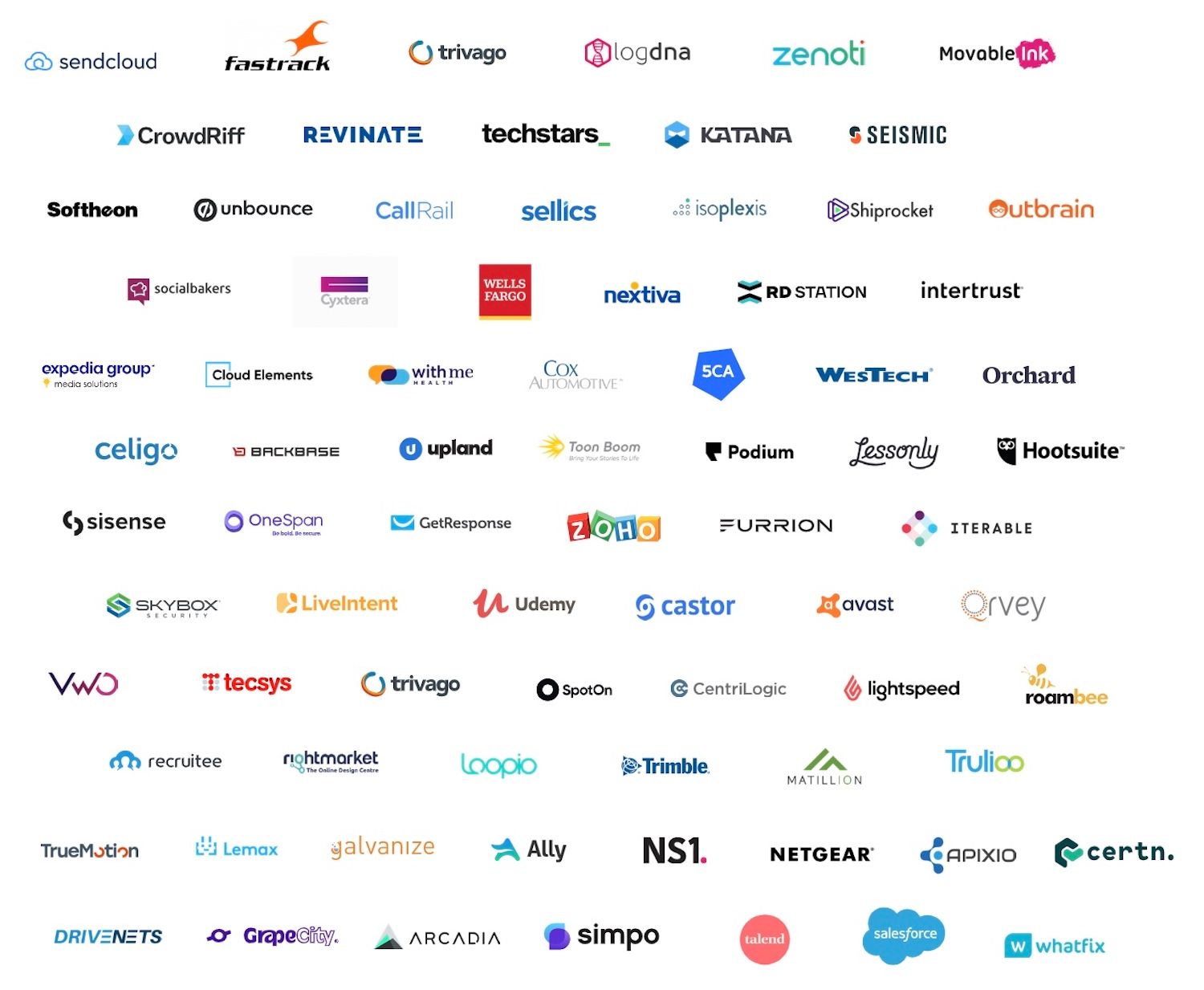 So, what did our global gathering of PMM leaders have to say for themselves?
Some key facts & figures
Here are just a handful of the key takeaways to get you in the mood:
The majority of product marketing leaders hope to progress to the role of VP of Portfolio Marketing or Chief Marketing Officer.
Go-to-market strategy and execution are the most sought-after hard skills when recruiting new hires.
Nearly a third of PMM leaders tie their function to revenue through product adoption.
43% of product marketing leaders are not responsible for analyst relations and 21% don't work with analysts at all.
Most (63%) PMM leaders surveyed identified their approach to leadership as coach-style.
Exactly half of product marketing leaders are not the spokesperson for their product, despite 56% stating they want to be.
What topics do we cover?
More like, what topic's DON'T we cover in the report. 😏
That's right, we went full-throttle, dipping our toes into everything your product marketing leadership heart could possibly desire.
Now, we're not usually down with spoilers but before we leave you to peruse the full report at your leisure, we wanted to leave you with a teaser of just some of the topics ventured and the findings gained.
Career roadmaps and recruitment
Most of our leaders aspire to be VP of Portfolio Marketing or CMO one day but what about when they're recruiting into their teams?
We wanted to tap into what our leaders look for in PMM hires, with soft skill requirements being just one of the areas we drilled down into. We found that almost all PMM leaders lookout for strong communication skills (90%) and an ability to drive good cross-functional internal relationships (89%).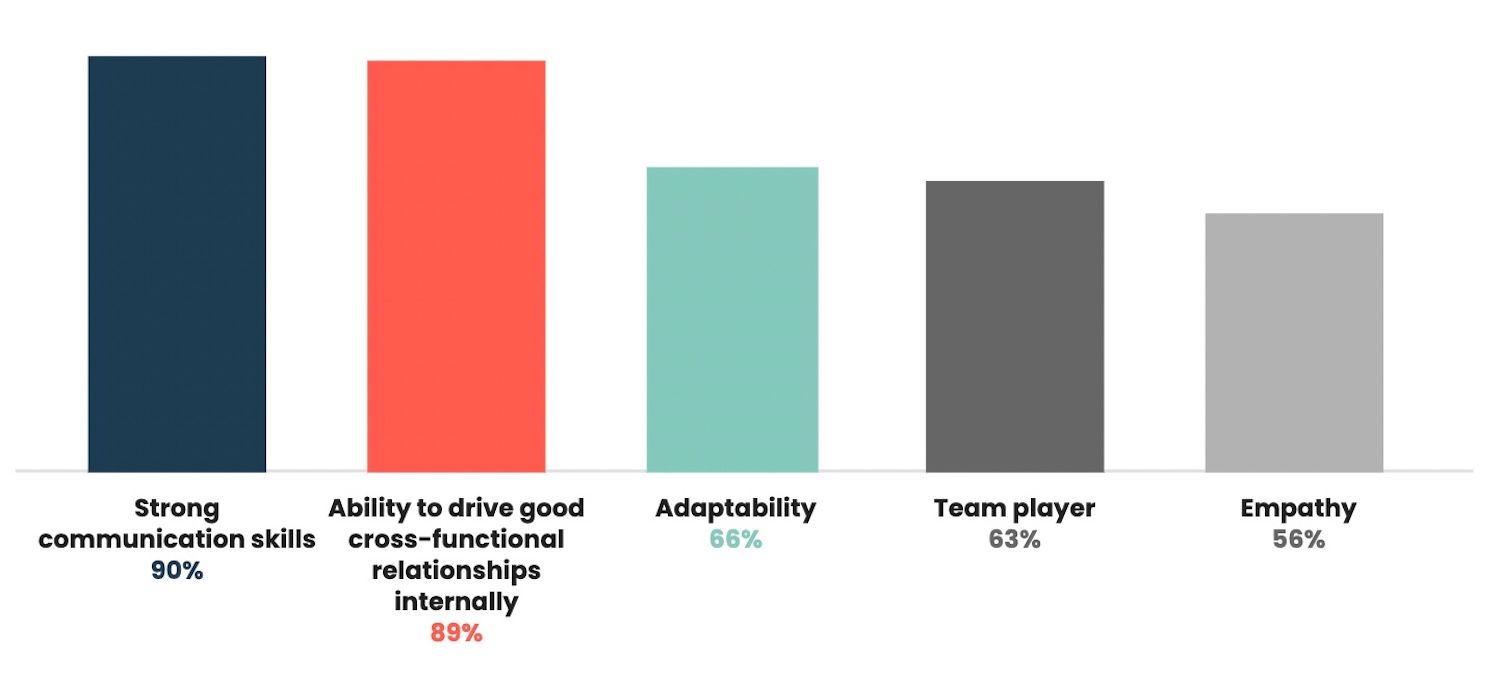 Adaptability (66%), being a team player (63%) and empathy (56%) were all pretty high on the priority list too.
Revenue and analyst relations
We were keen to probe more around the topic of how PMM leaders and their teams tie product marketing revenue. Turns out most (32%) favor product adoption as a quantifying metric.
We also probed our PMM leaders who work with analysts about how they'd describe their working relationship with these analysts and here's a snapshot of what was said: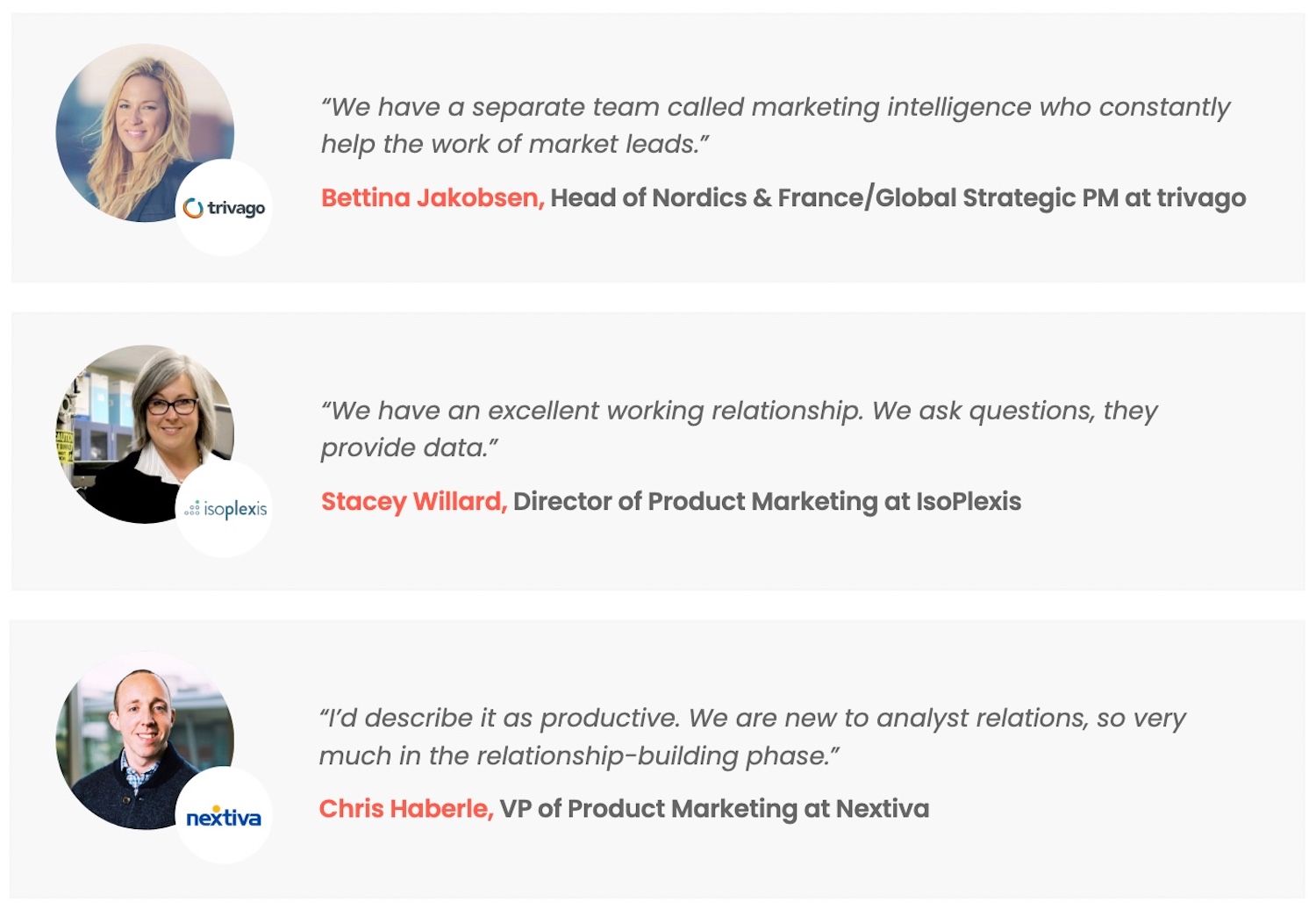 Leadership styles
You don't need us to tell you great product marketing leadership is essential to driving business success. That'd be like trying to teach grandma to suck eggs, right?
But leadership can shift shapes and manifest itself in a whole spectrum of different styles.
Most of our PMMs identified themselves as a coach-style leader (63%), while almost exactly the same amount labeled their leadership style as strategic (62%).
Competitive intelligence
In this section, we take a look at how much time product marketing leaders spend analyzing target markets, tracking indirect competitors, and differentiating their products from their rivals.
We also stole some pearls of wisdom on using competitive intel to stand out from competitors from the experts themselves:
"By comparing features, pricing, and buyers. We know our core market differentiators, and using all that data we develop the story from there."Madelyn Wing, Director of Product Marketing at CallRail"By focusing on most of our target customers' key pain points and emphasizing our strengths where competitors don't focus as heavily."
Chris Haberle, VP of Product Marketing at Nextiva

"It's a long process, but ultimately it involves looking at feature differences, equating that to value, listening to plenty of Gong calls or talking with customers, and tying our messaging to differentiators identified throughout the process."
Jeffrey Vocell, Director of Product Marketing at Iterable
"Using Narrative Design to craft a story that sets us apart from our competitors."
Ashley Herbert, Head of Product Marketing at Recruitee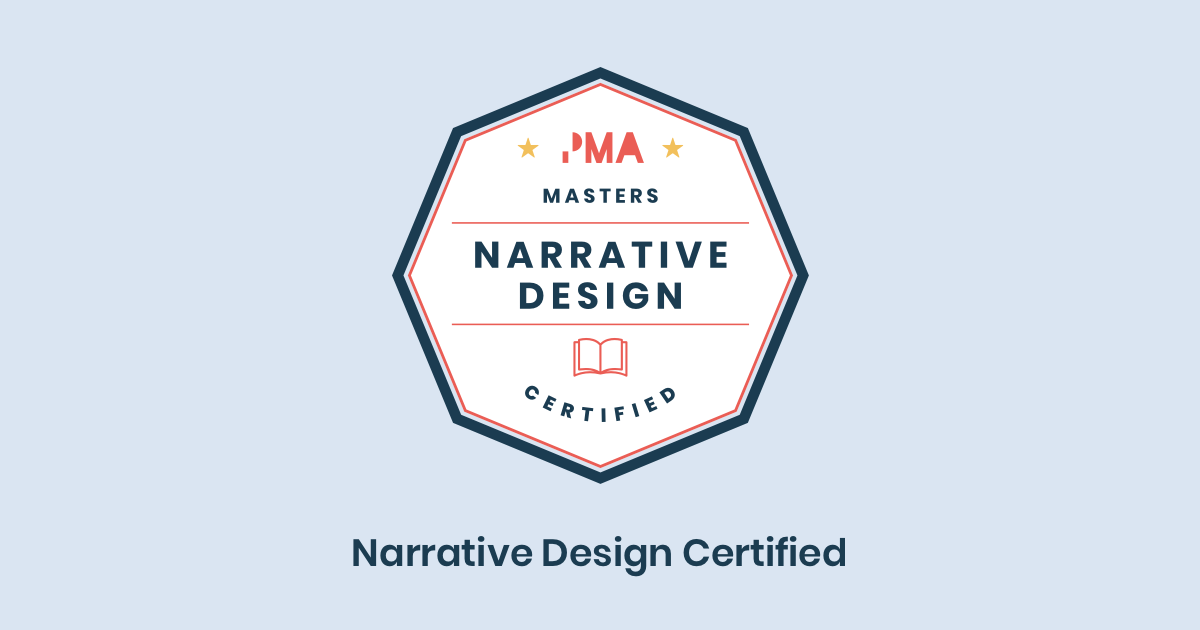 As the first of its kind - and the first of many - we're pretty psyched about how our premiere State of Product Marketing Leadership report turned out but hey, we're biased.
Don't just take our word for it…


Right, now we've got you hungry for more, it's time to feast on the full thing!
There's plenty more where that came from too in the PMA Reports hub.
Our growing repertoire of report resources lifts the lid on all things product marketing, poking into almost every nook and cranny, leaving no stone unturned.
We've had fingers in numerous pies now, including:
🥧 Competitive Intelligence Trends
🥧 The Sales Enablement Landscape
🥧 Top 100 Product Marketing Influencers
🥧 Product Marketing Tools of Choice

Oh, and not forgetting our recently-published Product Marketing Salary Survey.