Incorporating personalization methods into your product marketing strategy doesn't have to be extremely complicated and tech-heavy. There are plenty of approaches you can take that won't drain your budget or take over your workload.
Using this approach can have a significant impact on reducing customer churn and increasing retention rates, as well as product sales.
We'll cover a variety of important points in this article, including:
Why is personalization important?
There's no denying that product marketing is an increasingly competitive industry. Left and right businesses are fighting to be noticed by their customers and are continuing to find different ways to capture their attention.
According to a recent study, 77% of consumers have chosen, recommended, or paid more for a brand that provides a personalized service or experience. This means that by personalizing the way you market your product to your clients, the UX improves, and sales along with it.
There are a lot of different reasons why going above and beyond and implementing these tactics into your product marketing strategy will benefit both your business and your target audience.
Your audience will feel appreciated
Personalization within product marketing is a great method to ensure your user feels valued when using your product.
Increases the chance of renewals
If your customer feels like your business genuinely cares about them and their presence whilst using your product, they're more likely to continue using it, reducing churn rate and increasing the probability they'll buy additional features.
Your product will stand out from the crowd
How many times have you scrolled through your emails and stopped when you notice your name, or something customized towards your interests, in the subject line?
Amongst a sea of competing products, personalizing your material is a more effective way of ensuring you capture the attention of your audience. In fact, a study showed that lack of content relevancy generates 83% lower response rates in the average marketing campaign.
Builds a connection with your customers
Personalizing your material looks less robotic and injects a much-needed human element to your content.
Arik Abel, Head of Product Marketing at Pay-TV, highlighted how product marketers can enhance user experience with the incorporation of a human-centric design.
A greater understanding of your customer base
The data you get from personalized campaigns can feed back into your customer and buyer personas.
Look at how they're engaging with your content by identifying aspects like email click-through rates, and whether it's driving conversions and renewals. Regularly revisiting and refining your personas is an integral part of any product marketing strategy.
Improves product sales
According to InstaPage, 79% of organizations that exceeded revenue goals have a documented personalization strategy. This means that the majority of your sales are directly impacted either positively or negatively depending on how well you do it.
Personalization tactics
There are many different techniques that you can use to make your user experience more meaningful.
We've put together a list of a few of the most important ones that everyone should use when marketing their products.
First impressions are everything
Making first-time consumers feel welcome whilst using your product is critical in determining if they'll continue using it. Improve the customer onboarding experience by researching your target personas and any specific needs they may have when using your product.
Help them navigate your product properly, try to answer any questions they may have, show them how easy it is to use and they'll be more likely to return.
Slack, the business messaging service, provides a super helpful onboarding experience that is the best example for creating a good first impression.
They created a little robot 'guide' called Slackbot that gives you a tutorial when you first join Slack on how to get started on the app. It shows you how to navigate the site and gives little tips on which channels to join and prompts you to give introductions to other members to help you avoid overwhelming yourself.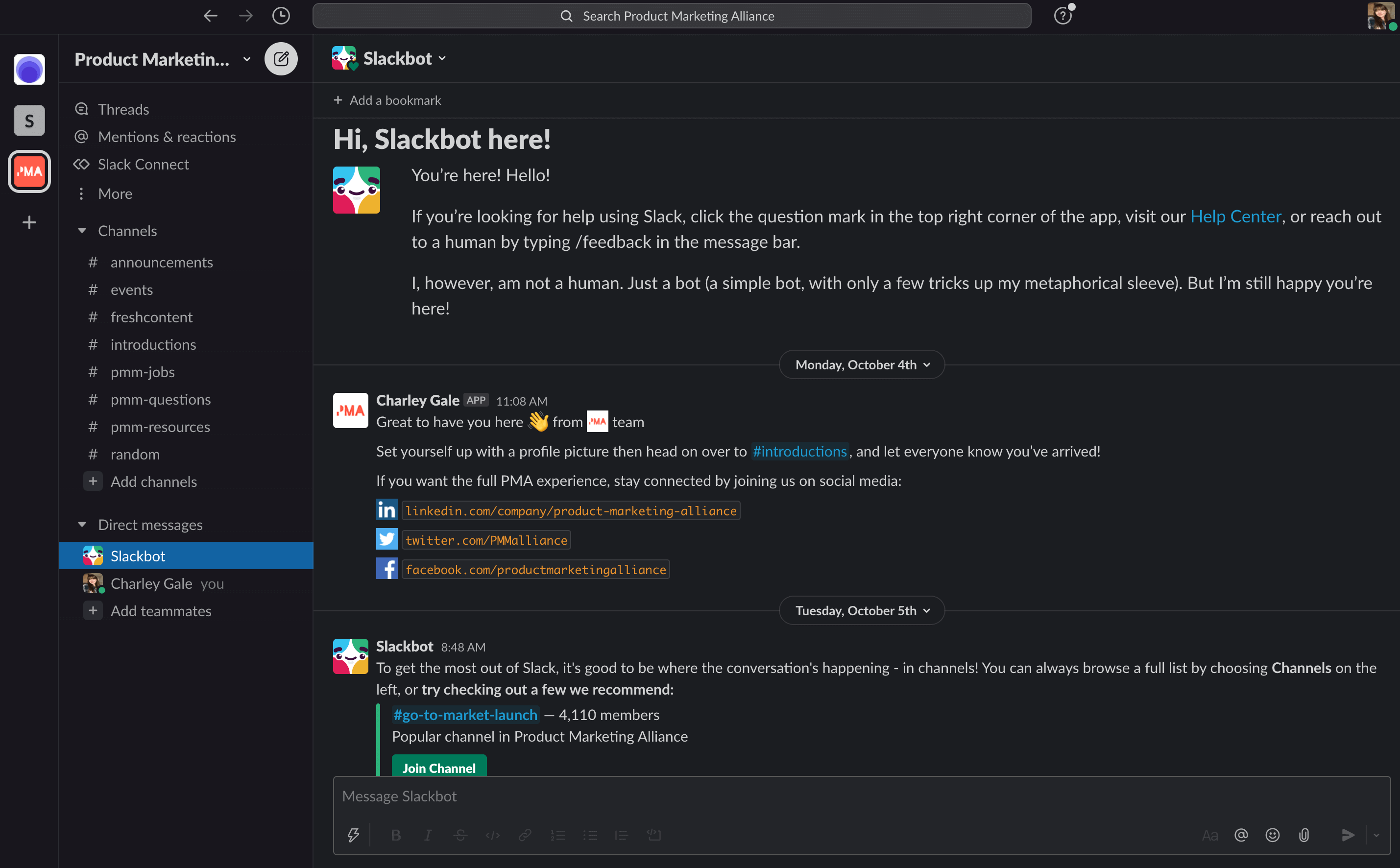 This simple service that they provide helps you get the most out of the experience, whilst making you as comfortable as you can be.
What is also very important is that they've ensured your customer experience with their product remains positive because you can message Slackbot directly anytime afterward and it will answer questions you may still have about the app.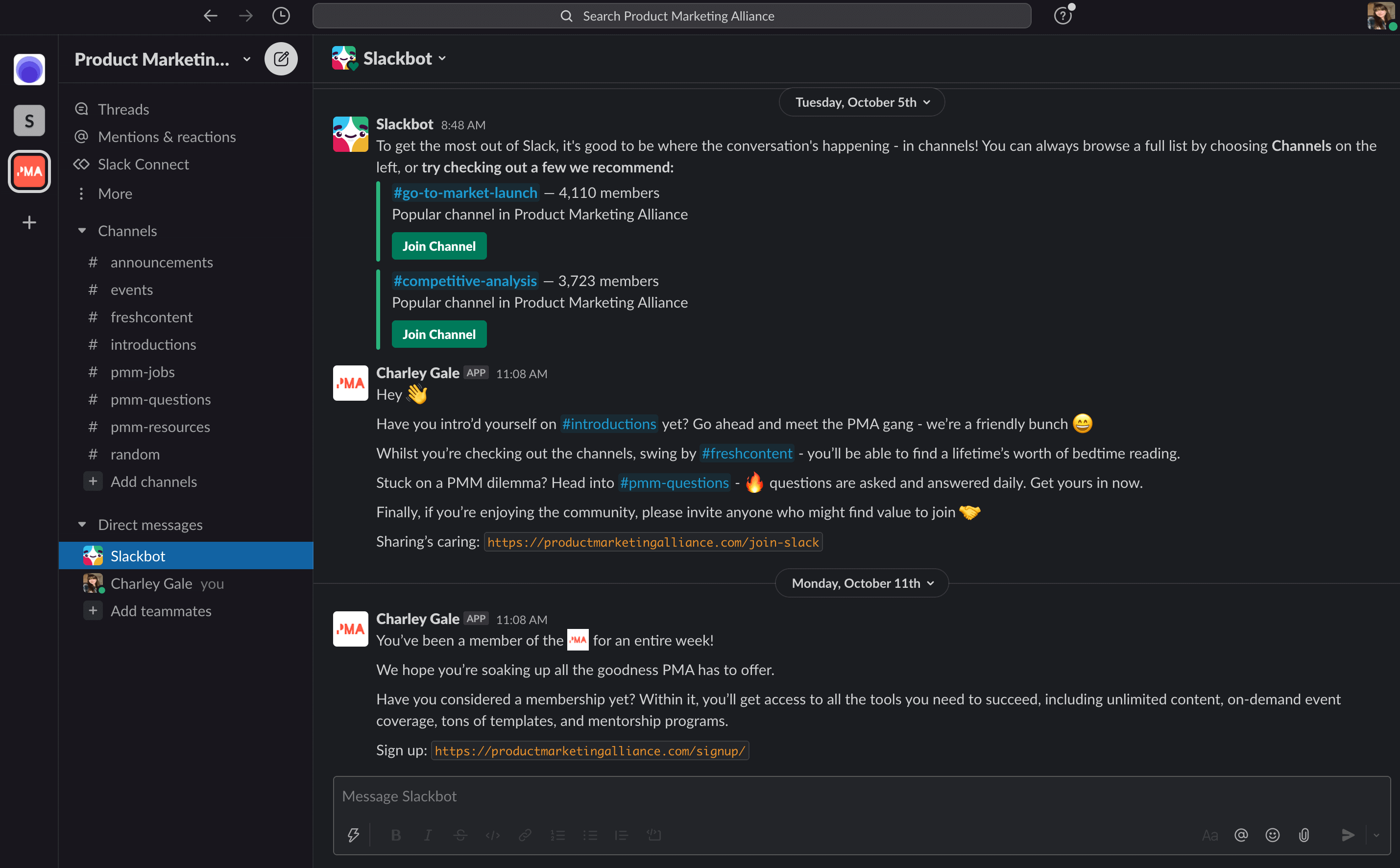 (Join the Product Marketing Alliance Slack community for more juicy hints and tips👇 )

Nurture existing customers
There are a lot of ways you can nurture your existing customers to show your appreciation.
Get ahead of the game by researching the customer rather than waiting for the customer to provide this information for themselves. They'll appreciate the attention to detail and extra effort you're putting in to improve the UX.
A survey discovered that 81% of consumers want brands to get to know them and understand when to approach them and when not to. So, identify what they like about your product, where they'd like to be contacted, what times they're typically available online, etc to decrease your churn rates.
Develop a relationship with your customers by regularly analyzing customer feedback (reviews, polls, how often they're on your site, bounce rate, what they click on most, etc) and refining your product so they continue to gain the maximum benefits.
It's important to maintain consistent correspondence with your customers. Check in with your customers, whether that is through emails, weekly newsletters, customer calls, or invites to business events to establish a proper relationship with them. This gives you the chance of ensuring brand loyalty- customers are less likely to stop using a product if they feel a part of the business.
Properly track your data
Make sure you're keeping track of what resonates so that you can keep the content you produce relevant.  
As a B2C brand, Amazon is a great example of personalization within its product. Their website collects your data within their website, tracks which link you follow, your location, things you have recently bought, and plenty more to make it as personal as possible.
Then, on their homepage, they include these bits of information so it's entirely tailored to your requirements. The experience with their product is made simple. You as the customer don't have to remember the little things, Amazon shows that they care enough about your use of their product to do it for you.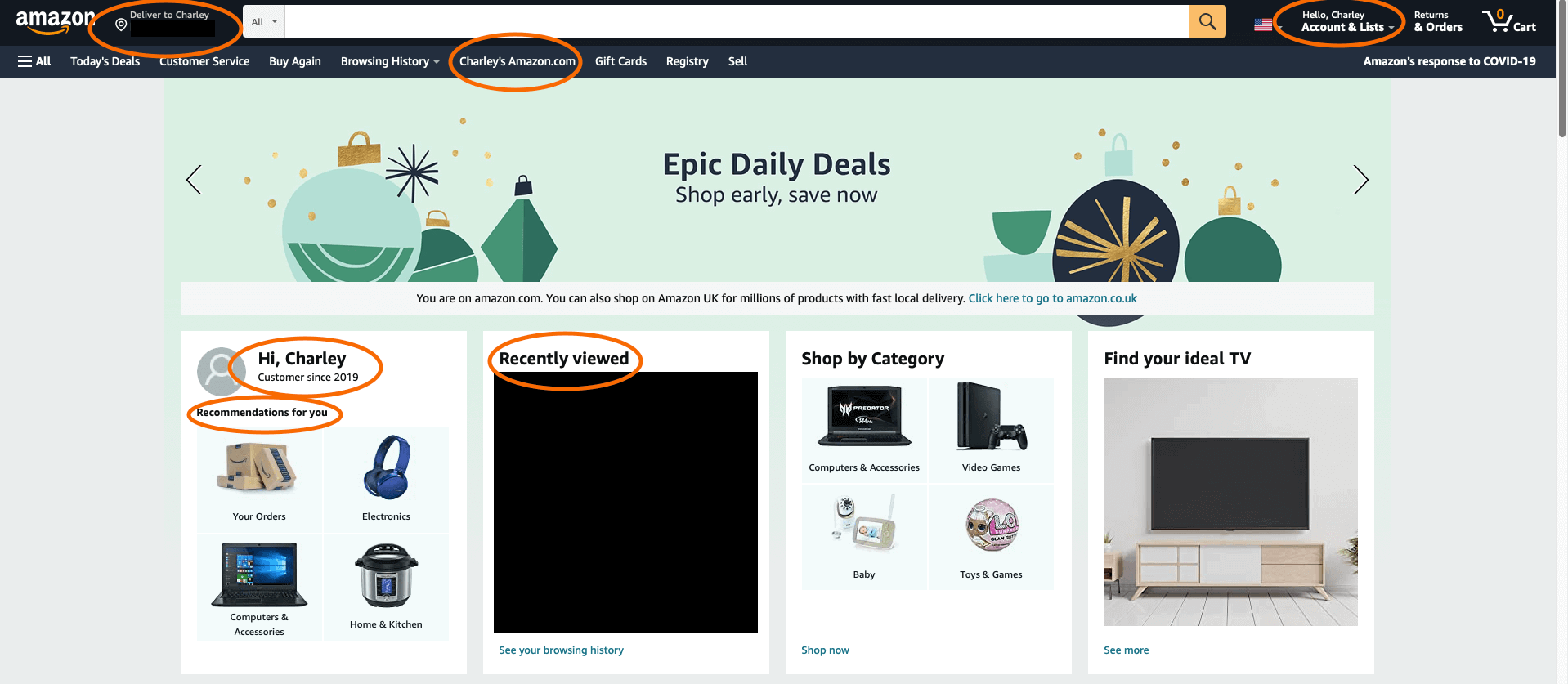 You can also use data tracking of your customer to develop a score of whether they're most likely to remain a consumer of your product (lead score) or leave (churn score). Using these scores, you can determine how to tailor your content to meet the requirements of that specific customer. This gives you the chance to personalize your content to what they prefer to build on/save the relationship.
Check out different tools with built-in lead-scoring software to improve your customer experience. Here are a few:
Take a look at some more detailed articles that will help you with different strategies and tips on how to reduce customer churn and retain more customers.
How to use these personalization techniques
Once you've identified the kind of techniques that you feel would benefit both your product and your user in the best way, it's time to put them into practice and apply them to your product marketing strategy. We have compiled a few ways you can do this:
Personalize your mail lists
To try and get a better understanding of how some B2B companies use their own personalization techniques to improve their customer experience, I signed up for some products using my PMA email address.
Here is one response that I think is a perfect example: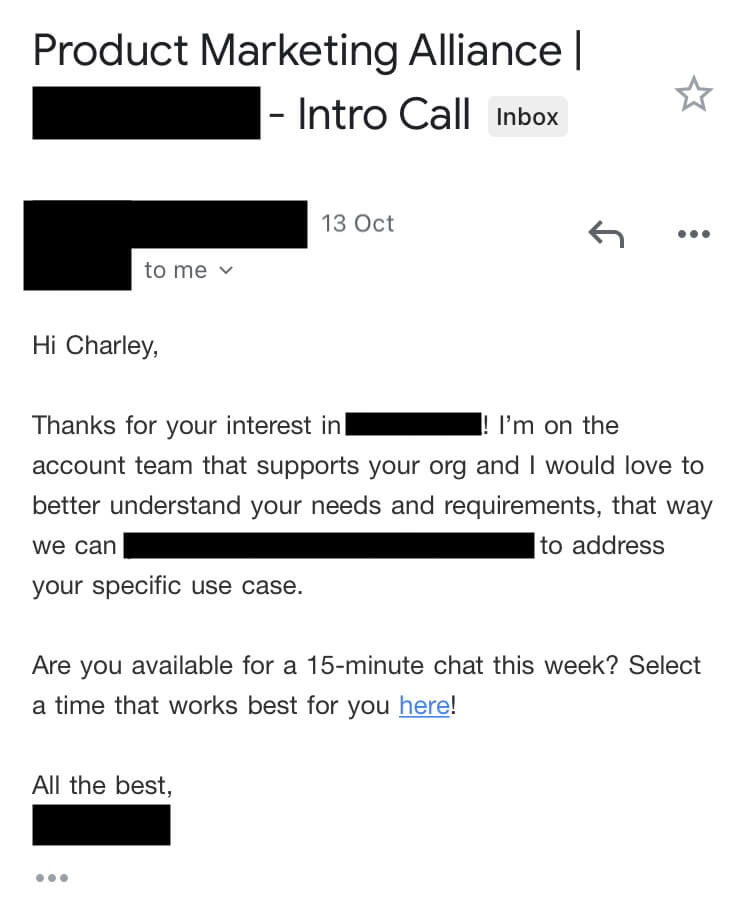 In expressing an interest in their services, I entered their buyer funnel as a warm lead. Therefore, instead of sending me a generic email with the same link they use for everyone else, they took the time to actively show their interest and appreciation for my inquiry, ensuring I felt welcome.
Of course, this level of personalization perhaps would only work with smaller businesses. Typing out an entire customized email isn't feasible if you have hundreds of clients. But, you can still use other email tools to automatically customize your mail list that make it look personalized. For example:
You can use customer segmentation and split your email list into specific categories, such as gender, age, interests, while you can also use geographic segmentation to send correspondence that's specific to customers in a variety of locations. This gives you the opportunity to personalize your emails even further based on these categories and direct certain emails to each category to ensure a more customized experience for each user.

Save the settings on your mail list to address each client by their first name. An audience is more likely to engage with an email if they feel the content is specifically for them, and what better way to show that than putting their name at the start?

Create a subscription to weekly emails that you can then send to the masses. This gives your customer the opportunity to sign up to the email instead of automatically being bombarded with unwanted attention. This creates a more positive and personalized experience for them and will build a happier relationship between your business and your client.  
Rebecca Lawson, Freelance Content Creator and frequent Writer for PMA, has created a handy list of recommended customer engagement tools for product marketers which will help you develop your customer experience and engagement.
Social media interactions
Social media interactions can really help to build and develop relationships with a customer. This is because it's an effective way of reminding the audience that there is a human behind the brand.
The audience then begins to develop more of an emotional and loyal connection with your business, making it more likely they'll continue to use your product.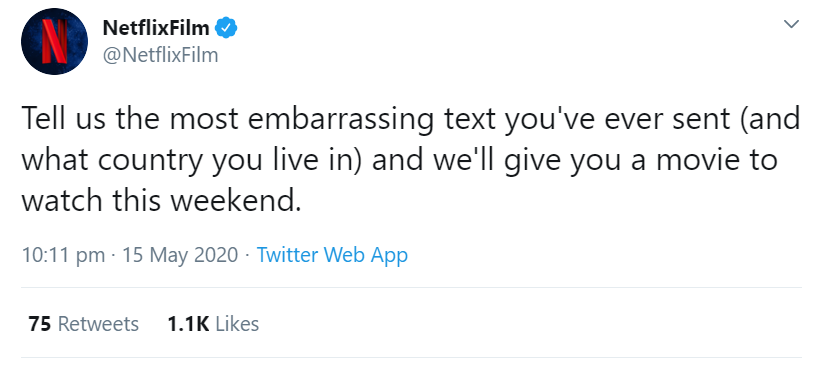 It's also a helpful way of gathering information, for example, by asking for comments, sharing experiences or photos, and using polls. Plus, leveraging user-generated content (UGC) is powerful - 42% more effective than your own branded content.
Advertising

Use the data you've gathered on your customers to refine the advertising you send them. For example, there's no use sending them an ad to sign up for your product if they're already an existing member.
Sending irrelevant content will only cause frustration amongst your clientele and damage the reputation of your brand. Sending ads for products they don't need will give the impression you haven't listened to them and don't care about their customer experience.
Tamara Grominksy, Director of Product Marketing at Unbounce, agrees with this sentiment. In her presentation on Turbocharging your growth in segmentation she explained,
"Relevancy isn't just great for your customers, it's great for your bottom line as well and we see this across the entire customer funnel. From an acquisition perspective, we saw that PPC here had a 24% lift when they implemented segmented Google ads. At Unbounce, when we went from one generic buying flow to three-segmented flows, we saw a 15% increase in the number of new trial starts that came through the door."

It's important that your customer feels like they're in the right place with your product, otherwise, you'll send them straight to a competitor, who has more personalized advertising and product experience.
Common mistakes when using personalization techniques
It can be quite easy to make mistakes when using these methods within your product strategy. So, we've put together a few of the most common ones that are easily avoidable.
Getting too personal/overdoing it
There is a fine between personalizing your material and overdoing it. It's important to keep it professional, considering you're still a business, and overstepping with your customers can be off-putting and have a negative impact. Keep in mind you're trying to gather the information that'll improve their professional relationship with your product, rather than things like employees' home lives.
Conduct competitive intelligence and research your competitors to establish how other companies are personalizing their products, and how effective it is for them to determine how you can implement your own strategies effectively.
Using inaccurate data
Getting information wrong will give the customer the impression that you don't care enough to get it right. You need to continue refining and updating your research to ensure your customer data is as accurate as possible.
Using 'noreply' emails
Sometimes using 'noreply' emails can be off-putting because it feels very robotic, impersonal and like your business doesn't want correspondence with your customer.
It's also a lot harder for your customer to find how to contact your business if they can't reply directly to your email and creates a negative user experience. Avoid creating a one-sided relationship and make it easier for your customers to contact you.
A personalization checklist
We've put together a simple personalization framework that'll help you introduce these tactics into your product marketing strategy:
Research your target audience and answer the following:
Who is my target audience?
Who uses my product? Is this my target audience?
Does my audience have a successful experience with my product?
What could be better with my product?
Define your and their goals
What do I want to get from this product marketing strategy?
What does my audience want from this product?
How can we align these so we both get maximum benefit?
Identify and gather data
What tactics work best for other companies?
Which ones will work best for my company?
Which will work best for my target audience?
Identify opportunities
Where can I include these techniques in my product?
Where else can I do this: email, social media, newsletters, etc.
Create content
Incorporate your chosen tactics into your messaging and other product marketing strategies.
Test, measure, and refine
Look at internal and external feedback you receive from customers.
See where you can improve your personalization within your product further.
Implement your changes to refine and improve your product.
Want to learn more?
Product marketing is and always will be a customer-centric role. A core part of your job is to value the voice of the customer and advocate for their wants, needs, and pain points. It's your responsibility to make them feel heard. Therefore, customer marketing is an integral part of what you need to do to ensure that you're staying true to this.
The Customer Marketing Certified: Masters course has been designed to give you invaluable, practical insights into streamlining your customer marketing approach so that you can ensure that:
Your customers are happy,
Your products are the best they truly can be,
Your brand reputation is consistently positive, and
That you bring in increased revenue for your organization.
So what are you waiting for?
Enroll today