Sports fans: when your favorite team hits a rich vein of form, winning week after week, and can't put a foot wrong, you love them - right?
But what happens when the wins dry up, and your beloved team can't get a tie, let alone a win? Then, things get tricky, and patience can become fraught.
The same principle applies to competitive intelligence; when things are going well and the results are paying dividends, product marketers are very quick to sing its praises (and rightfully so, we might add!)
However, as is the case with the very best sports teams, there are sometimes challenges that rear their head - tribulations tough enough to test the hardest of product marketers.
Encountering problems when gathering competitive intelligence isn't uncommon. After all, as the saying goes: "anything worth having, doesn't come easy", and believe us when we say competitive intelligence can be worth its weight in gold.
In this article, we'll be focusing on:
---
Why is gathering competitive intelligence useful?
Competitive intelligence is useful because it gives PMMs an understanding of the activity of market rivals. These insights can be used as a preventative measure against making the same mistakes as other companies.
Let's take a look at the fast-food industry to bring this to life.
In the late 1990s, hamburger chain McDonald's introduced the McHotdog to its menu, with the surprise addition capturing the attention of fast-food competitors, as well as their customer base.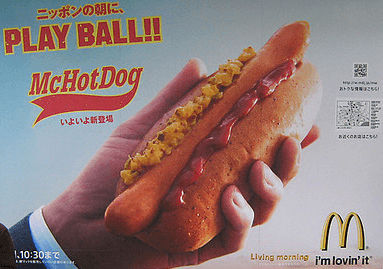 In theory, it was a masterstroke: how many burger chains also gave their customers the option of buying a hotdog instead?
In reality, however, the McHotdog bombed - badly. So much so, even a seasonal release in 2002 couldn't add some juice into the dead dog of the nineties.
The point of this food-themed anecdote? We 100% guarantee McDonald's rivals' would've been watching proceedings like hawks; any sign of success and they'd be releasing their own version before you could say ketchup and mustard.
Competitive intelligence in this instance saved other brands time, money, (and their pride). McDonald's took the hit, and life moved on.
Gathering competitive intelligence can also do wonders for your pricing strategy, as it gives you an idea of how much your direct and indirect competitors are charging your targeted customers.
Let's move away from the fast-food analogy and sink our teeth into the gaming industry to put more meat on the bones.
Since Microsoft released its first XBOX console in 2001, the company has been vying for gamers' attention with Sony, manufacturers of the hugely popular Sony Playstation.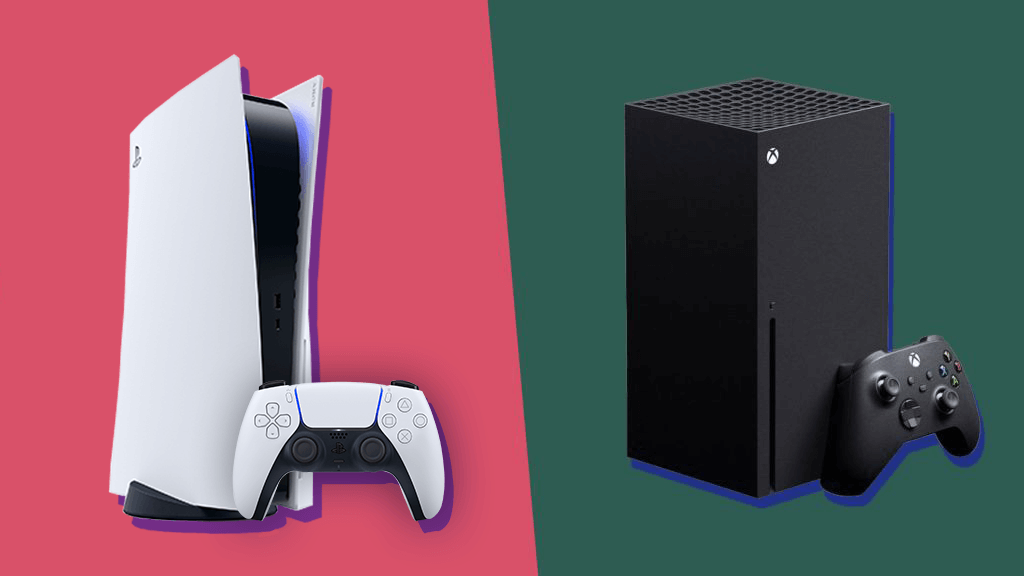 In 2020, both companies released their new consoles, the Playstation 5, and XBOX Series X. In the build-up to the launch, Microsoft opted to make its anything pricing public first, no doubt in a bid to stave off competition and gain the upper hand in the build-up to the festive shopping season.
However, in blinking first, Microsoft left themselves wide open in the pricing stakes. Sony's response? They matched the cost of the XBOX Series X. After all, the hard work had been done for them - it's a textbook example of an instance when gathering competitive intelligence pays dividends.
The rest, as they say, is history. 🎮
---
Competitive intelligence challenges
Anything worth having doesn't land in our lap; there are always challenges you need to overcome to reap the rewards.
Competitive intelligence falls under this umbrella. Product marketers can sometimes be faced with challenges en route to unlocking CI's undoubted benefits.
So, what exactly are some of the obstacles faced by members of the PMM community?
"At my company, there aren't enough resources. I'm the only PMM."
"There are a few areas I'm struggling with. I find it difficult to complete an apples to apples comparison, while it's also tough to find pricing, hard to distinguish what a company does from their marketing hype."
"It's difficult to keep every single piece of intel up-to-date."
"The market we're serving is still light years behind in terms of IT usage. Which makes looking up info that much more complicated."
"We have no standard framework to work with."
"We operate in a highly competitive space, in which buyers have traditionally been more focused on functionality rather than value. The biggest challenge we've had is getting our sellers onboard in selling value and solution over functionality, by trying to equip them with the value differentiators our product has over our competition."
"Our industry doesn't have a 'free trial' standard, so it makes it hard for us to try the competitive product. We must rely on their customer reviews and other second-hand intel."
"So much vital information is gated. Therefore, it's time-consuming to collect and very reliant on customers. We don't have a competitor intel platform that can collect information for us."
"We struggle with focus and prioritization. Most of the players in our space are not competition. Our offerings are not comparable and our target customers are not the same. We mistake everyone in the industry as potential competition."
"We have no budget and insufficient time to do it all manually. There are so many internal requirements for different information."
"There's a lack of information available, and sales are overly focused on feature comparisons versus product positioning, which is far more important."
"There's never enough time to communicate information with other departments."
"Private companies don't disclose their financials, so it's hard to get an insight into their performance."
"We struggle to get enough information about competitors' marketing strategies."
"Some companies describe their services inaccurately and misrepresent their solutions."
"We don't have dedicated resources for competitive intelligence, so it's often deprioritized."
"Our team's biggest challenge is choosing when to communicate an update to other teams. We keep our competitor pages up-to-date as we come across new content, and we work to reevaluate our product positioning each quarter. But that rarely aligns with the timing that various sales teams need updated information.
"If they have similar alerts set up or if they're asked about a recent update while out in the market, they can sometimes be caught off guard if they haven't checked in on the latest comp intel. Keeping internal teams aware of the latest information is our biggest challenge."
"In the AdTech industry, your competitors can be your frenemies. So it is sometimes difficult to pick out your exact competitors."
"There are too many methods and tools you need to apply to gather the same information."
"Most products in our domain don't have a trial option. We need to book a demo to see the product, so the only information is what we get from the websites or customers."
"We have to handle a large volume of information, and try to make sense of what matters."
"Timeliness and predicting what competitors will do next, and understanding their long term strategy and focus, is challenging."
Remember, we've highlighted these challenges to make sure you can do everything in your power to negate the same issues. There are a string of competitive intelligence tools available that can help you and other product marketers execute the process with precision.
Add to that, with reports such as our very own Competitive Intelligence Trends 2020 out there for public consumption, there's a berth of information geared towards educating PMMs about the topic.
The more you know, the better you'll perform, so if you haven't read it already, get your copy and dive in. 📖
---
Competitive intelligence tips
Sometimes, the best way to overcome competitive intelligence challenges is to gather advice from people who've been there, done it, and got the t-shirt.
So, as part of the Competitive Intelligence Trends Report 2021, we asked product marketers well-versed in the art of competitive intelligence for their top tips on how to get the job done with aplomb - here's what they said:
NB: Job titles were correct at the time of writing.
"Collaborate with all the other departments who have access to vital information."
Karen Bamford, Director of Product Marketing at Zivver
"Start with understanding why someone bought your product instead of the product offered by the competition."
Aastha Trivedi, Senior Product Marketing Manager at VWO
"Network a lot and up your social listening skills."
Jacqueline Basil, Senior Product Marketing Manager at AlgoSec
"Everyone in the company is very reactive about CI but it requires a level of discipline and practice to turn down the temperature on it."
Julian Dunn, Director of Product Marketing at PagerDuty
"Understanding win/loss analysis is the first step in completing great competitive intelligence."
Sara Kingsley, Director of Product Marketing at Securonix
"Do not overlook true social listening, even in B2B."
Davin Galbraith, Head of Competitive Intelligence at Sprinklr
"Use your tech stack to gather market signals from the competition."
Anaud Ganpaul, Director of Product Marketing at Achievers
"Competitive intelligence is one of the most important aspects of sales enablement. You might want to pay special attention to it - networking with the product dev and sales teams is the best way to know the product innovations of your competitors."
Suchismita Roy, Senior Product Marketing Manager at SWZD
"Take marketing material with a grain of salt. Unless you see their product in action, don't believe the hype."
Katy Martin, Product Marketing Manager at Lacework
"Gain executive leadership sponsorship of top competitors and priorities."
Jason Gaudreau, Business Intelligence Analyst at NetApp
"Integrate competitive intelligence into your day-to-day through automation as best as possible."
Fiona Finn, Director of Product Marketing at Unbounce
"I think competitive intel is just as much about understanding what customers value as it is about knowing what the competitor does. You might identify a product gap with your tool vs your competitors, but understanding what needs this fills for the customer is essential."
Brittany Gaither, Product Marketing Manager at Benchling
"It is really easy to get caught in a feature parity race, especially if you're not the leader in your space. But hold fast to what you offer to your customers and focus your competitive research on understanding what will make you better instead of more similar to your competitors."
Jessica Muñoz, VP of Product Marketing at Liveintent
"If you're in the B2B space and struggling to find pricing, don't forget to check government supplier directories, which (depending on your country) have to be made public."
Matt Salter, Product Marketing Manager at photoSentinel
"Checking job descriptions can be a great resource for what a competitor is planning to do as well as backend platforms that they may use."
Marrika Zapiler, Director of Product Marketing at Audacy
"Collaborate across the organization - competitive intelligence is everyone's job."
Dee Houchen, VP of Product Marketing at Signavio
"Getting the information is not the #1 challenge. Rather, it is getting the insights to the people respective and getting the information read."
Jan-Eike Rosenthal, Product Marketing Manager at COYO
"Start a Slack channel and use it as a hub to share information between all departments. It's a game-changer."
Andrew McCotter-Bicknell, (People) Manager of Product Marketing at ZoomInfo
"Lean on everyone within the org. ProdMar is a primary R&R for competitive intelligence but everyone can contribute."
Katie Tankersley, (People) Manager of Product Marketing at Outbrain
"If the market is overcrowded, align your main efforts to monitor your main competitors in the space you want to emerge and the one considered by your mid-market customers (80-20 rule) so you can see the emerging trends and ensure you're not getting lost in the data noise."
Silvia Kiely-Frucci, Director of Product Marketing at Castor
"Use your prospects! They have more info on your competitors and will be happy to share things like pricing insights because it helps them get a better deal."
Jada Gale, Product Marketing Manager at FreeWill
"Prioritize your attention to who you compete with most. There is likely a small handful of your competitive space that make up the majority of your competitive sales scenarios. Spend the majority of your time on those.
"If you can understand how you differentiate against who you compete against most, you'll have a better understanding of how you differentiate as the market evolves and new threats emerge."
Matt Powell, Product Marketing Manager at Docebo
"Sign up for product demos (under a dummy account) or free trials! Nothing beats getting to use their product or hear their pitch."
Mitch Comstock, Product Marketing Manager at LeadIQ
"Don't focus so much on competition that you lose the plot on what made you unique in the first place."
Alicia Carney, Head of Product Marketing at Lune
"Focus on the issues that will help your leaders make the important decisions and deliver differentiated value to your customers."
August Jackson, Director of Product Marketing at Deltek
"Read their blog and social media posts. It's often enough to keep aware of what they're adding, where they're headed, and how you can differentiate yourselves."
Sai Anand, Product Marketing Manager at Zoho Corporation
"Create a competitor map and focus on your core competitors to cut out the noise generated by those who don't pose a direct threat to the business."
Jamie Wallis, Product Marketing Manager at Gearset
"Stay on top of competition based not only on products but importantly on their financial standing and quarterly earnings calls and reports, leadership changes and Intel on the key leaders and their past success strategies at other companies and news and events and interviews that reveal their vision."
Seema Kathuria, Senior Product Marketing Manager at Duo Security
---
How to identify your competitors
If you don't know who your competitors are, you'll find yourself adding your own struggles to the list above.
Gathering competitive intelligence is a fun part of product marketing - after all, do your friends get paid to spy on and outwit other companies? No. Didn't think so.
Here's how you can start the process by identifying direct and indirect competitors. 👇
Direct and indirect competitors
First and foremost, you need to know who your direct and indirect competitors are. Direct competitors are businesses that offer the same services as you, while indirect competitors may not offer the same services, but the services on the table will be very similar.
Think McDonald's and KFC. Both are fast food restaurants, but while one is known for chicken, the other dishes up trademark hamburgers - they're indirect competitors.
Scope the market
You've earmarked the competition - awesome. Now, it's time to familiarise yourself with their products.
Leave no page unturned: check out pricing, features, specs - everything they do, you wanna know it.
Ask yourself:
How are the products distributed?
Which methods are used to differentiate products from competitors?
Does the company offer a budget or costly product?
What's their market share?
What are the main needs and characteristics of their customers?
Does their online pricing differ from their pricing in-store?
Identify their marketing methods
Marketing makes the world of consumerism turn around - and you wanna bring your competitors' world to a grinding halt.
There's no such thing as being too inquisitive when it comes to competitive intelligence, so when you're mapping our marketing, make sure you can confidently answer these questions:
Do they publish regular blog content?
Do they favor graphics, such as infographics, to communicate with their audience?
What advertising campaigns are being used?
Is there an FAQ section for customers?
PMA has two podcasts: Product Marketing Life and Product Marketing Insider; do they upload a downloadable podcast?
Do they have videos, webinars, and articles?
Also, don't neglect the importance of sales tactics, content strategies, preferred social media platforms, and marketing methods.
---
Competitive intelligence tools
With so much on the line when it comes to conducting competitive intelligence, the slightest error can create opportunities for your rivals to benefit at your expense.
As highlighted in the Product Marketing Tools of Choice, there are plenty of competitive intelligence tools available to prevent this.
The majority of respondents from the Competitive Intelligence Trends Report 2021 identified Klue and Google as their preferred options, while Crayon also emerged as a go-to option. A small proportion of respondents also said they prefer to conduct their work manually.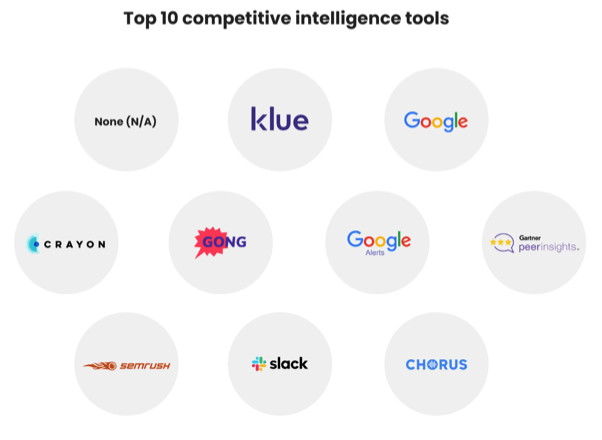 We've said it before, and we're going to say it for the umpteenth time: competitive intelligence isn't a piece of cake. That said, it isn't impossible, by any means. Heed our advice, plan meticulously, and you'll reap the rewards.
Now, go snoop. 👀
Don't want the CI learning to stop? We've got a course for that.
Face competition with confidence. Cut through the noise. Get Competitive Intelligence Certified.