Roopal Shah is the Head (VP) of Global Enablement at Benchling. At the time of this presentation for the Masters of Product Marketing in October 2021, she was the VP of Global Enablement Revenue & Services at Salesforce. Catch up on the presentations from this event using our OnDemand service.
My name is Roopal Shah, and I'm here to talk to you about some enablement basics for product marketers.
I have over a decade of experience in both high-growth startups and established companies, focusing on B2B product marketing and enablement. I bring a pretty unique perspective on how both sides of this world work.
So, why am I writing this article?
How often have you wondered why all that activity to enable sellers isn't hitting the mark? Why is your product launch or feature not selling?

After all, you've done tons of amazing work and you create great content. Why isn't it working? Your ultimate revenue metric is going to be the sales. But It's not always a direct linkage.

While it can be a leading indicator, there are so many other things that need to be in place in order for you to achieve your final metric.

The crucial goal for this article is to give you a tangible basic that'll make your content stick with your sellers.
There are three elements to this, which will make up the main content of this article :
Foundation: partnering with your enablement team in putting a foundation in place.
Sticky Content: how to make your content stick with your sellers.
Tips and tricks: these will really put that icing on the cake.
The foundation of sales enablement
Too many PMs think of the process like this 👇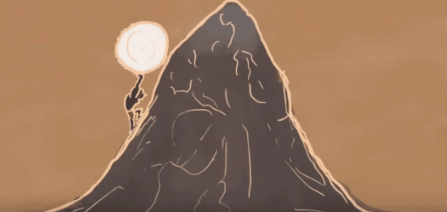 Too often product marketers focus on just getting that boulder up the hill. You've got this product out the door, you've hit all the checklist items in your work plan. You're fine, right?  
Not quite.
You've reached that summit. But what people forget about is that without this foundation, this rock is gonna roll straight back down that hill on top of you! To ensure that doesn't happen we need to think about that overlooked foundation. Here is the first aspect of that.
Culture of learning
There are three elements to this, which I'm going to break down below:
The reputation of relevant content
You need to have already built up a reputation so your sellers know what to expect. You need them to look forward to it. Your sellers are your brand ambassadors and you want to make sure their input is valued.
Delivered in a predictable cadence
Next, you want to make sure that your content updates and your launches are on a set schedule.

This is something that high-growth startups tend to forget about. If your schedule is not following a predictable cadence, it's going to make it really hard for your internal sales teams to rely upon it. When they can rely upon it, they can plan for it.

I've heard of sales leaders blocking out people's calendars to take training.

This really streamlines the process, as it saves sellers from having to plan around other things to take the training. It's a good way of showing respect to your ambassadors, that you respect their time.