There's never been a more exciting time to start or build your product marketing career.
While the function previously lacked backing from key stakeholders, the State of Product Marketing Report 2021 indicated companies are now beginning to recognize the value of their respective PMM teams and are backing them with increased financial support, with 67% of product marketers working with an average budget of $250,000, 20% higher than the industry average for 2020.
The renewed support is undoubtedly a contributory factor in product marketers expressing a desire to build their careers, with just 4% of PMMs surveyed for our annual report eyeing a career elsewhere, while 64% said they were ready to take on the next challenge of their product marketing journey.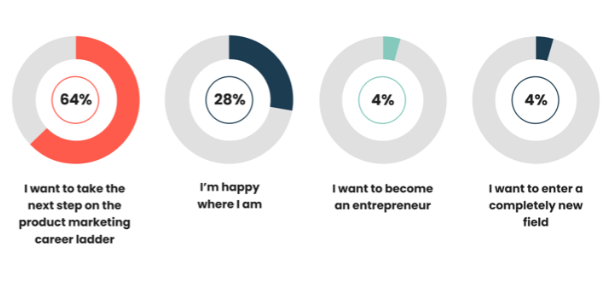 In this article, we'll focus on:
With many product marketers preparing to take the next step in their journey, where did their product marketing career begin?
How did experts begin their career in product marketing?
"Before I was in product marketing, I was at Adobe at that time, I was there for many years. For most of that time, I was in, shall we call it, a technical pre-sales role. I've had many different titles but that's essentially what it was. I'd done some field marketing before that, as well, some business development.
"But most of the time, I was in that technical pre-sales role as the product specialist in a particular area, going out and meeting with prospects and customers to demonstrate this, but also to explain to them how it was relevant to them and understand how we could address their challenges.
"That's when, as I mentioned before, I wanted to be able to scale my work. And so an opportunity in product marketing came up in a particular product area and solution area that I was most interested in.
"That opportunity came up, it kind of gave me an advantage because I understood the product and technology well but I also had experience with customers too. That's how I moved into product marketing."
"But my background had nothing to do with sales or marketing. My education was actually in chemical engineering of all things. But I do still say that what I learned in chemical engineering, I'm still applying today."
Ali Hanyaloglu, Head of Global Product Marketing at Akeneo
"I kind of stumbled into it. The great thing about product marketers I've realized everyone comes from different backgrounds and experiences.
"I was previously a corporate accountant, which works out well since Airbase is selling software solutions to accounting and finance teams. So things ended up working out great.
"But when I was a corporate accountant, I started up a YouTube channel. It was at that point when I started realizing I love marketing more, so I started my own small business and I ended up getting an opportunity at Microsoft Canada, under their marketing and operations umbrella.
"And I started seeing product marketers work there and as soon as I saw what they were doing there, I'm like, this is very exciting, interesting, this is what I want to be doing.
"So forth from there at Microsoft went over to some other B2B SaaS companies in Toronto, leading product marketing there and building out those teams and now doing that at Airbase."
Sonduren Fanarredha, Director of Product Marketing at Airbase
"I didn't know product marketing was a function when I first started my career, I just knew I wanted to be in advertising. So I majored in advertising. I worked at some ad agencies and then I started getting into the tech side. I wanted to work a fancy ad agency life, but I lived in Silicon Valley at the time and tech is where a lot of the jobs were.
"Then I ended up working at startups that were kind of creating new digital ad products and I went from wanting to work on advertising campaigns to want to work for companies that were creating new ad formats. I did lots of different roles over a few years in sales and marketing and then I didn't get into product marketing until I was working for LinkedIn.
"About two years in I relocated to Sydney, Australia to help set up the Asia-Pacific business. I was technically under the sales org role, as we didn't have a product marketer for our business line. We were kind of the underdog as far as the advertising side went at the time 10 years ago. So I was doing a lot of sales enablement and I felt like I was the ultimate Gossip Girl – I knew all the products that were coming out before the sales team.
"I enjoyed it and, eventually, the business realized the type of role I was doing was more of a product marketing role and I kind of pivoted into that. Even though I was hired under the sales structure, they wanted me to be a product expert. So I kind of fell into it by accident, but just by following what I was most interested in over the years."
Jennifer Bunting, Head of Product Marketing, EMEA and LATAM at LinkedIn
"I don't think many of us starting in the working world are aware of product marketing. I have a background in journalism.
"I started my career on the PR side, but I've always been curious and eager to learn. So, I moved into more of a B2B growth hacking role at Skyscanner. That allowed me to cover a much broader range of marketing channels and tactics, and this is where speaking to some mentors, I became aware of what product marketing is as a discipline.
"Sure enough, it became clear to me looking at the B2B organization at Skyscanner that there was a huge gap waiting to be filled by a PMM.
"Fast forward some conversations with the manager and a business case to the CMO, I became Skyscanner's first B2B PMM. While at the time, there were no B2C PMMs either, I think there might have previously been.
"After that first period, a lot of planning and processes and sort of educating. I was meeting with sales and product leads, explaining to them all the different ways I was going to be able to help them and setting up all different ways of working together. Those were my first few steps in product marketing."
Olivia Michaud, Product Marketing Lead at Tresorit
"I've always been in roles that have been at the intersection of marketing and product development.
"I see it as my mission and my passion to connect teams to build and launch products across diverse industries, so that we can meet your customer needs, and then also solve their problems, while also delivering positive social impact.
"Early on in my career, I realized product marketing was my Ikigai. For those who don't know what Ikigai is, it's the intersection of what you're passionate about, what you're good at, what the world needs, and ultimately, can you make a career out of it?
"I realized early on that it sort of hit all those points, and hence why I've built a career out of being a product marketer."
Marie Le, Vice President of Marketing at MoneyLion
"I've worked in the tech sector my entire career, which shockingly, spans two decades - time flies when you're having fun.
"I've worked in a lot of different fields within the tech sector over my career. I started in marketing, and then I worked in product management. I then worked in learning services and did some marketing consultancy - now I'm in product marketing.
"I've worked in a lot of different areas. I think the thing that's always appealed to me about product marketing is this analogy of it being sort of the CEO of the different facets of your marketing.
"For people who enjoy marketing, it's a great way to be in the middle of all the different types of marketing that are done for product, everything from field marketing to brands, to pricing strategy, to positioning.
"It's a nice way to have a sample of everything, and really to have a holistic view of the products that you're taking to market."
Eric Moeller, Director of Product Marketing at Sage
"I think I've always been a storyteller my entire life. So when I left university, I became a radio disc jockey and I would talk about Britney Spears songs, or talk up the latest Bon Jovi track, etc. I would have a very short amount of time to tell the listeners a story about that artist.
"I moved into working for a local newspaper and working for the concert industry and helping to sell tickets more in a way using online advertising.
"But at some point, every stage in my career has all been about telling stories, whether I'm telling the story about our product, and the success that our customers have with it, or speaking to our customers and telling their stories in the form of case studies, blog posts, and so on. I'm trying to tell a story to a market writ large, that is much more focused on business outcomes.
"That's what I think is the most exciting about being a product marketer and as I've gone through that evolution, when you're talking about NSYNC songs, there's no business outcome there.
"I just don't want you to change the channel. But doing product marketing, particularly for a SaaS company like us, the stories that I'm telling are trying to compel people to have similar success in their own business using our tool."
Erik Mansur, VP of Product Marketing at Crayon
"I think it was really about assessing the role I was in at the time, which was an account executive on the sales side working out at a really large company.
"I only liked about 25% of my job and that was creating these stories and presentations that other people would end up using for their client presentations and coming to me for advice for things like objection handling and how to convey these complicated topics.
"Little did I know it, but I was doing the sales enablement part of product marketing. When I took a good look at what I liked about what I was doing at that time and what I wished I was doing more of it was this aspect of product marketing.
"I started to talk internally, it was great to be at a big company and be able to make the jump because they had the infrastructure to be able to try that and take a chance on me.
"That was what got me hooked in the beginning was understanding a little bit more about what product marketing is, and that was the part of the job I liked the most. So why don't I just take a chance to do it full-time?
"Then, of course, I realized moving over that sales enablement was just one part of the toolkit and that there are many more aspects of product marketing. But it was a great intro and a great opportunity to be able to move internally at a company like that."
Mary Sheehan, Head of Product Marketing at Adobe Advertising Cloud
"I kind of evolved into it, I didn't know what it was. When I first got into it, it wasn't that common actually, it's grown a lot since then.
"It was a bit of a suggestion from somebody, I was a marketing manager and they said, 'You know what, you think differently, you might make a good product marketer'. And I thought to myself, what on earth is a product marketer? What do those guys do?
"And as I started to learn more about it, what appealed to me was the idea of putting the customer at the center of everything, and the product marketer is probably the most strategic marketing position out there.
"So for me, it started to appeal to me just very naturally between the focus on the customer, the strategic thinking, the long-term directional views that product marketing has.
"It just became a natural area for me to play in and I've stuck with it for years now. I enjoy it."
Abdul Rastagar, Go-to-Market Lead at Benchling
"I think probably most of my career is a happy accident that I didn't have much of a plan for. I've never specifically sought to get into product marketing, I started as a writer, though, and I think that naturally lends itself to product marketing, and probably quite a few product marketers are writers in a previous life.
"But now that I've been working in it for the best part of a decade, I have to say I love it. I think it's just one of the best roles there is. Especially if you're at a product-led company like the one I'm at at the moment, Whereby, where the product itself is such a big part of the reason that people love your brand and the reason that you're growing.
"Being at that intersection, being where all the fun is. As product marketers, you get to work with the product team, really closely, day by day, and inform the product roadmap and work on new solutions. But you're also part of a marketing team where you get to play with words and design and animation and all that fun, creative stuff."
Rory Woodbridge, Director of Product Marketing at Whereby
Product marketing career advice
Product marketing is like life itself - the more you live it, the more you learn, and the better equipped you become to pass on invaluable lessons to others.
Our global PMA ambassadors have a range of experience across a range of industries and have offered their expert insights to help you establish and enhance your practice.
Product marketing career resources
Tune into the Product Marketing Careers podcast, and join host Al Dea, former Senior Product Marketing Manager at Salesforce. Al welcomes a host of product marketing experts from companies such as Adobe Advertising Cloud and LinkedIn, who lift the lid on their respective journeys, practical tips you can apply in your product marketing career, and tactical career guidance on how to grow as a PMM.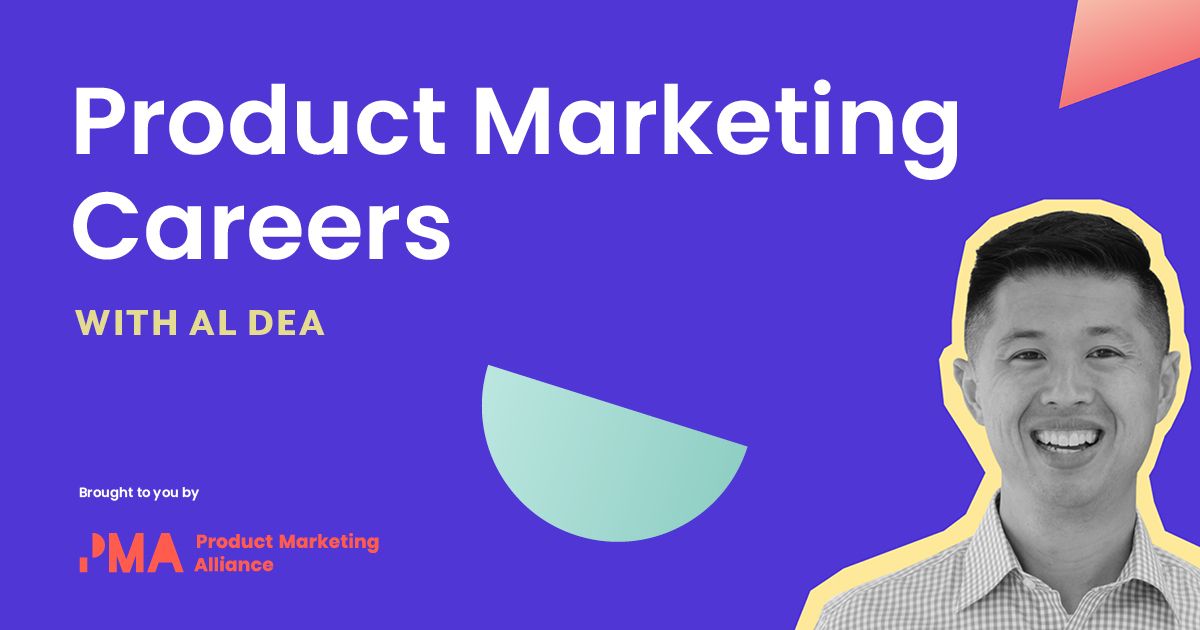 And we're not finished there.
PMM Hired is the perfect resource to help you navigate your product marketing career path.
Wanna transition into the industry? We've got you covered. Keen to make the jump to VP of PMM? We've got your back.
Everything is here to help you establish a successful, fulfilling career as a product marketer and reach the peak of your powers.
Get PMM Hired