We're sure you've all heard about Sharebird's podcast "Women in Product Marketing", hosted by Mary Sheehan, Head of University Student, SMB, and Acrobat Campaign Marketing at Adobe, right?
If you haven't… where've you been?!
In all seriousness, it's an incredibly valuable podcast that "explores the world of product marketing through the lens of the women who run it at some of the fastest-growing technology companies in the world."
Plus, it's all about helping other women PMMs "navigate their career and unlock their full potential in a male-dominated space."
What more could you ask for?
Well… we've been recognizing a lot of incredible women within the industry ourselves. We thought it was about time that we give some shout-outs of our own, highlight some amazing talent, and instill some more confidence into our women PMMs.
We're here to let you know that you're doing an awesome job - because of and in spite of the way you've potentially been treated due to your gender.
For this two-part article series, we reached out to some women in product marketing who're taking the industry by storm to hear about their experience getting onto the product marketing ladder, their thoughts on the way women are treated in business, advice they can give to other hardworking women PMMs, and more.
Opening up the series with this article, we'll be focusing specifically on:
Journeying into product marketing
What was your journey into product marketing like? When did you realize it was something that you definitely wanted to do?
"My journey into product marketing is relatively new and still evolving. It started in late 2021 when three friends and I decided to build myStash, a fintech product that helps Africans build financial safety nets.
"Probably because of my creative tendencies, my co-founders unanimously agreed that I should take up the marketing role. So, essentially, I was thrown into a field I knew little to nothing about. 😅
"Hence, I began taking courses on marketing, and in the process, I came across PMA's scholarship program. Prior to that, I'd never heard of the term/role "product marketing", I didn't even know it was a "thing".  I only knew there was marketing and there was product, and they were separate.
"Through the PMA site, resources, and the scholarship program, I came to understand what PMMs do and it resonated deeply with me, and that was when I knew I wanted to stick around. 🙂"
Christiana Okere, Co-founder of myStash
---
"To be honest, the journey was fairly accidental – I came from a background in content marketing and, tangentially from that, set up a newsletter for our B2B clients. This became a full-time job. The more I worked on communications about our product, the more it became clear that our company needed a dedicated product marketing strategy.
"So, my role evolved into leading this. After researching the field in more depth, I worked out that this was a role I would really enjoy, as it combines hands-on creative work, collaboration with other teams, and project management."
Cat Tyack, Associate Product Marketing Manager at FishingBooker
---
"Like most PMMs, I started my career in a completely unrelated field. I was a staff auditor at a Big Four accounting firm where I felt stuck in a niche profession, and the work didn't match my strengths or interests. However, a relationship I made there was the key to my serendipitous journey into product marketing.
"I took a required marketing class toward the end of completing my undergrad degree and fell in love with marketing. Unfortunately, I was already committed to a job at the firm. Years later, my first senior at the firm left to go work at a SaaS startup and referred me.
"I made my entry into tech doing implementation and support work, which I knew was short-term. In the meantime, I was deliberating between a more technical role in product management or a creative one in marketing. I actually didn't know I could do both!
"I did my best to excel at my job even though I wasn't passionate about it. Since I was at a startup, I took on a few side projects, which got noticed by leadership. One of the company founders asked me what I enjoy doing, and suggested I consider product marketing. I then became the first product marketer at the company."
Michele Muriyan, Product Marketing Manager at OneTrust
---
"My journey into PMM was not straightforward; in fact, I didn't really understand what PMM was until I got to work with one.
"I joined Facebook (aka Meta) in early 2014 as a Partner Manager responsible for opening the Israeli market for independent agencies. Even though this was a consultative selling position, I found myself obsessed with product feedback and product adoption plans for our entire team. It was then that I met our PMM, Giulia, and started to work more closely with her on those plans.
"Throughout our joint work, I got to see more of her PMM responsibilities, her scope, and impact. I was also that person who always hung around the PMM desks, so they kinda knew who I was.
"I found that I was naturally drawn to strategic planning, improving our product flows and, most of all, speaking to clients about our products and feeding them back to PMM. My job crush had begun. 🙂
"When an opportunity opened on the PMM team, I seized it, interviewed, and was successful in getting the role as the PMM for small-medium businesses in EMEA. I felt that coming in from a sales and marketing background enabled me to bring more empathy into the role as I was aware of the challenges our teams face while selling our products."
Irit Schwartz, Director of Product Marketing at Digital Turbine
---
"Being a certified Senior Product Marketing Manager (PMM) with a keen interest in positioning and scaling new products and technologies into frontier/emerging markets in Africa has become the most exciting time in my career journey.
"Considering that I'm serving a market that has so many new internet users and people who're not well versed in using tech solutions, I love that I'm constantly learning and testing new ways of serving users better.
"Before becoming a product marketer, I was the Communications Lead at the Safaricom Innovation department which is among the largest telcos in Africa. This is where I came to discover the product marketing function after noticing a gap that existed in correctly positioning and scaling tech products in different African markets during my weekly feedback sessions with customers.
"Before then, I worked in banking, insurance, microfinance, serving under branding, marketing, communications, and sales departments. As a product marketer, these are the teams I am currently working cross-functionally with, and having worked in these departments has made me more empathetic during our daily interactions.
"The main reason why product marketing is an exciting career path for me is that I love listening, observing, and researching - then converting those learnings into actionable steps towards an organization's objectives. My goal as a product marketer is to satisfy the target audiences' needs and overcome their pain points through excellent customer experience (CX)"
Carolyne Mweberi, Senior Product Marketing Manager at Qhala
---
"I originally fell into product marketing more or less by chance. What caught my attention about the function is that a lot of it's about the underlying strategy that exists beneath commercial and marketing initiatives.
"I approach my work with a critical thinking mindset, which includes asking a lot of questions and understanding why things are done the way they are, whether it's understanding how a product works or which market to target, I like to get into the details. So for me, product marketing was an easy choice."
Marie Volpe, Senior Product Marketing Manager at TrueLayer
---
"Like many others, I didn't know about product marketing when I graduated from college. I began my career in operations and project management with marketing thrown into the mix. I pivoted into B2B content marketing at Tripadvisor to launch a new product and tell the story of hoteliers could grow their business on our platform.
"I realized I wanted to work in product marketing after I joined Toast's partner marketing team, which was under the same executive. I co-created partner content, launched new integration partnerships, and enabled sales on our partner ecosystem.
"I discovered I loved understanding and sharing how our 70+ integrations partners could solve the needs of restaurants, and our customers. This included understanding our partners' product-market fit, their market penetration, the strength of their channels, how our partners' solutions compete with our own, and more.
"This led me to pursue product marketing roles at ZoomInfo and now Bullhorn where I'm the Product Marketing Lead for the North American healthcare vertical."
Sophia Chang, Product Marketing Manager at Bullhorn
---
"Like many product marketers before me, I come from a marketing comms and copywriting background, and after more than ten years in the advertising sector as a writer of all trades, I was ready for a new challenge.
"Then during a company restructure, my VP at LifeWorks offered me the position of the very first product marketer in the organization. Exploring the product marketing field, I concluded that this was a no-brainer, and in the first quarter of working as a PMM while building the team, processes, and function from scratch, I realized this was my new career path. My passion for work was reignited!"
Christina Katsantoni, Lead Product Marketing Manager at Mention Me
---
"I always say I fell into product marketing completely by accident and have been here ever since! I come from a media and journalism background which I completely adored working in but I pretty quickly got burned out by having to stay on top of the news cycle.
"I moved to work on a physical product which was at a coworking company with two 24-hour locations building community and upselling their key offerings. I had a whale of a time and it led me to product marketing through learning and talking to the different people who worked in the coworking space.
"That exposure meant someone told me about Product Marketing Managers and how I'd be very good at it. So I did a lot of research. I Googled career paths, and responsibilities, and searched for other PMMs on LinkedIn to understand their career paths too. Then, I upskilled and managed to land my first PMM role!"
Diamond-Hope Kingston, Product Marketing Manager at Cognassist
---
"So after graduation, I started as a sales intern in this company called Endurance International. After my internship ended, I decided sales is something I can't do in B2C; for me, it was the worst kind of sales.
"That same time, I got an opportunity to get into marketing operations in the same company and I took it. After six months, I didn't want to continue on the operations team so they moved me into product marketing. At first, I was clueless as to what it would be but as time passed by and I started to learn about PMM, I knew this is it."
Aashi Kothari, Specialist Product Marketer at Newfold Digital
---
"My background prior to product marketing was quite varied. After university, I started my career in marketing and was exposed to a real variety of disciplines. Digital marketing, media planning, even traditional print ads – you may say that I was something of a marketing generalist.
"After working for many years at marketing agencies, I was ready to make the move in-house. That was when I saw an ad for a product marketer at a tech company.
"Like many product marketers-to-be, at that point, I didn't really know what product marketing was. I looked through the job description and knew I had to apply. Content creation, storytelling, strong presentation skills, and writing ability – this ad sounded like it was describing me!
"I applied for the role, got the job, and have never looked back. I love the variety that product marketing has to offer. I love the energy, the way that my team is embedded within so many other parts of the org, and the impact product marketers can make, even at a junior level."
Mercedes Gleeson, Senior Product Marketing Manager at GWI
---
"Like most product marketers, I didn't have a linear - or even an intentional - journey into product marketing. In fact, I was doing the role of product marketer for a good year or so before I'd even heard of the discipline!
"I started my career in a campaign ops role, building paid social retargeting campaigns on behalf of B2B partners. I learned a lot in this role, but found my favourite part of the job was when I got to go out with the account managers to visit our partners, to report back on campaign performance and make recommendations for future activity.
"The product set (a form of retargeting, powered by first-party data) was really unique within the industry I was working in. However, what became quite apparent during these meetings, was that many of our partners weren't familiar or comfortable with the concept of retargeting or the significance of first party data at all. Furthermore, the sales teams just didn't have the marketing materials they needed in order to simplify and tell the story of why these things mattered.
This led to me taking on a new role, which at the time, was quite literally a bit of everything, some forecasting, processing billing, but most importantly, producing and refining sales and marketing materials - pitch decks, competitive positioning, the overall value proposition for our product-set.
"My role was to tell that story of the product and why it mattered, and the value it drove for partners, whilst keeping in close contact with our sales team and feeding back what they, and our partners were telling us, into the rest of the product team. Effectively the role of a product marketer, I just didn't know it at the time!
"The moment I knew product marketing was absolutely for me was probably shortly after I led my first solo go-to-market launch, launching Pinterest to our partners.
"It was a daunting prospect at the time, as it was a real industry-first, but it all paid off and went swimmingly, it was such a great feeling watching all the bookings rolling in after!"
Laura Mavrias, Senior Product Marketing Specialist at Expedia Group
Struggles progressing as a woman in product marketing
The world is, of course, changing. Not everything is as defined by gender as it used to be. Nevertheless, do you feel as though it was harder as a woman to be taken seriously and progress in your career?
"I'd say it was harder, not that I am speaking from my own personal experience though. Throughout my career, I've been lucky enough not to work closely with people that have a mindset of undermining women. However, I know women who've had to deal with such stagnating forces.
"I'd say that things have evolved for the better now. The #MeToo movement and other forms of advocacy have served as a wake-up call and helped to reshape mindsets and perspectives about women in the workplace, as well as the importance of inclusivity and non-discrimination."
Christiana Okere, Co-founder of myStash
---
"I feel very lucky that my first professional job was with a very progressive startup. This meant I didn't tackle the usual biases you might expect at the beginning of your career as a woman. In fact, the opposite happened - I believe I was pushed into a leadership role slightly too early!
"Just a few months after joining the company, I was leading the content team,   with very little professional experience in what was, at the time, an entirely new field for me.
"However, product marketing is a field that relies heavily on influencing other stakeholders, whether that's product managers or the C-suite – who, unfortunately, are still predominantly male.
"Although I've had support from my company when pushing through new initiatives, one of my biggest challenges has been getting my voice heard. Whether this is due to being a woman, or due to being naturally relatively introverted, I couldn't say."
Cat Tyack, Associate Product Marketing Manager at FishingBooker
---
"I've never had anyone patronize or mistreat me because of my gender. I strongly believe the way you behave and carry yourself directly impacts the way you get treated. This, of course, does not apply to situations of abuse. Self-awareness is really huge here, and you have to learn how to 'read the room'. I always try to stay true to myself, but may change my style depending on who I'm interacting with."
Michele Muriyan, Product Marketing Manager at OneTrust
---
"In my years as PMM at Facebook, Fyber, and now Digital Turbine, I never felt that being a woman made it harder for me to be taken seriously. In fact, at Digital Turbine, I'm now leading an all-women PMM team.
"However, I am extra aware of the gender representation I see in conferences and events in our industry - mobile gaming and Ad-tech. For example, I always call out a "manel" (male panel) when I see one, and think about the best way to bring more women's perspectives and/or speakers into discussions.
"Another aspect to consider, one that isn't easy to come to terms with, is that being a mother and taking maternity leave often puts women at a slower growth trajectory than their male counterparts.
"As a mum of two lovely girls, I struggled to keep my career momentum while building a family. It's not easy and there's no magic bullet, it is a constant trade-off and a juggle.
"I do think that talking about it, and being open about building career plans and re-imagining work capacity is something that could help. I also think that Covid plays a big part in changing the way we see traditional work and putting more emphasis on the outputs rather than time spent at work."
Irit Schwartz, Director of Product Marketing at Digital Turbine
---
"Most of the industries I've worked in as highlighted in my career journey above are predominantly male-dominated i.e banking, asset financing, insurance, and now the fintech and startup management space. From the earlier days in my career journey, it was very clear to me that like other women, I had to put in twice sometimes thrice the effort in anything I did to be able to gain any recognition.
"This is why I believe that if you take the necessary steps to clearly communicate your thoughts and show how you're adding value to a company, you'll be listened to and heard. Working as a consultant serving tech startups has made me realize that it's ok for me to price my services competitively like my male counterparts and seek more opportunities in different industries without apologizing for it."
Carolyne Mweberi, Senior Product Marketing Manager at Qhala
---
"It's no secret that women generally find it more difficult to be taken seriously and encounter many career roadblocks due to conscious and unconscious gender biases. I'm fortunate to have worked with mentors and teams who're aware of how harmful gender bias in the workplace is. I'm grateful to have been supported by many colleagues, managers, and mentors throughout my career."
Marie Volpe, Senior Product Marketing Manager at TrueLayer
---
"I actually don't look at career progression and success through the lens of solely gender. For me, it's intersectional: I'm an Asian-American woman whose parents immigrated from Taiwan and Vietnam in the 80s after experiencing poverty and loss.
"But yes, I do feel it has been harder to be taken seriously and progress in my career with the background and life experiences I've had. Many workplaces aren't transparent about pay, don't provide concrete steps for getting promoted, and aren't aware of biases that get in the way. I've had to get outside of my comfort zone to advocate for myself."
Sophia Chang, Product Marketing Manager at Bullhorn
---
"Over the past few decades, how we do business and how women engage with and are perceived by customers, employees, brands, and management has changed positively.
"But the way that we talk about opportunities for growth, progression, and leadership development for women has almost stayed the same. Women struggle to advance up the leadership ladder, filling only about a third of all leadership roles. That's why representation matters.
"I have been very fortunate to work with some great female leaders and executives in various organizations. However, I have also experienced gender discrimination and found it harder to progress in certain environments, and, specifically as a woman PMM, I had to try harder to be considered for higher roles.
"Sometimes even to make my voice be heard was a struggle! And in my experience, start-ups and smaller businesses are not always more progressive when it comes to gender equality.
"I'd like to stress at this point how important it is to have a strong belief system, the courage to keep learning, exploring, and failing, and a strong network of allies - both women and men. Some of my biggest cheerleaders as a PMM have been men who I've worked closely with, especially in the product, UX, and design fields."
Christina Katsantoni, Lead Product Marketing Manager at Mention Me
---
"I think you're right: the world is changing. I do feel a little pressure that I'll have the parent penalty, for instance, that men generally don't ever have. I have to be mindful when it comes to choosing jobs long-term because as a woman who wants to have kids, a family, hobbies and give to my community around me, employers will perhaps see it as a con.
"'Will she be able to give a 100 when we need her to and show up or will she be distracted?'  That's the kind of question I worry future employees will wonder when looking to hire me.
"I think being a woman hasn't hindered me at all and I've worked in companies with very progressive employees and managers who understand that sometimes a bad cramp day comes up or your mental health has taken a hit. It doesn't make me any less a great employee at all!
"I think it's why I take extra care in choosing jobs because flexibility, company culture, the team, and its policies are crucial to whether a woman of color will be able to excel at her job."
Diamond-Hope Kingston, Product Marketing Manager at Cognassist
---
"As you said the world has changed so as a woman I never faced issues. More, I think it was because of my age, as being so young and asking others to do things for me wasn't easy."
Aashi Kothari, Specialist Product Marketer at Newfold Digital
---
"In a nutshell, yes. There have been times throughout my career when I've been passed up for promotion by male colleagues, or I've not received the recognition and praise I deserve for a particular project or initiative. A female colleague once shared with me the true answer to success in the workplace: pie. 'Performance, image, exposure.'
"And that exposure piece is an alarmingly large slice of the pie.
"Frustratingly, exposure is not something that comes naturally to women. We don't like talking about our successes, and we often find it hard to speak up at work. In fact, it's a well-known fact that some women won't apply for a new role if they fall short on one of the required competencies, regardless of how good they are at the other twenty or so listed! Unsurprisingly, this is less common in our male counterparts.

"It can be more difficult to progress in your career if you're a woman, but this advice, this image of pie, really stayed with me and has helped me to be bold, and say "Do you know what? I created that positioning, I defined our core use cases, I built that roadmap – and isn't it wonderful?"
Mercedes Gleeson, Senior Product Marketing Manager at GWI
---
"I've been lucky enough to have had some fantastic female role models and mentors throughout my career, who have helped guide and coach me as I've developed in my career.
"If anything, I'd say the challenges I've experienced have been more around being not only a woman, but a relatively young, woman in business. As a woman in her early/mid-twenties, at times it can be difficult to be taken as seriously as those with more years under their belts in important senior leadership meetings, and not perceived or even dismissed as just 'young and inexperienced'.
"In these instances, when the imposter syndrome kicks in (as unfortunately it often does for us women), it's important to remind yourself that you're in that room for a reason, and have just as much right to a seat at the table, as everyone else. Just because someone else's voice is louder, doesn't make it more important than yours, and you always deserve to be taken seriously.
"There is of course a lot to learn from those with longer tenures in the industry in terms of years, but this should never invalidate your point of view simply due to you being younger in age!"
Laura Mavrias, Senior Product Marketing Specialist at Expedia Group
Become a PMM
PMM Hired is your lifelong career companion. Whether you're looking to transition into the industry or make the jump to VP of PMM, it's got all the tools and resources you need to create the successful, fulfilling product marketing career you deserve.
Hear how Marie Pachy, Product Marketer at Bridge, kickstarted her career with this resource. 👇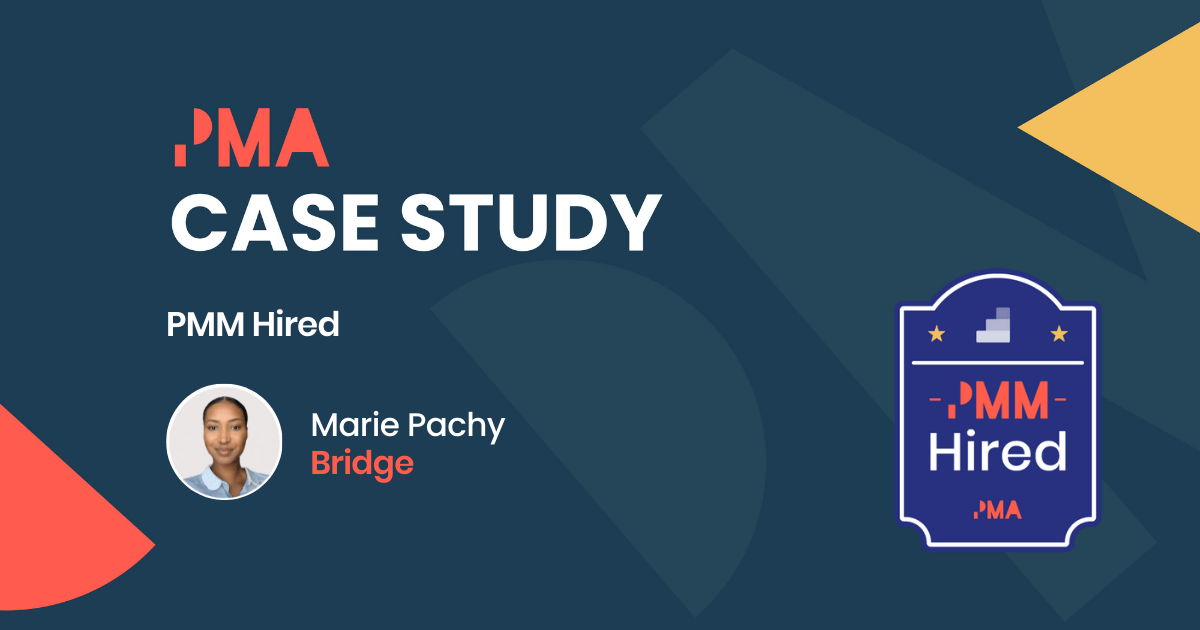 Don't miss out. Grab your career by the horns. Start your PMM Hired journey.
Get PMM Hired