Copious time, effort, and money are spent by companies when launching a new product. The build-up to unveiling the latest creation comprises a series of fundamental steps, with each playing a critical role in the success of the launch itself.
Whether it's market research to establish and understand customer needs, or A/B testing to identify suitable product messaging, such steps are vital for differentiating products from your competitors and solidifying your brand identity.
That said, how can you align your marketing with the principles of your brand?
This is where product positioning plays an important role.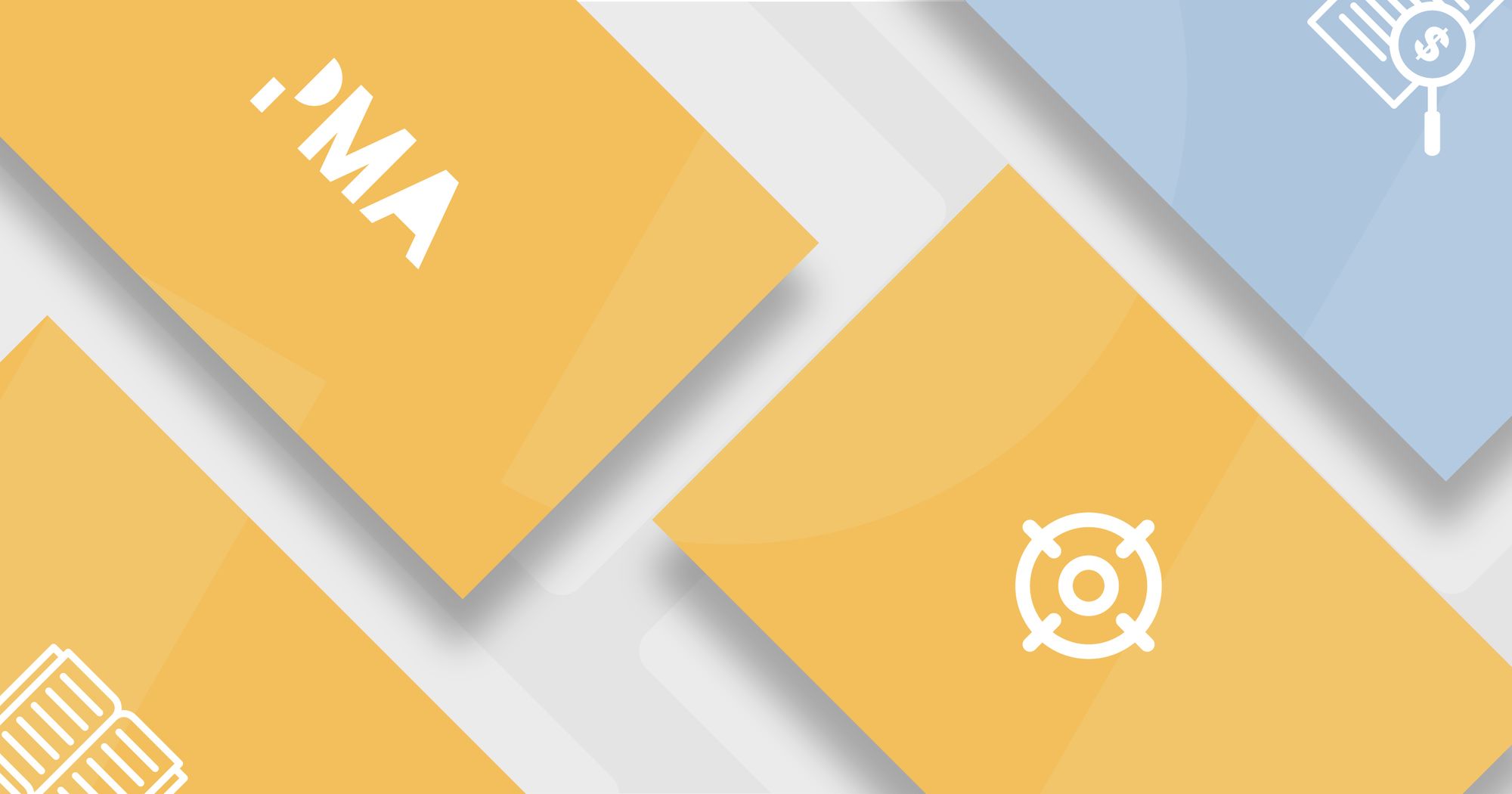 In this article, we'll address a variety of topics:
What is product positioning?
Product positioning is a strategic exercise used to find a product or service's place in the market.
Positioning defines what makes your product different from market alternatives so you can focus on explaining its value to your target market.
Why is product positioning important?
Product positioning is integral to your company's branding and how you're perceived by your target market.
Therefore, it should embody your core values and communicate your principles to consumers; they should be able to decipher the journey they'll be undertaking by selecting your product instead of a market alternative.
Well-executed product positioning also helps internal teams such as sales, marketing, and customer success in delivering riveting customer experiences, oftentimes leading to an upturn in customer retention and stronger advocacy programs.
April Dunford, Founder of Ambient Strategy and a renowned positioning expert, outlined the role positioning plays in company growth:
Given the value product positioning can bring to the table, it's worthwhile to conduct an audit of your company content.
Each time a consumer visits your website, clicks on an advertisement, visits your social media pages, or engages with video content on your YouTube channel, brand values need to be identifiable - and this is where a positioning statement comes in handy.
What is a positioning statement?
A positioning statement provides a succinct description of a product or service, outlining how it fulfills the requirements of a particular target market.
An internal tool, a positioning statement support marketers in appealing to buyer personas and is an indispensable part of a product marketing strategy. This is because they help PMMs establish a crystal clear representation of their company brand.
What is the objective of a positioning statement?
The objective of a positioning statement is to ensure a company's marketing efforts are in sync with the brand and value proposition and communicate this to the target clientele.
As well as shaping your brand identity, positioning statements also outline your product's purpose and unique selling points (USPs) that are particularly relevant to the buyer's requirements.
Before you're able to create a positioning statement, you need to understand several core elements of your business:
What kind of customers do you serve?
What value does your product offer?
How is your product being positioned in the marketplace?
Why are you in business, in the first place?
Why should your customers choose you instead of your rivals?
How to write a positioning statement
When you're writing your positioning statement, follow these steps:
Create a vision board
Positioning statements don't include images, videos, or visual content - they're written documents. With this in mind, communicating essential information about your business succinctly, i.e. who you are, who you serve, and why you're the preferable option, can be challenging.
Create a vision board including images that are representative of your customer in circumstances when they need your product the most.
In doing so, this can stimulate your emotional responses and help you identify how your offering would provide support in the circumstances conveyed on the vision board.
Keep it short and sweet
Brevity is key to a successful positioning statement. You need to ensure it gets straight to the point and communicate your message concisely.
If your statement is longer than three to five sentences, go back to the drawing board and redraft it, because it's too long.
Make your statement exclusive and notable
There are more than 32.5 million registered businesses in the United States alone, many of which will have positioning statements in place.
Given the cut-throat nature of an increasingly competitive market, you need to create a positioning statement that's unique to your company and reiterates the stand-out qualities that your brand provides.
Stay loyal to your values
When you're creating your positioning statement, it's pivotal to stand by your principles and communicate a message that doesn't deviate from your established brand identity.
This isn't the time to experiment and take unnecessary risks. Doing so will only send mixed messages to your target audience, cause confusion, and could lead to low conversion rates amongst prospective customers or customer churn.
Communicate what you bring your consumers
A positioning statement must answer two key questions: who is your company serving? And more importantly, how do you meet their needs?
Briefly outline who your target market is, and how their user needs will be met should they decide to use your product.
If there's any doubt as to whether or not your product can tick all of the boxes, your prospect will look elsewhere. So, be clear, concise, and most importantly, persuasive.
Differentiate yourself from your competitors
Take this opportunity to communicate to consumers what makes your product better than your competitors.
Perhaps you have a unique and exclusive feature that's unavailable elsewhere? Or maybe your product is more competitively priced than market alternatives?
Whatever approach you decide to take, ensure your positioning statement A) highlights your qualities, and B) outlines why these features matter to your customers.
Collaborate with colleagues
When the initial version of your positioning statement is complete, always ask for feedback from one of your colleagues.
While you may think there are no amendments that need to be made, gaining an alternative perspective may help you identify areas of improvement that you hadn't spotted yourself.
To test the accessibility of your positioning statement, ask someone who isn't familiar with your product to proof it for you. If they can understand it, you're on the right track. If not, ask them what they'd change and make necessary amendments.
Positioning statement examples
Apple

Apple provides cutting-edge technology for tech-savvy consumers who want the top of the line laptops, computers, and mobile devices. Apple promotes inclusion and accessibility for all and takes responsibility for its employees in addition to committing itself to source the highest quality materials and products.
Disney
Disney provides unique entertainment for consumers seeking magical experiences and memories. Disney leads the competition by providing every aspect of related products and services to the world and appealing to people of all ages.
Starbucks
Starbucks offers the best coffee and espresso drinks for consumers who want premium ingredients and perfection every time. Starbucks not only value every interaction, making each one unique, but the brand commits itself to the highest quality coffee in the world.
Amazon
For consumers who want to purchase a wide range of products online with quick delivery, Amazon provides a one-stop online shopping site. Amazon sets itself apart from other online retailers with its customer obsession, passion for innovation, and commitment to operational excellence.
Nike
For athletes in need of high-quality, fashionable athletic wear, Nike provides customers with top-performing sports apparel and shoes made of the highest quality materials. Its products are the most advanced in the athletic apparel industry because of Nike's commitment to innovation and investment in the latest technologies.
Positioning statement templates
As we've alluded to earlier, positioning statements are a crucial part of company messaging.
So, we've included vetted, tested templates designed to alleviate the workload when writing positioning statements as part of our Product Marketing Alliance membership.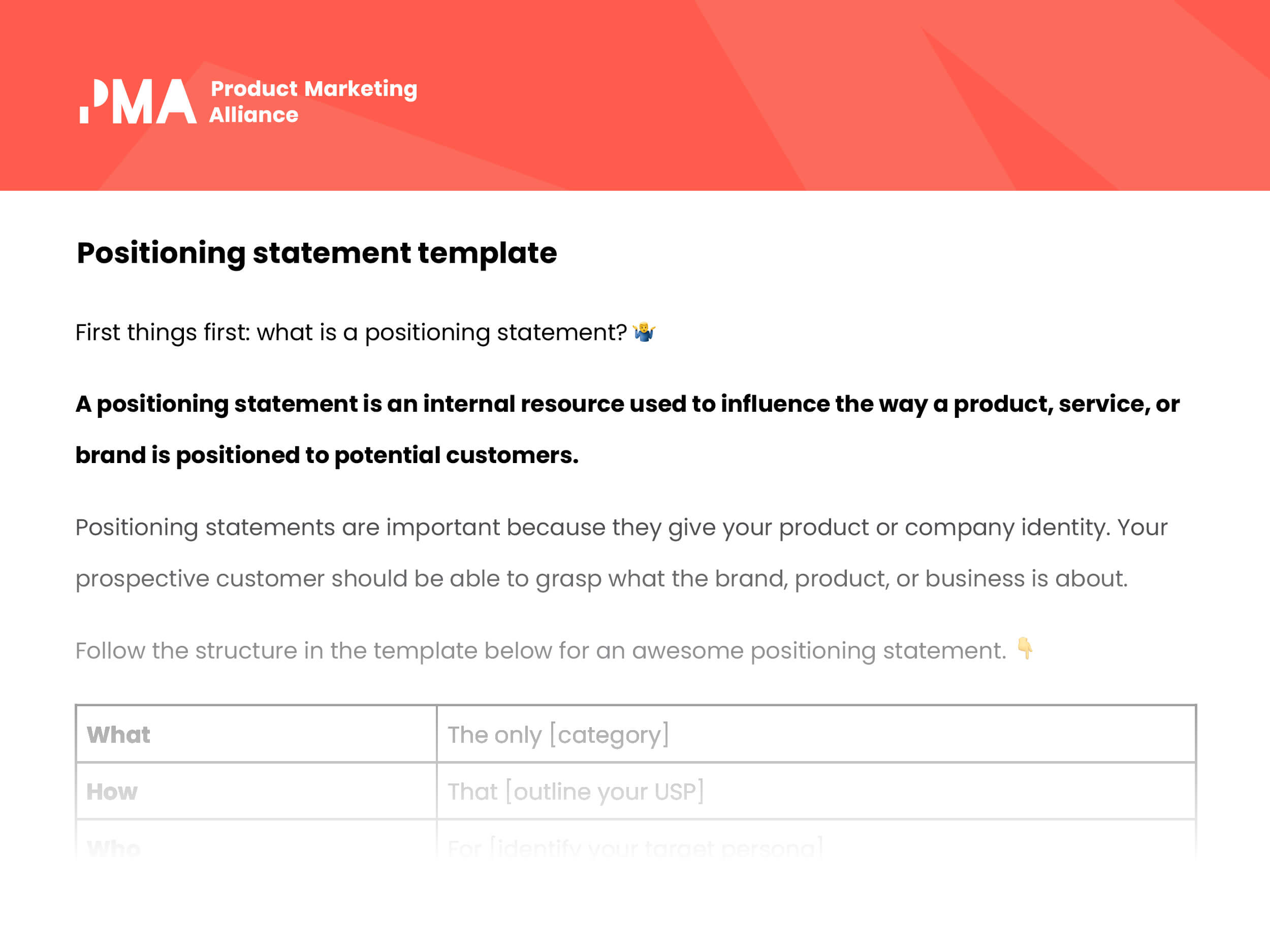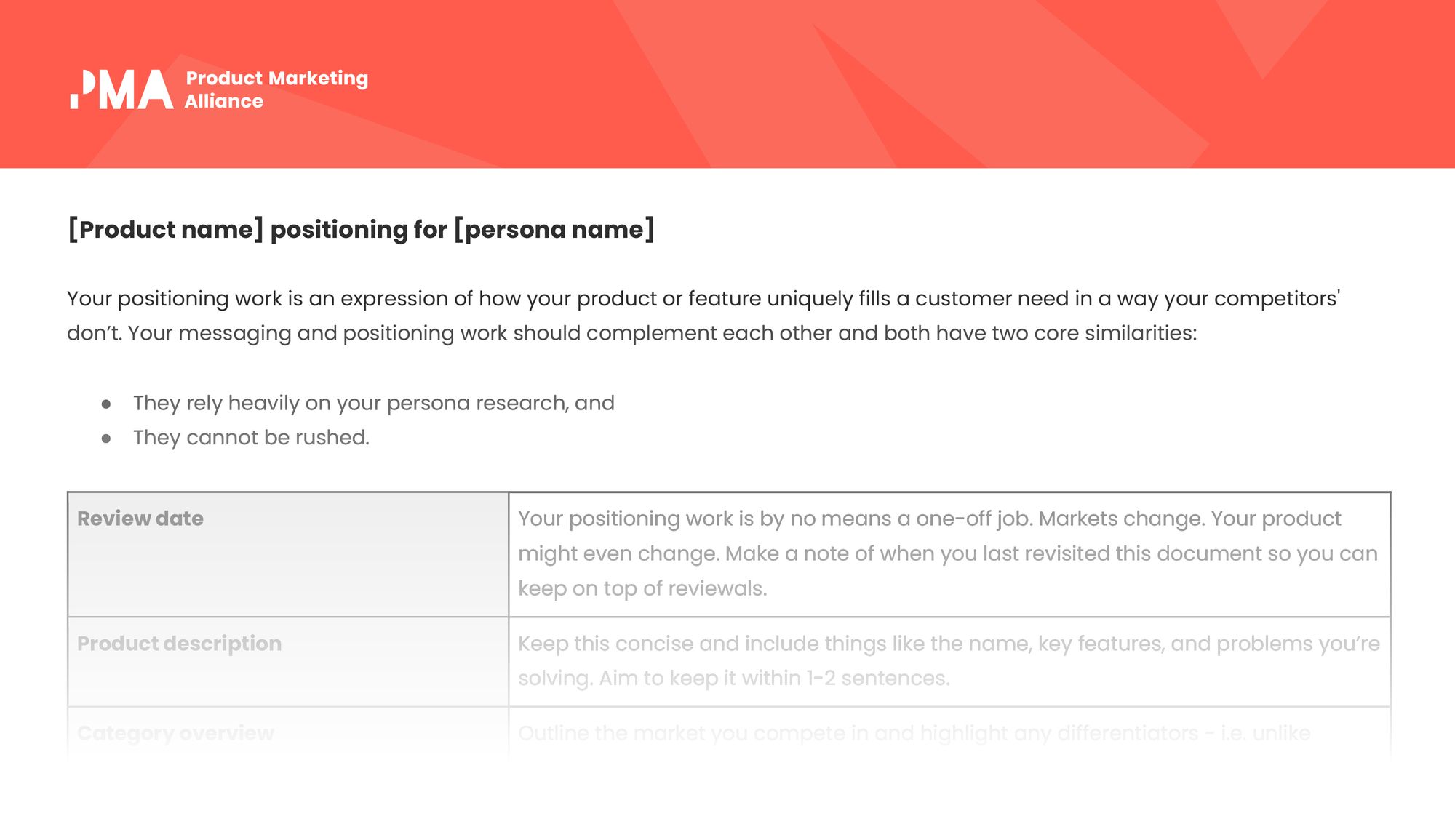 Sign up now and get access to 50+ templates and frameworks geared towards helping you streamline your practice and unlock your potential.
How to improve your product positioning
A stellar understanding of product positioning is essential to ensure you're presenting the value of your product in the best possible way.
Positioning Certified: Masters has been built on the back of decades worth of positioning experience from PMMs at some of the world's best-known brands.
Enroll in this self-paced course now and get lifetime access to:
⏰ 5+ hours of course content
✅ 70+ exam questions
📝 5 templates & frameworks
🔖 Official certification

By the end of the course you'll:
✅ Understand why positioning is important
✅ Learn the ins and outs of strategic positioning
✅ Know how to position for growth
✅ Appreciate the role of teamwork when positioning your product
✅ Understand the correlation between positioning and cross-functional areas
Bridge the gap between success and failure. Resonate with consumers.