"If you don't listen to your customer, someone else will."
Wise words, courtesy of Sam Walton: businessman, entrepreneur, and the brains behind heavyweight retailers Walmart and Sam's Club.
In failing to heed the advice of your consumers, you run the risk of alienating your target market, and dice with the possibility of damaging retention rates and prompting customer churn.
With this in mind, you need to give your customers a voice, gain essential feedback, and continually enhance your offering - and this is where Customer Advisory Boards (CABs) are worth their weight in gold.
In this article, we'll explain what a Customer Advisory Board is, while Bree Bunzel, Head of Global Customer Marketing at Dropbox, will focus on:
What is a Customer Advisory Board?
A Customer Advisory Board is a group of existing customers brought together regularly to advise your company on forward-facing feedback on your product and strategic direction.
CABs allow customers to share best practices and foster community building and networking among peers, whilst also deepening relationships with your company executives and product leaders.
CABs can take the form of in-person events, onsite or offsite, online, and/or a combination of them all.
How to define your ideal Customer Advisory Boards member
Once you have defined your CAB strategy, themes, and objectives, you can now define the criteria for your ideal member.
If you're launching a new product for small businesses in the professional services vertical, you should be building out a CAB customer criteria or persona based on that target audience.
If you cover B2B and B2C, consider breaking out your CABs by audience. Your membership criteria can be segmented by a plethora of factors, which could include:
Your super users who are most engaged
Your largest logos
Highest revenue generated customers
Educators and teachers who help evangelize your product
Superfans who are highly engaged with your community
How many people should be on a Customer Advisory Board?
The best practice for CAB customer size varies by what you're trying to accomplish.
I've been at former companies where the sweet spot was 20, other companies had two groups of twenty for different levels of seniority.
From my experience, what I've found worked best was groups of 10-12.
This intimate but impactful group size allows you to build relationships with them. Your customers feel special and treated like VIPs and this allows customers to connect with their peers.
During the CAB itself, customers have the time and space to speak and be heard, and the feedback is deeper and more meaningful
The best practice for how many people should attend from your organization is to have more customers than your staff.
You want customers to feel prioritized, heard, and valued in an intimate setting, and often a peanut gallery and crowd behind customers hinder open dialogue and transparency.
Why is your customer attending your CAB?
Finding out a customer's "WHY" for being a part of your CAB is your holy grail. After all, without customers, you have no CAB.
In my opinion, this is the most important part of defining a CAB. I'll take you through how you can figure this out for your customers.
I learned early on in my career the power of customer-backed insights, and there's no better business case for creating a new product, service, or campaign when it solves a true customer challenge. Even more so when that customer challenge is backed by statistical data.
I remember the days at my former company, Intuit QuickBooks, where our Founder or CEO would ask in meetings, point-blank, "What did the customer say?"
If you didn't have an answer, they would often stop the meeting and ask you to go back out and get that information.
There's truly no better way to understand the customer's "WHY" than to ask them.
This exploration of understanding the customer's "WHY" kick-started after a rocky start with our initial CAB event, leading to an opportunity to improve our CAB engagement and satisfaction scores.
The Design Thinking process
I had learned some fundamentals in Design Thinking at my former company, but I wanted to gain deeper skills in how I could take customer feedback and turn it into action.
I decided to take a Design Thinking boot camp, and it turned out it was exactly the skills I needed to crack the customer "WHY". I'll now walk you through the framework to arrive at this big "AHA".
Before I dove into my own customer's insights, I wanted to start with a broader, external research project, to get a common understanding of a CAB customer's "WHY" globally, regardless of industry, company size, and role type.
I decided to segment two cohorts of people: customers who attend CABs, and organizers of CABs, to learn the key question - what's in it for them?
I set up a pipeline of people I wanted to interview, sending personalized LinkedIn messages about my research intent and what I would love to learn from them.
1) Empathize
This step is focused on getting to know your customers on a more personal level.
During this phase, I interviewed ten people in each cohort, either face to face or over a video call, understanding their underlying motives for what being a part of a CAB meant to them or their customers.
I jotted down insights on post-it notes, and used two methodologies to cull down insights:
The first methodology is called 'affinity mapping', the process of grouping together common themes to begin to make sense of the data.
The second methodology is a 2x2 mapping process, where you throw out key priorities on your X and Y-axis.
For example - using the X-axis for cost efficiency, and the Y-axis for impact.
I was surprised to find out two big "Aha's":
The CAB members themselves cared most about networking with their industry peers and building relationships with Dropbox.
Because of this, they want to be in a program with similar role types and seniority.
Here, we were thinking they cared most about us, and in reality, it was a broader opportunity to grow their career.
Fun activities and events were the highest points of most CAB members' day and something not to be underestimated by your senior team.
Companies have hosted CABs as luxurious as an all-expenses-paid, three-day event on a beach resort, to the other end of the spectrum, a simple half-day meeting at the office with lunch and evening drinks.
For the organizers of CABs, the ultimate goal is building customer advocates.
You want these folks to leave their experience championing your product from the rooftops.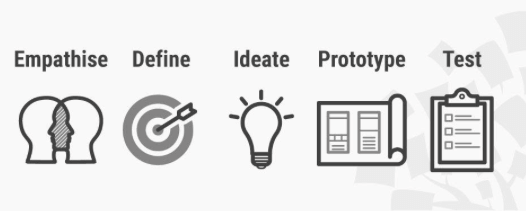 2) Defining the problem
We start this phase with an exercise called energy mapping, where you chart the interviewee's highest and lowest emotional states during your conversation.
One of the most defining customer conversations was with a guy named Pete, a 15+ year CAB veteran at another B2B company.
He loved the experience of being around peers and feeling special getting the VIP treatment but stated that of the entire three-day CAB program, only 20% of the content was relevant to him.
This led me to define my hypothesis, that having customers dictate the entire content and format of the CAB will lead to the most optimal engagement results.
3) Ideation
This is my favorite part of the Design Thinking process, where the most energy and engagement are generated.
There is a term called radical collaboration, which shows that the more diverse backgrounds and perspectives you bring to brainstorming, the better your ideas and outcomes will be.
I brought in a group of colleagues of various role types, backgrounds, and viewpoints, and started the brainstorming exercise with a simple prompt:
"If you had all the money in the world, how would you solve the problem that Pete, our 15+ year CAB veteran is facing, with limited relevant content for him?"
In Design Thinking, as well as improv, you may have heard the term called "Yes, and!" - which describes a collaborative approach where when one person shares an idea, the next person has to build and say "Yes, and!" to start their idea.
In Design Thinking, you embrace the philosophy that no idea is a bad idea.
Now I'm sure you're thinking, 'come on! I've heard a lot of bad ideas in my career, but bear with me.
We start off this brainstorm, and one of the first post-it ideas thrown on the board states "Let's rent out a customer mansion, and invite customers to come and hang out with us" - I'm thinking in my head, 'oh boy, here we go, this is already going off the rails.'
So the next person says, "Yes, and!" and we keep building. The idea evolved into a beach offsite, getting to know customers as people, to then, the big "AHA":
"Why don't we make them feel like Dropboxers and extensions of our team?
"We love our company and our products, how do we equip them to become advocates and champions of our brand?"
4) Prototyping
With all these insights, it was time to build a 2.0 CAB agenda that solved these key customer "WHY"s:
Customers dictating content
Customers talking a majority of the time
Having a clearly defined audience
Customers feeling like extensions of our company
Now you may think: "OK great, let's plan the next event exactly this way!" While I'd like to think I'm bold, I do think it's to the benefit of your team and your company to start small and test with a scrappy, low fidelity prototype - also known as a Minimum Viable Product (MVP).
When I say scrappy, I mean scrappy. With scraps of paper, I created a simple diagram with a vertical line down the side that had a scale of most valuable to least valuable to the customer.
I then created a bunch of individual scraps with session titles of both the old and new proposed CAB sessions.
I took this to our customer success team, who owns the relationship with these prospective CAB customers, and I asked stack to rank the content that mattered most to the customer.
If I had more time, I would have taken this a step further and also validated this with a few customers.
The quick early test validated our new sessions were in fact what customers cared about most.
What I love about an MVP is you're not spending thousands of dollars on a bold hypothesis that could become a mistake or "learning lesson", you'd be surprised to find that you can get validation pretty quickly.
5) Testing
In this final stage, you're going to market with your new approach.
We got executive approval on our CAB 2.0, and our next event was flipped on its head, with 100% of the content and experience developed from customer input, and I'm proud to say, the first CAB 2.0 was a success!
Of the customer attendees, 100% felt heard, connected to peers and executives, and wanted to participate again - compared to about an 80% mark our first time around.
In the end, we had cracked the code on finding their "WHY".
I'm sure you're thinking: "OK we got the formula down, where do we go from here?"
Well turns out, this event was the last before our global pandemic took over, and we were moved to a completely virtual CAB experience moving forward - requiring more iterating and testing.
Your CAB will continue to evolve with new strategies, themes, and experiences, and some customers will naturally leave over time and new customers will join.
How to improve your Customer Advisory Boards
Exploring exactly what your target market craves and delivering a stellar product can dramatically increase your revenue.
While Customer Advisory Boards undoubtedly serve as an invaluable source of information in supporting global companies to fulfill customer needs, you need to refine the process and ensure you're ticking all the boxes.
Customer Advisory Boards: Certified outlines the fundamentals of CABs, providing essential insights into key facets of the process.
Join Bree Bunzel, Head of Global Customer Marketing at Dropbox and a CABs connoisseur, for 3+ hours of self-paced content and upskill and excel in an essential area of product marketing.