The product marketer wears many different hats and sits between many different teams in a company, which makes the role notoriously difficult to define. Is it a marketer? A product evangelist? A content marketer? All or none of the above? It's difficult to pinpoint a single purpose.
But, without a clear vision for the role, responsibilities and goals, it's impossible for product marketers to drive true impact within an organization. That's why we created the 'State of Product Marketing' report — to better understand the product marketing role and its function. We surveyed 609 product marketers across all experience levels and interviewed ten product marketing leaders from innovative companies like Intercom, HubSpot, Spotify, Unbounce, Twitter, InVision and more to get first-hand insights and recommendations on what the role needs going forward.
The overarching consensus was this: the product marketer role needs to be elevated from coordinator to strategic partner in order to unlock its true potential — to drive business growth. Like Tamara Grominsky, Unbounce's Director of Product says:
"Product marketing is the linchpin of sustainable business growth. But to have this strategic growth, you need to ensure that product marketing doesn't get stuck in the executional weeds. The role needs to be elevated to a strategic function that enables, aligns and empowers the other execution teams."
— Tamara Grominsky, Director of Product Marketing at Unbounce
Sounds like the dream. But how can you pull the product marketing role out of the executional weeds and elevate it to a strategic driver in your company? Here are some actionable steps to take:
Define "why" the product marketing role exists

"Product managers should own the product story. It's their job to be expert storytellers and to create effective positioning, a compelling vision for the product, value propositions, etc."
— Marcus Andrews, Principal Product Marketing Manager at HubSpot
First, you need to decide why you've hired (or why you plan to hire) product marketers at your company. What's the overarching goal for the product marketing role? Once you've defined your why, your how will fall into place a lot easier. You'll be able to identify and focus on the strategy, goals, and tactics that support your why.
A powerful way to get clear on your why is to create a vision statement for the product marketer role. This will help you define what you aspire for the product marketer role to become and achieve. We recommend framing your vision under a strategic lens, rather than a tactical one, just like the leaders from the 'State of the Product Marketing' report suggest.
Here's an example:
"At [x company] product marketers are strategic leaders who align stakeholders across the organization to drive business growth, product usage, and customer delight."
Set impactful goals for the product marketer role
Once you've defined your vision, setting truly impactful goals will become a lot easier. Here are some tips for setting goals that matter:
Tie your top goals to the bottom line
One of the most interesting findings from the 'State of Product Marketing' report revealed that product marketers' top goals are closely tied to the company's bottom line growth. For example, product marketers' top three goals are:

Generating revenue (58.1% of survey respondents are responsible for this).
Generating marketing qualified leads (44.8% are responsible for this).
Retaining customers (42% are responsible for this).  
Since product marketing is (or should be) an important strategic role that drives business growth, it's important to tie your product marketing goals as closely as possible to your company's bottom line goals.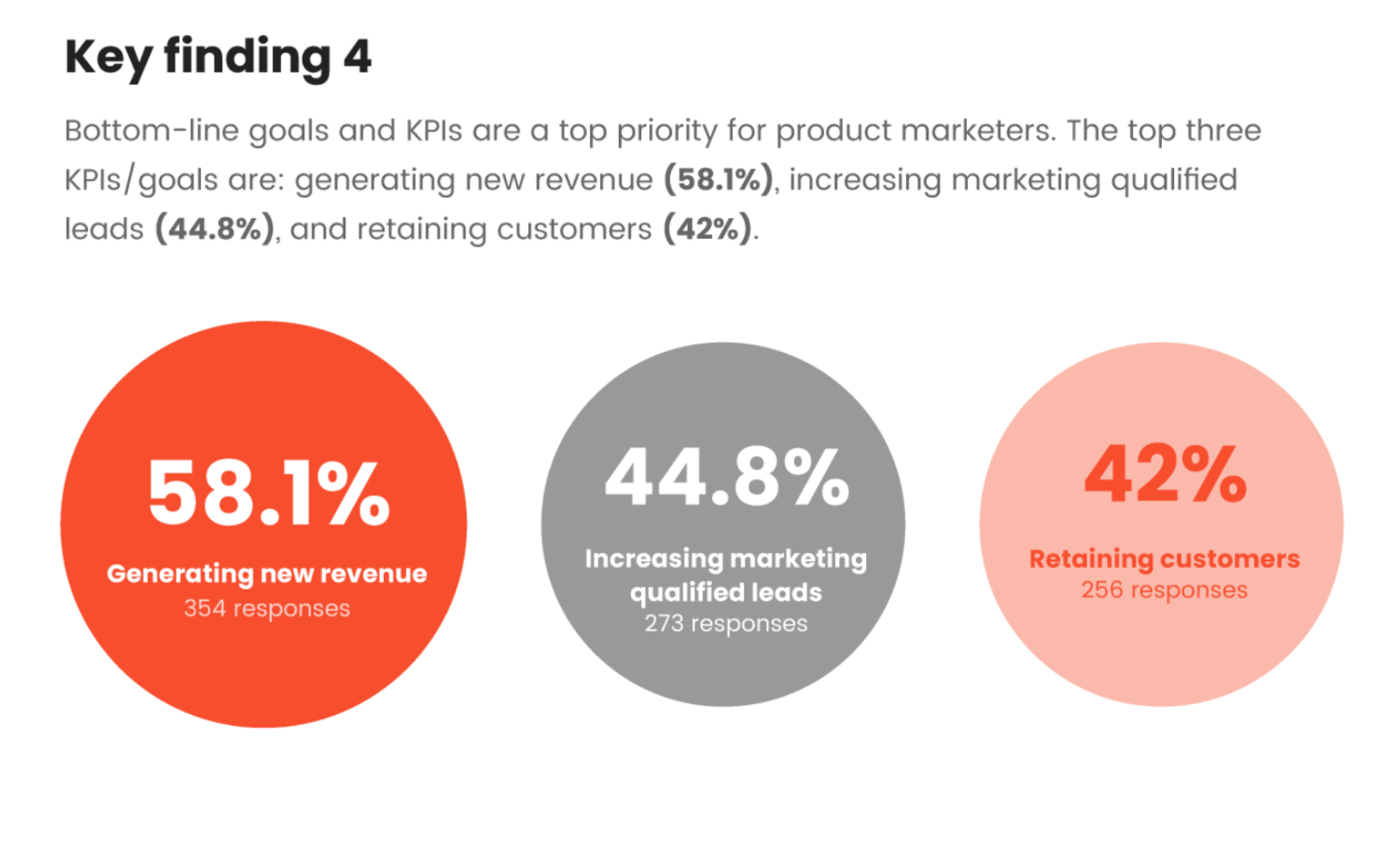 Don't set KPIs in a silo
We recommend looking at how other companies define and prioritize KPIs (key performance indicators) or OKRs (objectives and key results). Get your hands on relevant resources that will help you understand what KPIs or OKRs other companies work towards. For example, you can read the 'State of Product Marketing' report as well as other product marketing reports, blog posts, ebooks, etc. You can also attend events and webinars and join online product marketing communities to learn and stay up to date with how other companies operate.
Look inside your company too. As the product marketer role is so cross-collaborative in nature, its success relies on other teams. So, work with those key teams to define collective KPIs to work towards. For example, you can work with product to collectively define a product adoption KPI you're both responsible for. Here's an example:
"By the end of the quarter we plan to increase product activation for [x product] by 10%. A user is considered activated once they've set three messages live."
Take a look at some of our recommended key PMM metrics and OKRs here.
Empower product marketers to shape the product roadmap

"Product marketers should be involved from the start helping to define the audience you're selling to, what their pain points are, and what the product team needs to build to better serve that audience."
— Jasmine Jaume, Group Product Marketing Manager at Intercom
Another key frustration product marketers reported in the survey was the lack of influence they feel like they have in their company — specifically on the product roadmap.
The survey also revealed that on a scale of 1 to 10, product marketers feel like they have a 6.2 influence on the product roadmap, which is just above average.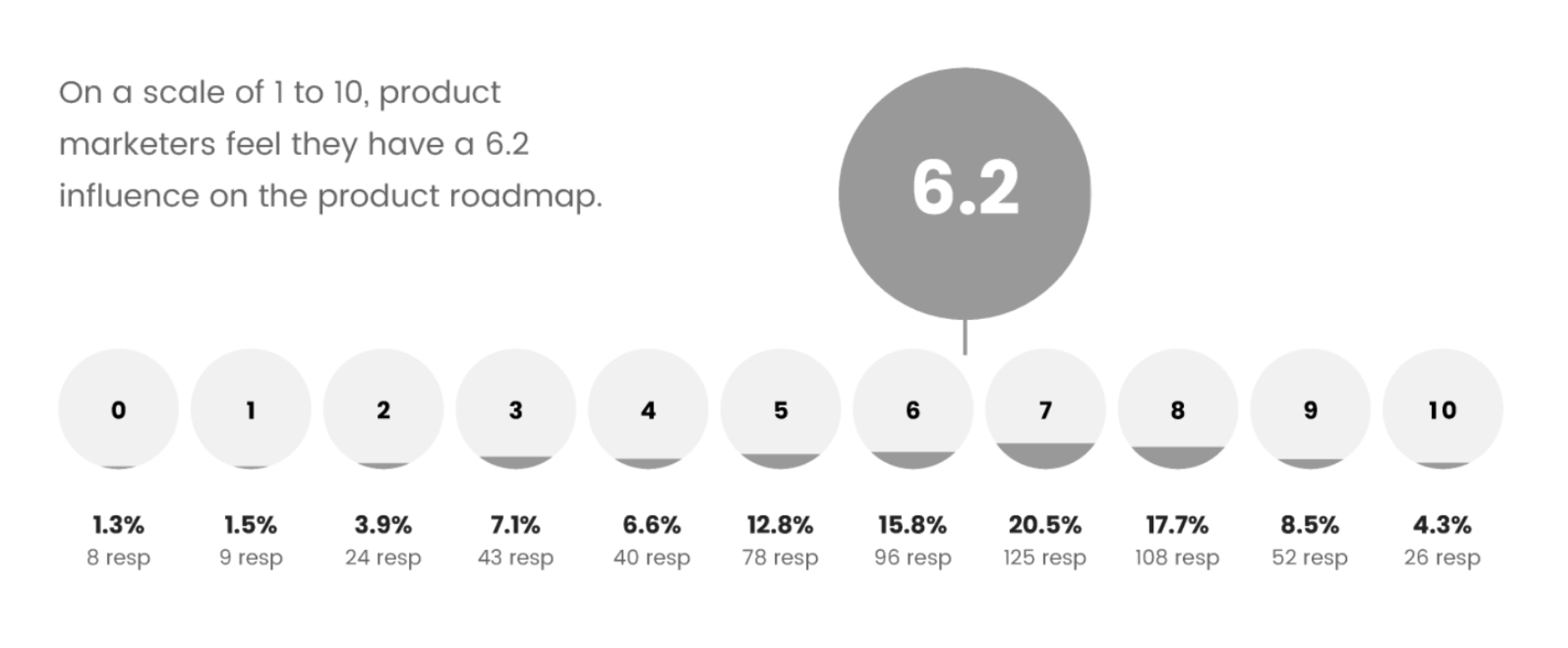 That's an okay result, but there's definitely room for improvement. For a role that's so integral for successfully defining, launching, and encouraging adoption for products this result should be significantly closer to the top of the range.
How can we help product marketers gain more influence over the product roadmap? Well, product marketers want to (and should) be involved in defining and releasing a feature from the very beginning — this includes conducting user and competitor research, defining user pain points, what features get built and more. Like Director of Product Marketing at airSlate, Aaron Brennan says,
"The best product marketers I know have full say in the product roadmap."
Read through our 5 recommended roadmapping tools for product marketers here.
Focus on the most impactful responsibilities (and descope others)
You've probably heard of the Pareto Principle (the 80/20 rule) that says: 20% of the input creates 80% of the result. Since product marketers are often under-resourced and over-worked, why not focus on prioritizing that 20% of impactful work upfront to sharpen focus and prevent burnout.
Take a look at your analytics to identify what types of work has helped your team most successfully reach their goals, then identify trends in what works best. Once you've identified these trends, you'll be able to better understand the types of responsibilities you should focus on to achieve your goals — the responsibilities that drive the biggest impact.
Create a responsibility matrix that focuses on impact rather than tactics
Next, create a responsibility matrix (or redefine your current responsibility matrix). It may be tempting to simply jot down all of the 'tasks' your team are currently responsible for. But remember the goal here is to redefine the role and make it more strategic.
In fact, forget about outlining tasks. Instead, outline strategic areas of ownership, like successfully launching a product, driving product adoption, and defining a market-ready audience. This will help elevate the role from order taker to strategic partner from the outset and will empower and inspire product marketers to come up with their own tasks to achieve their desired outcomes.  
If you're curious, here are the top responsibilities product marketers reported being responsible for in the 'State of Product Marketing' report: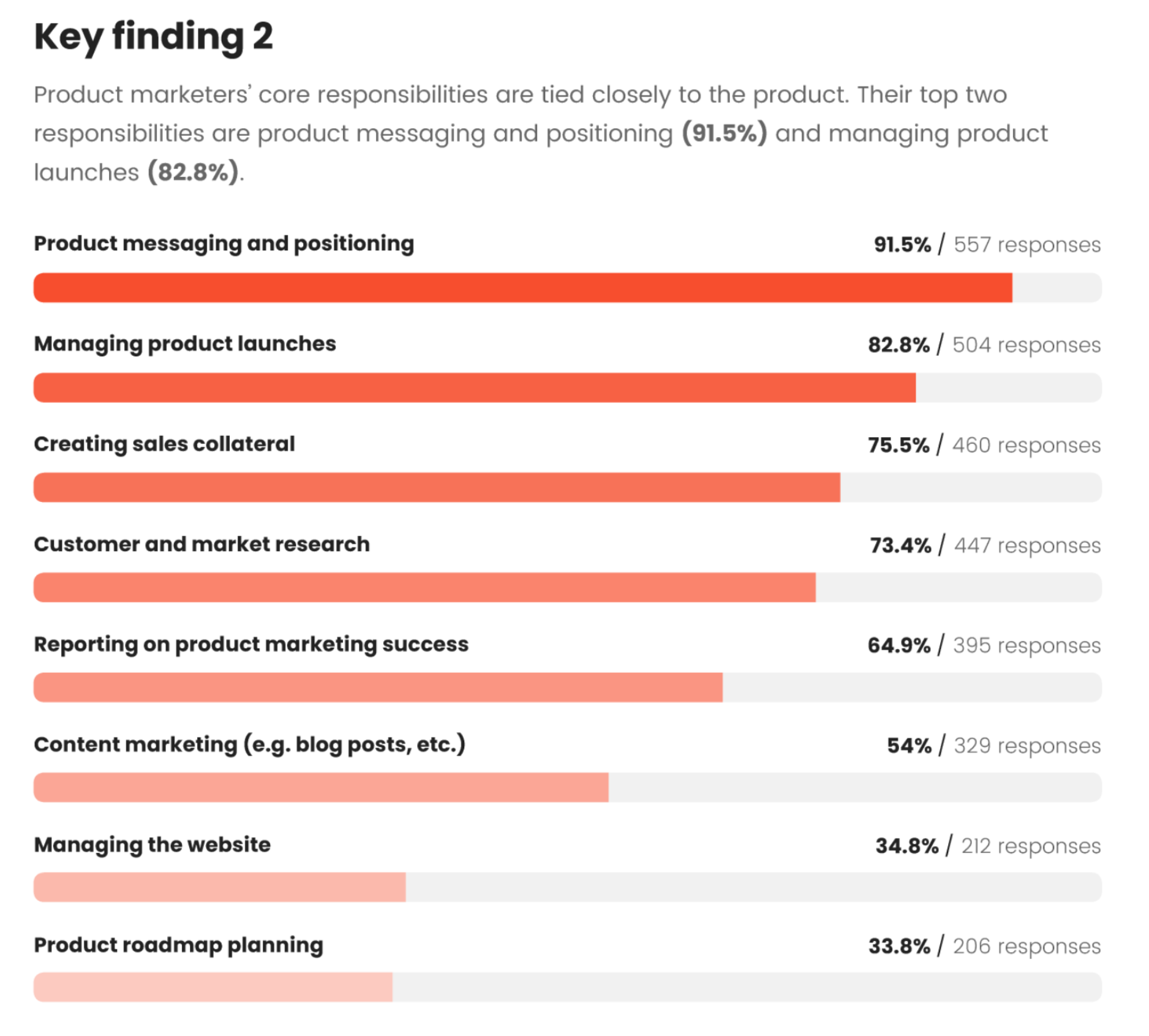 But remember, some of these responsibilities, like creating sales collateral are more tactical in nature. We don't recommend documenting these verbatim for your own team. Instead, choose responsibilities that will best help you achieve your vision and goals. And don't forget to focus on strategic responsibilities.

Define non-product marketer tasks and hand them off to relevant teams
"I've coached a few leaders who aren't making any headway in the company after hiring a product marketer. It's almost always because they hired a product marketer, but they wanted something else, like a product marketer."
— Rae Lambert, Director of Product Marketing at Olivine Marketing

Due to the varied nature of the product marketer role, it's easy to assume that it's a catch-all umbrella role where all unassigned tasks can safely land and get taken care of by the trusty product marketer. Creating sales collateral? Sure. Writing blog posts? Why not. This results in product marketers becoming overstretched, under-resourced and unfocused, which is detrimental to the overall success of the role and — in turn — the business.
One of the main frustrations reported by product marketers in the survey was how little other teams in the company understood the role and its function (browse through some different C-Suite perceptions of product marketing here.) For example, other teams often mistook the product marketer role for a content marketer. This misunderstanding can result in mismatched expectations and unnecessary frustration, which is damaging for such a cross-functional role that relies on fostering relationships built on trust.
One powerful way to prevent mismatched expectations is to define and document what the product marketer isn't responsible for at your company. This will provide your team with a resource they can point to if miscellaneous tasks land on their plate unexpectedly. Also, if there's regular work your team are currently doing that they shouldn't be responsible for, identify relevant teams you could hand that work off to. For example, can customer success create sales collateral?
Communicate the purpose of the product marketer role across your entire company
"Driving alignment and influencing stakeholders across marketing and sales is core to the product marketing role. You need to be able to communicate, you need to be crisp, you need to be compelling."
— Francis Larkin, VP of Product Marketing at InVision

Once you've redefined the product marketer role at your company, your instinct will likely be to share the vision, goals and responsibilities for the role with your product marketing team. That's a great starting point...
But, since product marketing is such a cross-collaborative role you'll also need to share the role's newly defined vision, goals and responsibilities — and most importantly, value — with your entire organization. This will help get buy-in from the stakeholders you work most closely with and will prevent mismatched expectations, which is essential for setting the product marketer up for success in the short and long term.
Define who you need to talk to and tailor your message
Every company is unique and the stakeholders you work with most will be unique too. But, at a minimum, you need to chat to and get buy-in from these teams: the C-suite, product, sales and marketing.
Tailor your message to each individual team you chat with and hone in on what each team cares about most to ensure your message resonates with them. Bringing the right data to the table (for example, data from industry reports) will also help you build your business case and get stakeholders on board with your new vision for the role.

First, get clear on who you want to talk to and what they'll care about most. This will help you define the right message for each group. Here's an example: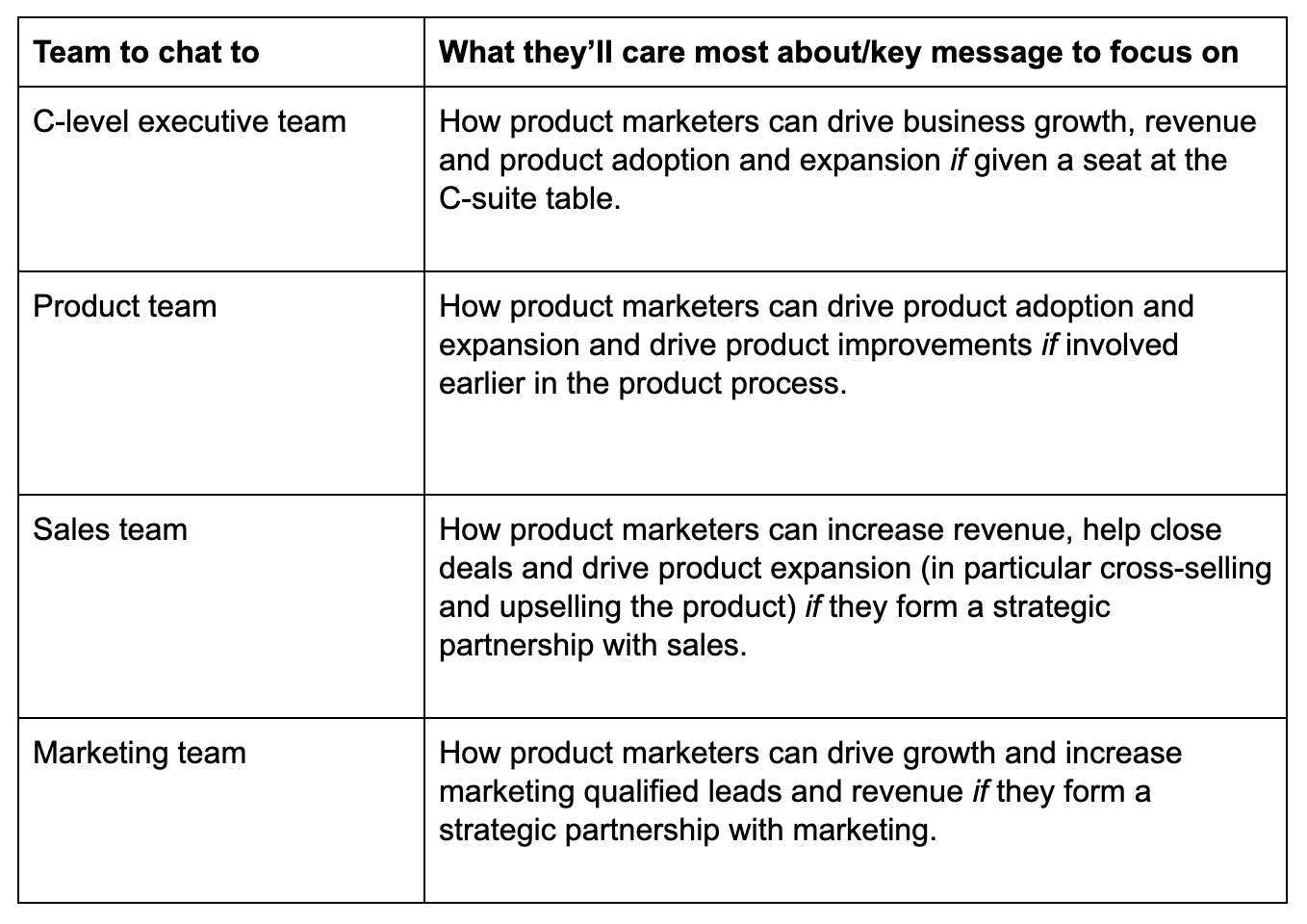 Create internal resources
Make sure to document all relevant resources that will help other teams understand the product marketer role in your company. That includes your vision statement, goals, responsibility matrix and responsibilities your team aren't responsible for. Store these documents somewhere your team can easily access, like in a shared folder in Google Drive, for example. And make sure to update these documents as your company grows and the product marketer role evolves.

The product marketer role is evolving. Don't get left behind.

"Product marketers everywhere and at every level are still seeking functional clarity."
— Syndey Sundell, Product Marketing Manager at Guru
If there's one overarching finding from the report it's this: the product marketer role is evolving. Even the product marketing leaders we spoke to from the most progressive companies are still defining and redefining the product marketer role, goals, and responsibilities.
Like Guru's Product Marketing Manager, Syndey Sundell says in her blog post on the 'State of Product Marketing' report, product marketing is growing out of its "teenage angst." No-one has this figured out, but that's what makes this time so exciting and defining.
Product marketers have a clear vision for where they want to go and that's to the top — in the leadership driving seat. By elevating the product marketer role to a strategic powerhouse you can unlock so many profitable opportunities that will significantly propel your company growth.
Curious to learn more? Get the full report

Download the 'State of Product Marketing' report here for a more in-depth look at the product marketer role, goals, responsibilities, recommendations for elevating the role and so much more. This is an open conversation, not a closed report. We'd love to hear your thoughts on the report and your recommendations for how we can collectively better shape the product marketer role in the future.
Get in touch with us via our engaged Slack community of product marketers or on LinkedIn or Twitter to share feedback.
Or, if you've got something deeper to add to the conversation, why not contribute a guest blog post?