I had the chance to attend this year's Product Marketing Summit in Brooklyn. It proved to be an interesting vantage point to observe what others have to say about our field.
Speakers from Spotify, Uber, LinkedIn, Microsoft and more weighed in on the state of product marketing today.
Here's a roundup of what intrigued me the most, including:
A Few of My Favorite Things
We're All Defining Product Marketing
Product Marketing as a Strategic Function
Broad, & Vague, & Ours
---
A Few of My Favorite Things
Favorite Quote: Describing what it feels like to be a product marketer.
"Sometimes it's a bit like Alcoholics Anonymous: 'I'm Jim, I'm a product marketer and it's been 15 days since I updated the buyer personas…' "
Loved this humorous take on our sometimes overwhelming and guilt-inducing priority list!
Favorite Session: Uber on their recent launch of e-bikes and scooters.
The talk tracked the end-to-end process from when they initially found data suggesting that"commuting" and "errands" could be two categories where Uber might expand further, to seeing an emerging market opportunity in 2-wheeled transit, and how they went after this new category across PR, activations, etc.
Loved this inside look at their launch process and collaboration between product marketing and other groups along the way.
Favorite Presenter Response in Q&A.
To answer an audience question of "How do I deliver competitive intel about everything when I'm currently a one-person team?" panelists had a refreshingly candid response.
Push back, and get the team to narrow down their asks to a few specific objectives. Replace an overly broad mandate with clarity around "What factors do you most need to know about? Let's focus on those."
From there, zoom in on these core areas to track, and set expectations around what can be realistically be achieved with available resources.
Loved the honesty here as it's critical to know when and how to manage expectations with small PMM teams — and focusing tightly can be the key to delivering results with impact.
---
Macro Theme: We're All Defining Product Marketing
Across all the sessions, I noticed a common thread: just about everyone took a moment to give their take on what product marketing "is."
Whether talking about product launches, customer engagement, etc, at some point each person got to a slide that broke down their "framework" or "formula" to define what the role is and where it sits.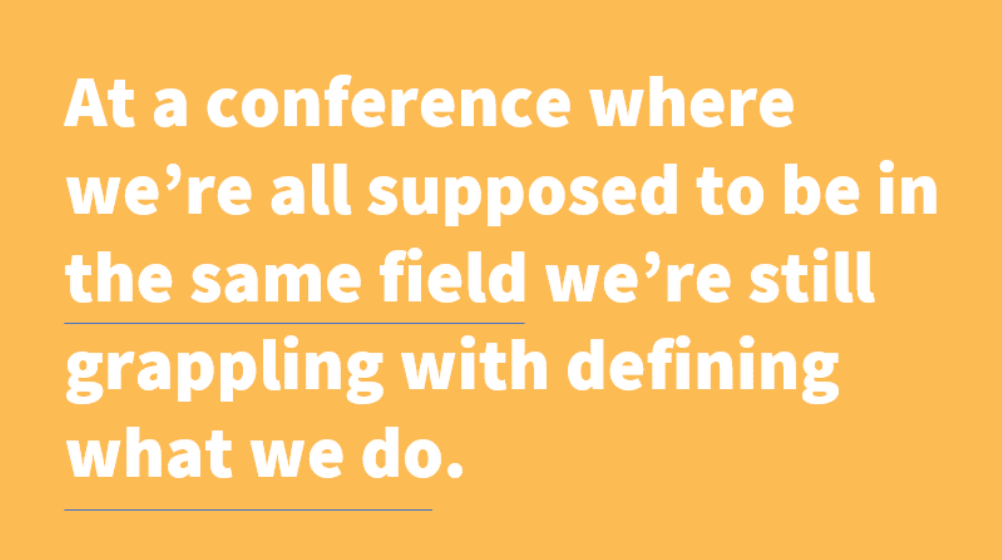 Let's consider this for a second.
At a conference where we're all supposed to be in the same field we're still grappling with defining what we do.
Cue the collective sigh of relief. Because I know I've wrestled with this question. And every job interview for a product marketing role seems to start off as a game of 20 questions probing into what that organization expects from someone in this role.
This speaks volumes to where product marketing as a function is today.I'm hearing a lot of people saying lately that it's a relatively "new" role, and for some industries it is — whereas others like Canon and Microsoft have had the function for many years. But what it means, and what you'll be doing day to day can be completely different depending on your industry, company, skillset of those around you, and even pure luck.
Most common (& generally accepted) definitions I heard:
Product marketing is the "linchpin," "intersection point," and "conduit" among cross-functional groups
Product marketing is a "translator" (and those who read my last article know this made me smile!)
Product marketing is the "storyteller" and owner of the company "narrative"
But then I heard other takes on the role such as how in some organizations:
It's a "double hat" with dual responsibility for both product marketing AND product management — similar to the "brand manager" role in CPG. (This is the case at Boston Scientific).
Have certain shared OKR's jointly across product marketing and product management (This is the case at Uber).
Product marketing has direct impact on the product roadmap to strongly influencing the overall direction of the product. In contrast, other product marketers don't drive roadmap discussions and stay in a supporting role on this aspect of the business.
The takeaway? If you've been soul searching about how describe what you do, you're not alone. We're all a bit "misunderstood" in this field and the role continues to vary widely.
---
Macro Theme: Product Marketing as a Strategic Function
Another thread that reappeared throughout the sessions was just how strategic of a role product marketing is.
Now, it's obvious that a lot of projects we handle as product marketers have strategic elements to them — messaging and positioning, buyer personas, market and competitive intel, etc are each broad-reaching topics. But on even deeper level, the strategic aspect comes into play through our role as guardians of the overarching story.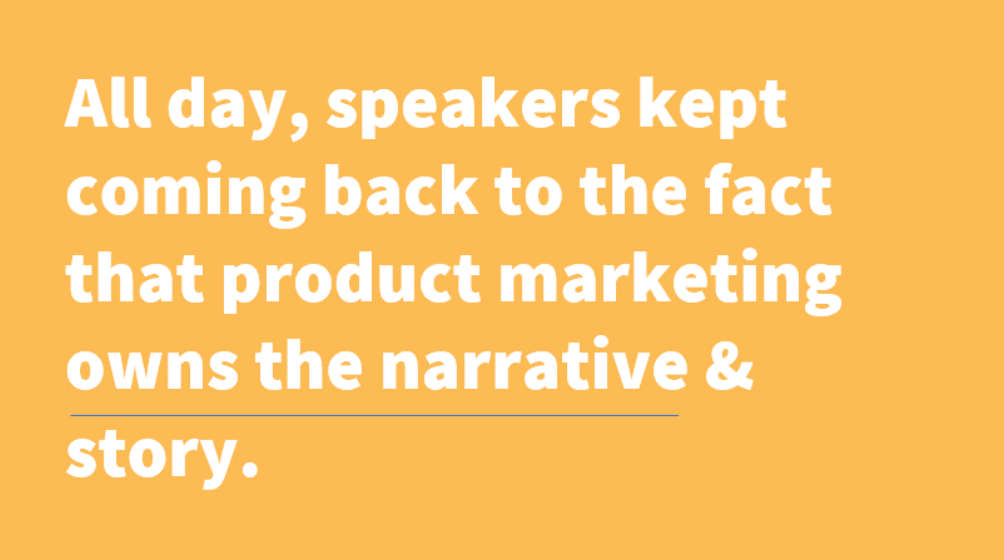 All day, speakers kept coming back to the fact that product marketing owns the narrative and story. Not just on a marketing level, but on a company and product level.
This involves thinking through some big picture questions — much larger than a series of campaigns, or even an integrated marketing plan. It's about grappling with some of the most fundamental questions of identity –"Who are we? What do we stand for? And where are we heading?"
While you might think that this responsibility falls to the Strategy team, or the C-Suite, the consensus is that product marketers are an important driver here.
For instance speakers from:
Spotify explained that a big part of the role is looking at the overall narrative, and synthesizing as many views as possible of what that story is going to look like to help other groups understand the way forward
Cockroach Labs summed it up as: "Product Marketing is the process of building and delivering a core narrative. This is what we do."
Conductor argued that even the product roadmap is essence a narrative and story, and product marketing has a big role to play in helping define the "why" behind feature that's being developed and the value it brings
It can't be said better than the Ben Horowitz quote cited by one speaker that says: "If we have the right company story, we can take over markets."
These questions are the fundamentals that come before anything else.Before you can execute, you have to have a starting point — what is Point A where we are today, and what is Point B that we're trying to get to ? And does everyone understand fully understand this direction?
That's where we bring value. Focused on the story — and seeing it as the underlying purpose of our role.
So when we wake up to a day filled with To Do Lists and booked calendars, it's worth taking a moment to remember that the biggest contribution we may make that day is to help others see the big picture strategy. If for nothing else it might be the difference in taking over a market one day soon.
---
Broad, & Vague, & Ours
My last observation is actually my first impression of the event: It's unusual to be surrounded by people that do what I do.
From the moment I walked in, I was surrounded by conversations about topics I deal with every day. The magazine I subscribe to was on every seat, and everywhere I turned were people from companies I follow, offering tools catered to what I do. Even at the coffee station someone from a competitive intel firm (whose emails I read weekly) helpfully handed me a stirrer.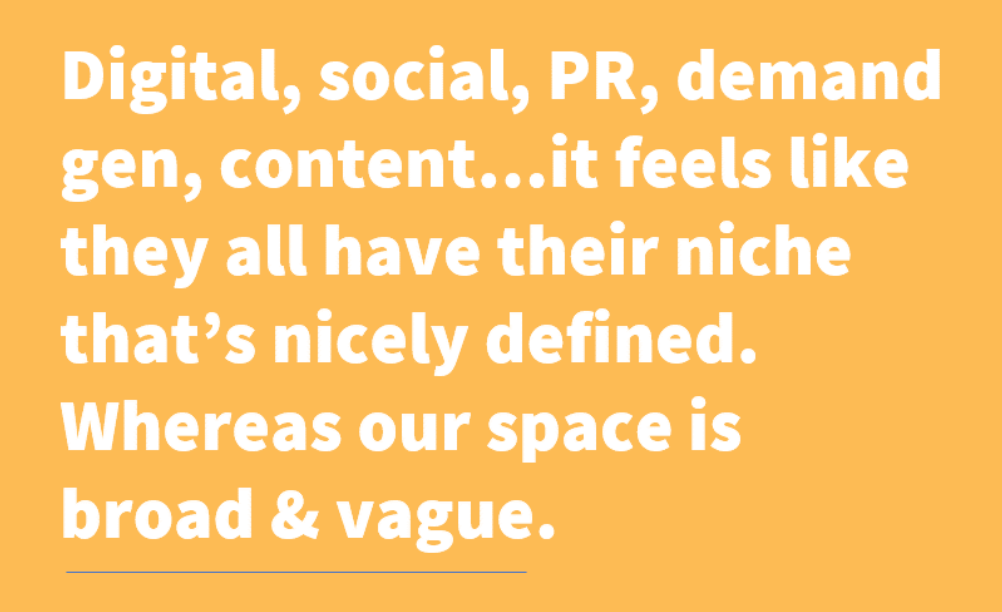 It also meant that I didn't have to work as hard to explain what I do in my elevator pitch.
Usually when I explain who I am and what I do, part of that inherently requires a bit of describing what product marketing is. This is especially true when interacting with other types of marketers. Digital, social, PR, demand gen, content…it feels like they all have their niche that's nicely defined. Whereas our space is broad and vague.
But this time, all that explanation could be left unsaid. Because we were all product marketers, and all share this experience.
It occurred to me that maybe this idea of "broad and vague" is a useful way to think of what we do. It might be the best definition I can come up with for product marketing overall.
Broad, vague…strategic, important…a linchpin, an intersection, a translator…a storyteller…
If anything, it's a blank slate. Ready for each of us to leave our mark, bringing what we uniquely bring.
Let's go define what it means to each of us. Whatever that may be.