Can you believe 2022 is around the corner, already?
You'd be forgiven for thinking we'd reached the peak of our PMM powers this year; after all, we well and truly delivered in 2020 - where could we possibly go next?
Answer? With a whole bunch of features, events, and products unleashed in 2021, we've continued our ascendancy and reached even greater heights.
Before we delve into the nuts and bolts of what's been keeping us busy this calendar year, let's put our hands together for…
💁🏻‍♂️ Richard King
👩🏻‍💼 Bryony Pearce
👨🏼‍🦲 Lawrence Chapman
👧🏻 Charley Gale
❤️ The PMA team
And of course, every member of the product marketing community - you're awesome. 👏
So, let's cast our minds back to the early stages of the year and check out what went down…
---
February
Product Marketing Rendezvous
In our first event of the year, we held three days of incredible presentations, expert-led discussions, and recruitment matchmaking featuring industry specialists from the likes of Microsoft, LinkedIn, Uber, and a whole lot more.
It was an epic event, brimming with insights, and the best bit? You can relive every minute with our On-Demand service.
Relive the Rendezvous
Narrative Design Certified
This year, we've launched a whole bunch of certifications, starting with Narrative Design Certified.
We recruited narrative design expert Marcus Andrews, Director of Product Marketing at Pendo.io as the instructor for the self-paced course, and delivered a whole bunch of features to help you design your company's narrative with aplomb, including:
💻  3 modules
📖  23 chapters
✅  57 exam questions
🖋 2 activities
⏰  3 + hours of content
🥇  Official certification
And the certifications in Feb didn't stop there…
Persona Certified
We went one step further and popped together a pulsating Personas Certified Course designed to help PMMs the world over create, build, and deliver awesome personas
Built alongside product marketers from companies like G2, IBM, and Freshworks (to name a few 😉), we flexed our PMM muscles and pulled out all the stops to design a course offering a thorough insight into the key components needed to elevate the standards of both you, your product, and your colleagues.
It's the ideal way to help you perfect your personas - if we may say so. 🔥
---
March
State of Product Marketing Leadership 2021
You know it, they know it, we all know it: we live for kick-ass reports here at Product Marketing Alliance.
So, when the time came to sit down and write the maiden report of the year, we were thrilled to put pen to paper (or fingers to keyboard - you get the picture) and start writing the State of Product Marketing Leadership 2021.
The first report of its kind, the report honed in on the thoughts, opinions, and verdicts of more than 300 product market leaders, spanning companies of all shapes and sizes.
Suffice it to say, it was a real page-turner.
Product Marketing Learning Paths
We love equipping PMMs with the skills they need to ascend the product marketing ladder.
So, we sat down at PMA HQ and unleashed the first of our Product Marketing Learning Paths, exclusive, members-only weekly learning programs designed to support PMMs in enhancing their understanding of key principles and continuing with their professional development.
(Spoiler alert: There was much more on this as the year unfolded… 👀)
Segmentation Certified
As a famous hip-hop trio famously said: "three, is the magic number".
Following the release of Narrative Design Certified and Persona Certified,  we picked up the phone, called our good friend Tamara Grominsky, VP of Strategic Growth at Unbounce, and turned our attention to turning a delightful double into a tasty trio, with yet another certification: Segmentation Certified.
---
April
Customer Marketing Summit
We teamed up with speakers from heavyweight brands such as Slack, Zendesk, Adobe, Dropbox, and more, to bring you the Customer Marketing Summit.
---
May
Product Marketing Toolkits
We get a real kick out of making the lives of global PMMs a little easier.
So, we bundled a bunch of our members-only content into Product Marketing Toolkits, handy packs to help you prep for your next big project.
Got a positioning overhaul on the horizon? Know you need to upskill in sales enablement? Or planning for next quarter's product launch?
We went through our bank of resources and included presentations, templates, guides (and more!) to help you hit the ground running.
Sales enablement learning path
Told you that you hadn't seen the back of our learning paths. 😏
We added the sales enablement learning path to our selection of topics and shared a bunch of tried and tested tactics to help PMMs boost their credentials and arm their sales representatives with everything they need to succeed.
With first-hand tuition from the likes of Precisely, Shopify, LinkedIn, and Kompyte on the table, we'd say we hit a home run. ⚾️
---
June
48 Hours to Lead
With our flagship podcasts Product Marketing Life and Product Marketing Insider continuing to rake in the listeners, we added another podcast to our roster in the shape of 48 Hours to Lead.
Hosted by Josh Lory, Senior Director of Product Marketing at VMware, the show features career-changing insights to support you, your team, and help your products flourish within just two days.
Product Marketing Festival
Following the success of the 2020 Product Marketing Festival, we figured it'd be pretty rude to deprive the PMM community of a follow-up event in 2021.
So, we assembled 70+ product marketing specialists from the likes of Trustpilot, TikTok, Adobe, IBM, and Peloton, for an extravaganza featuring 40+ hours of stellar content.
Miss it the first time around? Get cozy and dive into a breadth of presentations right here, right now.
More learning paths…
We found ourselves veering back down the learning paths, switching our attention to positioning and messaging and go-to-market.
The former features a bunch of specialist content, including insights positioning leader April Dunford, and delivers a resource suitable for positioning and messaging stalwarts, as well as those new to the craft.
Our GTM resource features the likes of Amazon Web Services, Unbounce, Google, and Asana and features the info you need to orchestrate and execute a killer GTM program - it's the real deal.
Come to think of it, we're sure you wouldn't expect any less of us - right?
Product Marketing Certified: Leadership
Product marketers are an aspirational ol' bunch and many would earmark a leadership role as their main goal in their career.
To support PMMs in their quest for success, we released Product Marketing Certified: Leadership, a specialist course featuring insider knowledge needed to create a lasting, successful career as a product marketing leader - we're talking about insights from leaders at LinkedIn, Shopify, Unbounce, and more.
And when the ringing endorsements came flooding in, we were thrilled to hear our hard work had paid dividends:
"If you want to take your product marketing career to the next level, this is absolutely the course for you - bar none!"
Scott Bamford, Senior Product Marketing Manager at HotSchedules
You heard the man…
Go forth and conquer. ✊
---
July
State of Product Marketing Report 2021
Q: What do 2019 and 2020 have in common? 🤔
A: Both featured the State of Product Marketing Report, the most specialized PMM write-up on the market.
True to form, this year, we surveyed hundreds of PMMs from around the world from various levels of seniority, product type, company size, the lot, to deliver the State of Product Marketing Report 2021 - and it was our most comprehensive report yet. 📖
The Godfather, Nolan's Batman, Lord of the Rings - there are a whole bunch of trilogies that are impossible to hate.
Now, there's another to add to the list. 😎
Developer Marketing Summit
We braced ourselves for the adrenaline rush of delivering another event to the masses in the form of the Developer Marketing Summit.
Featuring insights from major players such as Google, TomTom, Gong, and RingCentral, the agenda featured 25+ experts discussing a bunch of insightful topics, including:
✅ DevMarketing & DevRelations - collaboration and ownership
✅ How to establish key personas and understand your demographic
✅ Compelling positioning & messaging for a technical audience
✅ Drive product adoption & brand awareness
✅ Curating a tech stack to deliver effective DevMarketing
We pushed the boat out - and then some. 🙌
Executive Membership Plan
By the end of 2021, 2,300+ PMMs had signed up for a membership plan.
Yet, being the perpetual innovators that we are, we went to the drawing board and unearthed the Exec Membership Plan, a platform geared towards facilitating personal and professional success for PMM execs.
And with the likes of Google, Slack, and Asana already reaping the benefits, it's the perfect pillar of support. 👌
"Guess who's back, back again…
…Learning paths are back, tell a friend."
(Please tell all your friends, we worked very hard on these!) 🙏
July was a busy month for the product marketing learning paths, with not one, not two, not even three new topics added. 😮
That's right, we added four topics for you to explore: competitive intelligence, personas, metrics & OKRs, and collaboration.
---
August
The Art of Conversation Report
The State of Product Marketing Report 2021 had just left the printers when we partnered with Gong and Chorus.ai for our next write-up: The Art of Conversation Report.
A PMA first, the report explored how revenue intelligence and conversation intelligence are influencing the future of product marketing functions all around the world.
It's the epitome of a page-turner.📚
Ready, Set, Go-to-Market
Did we mention we love podcasts here at PMA? 🙄
Well, we added another show to our growing podcast library with Ready, Set, Go-to-Market.
Hosted by Holly Watson, Senior Product Marketing Manager at Amazon Web Services, the pod explores the intricacies of the GTM process and features insights from PMMs plying their trade at the likes of Sprinklr, Fluvio, Epsilon, and GhostRetail Inc.
Pop in your AirPods - it's essential listening.
Storyselling
Still got those AirPods jammed in your ears?
Great - keep 'em where they are and tune into Storyselling, another red-hot podcast we launched during the summer months.
Hosted by Elliott Rayner, an expert in the storytelling craft, the show features insights from a range of product marketers who focus on the four stages of the storytelling process: the story, the speaker, the listener, and the response.
Adidas, ASICS, Gymshark, Capgemini - it's a stellar lineup, befitting a stellar show.

Product Marketing Festival APAC
Product marketing festivities should never be geographically segmented - correct? 🤷‍♂️
With this in mind, we took the Product Marketing Festival to the APAC region and delivered a three-day spectacle that'll live long in the memory.
PMMs were treated to a string of expertise from the likes of Microsoft, PayPal, and Fujitsu across 20+ hours.
It was an event fit enough to rival any festivity.
---
September
Consumer and Market Research podcast
We teamed up with Vincent Xu, Product Marketing Manager at Google, to launch the Consumer and Market Research podcast.
The show focuses on the best practices, tips, and tricks to execute an effective consumer and market research process.
To Team or Not to Team
Product marketing team structures vary from company to company - and we wanted to explore exactly how different team structures are.
In To Team or Not to Team, host Div Manickam, Director of Product Marketing at SpotMe, focuses on the ins and outs of how product marketers structure their respective product marketing teams.
PMA Scholar Program anniversary
In September 2021, the PMA Scholar Program celebrated its first birthday! 🎉
A program made possible by Appcues, the PMA Scholar Program has been a resounding success this year, with a total of four intakes in 2021, totaling approximately 100 students, with one of the intakes catching the eye of a major sponsor.
We're sure it goes without saying, we're extremely excited to see what 2022 has in store for the program.
Customer Marketing Summit
Customer marketing plays a significant role in your product marketing strategy, so we arranged the Customer Marketing Summit, an event dedicated to supporting PMMs drive revenue growth via customer advocacy.
With 20+ industry-leading speakers and 14 expert-led sessions, featuring the likes of Facebook, Toast, and Dropbox, it went down a treat.
---
October
Mastering Product Marketing
Every product marketer dreams of becoming the best in their field, an expert, a master.
In October, Mastering Product Marketing hit the virtual shelves, featuring 15+ gold-standard courses to help PMMs refine every element of the craft.
With courses delivered by experts from the likes of Dropbox, Pendo, and Unbounce, you're in very good hands.
Competitive Intelligence Certified
Every product marketer should be able to face their competition with confidence and compete in their respective markets.
In October, we launched Competitive Intelligence Certified to our growing bank of certification programs to equip you with essential CI skills, including how to:
✅ Build a tech stack for competitive intel
✅ Conduct win/loss and primary research
✅ Visualize your competitive position with a market map
✅ Enable sales and customer success to deliver crisp competitive positioning
✅ Bring CI to the table in strategy and product decision
Product Marketing Awards 2021
Following an awesome response and hundreds of nominations, the Product Marketing Awards 2021 reached its conclusion.
We whittled down the nominations, put together a shortlist, and selected the lucky winners across a bunch of awesome categories.
'Cause let's face it: if there's one community deserving of a moment in the spotlight, it's the product marketing community. 🏆
Masters of Product Marketing

"When the student is ready, the Master appears."
Heard this Buddhist proverb before? Nope, we hadn't either (thanks Google 👍).
Irrespective, we dedicated three days to help you elevate your product marketing leadership to greater heights with guidance from (you guessed it), the Masters of Product Marketing.
And boy, did we deliver the Mother of all line-ups, with leaders recruited from the likes of Wix, LinkedIn, Facebook, Audible, and Calendly.
Check it out - seeing really is believing. 👈
Sales Enablement Landscape Vol.2
Given the rip-roaring success of the Sales Enablement Vol.1, we put plans in place to publish a much-coveted sequel: the Sales Enablement Landscape Vol.2.
And we'd be inclined to say we surpassed 2020's effort, surveying 250+ product marketers from globally recognized brands like LinkedIn, Adobe, Amazon, Google, and TomTom, offering an in-depth exploration of everything you need to know (and more) about sales enablement.
Product Marketing Careers podcast
As fully-fledged advocates of auditory entertainment, we delivered our sixth new podcast to the year masses: Product Marketing Careers.
Hosted by Al Dea, former Senior Product Marketing Manager at Salesforce, the show features esteemed PMM pros who share insights into their PMM journey, practical advice, and tactical career guidance on how to flourish in the product marketing field.
The perfect accompaniment for PMM Hired, the pod's already going from strength to strength, with Al welcoming guests from the likes of Peloton, Gong, and Adobe.
---
November
Competitive Intelligence Trends Report 2021
November marked 2021's installment of the Competitive Intelligence Trends Report.
Sponsored by Klue, the write-up is a comprehensive exploration of key CI topics, and with hundreds of downloads (and counting) in the bag, we've already helped PMMs uncover a range of topics, including:
👀 The ins and outs of competitive intelligence,
👀 Best practices for sharing intel with colleagues and teams,
👀 Which teams are being entrusted with completing competitive intelligence, and
👀 Actionable CI tips from experts who've been there, done it, and are flexing the CI shirt.
Product Marketing Summit | London
We love nothing more than arranging an old-fashioned PMM shindig and seeing you all face to face.
So, it was extra-special when we got the thumbs-up to host the Product Marketing Summit | London after a difficult 18-months.
We moved heaven and earth to make up for lost time, with the likes of April Dunford, Meta, Expedia Group, Sage, and more, taking to the stage and sharing their insights.
The response was mind-blowing. ❤️
Product Marketing Tools of Choice
"Give me the tools, I'll do the job."
We've all heard someone say that at some point - product marketer or not.
So, we enlisted the support of 2,000+ PMMs who shared their go-to-gizmos when they've got a job that needs to be done and listed 270+ tools in the updated version of the Product Marketing Tools of Choice.
Product Marketing Leaders: Fellowship
The 2021 Product Marketing Salary Survey revealed 44.2% of PMMs want to stay at their company and progress in their role, with many undoubtedly casting an eye toward a C-suite position.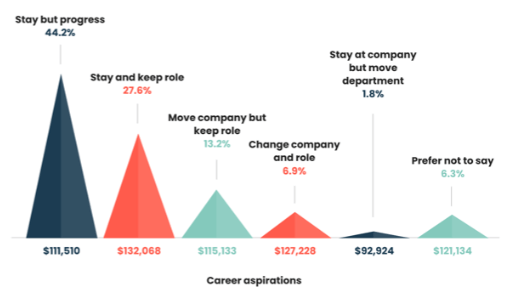 In November, we launched Product Marketing Leaders: Fellowship, an eight-week program with one aim, and one aim only: to empower product marketing leaders of today to become C-suiters of tomorrow.
A double dose of certifications
With five Masters certification courses already in the bag, we didn't lose our appetite to deliver more expertise.
We joined forces with Lauren Culbertson, CEO, and Co-Founder of LoopVOC, and added Customer Research Certified to our bank of resources.
And we didn't stop there - no siree.
Bree Bunzel, Head of Global Customer Marketing at Dropbox stepped in front of the camera and shared her must-have insights and experience for Customer Advisory Boards Certified.
Insider Membership Plan
November marked the release of the Insider Membership Plan, our freemium plan accessible for each and every member of the PMM community.
That's right - we're not deceiving you. 😏
We served up a royal slice of product marketing paradise and delivered templates, frameworks, exclusive content, OnDemand presentations, and reports, featuring insights from heavyweights from the likes of Adobe, Google, LinkedIn, IBM, and a whole lot more.
Head to your Insider Membership dashboard and unlock a raft of features.
---
December
Product Marketing Trailblazers
We rounded off 2021's event calendar with Product Marketing Trailblazers, a celebration of industry innovation.
With 25+ trailblazers and 20+ hours of pioneering content, the event played host to the world's most forward-thinking practitioners from the likes of Google Cloud, Amazon, IBM, and Soundcloud.
Product Marketing Salary Survey 2021
In 2019 and 2020, our annual Product Marketing Salary Survey lifted the lid on potential PMM earnings - and they went down like a house on fire.
December saw the return of the popular report, with three versions released exploring earnings globally, in the US, and Europe.
2021's Top 100 Product Marketing Influencers
Sure, we're somewhat biased, but in our eyes, PMMs are the superheroes in many companies and deserve to be recognized for their endeavors.
So, for the third year running, we held nominations, meticulously counted the votes, and rolled out the Top 100 Product Marketing Influencers report.
And with the new year approaching, we're taking nominations for our 2022 report now.
You know the drill…
The Goald Standard
With Christmas approaching, we treated the community to our final podcast launch of the year - and it's pure gold.
Every product marketer needs goals in place to track and measure their success. In The Goald Standard podcast, Scott Shapiro, Principal Product Marketing Manager at Qualtrics, and his guests discuss ways in which you can achieve and surpass your goals.
PMA Pulse
PMA Pulse is the ultimate seal of approval for vendors who are crushing it out there in the marketplace, identified by PMMs using the products day in and day out.
We spoke with the people in the know and identified the ultimate list of tools every PMM needs in their tech stack across five key categories: sales enablement, competitive intelligence, project management, customer onboarding, and customer and market research.
Product Marketing: Fundamentals
In December, we launched Product Marketing: Fundamentals, a trio of courses focusing on (you got it), the fundamentals of product marketing, positioning and messaging, and sales enablement.
Plus, we made the sweet news a whole lot sweeter, granting annual members 100% free access.
Don't say we haven't got you covered. 😏
Positioning Certified
This brings us to our final offering of 2021: Positioning Certified.
And we'd say we've brought the curtain down on 2021 in style - it's certainly piqued the attention of Igor Kranjcec, Head of Product Marketing at Mediatoolkit:
"I love how this course makes you think. Awesome insights and great explanations."
Ah shucks, Igor, you're making us blush. 🤗
And that's not all…
Phew - we didn't realize just how much content we'd brought your way this year!
Amazingly, additional exclusive content landed in the laps of our PMA members, including:
📝 26 templates and frameworks
🧠 36 exclusive articles featuring intel from leading PMMs
Once again, it's been a blast.
Bring on 2022!