Here at PMA, we love having our heads turned by a product launch that really packs a punch.

We know the enormous time and effort that goes into nailing a product launch and we want to give a big congratulations (and a PMA award) to those with particular product launch prowess.

That is why we are super excited to be awarding the Product Launch of the Year award today.

This category saw some fantastic, and incredibly detailed, nominations. We loved reviewing the awesome launches that have taken place over the last 12 months against a previously unimaginable pandemic backdrop.

Serious kudos to everyone involved.

However, we must crown one winner, and we are over the moon to confirm that the winner of the Product Launch of the Year award is...

🏆 Ryan Dillon-Curran, Sr. Director, Head of Cardio Product Marketing at Peloton 🏆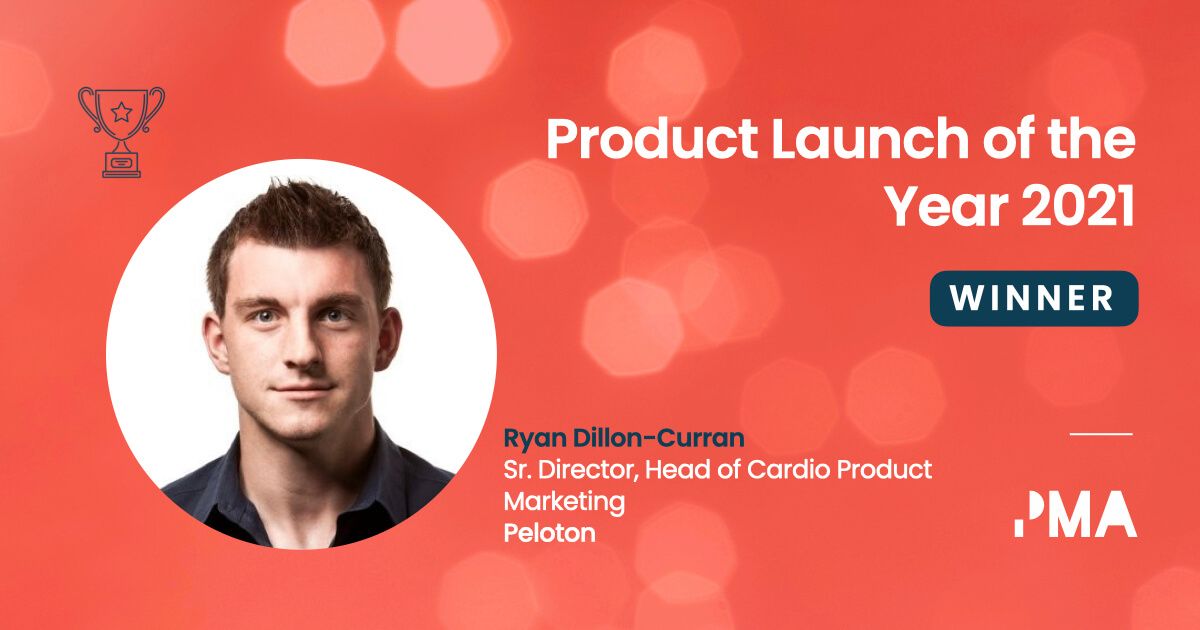 Ryan Dillon-Curran and the product marketing team at Peloton have been recognized for the 2020 launch of the Peloton Bike+, the first evolution of "the best cardio machine on the planet" originally released in 2014.

The aim: "To meet our consumers' need for an immersive, tech-forward experience that delivers on variety beyond spinning to sell more bikes and create more engaged members."

The challenge: "By introducing a more expensive version of a loved product, clearly landing the message was key to ensuring consumers understood the value the product could deliver. Once the product was developed our GTM was focused on driving education and awareness of the new features we'd developed."

The results: "The global launch took place in 4 markets (US, Canada, UK, Germany) and was one of the biggest marketing initiatives in Peloton's history. A 360 degree integrated effort across channels Press, TV, OOH, OLV, paid social, high-impact display, email, retail, and eCommerce ensured we drove early awareness and education of the product with our message landing well with the press, resulting in 415 stories and 9 billion impressions worldwide."

Wow, a true team effort to achieve global success.

Now to hear a few words from Ryan...

Huge congratulations again to all those who made the shortlist::

Yash Mahajani, Product Marketing Manager, Zuora
Gary Davis, Director, Product Marketing, Avalara
Cristine Kao, Chief Marketing Officer, ABC Fitness Solutions
Jodi Innerfield, Head of Product Marketing, Work.com, Salesforce
HARMAN Ignite Store, by Dvir Reznik, former Director, Product Marketing, HARMAN
Snorkel AI, by Devang Sachdev, VP of Marketing

Six awards down. Two to go.

But not just any two… join us tomorrow as we announce the Product Marketing Leader of the Year and on Friday as we crown the Product Marketing Team of the Year.

See you then!