Product launches are undoubtedly the most important opportunity for PMMs to flex their muscles, showcase their ability, and progress through the company.
How you plan your process pre and post-launch can make or break it.
Luckily, we spoke with Alex Virden, Senior PMM at EVERFI, who shared some stellar advice on how to put the correct processes in place for a product launch.
---
Q: What would you say is the most important aspect of a product launch - the one for which you absolutely can't allow the process to fail?
A: "The most important part of a product launch is the unsung here of all launches - the feedback loops you put into place. These will help avoid communication and process breakdowns and help you (the product marketer) shape and reshape the processes needed for a successful product or service launch.
So what do feedback loops look like? Collecting feedback during each stage could align with your product team's Agile environment with stand-ups and retrospectives. Or, it could be setting a time to meet and review, sharing out a survey, or simply having a "virtual" water cooler conversation with your launch team.
Not only do you collect valuable insights from these conversations that can help you tighten your launch processes, but you also build trust and a sense of community with each launch.
Below you'll see the stages of our launches at EVERFI.
Within each step, I set up check-ins and brainstorming sessions with my critical cross-functional team members which are Demand Generation, Customer Marketing, Impact & Education/Research, Product, Sales, and Sales Enablement to make sure I'm adjusting as needed based on internal/external feedback. Getting to market at EVERFI is genuinely a team effort and ensuring we're leaning into market demand/need is critical.
These feedback loops help ensure we deliver our products to the right market with the right messaging.
Post-launch, it's also super important to keep lines of communication open. Product Marketing is the central function to connect teams and open lines of communication."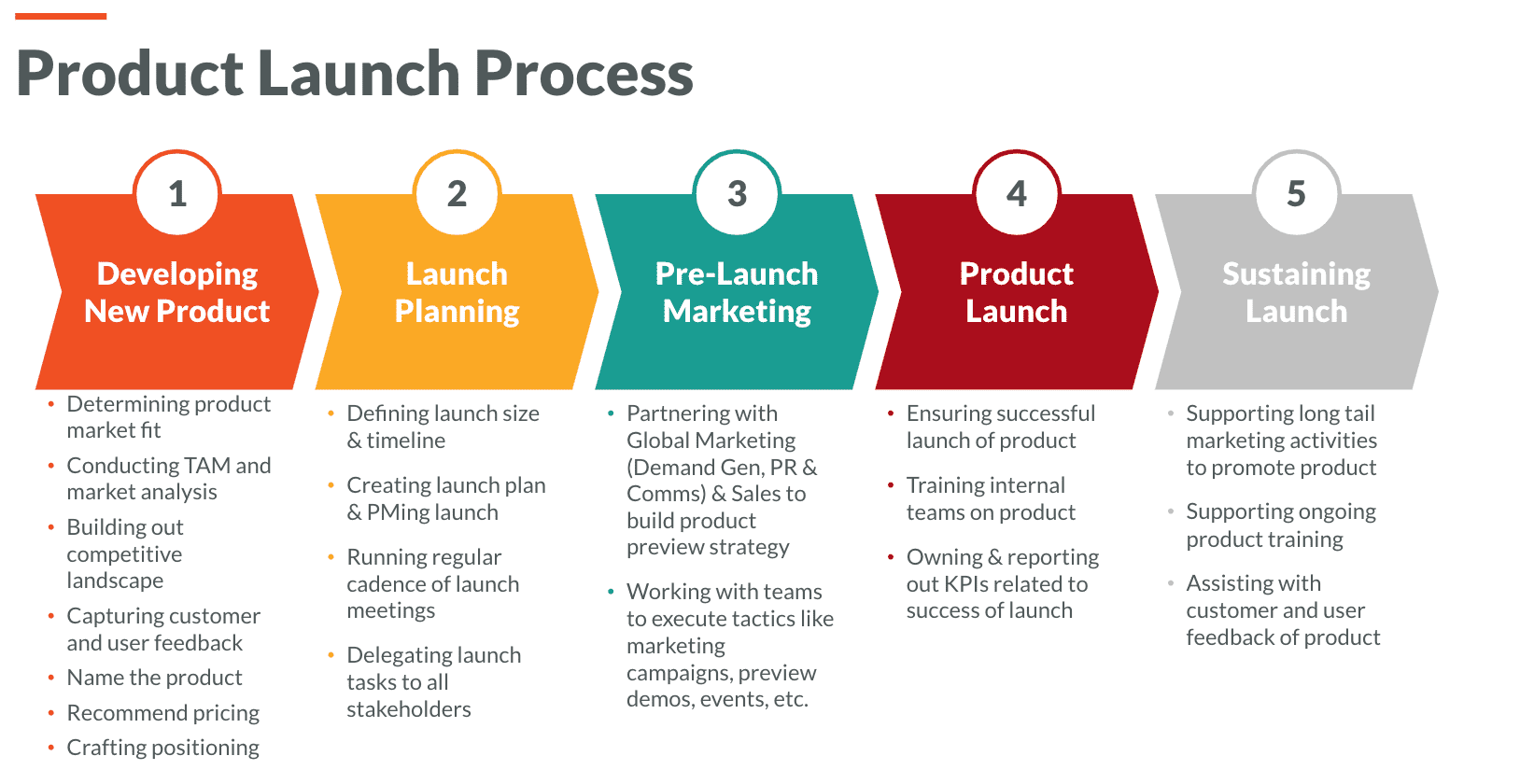 ---
Q: Has COVID-19 altered any of the processes you would usually put in place for your product launch?
A: "Yes, the "new normal" has changed some of the ways we launch products. Some examples -
Speed to market. EVERFI is a social impact/education company. We have products on topics ranging from workplace harassment to mental wellness basics to financial literacy. During this time, we've had to revisit our product roadmap and prioritize some product updates and launches to meet the needs of our learners, teachers, parents, and customers. We've learned how to better t-shirt size launches to get them to market faster.
Internal team training - because we are all entirely virtual, our training schedules on new features, products, personas, etc. have evolved. We host training, host office hours, and do recorded series on our sales enablement platform, Brainshark. This makes it easier for our teams to learn/understand the content when it works best.
Positioning - since we create products around critical topics, we've had to be a lot more aware of the ecosystems we're bringing our products into and how our external stakeholders will perceive them. Due to some current events in America where EVERFI is based, we've made entirely new courses to meet our learners and our customers' needs. Positioning our products has connected Product Marketing with Demand Gen, Customer Success/Marketing, and Sales so much more.
In speaking with other Product Marketers, it seems many are taking it week by week and quarter by quarter with what processes make sense to keep, to evolve, or to get rid of when it comes to launching."
---
Q: What has been your most successful product launch to date, and why?
A: "I recently worked on a product that was pretty exciting to bring to market and happened to recently be named a PMA Awards finalist for Product Launch of the Year.
The product is a 25-minute course that was developed and launched in 6 weeks to support US companies and colleges in response to the COVID-19 pandemic. It is designed for multiple learner audiences (college students and employees in multiple industries) and provides students and employees with practical guidance on how to protect their physical health, support their mental well-being, and work or study effectively onsite or offsite.
This training was designed for companies, non-profits, and institutions of higher education in the United States with separate content tracked for students and employees. The concept was approved on June 17th and the course was written and developed in 6 weeks, launching on July 31st, 2020.  All Go-to-Market initiatives took place in parallel with the product build. Our Go-to-Market included pre-launch sales initiatives, webinar campaigns focusing on key themes in the course, and product training for three of our four internal revenue teams.  Because this was a surprise addition to our product roadmap and launched in 30% of our typical build time all the work we had done to standardize product marketing processes and assets were put to the test, and product marketing became much more involved in the development of the course, attending daily stand-ups for course development and running a weekly Go-to-Market meeting.
In addition to the accelerated timeline, and developing marketing materials while the content was still being finalized, the most challenging part of this product launch was researching and tailoring product positioning for the course to the different audiences:
1) colleges looking for a back to school training for students,
2) colleges looking for a return to work/working remotely training for faculty and campus staff,
3) companies returning to the physical workplace,
4) companies continuing to work remotely
5) companies taking a hybrid approach because their business model requires in-person interactions with their customers (retail, healthcare, etc.).
Many things went into making this a successful launch. First, product marketing has worked hard to standardize and streamline our asset development process. Without this work, we would not have been able to work so nimbly, or seamlessly pull additional members onto this project as needed. Centralized folders, standardized templates, and a clear definition of roles allowed us to work quickly and nimbly, parallel processing asset creation alongside product development.
In terms of market reception, our speedy development of the course and its flexibility to support multiple learners and industries enabled us to really expand the potential reach of this course. Our subject matter experts have topics (mental wellness, public health, harassment prevention)  and industry expertise (legal/risk experts, etc.) informed by the content of the course and have been indispensable in helping craft industry-specific positioning for the course.
Here is an example of a press announcement put out by a customer about the course: https://attheu.utah.edu/facultystaff/mandatory-student-safety-course/"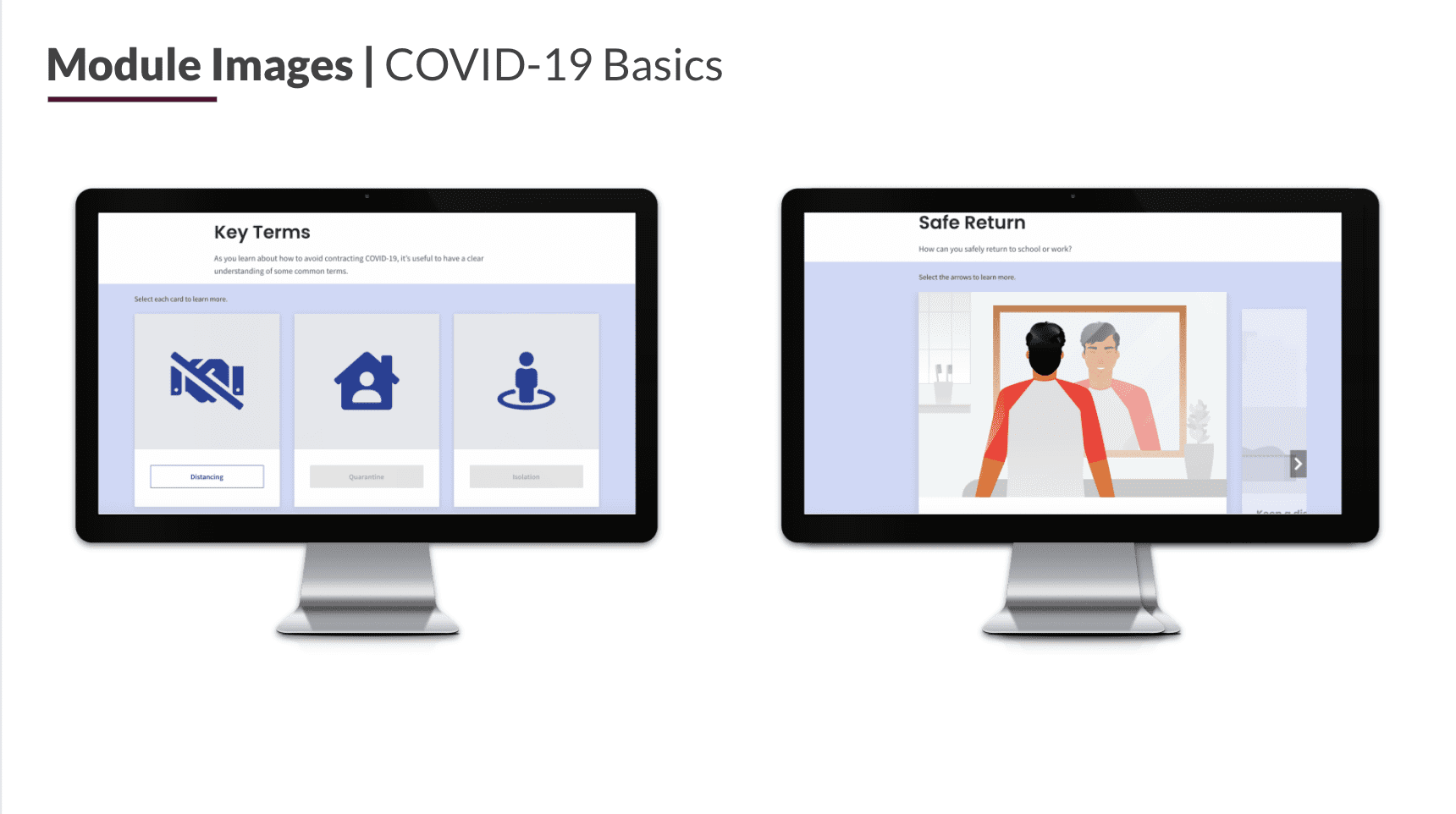 ---
Q: One thing I really struggle with is getting teams OUTSIDE of product marketing to stick to our processes. Do you have any advice/learning from how you've managed to get this alignment?

A: "Outside of putting feedback loops in place, I think what has helped me is project management tools like Trello, JIRA, and my launch spreadsheets.
My launch spreadsheets have:
the core team/goals in one tab,
resources/collateral linked in another tab, a final tab with each phase of the launch process, and
everything that needs to happen plus who is taking the lead, the due date, and a section for notes with a drop-down for progress (complete, not started, incomplete, delayed).
I use the spreadsheets for our bi-weekly/weekly pull-ups with launch team key leads, and we run down the task list and update it towards completion. These meetings have kept everyone on track and made sure there is accountability in all launch areas. It also helps that we keep these pull-ups as no bs. We discuss the tasks, blockers, and how to get everything needed for launch off the ground.
Additionally, leadership support has been immensely helpful from our product line owner to our VPs, and founders."
---
Q: During interviews, I've been asked questions about the processes for product launches. What do you look for in an answer, in terms of product launch process or best practices?
A: "I look for a couple of things in an answer.
A few questions I'm curious about are:
Do they have a process? Is it repeatable and scalable?
Did the product marketer own the process? If so, how did they maintain control, how did they t-shirt size the launch, what steps were they on the hook for, and how did they keep cross-functional teams on track?
If they didn't own the process, why? And what role did they play?
Are they thinking about the product launch in terms of data? What KPIs did they associate with the launch, and how do they understand if a launch is successful or not.
I believe product marketers are responsible for the following areas:
Compelling product stories based on the product's unique ability to solve buyer challenges & pain points.
Robust and insightful personas to educate the organization on buyer needs, motives, and challenges.
Collaborating with revenue teams to inform pricing strategies
Competitive intelligence in each area of the business and educating various functions on them.
The successful launch of all new products across the business through coordinating all launch efforts in addition to producing key product marketing deliverables for the new products.
So, I generally want a candidate to touch on different aspects of the above points when discussing launches (pre-launch, launch, post-launch). It shows me they understand the critical central and strategic role product marketing plays."
---
Q: What are some must-have products/tools to successfully manage and collaborate on product launches with cross-functional teams?
"Here are some of my favorite tools:
Competitive Intelligence - Crayon
Syncs into Salesforce has over 100+ data sources, is easy to customize, and is great for collaborating on competitors plus usage analytics.
Training - Brainshark
Easy to set up, can add in quiz questions, has usage analytics.
Project Management - JIRA/Trello
Great for collaboration, the kanban board is great for visualizing task progress.
Video Recording - Loom
Makes it easy to present more of the information and less of me - easy to edit/share.
Public Speaking/Presenting - Vodium
It helps me look at the computer camera.
Revenue Intelligence - Gong
Keeps me close to the ongoing deals without adding more meetings to my sales team calendar."
How to improve your Go-to-Market knowledge
Delivered by Yoni Solomon, Chief Marketing Officer at Uptime.com, Go-to-Market Certified includes everything you need to design, launch, and measure an impactful Go-to-Market strategy.
By the end of the course, you'll be able to confidently:
🚀 Grasp a proven product launch formula that's equal parts comprehensive, repeatable, creative, and collaborative.
🧠 Gain the expertise and know-how to build and tailor an ideal product blueprint of your own.
🛠 Equip yourself with templates to facilitate a seamless GTM process.