Establish your influence, authority, and strategic value with our brand-new offering: Advanced Product Marketing Certified.
Senior practitioners are constantly trying to strike a fine balance between product marketing strategy and industry tactics.
Both of these product marketing skills are critical to the professional development of any senior product marketer harboring hopes of thriving in their career.
Advanced Product Marketing Certified hones in on core topics through the perspective of a seasoned PMM, outlining how to tackle fundamental areas from positioning to team management - strategically and tactically.
What's more, the interactive nature of the course opens the avenue for tailored support from the leading lights in the world of product marketing.
Secure your spot and access real-world case studies, tried and tested frameworks, and proven methodologies from influential PMMs plying their trade at companies such as Peleton, Microsoft, and Visa.
Completing this course will help you:
🚀 Execute successful product/feature/market launches,
📝 Own GTM strategies at companies large and small,
💰 Keep products on the market by effectively owning the full customer cycle,
🎯 Balance tactics and strategy,
📈 Build + manage high-performing teams, and
🧠 Influence organizational decisions with their PMM prowess.
"PMA has been a lifesaver for me to level up my product marketing skills and grow in my role at my current company. There is a lot for product marketing to own or take part in and with that comes a lot of grey areas. PMA always has reliable information, templates, and examples to start your work from confidently."
Carly McCarthy, Senior Manager - Product Marketing at Greenlight Guru
Learn from industry leaders like...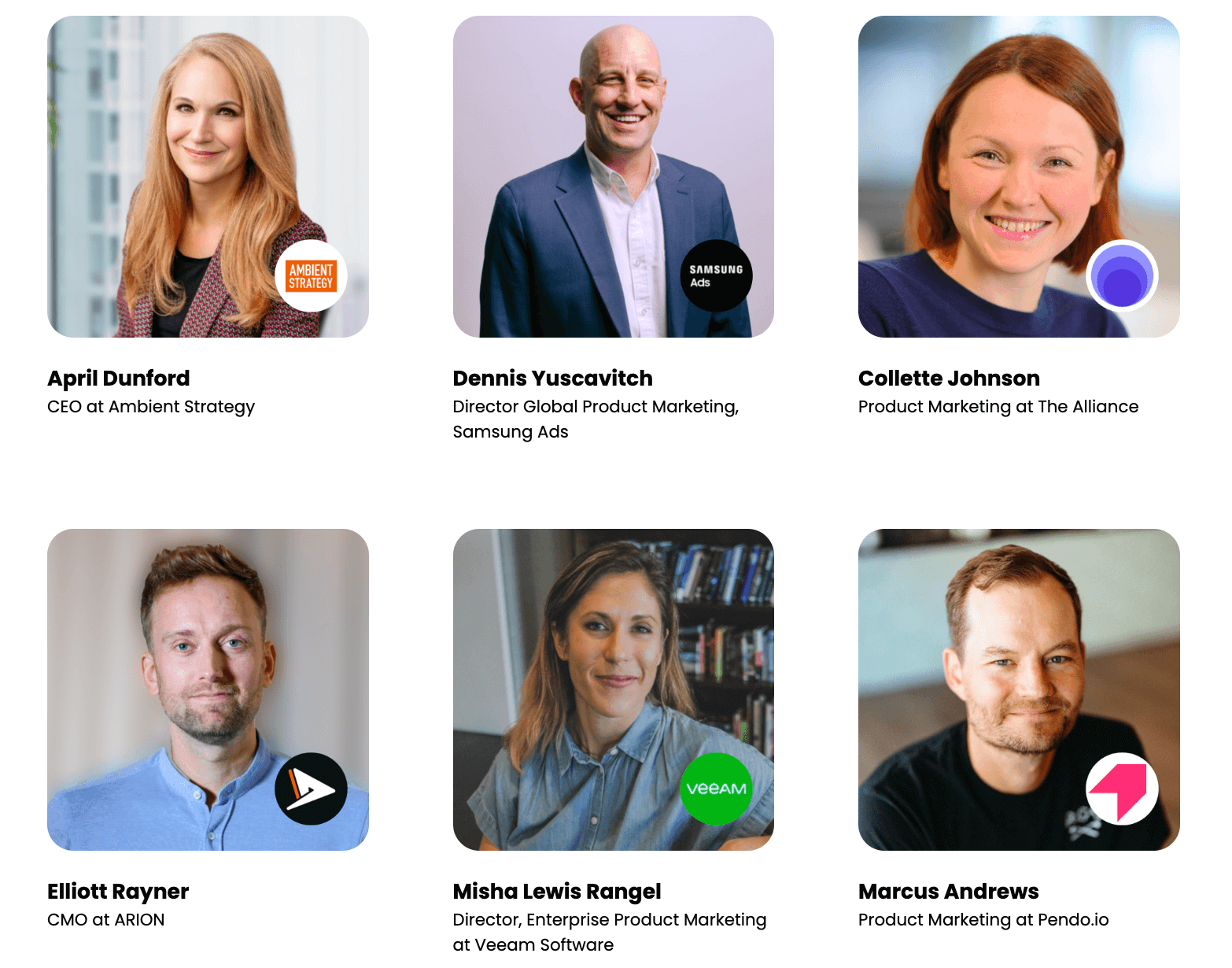 Trusted by some of the world's biggest brands

FAQs
Q: Who's this course for?
A: This course is for senior product marketers who want to propel their industry knowledge and enhance their career prospects by adopting a more strategic and tactical mindset to essential industry topics.
The certification consolidates, advances, and builds upon the day-to-day tactical implementation of the senior product marketing role, and trains participants to consider the strategic implications and long-term vision of their function and role, setting them up for the next stage in their career.
Q: How does the course work?
A: The course is 100% online and entirely self-paced. After enrolling, you'll work through the modules in chronological order and be invited to take part in activities.
At the end of each module, you'll be presented with mandatory exam questions and if you pass all these, you'll become Advanced Product Marketing Certified!
Q: How long will the course take to complete?
A: Of course, this will depend on you - you can dip in and learn as and when you please.
Q: What happens if I don't pass the exams?
A: If you fail the first time around you'll be given the option to retake the exam. If you fail the second attempt, unfortunately, it means you won't get the certificate.
However, all's not lost, you'll have still learned LOTS and be given access to the course materials for life - so you can brush up on the bits you slipped up on forevermore.
Q: How long will I have access to the course content?
A: For life! One, one-off payment gives you unlimited to all the course's content, plus access to updated features.
Q: I'd love to get my whole team certified, do you offer have any discounts?
A: Yep! All our team packages are bespoke to make sure they're tailored towards what you're after. Contact Tom Madden at t.madden@pmmalliance.com and let him know what you want, and he'll put a personalized package together for you.
Don't worry, we do team rates, too.
If you're looking to get a team of three or more PMMs certified, then speak to Tom about team rates at t.madden@pmmalliance.com.
P.S. If you need help convincing your boss, we've done the hard part for you. Just click here and use our convince the boss letter. 👍