Knowledge is power - it's cliche but it's true. You need to see some of the product team's content, the sales team needs access to your collateral, the content team needs both and stakeholders want everything, but, emails get overwhelming, folders get disorganized, and multiple tabs get confusing. Here are the tools fellow product marketers use to keep a system and everyone's sanity in place.
Check out PMM approved tools to improve your knowledge base and enhance productivity.There are a ton of awesome product marketing tools on the market. The great news? We have 200+ that have been vetted and tested waiting for you in our PMM Tech Stack.
---
Bloomfire
Bloomfire makes it easier for everyone in your business to access the information they need - product marketing, sales, customer support, finance, marketing, the lot. How? By centralizing everything into one spot so people can self-sufficiently find the knowledge they need - when they need it, all the while maintaining company-wide alignment, reducing time spent searching, and preventing knowledge loss.
Website: bloomfire.com

Cost:

"We actually used Bloomfire primarily as a content repository for a span. It worked well for searchability (parsing full PDF text, etc.) but required someone to manage it and keep it up to date. It's a pretty good all-in-one-place option for a small team supporting a larger sales team."
Alec Pinkham, Director of Product Marketing at AppNeta
---
Inkling
Inkling is all about empowering people with knowledge to drive performance. Inkling Knowledge makes creating content a piece of cake and comes with a searchable learning library and training material insights.
Inkling Learning Pathways builds engaging journeys and speeds up peoples' time-to-competency. And Inkling Collaboration connects the people on your frontline to the individuals and resources they need.
Website: inkling.com
Cost: not available online
---
DocSend
The name's a bit of a giveaway, but DocSend is all about sending documents - with a difference. You send everything (up to 250MB) via links, can switch off access at any time, receive real-time feedback, and have the option to protect your doc with email or passcode verification.
Website: docsend.com
Pricing:

---
Guru
Guru gathers all your organization's data - from the brains of your sales team to the words on your pages to the data in your platforms, unifies it, serves it up when people need it, and uses its learnings to continually refine who, where, what and when to deliver intelligence. That means less time looking for it, more time acting on it.

Website: getguru.com
Cost: All prices are based on annual billing (monthly isn't available)

"Guru's my favorite tool on the market for knowledge management. It not only documents the information, but it focuses on the easiest ways to share info both internally and externally.
"Guru integrates nicely with Slack and has a feature called a "knowledge alert" — so whenever new info's created (e.g. release notes, blogs, new messaging, etc.) that we want lots of eyes on, we can use a knowledge alert to have Guru send everyone a DM in Slack letting them know. Then, you can also use Guru as an accountability tool to make sure people are actually using this info."
Farhan Manjiyani, Technical Product Marketing Manager at Rev.ai
---
Notion
With Notes & Docs, a Knowledge Base, Tasks & Projects and Spreadsheets & Databases, Notion combines the likes of Airtable, Google Sheets, Trello, Asana, Jira, Confluence, Evernote and more into one.
Website: notion.so

Cost:

---
KnowledgeOwl
KnowledgeOwl helps you organize information better. Content is put into categories and subcategories, you can control access with security and authentication measures, custom articles and PDFs can be built and exported in-app, everything can be designed to match your branding, people can rate and comment on your content, and tags, autosuggest and search phrases make finding what you're after super easy.
Website: knowledgeowl.com
Cost:
---
Zendesk
Zendesk brings all your customer comms together - phone, chat, email, social or other - so you can improve a) agent efficiency and b) customer conversations, conversions, satisfaction and retention.
Website: zendesk.com

Cost: All prices are per agent and 'from'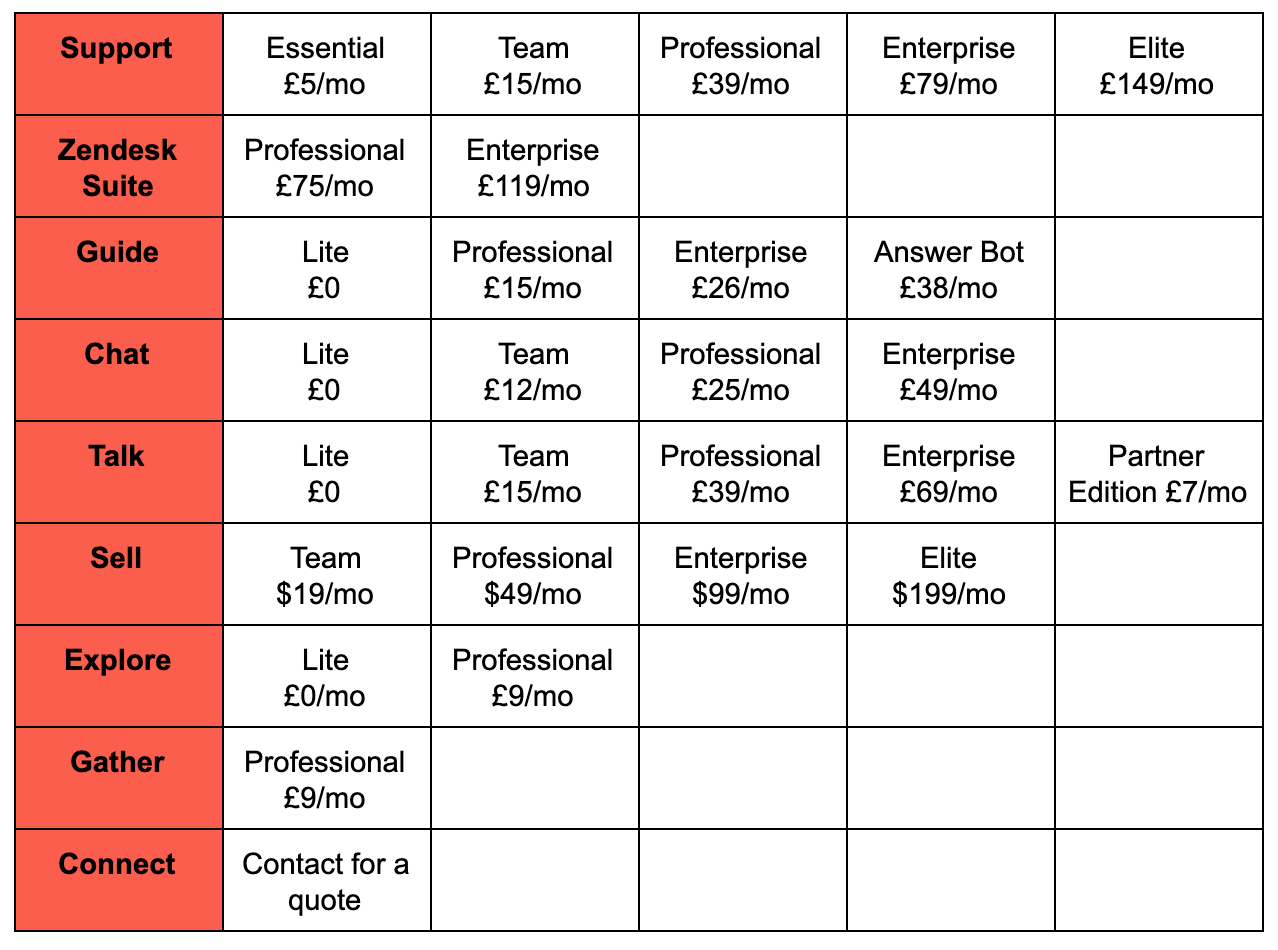 ---
Confluence
Confluence makes collaboration open and accessible to help teams create powerful pages, work better together, and stay organized. Whether it's your six-month marketing plan or product requirements, it's got templates to give you a kickstart and lets you group relevant pages, jointly edit, give feedback, and understand team decisions.
Website: atlassian.com/software/confluence
Cost: the more people you onboard the lower the price per-user, but here's a rough idea of what to expect for their Cloud plans:

With a bit of love (and lots of page tagging and other macros), you can organize information to create a wiki that works for your team. It's now where stakeholders go to look for information about customers, their workflows, and then repurpose those 'source materials' for demand-generation campaigns and sales enablement programs."
Angela Catalan, Director of Product Marketing at Nearmap
---
Tettra
Tettra amalgamates all your processes, policies, and procedures in one place so people can get their hands on what they need without moving tabs. Everyone can contribute, you control permission and editing rights, it comes with stats on your top-performing pages, you get notified when something's been updated, alerted when a page hasn't been refreshed in a while, and more.
Website: tettra.co
Cost:

---
Bynder
Bynder resonates with the struggles PMMs face in terms of bringing more products out - at pace - while maintaining content consistency and it bridges the gap by replacing messy folders, misused assets, and multiple locations with a single source for everyone.
On top of that, it enhances team workflows, promotes collaboration, enables smart permissions (so you can control who sees what), comes with brand templates, unlocks the data behind your content, and integrates with lots of leading apps.
Website: bynder.com
Cost: not available online
Head to our product marketing tools directory, where you'll find even more tools that'll help you refine your practice, iron out imperfections, and enhance your team.