We've been teasing you with pieces of information here and there but this post's here to officially announce our soon-to-be online Product Marketing Festival. 🎉⛺️

If this is the first you're hearing of it, here are some of the event's essential need to knows:

🗓 Takes place June 8th - 14th
🔥 50 product marketing powerhouses speaking
⏰ 25+ hours' worth of action-led presentations
⛺️ 11 stages covering key PMM topics
🌍 Some of the world's biggest businesses in attendance

Got a PMA membership plan? Great, you get free access to all areas!

1. Learn from some of the biggest and best companies around



Organizations like Google, Facebook, Uber, Amazon and more are huge for a reason. They recruit the best of the best and what they're doing's obviously working. But, day-to-day, getting your hands on their secret sauce isn't all that easy - especially if you're living at opposite ends of the world.

Well, #PMMfest eradicates all that. You don't need to be in the same room, timezone or even continent to learn from some of the world's leading product marketers.

2. Brush up on every product marketing area

Whether you want to hone in on your sales enablement skills, research approaches or positioning work, Product Marketing Festival caters to it all. Here's a breakdown of all the stages:

Product Marketing Core
Sales Enablement
Research
Metrics & OKRs
Personas
Positioning + Messaging
Go-to-Market
Competitive Intelligence
Onboarding
Analysis + Optimization
Pricing

3. Convincing the boss just got even easier

From costs to time out of the office, when you go to an event in-person, everything soon adds up. Not with a virtual event, though. You can dip in and out of all the acts before, during or after work and the best bit? You don't have to move an inch.

4. Find a price point that suits your budget

Whether you're looking to attend #PMMfest on your own or with a group, we've got packages to pick from.


We're not in the market for stating the obvious, but 25 shows for $99 equates to less than $4 a video. #bargain #whatareyouwaitingfor #itsnottoogoodtobetrue

5. Walk away with unlimited, actionable insights

Product marketing's a very, very busy role. There are always a million and one tasks to do and people to talk to, but when it's go, go, go all the time, finding space to think of new and innovative ideas to propel your product even further can be tricky.

Well, you guessed it, #PMMfest delivers those ideas to your doorstep. Literally.

6. Get help solving problems

As product marketers, a large part of our job's to solve our customers' pain points, but we have our own too, right? Whether you're a one-man-product-marketing-band or surrounded by PMM comrades, fresh perspectives can really help you see things in a different light and work wonders when it comes to finding remedies.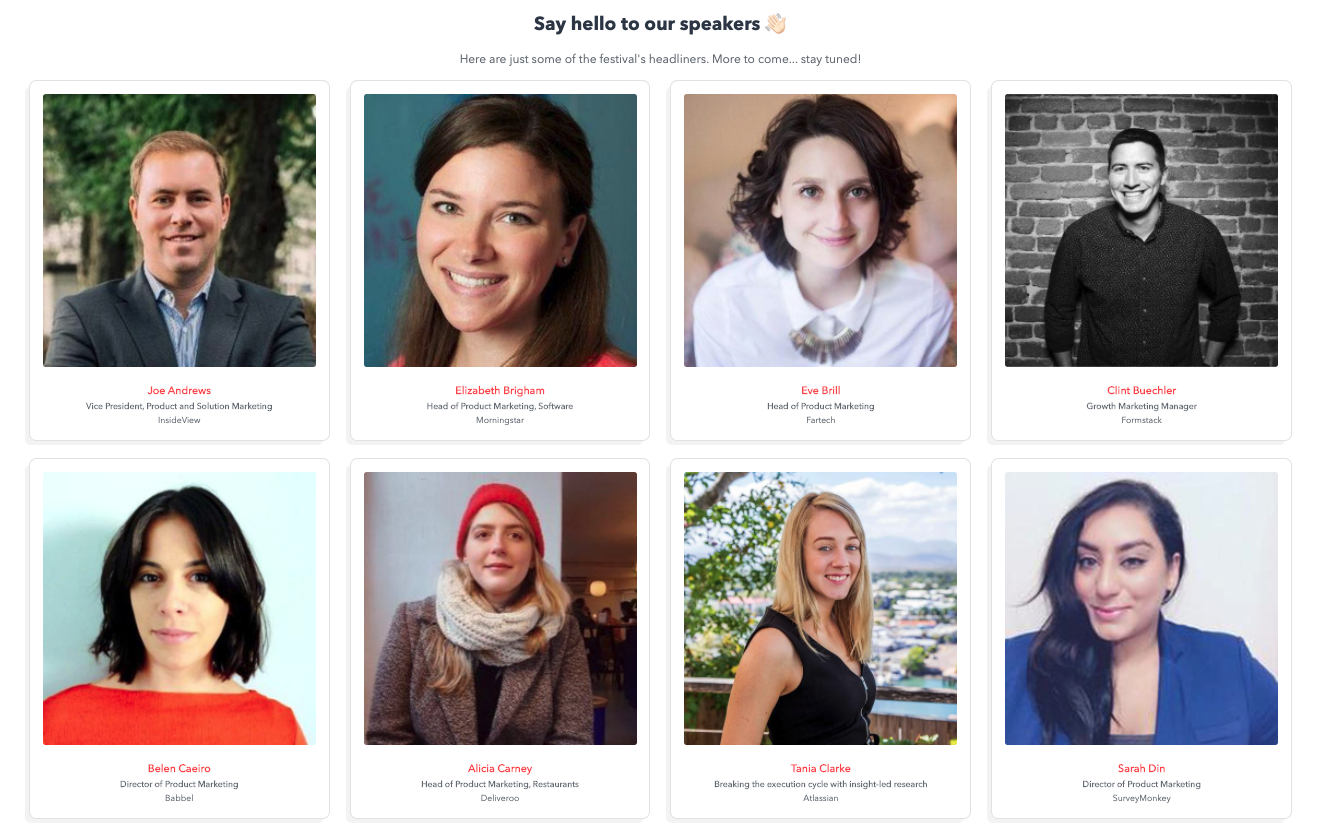 7. Bag yourself a nice discount

"I don't like getting money off." - said no-one, ever.

The tickets prices for #PMMfest are a bargain in themselves, but if you're in the market for another then tune into the webinars that tickle your fancy to be in with a chance of winning the hosts' giveaway.

8. Reap the rewards today, tomorrow, or even in 2021 🤷🏼‍♂️

If you opt for any of our paid-for packages, you'll be given access to the content for life. Yep, life. Binge-watch all the acts during the course of the festival or drip-feed the odd video into your weekly workload - the choice is yours.

9. Get your hands on tons of stuff like this...and more


10. Ask questions, get answers

Not a fan of putting your hand up to ask a question in front of a room full of people? Not a problem.

If you're hitting up a live act, you'll be able to ask questions there and then - behind the comfort of your screen, and get the answers you need to implement changes to your product, career and/or company right away.

Itching to know more? Awesome. Head over to the festival's grounds to explore all the above and more in detail.