According to the findings in our 2020 Sales Enablement Landscape report, 56.3% of product marketers reported that sales enablement was solely owned by marketing. However, 93.7% of product marketers were responsible for creating the sales assets at their company.
So let's delve a bit deeper into that percentage and find out:
Which sales enablement assets are most effective?
Arming your sales team with the right resources to convert leads can be trial and error, but the answer to this question was somewhat resounding.
78% of product marketers said that customer case studies were the most effective sales asset.
Yep, a simple customer testimonial outlining their exceptional user experience is all it takes to wield the most effective sales enablement asset out there.
Let's take a look at the results.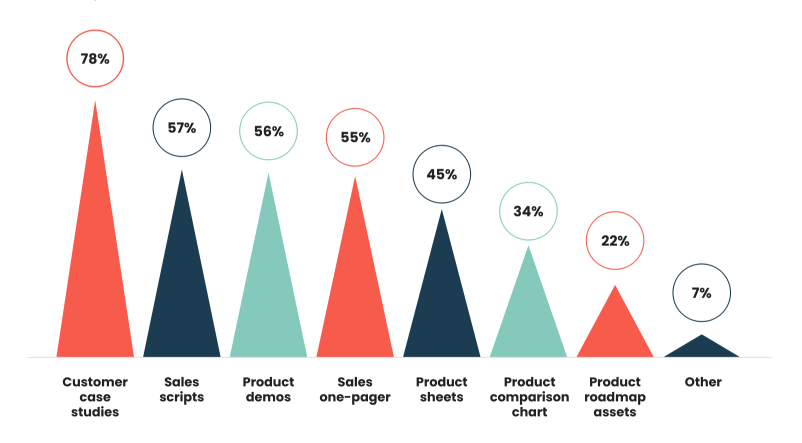 Surprised to see sales playbooks missing from the chart? Well, they've had quite a moment in the sun over the last year, so we dedicated a whole section to them.
SAP completed a recent study and discovered that the best-performing companies are nearly twice as likely to have sales playbooks, with this in mind we asked product marketers if they currently have a sales playbook in place, and were surprised to find that 55% answered no.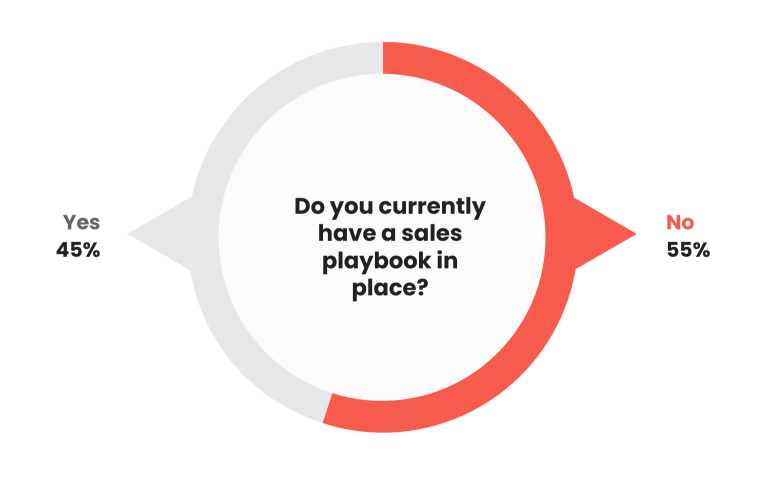 Here's why two of our PMMs surveyed don't currently have one in place.
"We don't currently have a playbook, this is simply down to competing priorities and the stage of growth at our company. We've always had informal sales playbooks, but we don't have a formally documented playbook that new hires can go to and refer back on. A sales playbook is definitely an important cornerstone for scaling growth — rapid growth. We had to ask what's the tipping point when the number of sales and business development reps becomes too large that we can't get away without a properly documented sales playbook? And when that tipping point will happen and how we make sure we get ahead of that." -
Vincent Lo, VP of Product Marketing, Klue
"We don't have a sales playbook, we cover the sales process through salesforce and we provide product information throughout collaterals and training material that is updated regularly. Because of our niche, salespeople know key accounts very closely bringing the product experts in the meetings and bypassing the handling objection parts. The process is disjointed because there is no central responsibility for sales enablement."
Silvia Kiely Frucci, Senior Product Manager, Wilmington Healthcare
For Zachary Fox, having a sales playbook in place gave product marketing some credibility with the sales reps.
"For sales teams like ours that aren't entirely used to working with product marketing, a sales playbook helps us make official key items like the core pitch and persona profiles and pitches. This is important because many salespeople wouldn't necessarily use what we give them, but when it's part of the sales director-approved playbook they see it differently."
Zachary Fox, Director, Product & Customer Marketing at RD Station
How do product marketers organize their sales content?
Content is king! And according to Hubspot 95% of buyers are more likely to choose a business that provides them with plenty of resources to help navigate them through each stage of the buying process.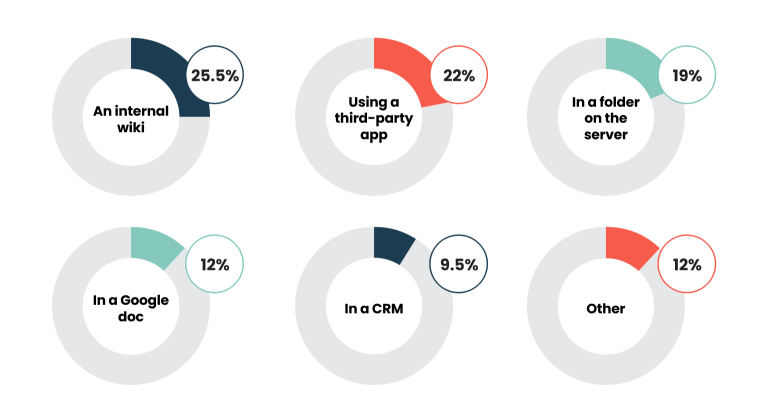 We delved deeper into the data to find out how content was organized by team-size and found that smaller teams mostly used 'folders on the server'. Medium-sized teams favored third-party apps and larger teams preferred to use internal wikis to organize sales content.
🏅
Enroll in
Sales Enablement Certified
and gain key knowledge needed to launch powerful sales enablement programs.
Join highly-distinguished sales enablement expert Sapphire Reels, and discover how to:
👊 Convey the importance of sales enablement and sell it to key stakeholders.
🔥 Design a sales enablement program from scratch in line with business objectives and sales needs.
🚀 Launch and iterate on sales enablement programs.
🤑 Communicate the impact of sales enablement on the business and revenue generation.
Refine your strategies
Top 10 sales content tools
So, we've touched on tools for organizing sales content, but what about sales content tools?  
Well, we asked 406 product marketers what their favorite tools are to track usage, aid accessibility, or provide support by dissecting sales calls.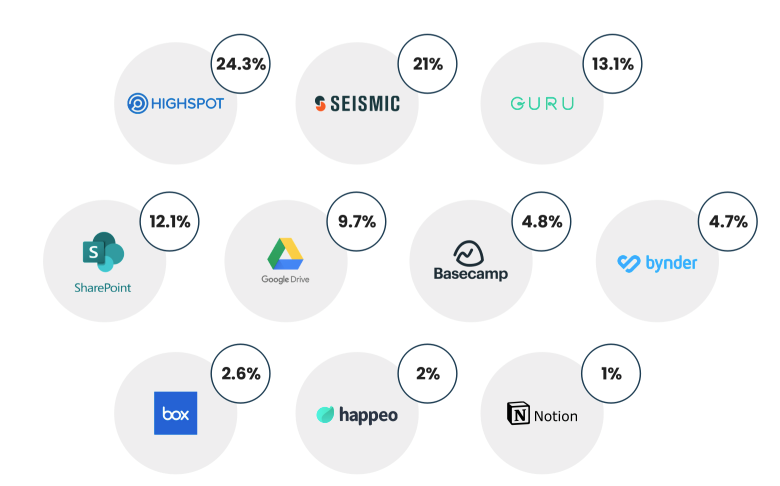 There are plenty of recognizable names in the top 10, and it probably won't come as a surprise to most PMMs that dedicated sales enablement platform Highspot took first place.
Sales enablement global giant Seismic lived up to its tagline, landing at number two, just shy of a few votes to take the top spot.
If you're looking for a more comprehensive breakdown of sales enablement tools, check out our recommended sales enablement tools, complete with description, pricing, and company URL, all vetted and approved by the PMA community.
So there we have it, sales enablement will always be a big part of the product marketing function and content will always be king, no matter what your sales enablement team structure looks like.
Craft that killer content and they will come (customers and sales reps).
Are your favorite tools listed?