Previously in How I Got My Job, we spoke with Jennifer Bunting, Head of Product Marketing for EMEA & LATAM at LinkedIn.
This month, we caught up with Francisco Bram, Head of US & CA Marketing and Global Product Marketing, Uber Eats.
With restaurants forced to intermittently close their doors to diners due to the COVID-19 pandemic, there's been an upsurge in the popularity of delivery services, with food delivery apps' business increasing by more than double.
Uber Eats is amongst the leading companies reaping the benefits of the shift in food delivery demand, with the company revealing revenue figures of $1bn in the three months to September 30th, an increase of 124% when compared to 2019.
Francisco Bram plays a fundamental role in the company's marketing and product marketing, and here, he lifts the lid on How He Got His Job.
In this article, he'll reveal:
His route to his role at Uber Eats
His roles and responsibilities at the company
How product marketers can follow in his footsteps
---
Francisco Bram, Head of US & CA Marketing and Global Product Marketing, Uber Eats
Francisco Bram has more than a decade of global marketing and strategy experience and a proven track record of delivering commercial success through the design and execution of marketing strategies.
During his career so far, he's worked at leading companies in their respective industries Uber and Siemens, launching thirty game-changing products globally.
A product marketer who considers customer obsession to be part of his DNA, Francisco is a versatile practitioner, honing his skills in both B2B and B2C markets.
Wanna hear How He Got His Job?
Let's get started…

---
Francisco's journey to Head of US & CA Marketing and Global Product Marketing
What was your dream job growing up?
My dream job growing up was to become a film director. I was always fascinated by the magic, the emotions, and lasting memories that great films have in your life. I've always admired the directors' talent and artistic vision in translating a script and bringing it to life through imagery, special effects, acting, dialogue, and soundtrack.
Does your current role resemble what you wanted to do growing up?
In many ways it does. I work with talented engineers and product managers that design the blueprint, tech stack, and roadmap for a portfolio of solutions, and just like a film director, it is my job to translate those and bring them to 'life', in this case, to market.
As product marketers, we need to translate technical specifications into a compelling, memorable, sometimes emotional storyline through the use of imagery, dialogue, and content.
How did you get into product marketing?
Through storytelling. I started my professional career in Corporate Strategy dealing with a lot of complex M&A models, forecast plans, and data analysis.
One thing I always excelled at was giving data a soul through storytelling, which eventually captured the attention of the VP of Marketing at Siemens at the time. He convinced me to give product marketing a try. He was sure it would be the perfect area for me to leverage my data skills, passion for storytelling and launch customer-centric innovations. He was right!
What challenges did you face en route to securing your role at Uber?
Uber is an incredible company with a fast-paced environment that embraces risk-taking, makes bold bets, and has a culture grounded on clear values such as customer obsession, and employee empathy. To secure a job at Uber you have to be able to demonstrate that you can live up to these cultural norms.
When I interviewed with Uber, not only did I have to prepare for behavioral-type questions but also prepare a portfolio of my work and respond to a case/exercise to evaluate if my thought process is compatible with Uber's principles. The good news is that if you live up to the principles of product marketing, you'll surely have plenty of examples to share that will align with most if not all company values.
With the power of hindsight, is there anything you'd do differently?
If I could travel back in time, knowing what I know today, I wouldn't have done anything differently but I would have tried to feel differently and enjoy more of the ride.
Driven by our ambition and desire to succeed, we often tend to give too much air time to our concerns, angst, or even anxiety, forcing us to work extra hard to ease some of those fears.
As a consequence, we are left with little time to enjoy the ride, celebrate the little wins, and be grateful for the journey. My advice to product marketers is: enjoy the ride and find time to celebrate each moment along the journey.
---
Francisco's role as Head of US & CA Marketing and Global Product Marketing
What does your role entail?
My role has evolved since I first joined Uber, from managing the global product marketing team for Uber Health, Uber for Business to Uber Eats.
At the time of this post, I was leading the global product marketing team for Uber Eats, Merchants, and the US&CA Growth marketing team.
As the team head, I act as a player coach. As a coach, I set the overall strategy for the year, define the core themes and KPIs for my team and as a player, I also own a product portfolio where I am responsible for the launch and success of each product.
If you had to explain your job to someone with zero knowledge of product marketing, how would you explain it?
Product marketing is the process of taking the right product to the right market with the right narrative to the right audience and at the right time.
More specifically, a product marketer is the voice of the customer, helping organizations uncover insights that can inform product and marketing plans. They are the conductor of a go-to-market strategy and the quarterbacks of a product launch.
Do your family members and friends understand what you do?
I've been trying to educate them. Some know I am in marketing and I like to tell stories for a living, others think I drive people around.
How is your product marketing team structured? Has this changed since you entered the role?
I am a firm believer in building a customer-centric team, starting with their job titles, followed by the portfolio they manage.
When I first started, my current product marketing team was structured in a very product-centric way. Each product marketer owned a combination of products in various industries or with several different types of customer segments. Each time the product team was ready to launch a new product, the product marketer that had the most bandwidth would take that product on and own it going forward.
My first step when I took over this team was to understand our customer journey. What are all the different touchpoints with our portfolio, when do certain products come into play, and to whom?
Once I was able to understand this journey, I restructured the team, redefined product portfolios, and even changed their titles. For example, when a merchant is deciding if they want to partner with UberEats, they first need to decide what type of service they need, afterwards, they need to get onboard to all our platform features.
After onboarding, merchants need to start building their brand on Uber Eats through ads or promos. Once they've built their brand, they need to build customer relations and retain their top diners.
Knowing this journey, I created four new PMM roles/titles, each with a portfolio of products of about 3-5: PMM for Merchant Services, PMM for Merchant Onboarding, PMM for Merchant Marketing, and PMM for Merchant Customer Relations. Now each PMM can start to bundle complementary solutions and create a thematic campaign targeting customers at the right time in the buyer journey.
---
Francisco's top tips
What would be your advice to an entry-level PMM aspiring to emulate your success?
Fight for your customers. A lot of times, PMMs will face the dilemma of supporting internal goals vs meeting external customer needs.
No matter what, always represent your customer interests, be their voice internally. It may make you feel uncomfortable, possibly even create some short-term friction with peers but this won't go unnoticed with senior leaders, and over time you will build a credible reputation for championing customers.
You will start to have a bigger voice at the table, helping polish product roadmaps, weighing in on strategic partnerships, and helping prioritize what new verticals to enter next.
These are the stories and experiences that will position you as a customer-obsessed product marketer helping you get promoted or nail that next job interview.
What advice would you give to a product marketer plying their trade in the current circumstances?
Get even more involved in the PMM community. Join online conversations, webinars, talks, send a LinkedIn message inviting a fellow PMM to a virtual coffee chat. You will be surprised by how much you can learn and teach others via informal conversations.
Whatever challenges you may be facing, you're not alone, others are facing the same or similar challenges and they may already found a solution. Your fellow PMM is your greatest source of learning.
What qualities are needed to succeed in your role?
Successful product marketers are both right and left-brained. Thus, they need a combination of hard skills and soft skills to excel in this role.
The most important hard skills are market sizing and segmentation, narrative design, creating a go-to-market strategy, and building a measurement plan.
In addition to these hard skills, they must possess soft skills to rally teams behind their ideas. These soft skills are passion, adaptability, cross-functional collaboration, prioritization, and executive presence.
Take a look at the blog post I wrote on "What Makes a Great Product Marketer".
In terms of extra-curricular activities, can you recommend any product marketing books/podcasts?
Here are my recommended books and podcasts for any aspiring product marketers:
Books
Building a StoryBrand: Clarify Your Message So Customers Will Listen by Donald Miller
Pre-Suasion by Robert Cialdini
The Tipping Point by Malcolm Gladwell
Start with WHY by Simon Sinek
Positioning: The Battle for Your Mind by Jack Trout and Al Ries
Eat Your Greens by Wiemer Snijders
Product Marketing Debunked: The Essential Go-To-Market Guide by Yasmeen Turayhi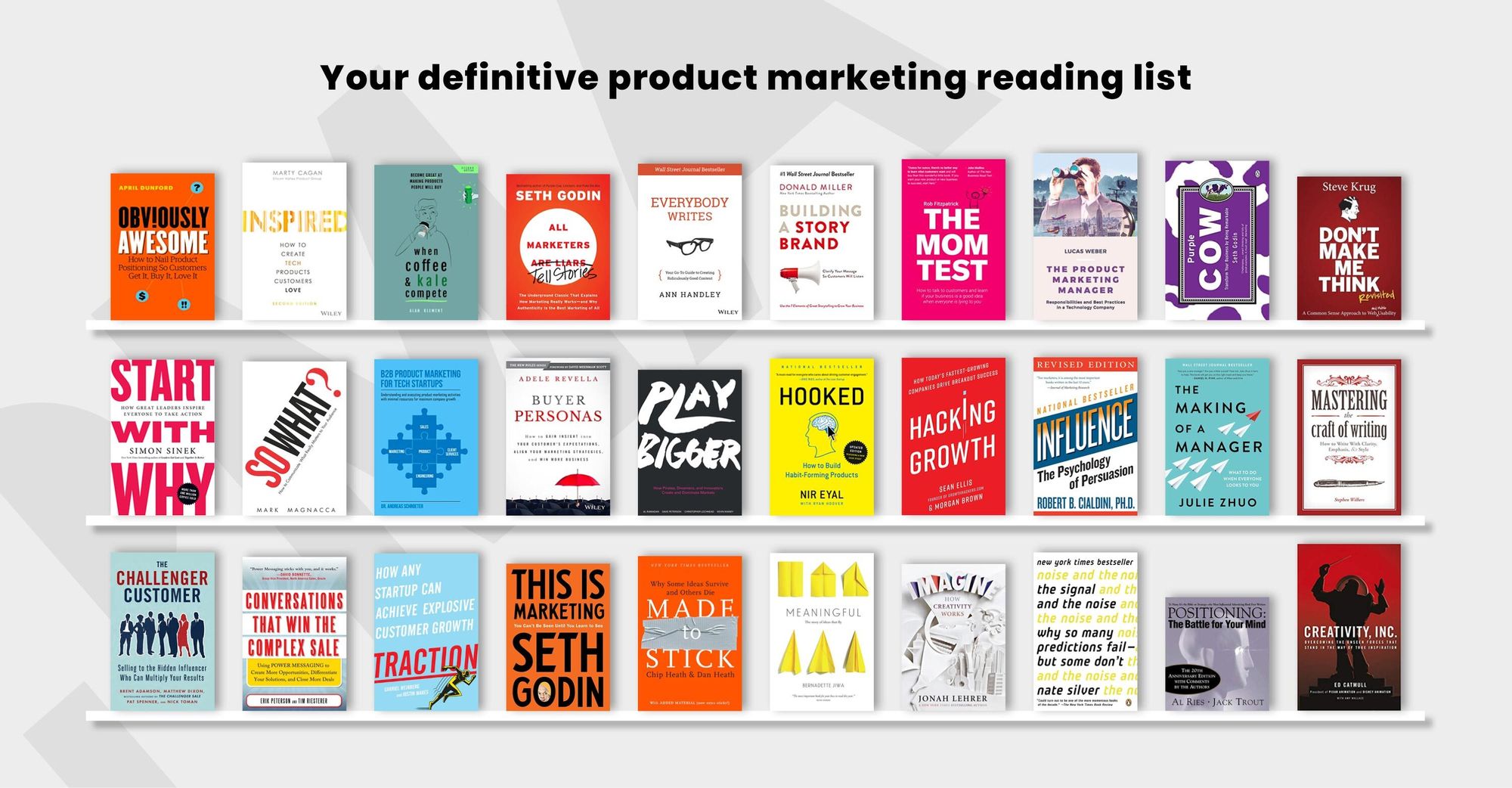 Podcasts
Marketing School by Eric Siu & Neil Patel
Lockhead on Marketing by Christopher Lockhead
The Marketing Secrets Show by Russel Brunson
Marketing over Coffee by John Wall
The Digital Entrepreneur by Sean Jackson and Katy Katz.

And finally, who has inspired you the most, en-route to the role you occupy today, and why?
My answer might not be unique but that only speaks highly for the impact this moment had on many product marketers. That moment was in 2007 when Steve Jobs unveiled the first iPhone on stage with his now legendary slogan "a revolutionary device...that changes everything."
I remember watching that keynote and having goosebumps, the delivery on stage was flawless, a product launch that today remains the gold standard for product marketing.
It was not the first smartphone, it was not the first phone that played music or the first phone that had access to the web but it was the first one that brought all these solutions together in a very customer-centric design. If you haven't watched that 2007 product launch keynote, I highly recommend it.
---
Product marketing career resources
Our specialist resource PMM Hired offers everything you need and a whole lot more to climb the product marketing career ladder. Unlock stacks of interview advice, vetted and tested resources from respected PMMs, and exclusive articles, with invaluable insights also available to PMMs with a PMA Membership.
Get PMM Hired